GLOBAL
US Treasury futures are stable at the start of the new week, while cash trading has been closed so far due to a holiday in Japan and an upcoming bank holiday in the UK. We may see this relatively steady trade persist through the early days of this week, as the market braces for the raft of central bank meetings later this week, most of which are expected to bring further outsized rate hikes. Direction for the markets will come not only from the size of the rate hikes, but also from the guidance offered and any revised forecasts that could alter where the markets are pricing in terminal rates. For the US, traders currently see rates peaking at around 4.50%, implying that some significant tightening is still to come, especially as the bank's QT program has yet to kick off fully.
All-in-all, therefore, the outlook for global fixed income markets remains quite bearish. This was highlighted in last week's CFTC data, which showed an aggressive build-up in short positions on front-end USTs. Traders are thus also betting on a further inversion of the US yield curve, according to several surveys. This should keep global markets volatile over the near term.
AFRICA
Botswana: In a draft budget, Botswana's Finance Ministry sees the budget deficit for 2023/24 narrowing to 0.1% of GDP or BWP 163mn, from a revised 3.4% estimated in the current fiscal year due to higher prices and strong demand for diamonds and fiscal consolidation. The ministry expects domestic and external borrowings to finance the projected deficit. Meanwhile, the ministry forecasts a return to a budget surplus in the fiscal year through March 2025 of 0.1% of GDP and 0.4% in 2025-26. If achieved in March 2025, that would be the first budget surplus in two decades. The economy is projected to grow 4.1% in the year through 2024, 3.3% in 2024/25, and 4.7% in the next fiscal year.
Egypt: Egypt announced over the weekend that it would increase transit fees through the Suez Canal waterway by 10-15% starting in January. Fees will increase by 10% for dry bulk and cruise ships and by 15% for all other vessels. The Chairman of the SCA cited the impact of increased energy prices on toll calculations. Continued elevated prices for crude oil and LNG have led to a rise in the average fuel costs faced by shippers and an increase in the savings vessels can achieve by transiting through the canal compared to other alternative routes. 
Mozambique: The Bank of Mozambique announced on Friday that the rate-setting meeting, which did not take place on the 15th of September, will now be held on the 30th of September. While inflation has risen for the past five months, the August reading of 12.10% y/y could be the high-water mark. Risks of a slower pace of price growth exist in the coming months amid government measures to subsidize transport and fuel imports. Therefore, we could see the central opt to keep its policy rates unchanged at the next meeting.
Uganda: Uganda remains defiant in its plans to exploit oil gas resources despite a European resolution calling on the country to stop work on a pipeline that it says is threatening fragile wildlife habitats. The $4bn pipeline, that's being developed by a group including TotalEnergies SE, will transport oil 900 miles from the shores of Lake Albert on the border between Uganda and the Democratic Republic of the Congo through Tanzania to the port of Tanga on the Indian Ocean. According to the EU, the conduit will run through habitats of endangered species, while affecting 118k people and displacing 100K more during construction. Uganda's parliament condemned the resolution by the EU, adding that it is based on "misinformation and deliberate misrepresentation of key facts."
Zambia: As Zambia prepares to start debt restructuring talks, a debt campaign group has urged BlackRock Inc. and other private creditors to cancel Zambia's debt. According to the UK-based charity Debt Justice, "Because of the high-interest rates and the fact Zambia's bonds have been trading at well below face value since 2018, many bondholders stand to make huge profits at the expense of both Zambian citizens and creditor countries if paid at face value. It is therefore imperative that BlackRock and other bondholders agree to fully engage in a large-scale debt restructuring, including significant haircuts, in order to make Zambia's debt sustainable." According to data compiled by Bloomberg, BlackRock is among the biggest investors in Zambia's Eurobonds, holding about 1.9% of its 2022 bonds and more than 6.5% each of its 2024 and 2027 debt. Debt Justice estimates that BlackRock could make 110% profit from Zambia's debt if paid in full. BlackRock, in response, has said that, while it has not been approached for debt restructuring by Zambia, it looks forward to increased engagement with the government.
Zimbabwe: In the latest move to try and resurrect an ailing economy, the Zimbabwean government has approved a proposal by a group of Chinese investors to establish a $2.83bn battery-metals park that will process metals including lithium, platinum, and nickel. Hong Kong Eagle International Investment Holding Ltd. and Pacific Goal Investment Ltd. intend to develop an integrated industrial park that will include lithium-salt and nickel-sulphate plants and a nickel-chromium alloy smelter. An accelerating shift to electric vehicles and soaring lithium prices have drawn investor interest to Zimbabwe.
Republic of Congo: Ratings agency Fitch upgraded Congo's long-term foreign-and-local currency issuer default rating to 'CCC+' from 'CCC.' According to the agency, the upgrade reflected easing financing needs, IMF deal boosting financing, wider external surpluses, significant structural weaknesses, declining public debt, high contingent liabilities, and stronger growth ahead. Factors that could lead to negative rating action included evidence of heightened financing strains or liquidity pressure and a sharp increase in the public debt-to-GDP. Conversely, a sharp decline in public debt-to-GDP or a sustained improvement in external liquidity could lead to positive rating action.
Forex: Kenya's foreign remittance inflows declined by 0.8% y/y in August
Remittance inflows, a major source of foreign currency income in Kenya, fell by 0.8% to $310.5mn in August 2022 from $312.9mn in August 2021. However, the cumulative inflows for the 12 months to August 2022 totalled $3,992mn compared to $3,481mn in the corresponding period in 2021, marking an increase of 14.7%. According to the Central Bank of Kenya, the US remained the largest source of remittances in Kenya, accounting for 58% in August 2022.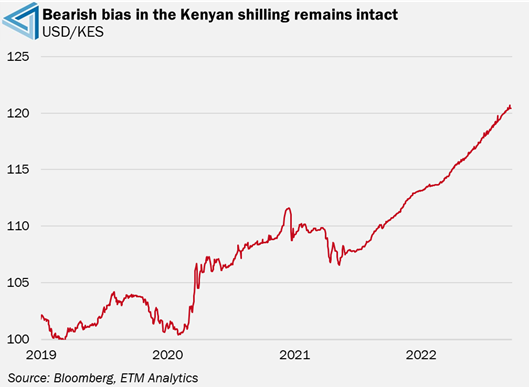 The August decline in remittance inflows could place additional pressure on the Kenyan shilling, which has weakened north of 6% against the USD since the start of the year as demand for dollars has continued to outstrip supply. Elevated oil prices have exerted pressure on the shilling, given that Kenya is a net oil importer while traditional foreign exchange supply sources such as the agricultural sector have declined. Dollar demand from manufacturing companies has also weighed.
Headwinds facing the KES will likely remain robust this week as dollar demand continues to outstrip supply. It is worth noting that the easing of political uncertainty following the swearing of a new cabinet by new President William Ruto could however provide some reprieve. While domestic dynamics will be important, much of the focus this week for FX traders is centred on the FOMC rate decision on Wednesday evening.
Fixed Income: Botswana's sovereign credit rating remains buoyed in investment grade territory
While the fiscal degradation that has materialized in recent years has seen the sovereign credit rating of almost all African countries slip into non-investment grade territory, Botswana remains buoyed in investment grade territory. S&P affirmed Botswana's BBB+/A-2 long- and short-term foreign and local currency sovereign credit rating on Friday evening and left the outlook at stable. The agency said that the stable outlook balances its expectation that demand for Botswana's diamonds will remain robust against the downside risks of weakening global economic activity.
S&P said Botswana's diamond export-dependent economy would be resilient to weakening global economic conditions. The global credit rating agency said diamond production in Botswana is expected to average between 22 million 25 million carats in the next three years as supply and demand dynamics remain supportive of the sector. S&P said sanctions on Russian diamonds should support demand for non-Russian-sourced diamonds and global prices going forward. In addition to expectations for Botswana to remain resilient in the years ahead, S&P said that the country's current account and fiscal accounts will be supported by sustained diamond revenue through 2025.
Looking ahead, S&P said it could lower its ratings on Botswana if the country's fiscal or external performance is materially weaker than the agency's forecasts. However, the agency said it could raise the ratings if economic growth or wealth levels in Botswana were to significantly increase beyond the agency's expectations, supported by the diversification of the country's export base, which would result in improved economic resilience. While Botswanan bonds face several headwinds, including deteriorating external conditions, tightening monetary policy and double-digit inflation, Botswanan local currency bonds are expected to be resilient over the next 12-36 months, supported by the improved outlook for the diamond industry, which will boost tax revenues and foreign currency inflows.
Macroeconomic: Slowing Chinese demand weighs on copper prices
While still buoyed well above pre-pandemic levels, international copper prices have come under some significant selling pressure in recent weeks amid mounting demand fears as the global growth outlook deteriorates. Specifically, the LME Copper benchmark has fallen by more than 27% since its peak in Mark this year to sit at $7762.00 at the time of writing. Demand is being threatened by a combination of a hawkish Fed, the risk of a recession in Europe as the energy crisis intensifies and the risk that China sticks with its Zero Covid Policy.
Adding to the headwinds for copper has been the marked appreciation in the USD, which makes commodities less attractive. Although the risks to the outlook are skewed to the downside, it is worth noting that copper inventories are relatively low, which should keep copper supported in the months ahead. Moreover, data out of China came in slightly better than economists had expected, with factory output in particular growing at a faster pace than predicted.
The leading producers of copper in Africa are the Democratic Republic of Congo, Zambia, Morocco and South Africa. While copper prices have pulled back from their recent highs, the 3-month rolling LME copper price remains buoyed above its 5-year average. Therefore, at current levels, African copper producers will still be benefiting from relatively high copper prices. That said, should downside risks intensify and copper prices fall sharply, the lower copper prices could become a drag on hard currency inflows and tax revenues.