New South Korean President Yoon Suk-yeol advocates a tighter fiscal stance and close relations with the US and Japan. In isolation, his very narrow victory in the 9 March election (by 0.8 percentage point) might be considered a positive change for investors, given his leaning towards pro-private sector economic policies.
However, on domestic policy, he will have to contend with the populist demands for a looser fiscal stance, unsupportive parliamentary politics, resistance from vested interests in the commercial, political, and security elite should he take the steps down an anti-corruption path, and, on foreign policy, he will be at the mercy – as were his predecessors – of decisions taken in the US and China.
The KOSPI equity index rose 2.2% after Yoon Suk-yeol's win. Yoon Suk-yeol's election victory is positive for investors, compared to a win for his fiscally looser opponent, but our concern over the risk of dysfunctional relations between President-elect Yoon Suk-yeol and the National Assembly tempers our enthusiasm for the domestic part of the Korean investment case.
Reforms to push Korea into the MSCI Developed Markets equity index – mainly allowing offshore trading in the Korean Won, but also removing the remaining short-selling restrictions, simplifying foreign investor registration, and providing more disclosures in English – may be more likely now that the election has concluded (both candidates were in favour).
Moving from a 12.4% in MSCI EM to a 1-2% weight in DM would drive large one-off inflows from passive DM funds but it would likely consign Korea to the too-small-to-matter category for actively managed funds thereafter (Korea is already classified as DM by FTSE).
The most important drivers in the Korea investment case remain external: global Tech demand and US-China relations, which impact Tech regulation and North Korea. Korean equities are valued, on forward PE, at a discount to Asia EM and Tech peer, Taiwan, but at par with the 5-year median.
Fiscal and foreign policy challenges, parliamentary political constraints
The fiscal deficit as a percentage of GDP has deteriorated from a 2.6% surplus in 2018 to a 2.8% deficit in 2022, and persistent c2% deficits for the next five years are forecast by the IMF.
Worsening inequality – the top 10% of the population have c45% of the income, compared with 39% in 2000 – was a feature of the election campaign. Yoon Suk-yeol is against raising minimum wage but is likely to attempt addressing housing affordability.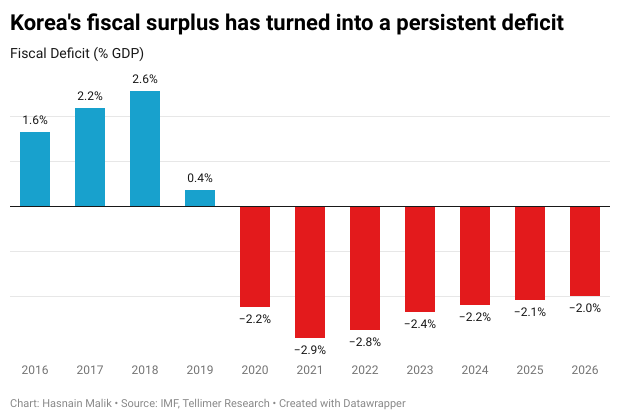 Yoon Suk-yeol is a relative newcomer to politics and to his own political party – he joined the People Power Party (PPP) in mid-2021, after 26 years in public prosecution, including investigations into National Intelligence Service interference in the 2012 election and a sitting Minister of Justice (Cho Kuk).
Yoon Suk-yeol won the PPP's presidential primary contest with merely 48% support, with turnout of 64% – there are many in his own party who do not support him.
The PPP itself is a relatively new party, founded in early 2020, as an amalgam of several conservative-leaning parties that had fragmented after the 2016 scandal and 2017 impeachment of President Park Geun-hye.
A majority of 57% of seats in the National Assembly is controlled by Yoon Suk-yeol's opposition. The next parliamentary elections are not due until April 2024 and the President has no power to dissolve parliament.
Presidential powers in the Korean political system include appointing the Prime Minister and Supreme Court judges, but in both cases, only with the approval of the legislature, the National Assembly. The President is limited to a single 5-year term and can be impeached by the National Assembly. The President cannot dismiss the National Assembly.
In foreign policy, Yoon Suk-yeol has sole command of the armed forces. He has signaled an unwillingness to engage in dialogue with North Korea, and a shift to closer relations with the US, Japan, and the US-led Quad, rather than balancing those with China.
But when dealing with North Korea-related security risks, decisions taken in the US and China trump those taken by South Korea.
Korea equities
The KOSPI index is down 14% in the past year, compared with MSCI EM down 16% and Taiwan (TWSE) up 13% (where global consensus favourite and outsourced semiconductor industry leader, TSMC, alone has almost a 30% weight).
Korea forward PE valuation is 10.8x, on par with the 5-year median. This compares with 12.8x, a 15% discount to the 5-year median, in Taiwan.
The completion of the election in favour of the market-friendlier candidate may help continue to close some of the gap in forward PE versus Taiwan. However, there are cheaper options than both Korea or Taiwan for exposure to Tech in EM via China Applications or Small EM-FM Tech.
Related reading
Korea's polar presidential candidates both pulled to fiscal populism, Mar 2022
North Korea tests its most powerful missile in 5 years (Culverhouse), Jan 2022