20 May 2021
South African Reserve Bank holds rates; bias towards stable rates in 2021

Patrick Curran
Senior Economist @ Tellimer Research
20 May 2021
The SARB held at 3.5%, in line with expectations, looking through last month's transitory jump in inflation
Global sentiment, rising commodity prices, high real rates & positive fiscal surprises have led to ZAR outperformance
Markets pricing rate hikes this year, but SARB likely to hold rates barring upside inflation surprises

20 May 2021
The SARB's Monetary Policy Committee (MPC) decided unanimously to hold its repo rate at 3.5% today, unchanged from its March meeting and in line with the expectations of all 19 economists surveyed by Bloomberg.
While inflation jumped from 3.2% to 4.4% in April after sitting near the bottom of the SARB's inflation band over the past year, the increase was expected and "the MPC will seek to look through temporary price shocks."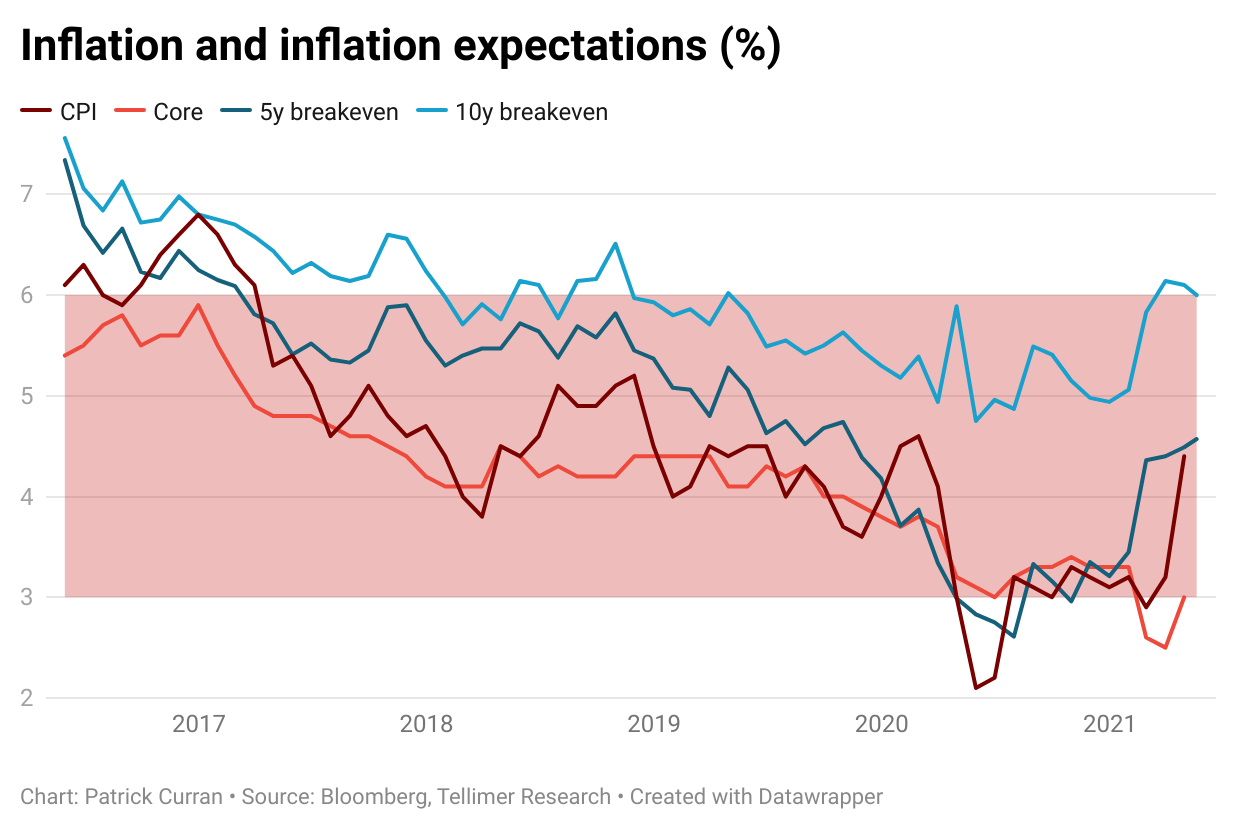 The SARB's forecasts are largely unchanged from the March meeting, with its 2021 inflation forecast revised slightly down (and unchanged in 2022 and 2023 at the midpoint of the SARB's 3-6% target band), growth revised slightly up in 2021 and slightly down in 2022 and 2023, and the current account balance revised up in 2021 and 2022 and unchanged in 2023 (due largely to improved terms of trade).
Growth risks are seen as balanced, with a faster vaccine-induced global recovery and rising commodity prices pushing up domestic growth in the short term but a third wave of Covid in South Africa now seen as "probable in the near future."
Meanwhile, inflation risks "appear to be to the upside" with rising global food and oil prices, higher domestic and global producer price inflation, and potential risks "from higher domestic import tariffs and escalating wage demands."
That said, market and survey-based indicators of inflation expectations have remained anchored, and "a stronger exchange rate, ongoing moderation in unit labour costs, and sustained economic slack are expected to offset higher electricity and food price inflation" to keep the inflation relatively stable, rising gradually towards the midpoint of the SARB's target band by 2023.
The ZAR has been the best performing major EM currency so far this year, appreciating by 5% ytd on the back of "generally favourable global conditions and strong commodity export prices," and the SARB now sees it as being "close to its long-run equilibrium level." At the time of writing the ZAR had rallied c0.8% on the day versus a c0.2% rally on the JP Morgan EM currency Index.
High real interest rates have also been supportive of the ZAR. While the SARB's 3.5% policy rate implies negative real yields with inflation at 4.4%, fiscal risks have pushed up the term premium and caused South Africa's yield curve to steepen sharply over the past year (with the 10y2y spread rising from 70bps five years ago to 200bps at the end of 2019 and 460bps currently). This has pushed up South Africa's real 10-year yield to 5%, equalled only by Indonesia and Colombia among major EM and surpassed only by Egypt, which alongside ZAR appreciation has made for attractive carry.
Positive fiscal surprises have also contributed to recent ZAR strength. The main budget recorded a deficit of 11.2% of GDP in 2020/21 (ending March), better than February's 12.3% estimate, which itself was an improvement from the revised 14.6% estimate last June. The latest revisions stem from an upside revenue surprise of ZAR35bn (cUS$2.2bn) and downside spending surprise of ZAR16bn (cUS$1bn), and enabled the National Treasury (NT) to reduce the size of its weekly debt auctions by ZAR900m in May (the second reduction since March), reducing pressure on local yields.
Upside surprises notwithstanding, it will be difficult for South Africa to achieve its medium-term targets. The key risk is public sector wages, with the NT holding firm to its plan to freeze public sector wages even as public sector unions demand a wage hike of CPI +4% (which would equate to 7.3%, based on last year's average inflation rate of 3%), a monthly housing allowance to ZAR2,500 (cUS$170), a "risk allowance" of 12.5% when employees are faced with a disaster such as Covid, and a proposal to eliminate lower salary bands and end the hiring freeze (among a lengthy list of 16 demands).
Union demands are completely out of touch with the reality of South Africa's battered budget, and threaten to derail South Africa's consolidation plans. The NT has made a revised offer of a one-time 1.5% salary adjustment and a ZAR978 (cUS$66) monthly cash payment for fiscal year 2021/22, but the Public Servants' Association (PSA), which represents 240,000 of the state's 1.3 million employees, has already said they would reject it. We estimate that the revised offer would cost ZAR25bn (0.5% of GDP), while the unions' baseline offer would cost at least ZAR86.5bn (1.8% of GDP) based solely on the wage increase and housing allowance (to say nothing of the cost of the 14 other demands).  
Wage demands at battered state utility Eskom are even more ridiculous, with the National Union of Metalworkers (NUM) demanding a 15% wage increase and Solidarity calling for 9.5% versus Eskom's offer of 1.5%. With the gulf between the public sector and its employees still impossibly wide, the risk of strike action has increased, and the PSA has threatened to "shut down the public sector" if the NT doesn't accede to its demands. As such, the NT may ultimately face the impossible decision to either abandon its pledge to freeze wages (causing fiscal slippage and fueling inflation) or hold firm as the labour force strikes (which will slow growth). Clearly, either way, the outcome is far from optimal.  
Against this backdrop, the risk of further rating downgrades looms. Fitch and Moody's are both due to update South Africa's credit rating at the end of the day tomorrow, and both have said recently that fiscal slippage or subdued growth could prompt further downgrades and that the government is unlikely to meet its wage targets. While we do not think either Fitch (BB-/negative outlook) or Moody's (Ba2/negative outlook) will downgrade tomorrow and will prefer to see how fiscal performance unfolds over the course of the year, the risk of downgrades later in the year will remain high and could undermine the recent positive ZAR performance (potentially leading to inflationary passthrough).
Bias towards hikes, but probably not this year
Overall, the SARB continues to maintain that its policy stance remains "highly accommodative" and that structural reforms, not cyclical monetary policy changes, are the key to boosting longer-term growth. Further, stabilising public debt, boosting electricity supply, and containing administrative and wage pressures are necessary to "enhance the effectiveness of monetary policy."
The suspension this month of ANC Secretary General Ace Magashule, a key obstacle to President Ramaphosa's structural reform agenda and efforts to rein in "state capture", could improve South Africa's structural reform outlook. But, while it will likely lead to improved sentiment in the near-term, at the end of the day we do not think that Magashule's suspension materially changes South Africa's reform outlook. There is still little willingness to tackle the tough issues like SOE reform, and with local elections approaching in 2022, we do not think difficult reforms are likely to gather much momentum.
With growth therefore likely to remain weak, we think the output gap will remain negative, which alongside the SARB's sanguine inflation outlook is likely to keep them on hold barring any upside surprises. Indeed, SARB Governor Kganyago said in an April interview with Bloomberg that "as long as inflation is remaining contained, the central bank would have no reason to remove the accommodation that we are currently providing," and he reiterated at today's post-MPC press conference that the SARB is willing to maintain negative real rates as long as inflation is contained and there is slack in the economy.
With that said, the market may be getting a bit ahead of itself pricing in rate hikes, with an implied policy rate of 3.83% over the next 6 months and 4.39% over the next 12 months. This equates to just over one 25bps interest rate hike over the next 6 months and nearly four 25bps hikes over the next year, which we think is unlikely barring material upside surprises to inflation.  
Still, rising inflation concerns globally and upward revisions to the SARB's growth forecast have certainly pushed the MPC in a more hawkish direction since the beginning of the year (with 2 of 5 members preferring a cut at the January MPC meeting), and the SARB's Quarterly Projection Model (QPM) implies two 25bps over the course of 2021. As such, there is clearly no longer an easing bias.
However, the QPM outputs are largely illustrative and we think rhetoric from the SARB continues to be relatively dovish and that the MPC will look through temporary increases to inflation. Barring an upside surprise to domestic inflation or a shift in the Fed reaction function that prompts a disorderly ZAR adjustment, we think the MPC will continue to keep rates stable over the course of 2021 before shifting the conversation towards hikes to keep pace with rising inflation in 2022 and beyond.
The next MPC statement will be released on 22 July, where we expect another hold.
Related reading
Our discussion with the South African Reserve Bank – inflation concern overblown, 14 April
South African budget surprises positively but lacks substance, 24 February
South African Reserve Bank resists temptation to cut, 21 January
South Africa's medium-term budget disappoints, 28 October
Conversation with central bank Deputy Governor Rashad Cassim, 16 October
South Africa has to solve the Eskom problem, 8 October
---
Disclosures
This report is independent investment research as contemplated by COBS 12.2 of the FCA Handbook and is a research recommendation under COBS 12.4 of the FCA Handbook. Where it is not technically a res...
Full Tellimer disclaimers