Finance Minister Tito Mboweni presented South Africa's fiscal year 2021/22 budget (April to March) today. The National Treasury (NT) projects a deficit of 14% of GDP in 2020/21, falling to 9.3% in 2021/22 and 6.3% by 2023/24. This is meaningfully better than the 15.7% of GDP estimate for 2020/21 laid out in October's MTBPS, is on average c1% of GDP better over the three years from 2021/22 to 2023/24, and is slightly better than Bloomberg consensus projections.
The improvement in 2020/21 was driven by a recovery in consumption, wages, and mining sector tax receipts in recent month, pushing estimated revenue collections up by nearly ZAR100bn relative to October's MTBPS. However, the improvements had been telegraphed and were already factored into the consensus estimates this year, with the Bloomberg survey on 22 February pegging the 2020/21 deficit at 13.9% of GDP from 15.9% in the previous survey.
The NT aims to achieve a primary surplus on the main budget by 2024/25, which should stabilise public debt at a peak of 88.9% of GDP in 2025/26. This is a significant improvement from the peak of 95.3% in the same year in the MTBPS, and the 2020/21 estimate has also been revised down from 81.8% to 80.3% of GDP.
The budget is built on the assumption of a growth rebound from -7.2% to +3.3% in 2021, +2.2% in 2022 and +1.6% in 2023, slightly stronger than the growth assumptions in the October MTBPS. Meanwhile, inflation and the current account deficit have also been revised lower, reflecting a slight improvement to the macro outlook. That said, South Africa's real GDP is not expected to return to pre-pandemic levels until late-2023.
Overall, the fiscal framework aims for an expenditure-based consolidation, centred around limiting the wage bill while sustaining real capex spending and Covid-related social spending.
New tax measures scrapped as revenue surprises to upside
Aside from the ZAR100bn upward revision to tax revenue in 2020/21, estimates have been revised up by ZAR86bn in 2021/22, ZAR66bn in 2022/23, and ZAR45bn in 2023/24. As a result, the NT has opted to scrap the previously announced increases amounting to ZAR40bn over the next four years. Instead, key tax measures introduced include:
Lowering the corporate income tax rate from 28% to 27% from 2022/23, to be done alongside a broadening of the CIT base by limiting interest deductions and assessed losses. This will be revenue neutral;

Increase the personal income tax (PIT) brackets by 5%, which is more than inflation and will provide ZAR2.2bn in tax relief to mainly lower- and middle-income households;

Increase fuel levies by 27 cents per litre; and

Increase excise duties on alcohol and tobacco products by 8%.
The decision to forgo any major tax increases is, we think, a good one. South Africa already has the highest PIT share and one of the highest top rates among upper middle-income countries, while its CIT is above the global average of 23.6%. South Africa is likely beyond the peak of the Laffer curve, and tax increases risk further crippling growth and exacerbating the brain drain that has been taking place for years. In fact, a recent survey by First National Bank shows that over a fifth of all houses valued at ZAR2.6 million (cUS$175,000) or more that were put on the market last year were by people planning to move abroad, due in large part to excessive tax increases.
However, South Africa still has the highest level of inequality in the world based on a Gini coefficient of 63 (where 0 represents perfect equality), far worse than peers like Brazil (53), Mexico (48), Nigeria (43), Turkey (42), and India (36). Over the longer-term, the South African Revenue Service (SARS) will therefore focus on consolidating wealth data for taxpayers to assist in broadening the tax base, improving tax compliance, and assessing the feasibility of a wealth tax, as suggested by the Davis Tax Committee.
Meanwhile, the increase in "sin taxes", while generally accepted as a quick way to raise revenue without undue social harm, comes at a time when alcohol and tobacco companies are already reeling from a series of bans and restrictions on their products throughout the lockdown. While taxes make up only 40% of the price of a pack of cigarettes in South Africa versus the WHO recommendation of 70%, the timing of the tax increases will undoubtedly hurt an industry that is already on the brink due to unfavourable government regulation.
Wage cuts and capex increases define spending plans
Compared with the 2020 budget, main budget non-interest expenditure will be reduced by ZAR265bn (4.6% of GDP) over the MTEF period (2021/22 to 2023/24). Most of these adjustments will come from the wage bill, with reductions totalling ZAR267bn over the MTEF (US$18.2bn, or c87% of total spending reductions over the period).  
Overall, consolidated spending will rise by 0.7% in nominal terms on average over the MTEF. The fastest-growing item will be debt service costs, followed by payments for capital assets. Meanwhile, employee compensation and goods & services will record negligible nominal growth, while transfers & subsidies will fall in nominal terms.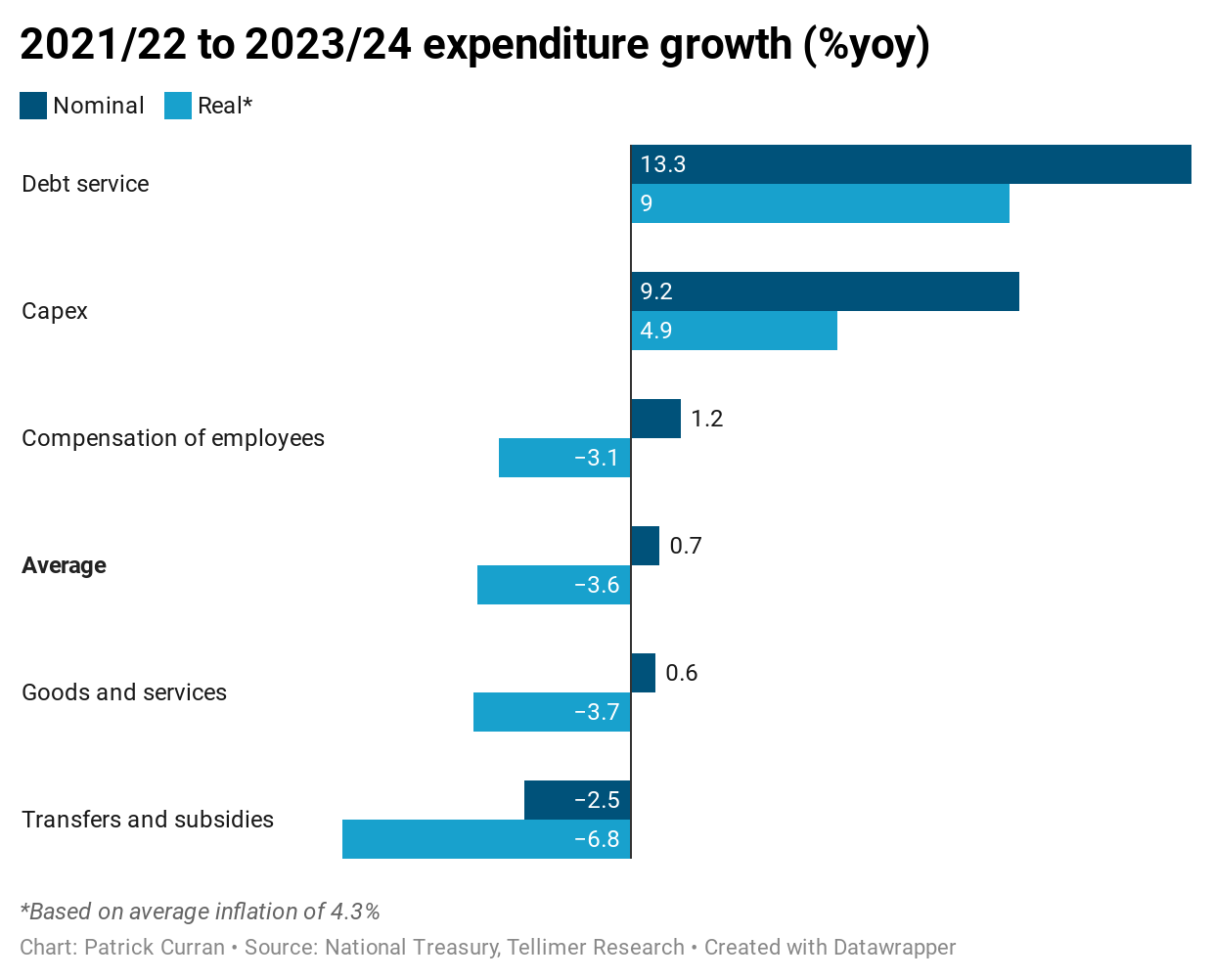 Savings on the wage bill will be used in part to fund South Africa's three-phase vaccine rollout strategy, which aims to vaccinate 67% of the population free of charge over the next 12 months. Up to ZAR10.3bn has been provided for vaccine rollout for the current year and over the next two years, with up to ZAR9bn available to be added from contingency reserves if needed. The allocation is a welcome addition to South Africa's fight against Covid, but the rollout is only expected to gather pace the second half of the year. As such, South Africa will likely achieve herd immunity this year.
Infrastructure spending increases are also welcome and necessary, helping to address South Africa's large infrastructural needs and the ongoing drop in investment (which is below 2010 levels in nominal terms and has been declining steadily as a % of GDP since 2015). To reach the 30% of GDP capital investment target laid out in the National Development Plan, public sector investment would need to grow from 5.4% of GDP in 2019 to 10% by 2030, while private-sector investment would need to grow from 12.5% of GDP in 2019 to 20% in 2030. It will be a long road to reach these levels given limited fiscal space in the public sector and low confidence in the private sector.
Lastly, the NT is finalising the framework to implement zero-based budgeting across the government by 2022/23. While this is again a welcome step, it has long been mentioned as an option and we withhold further comment until we see material progress towards its implementation. 
Slippage is likely and fiscal space is limited
Efforts to consolidate the wage bill represent a major step in the right direction, with employee compensation absorbing 47% of government revenue in 2020/21 and reaching 14.8% of GDP (well above the OECD average of 10.2% and surpassed only by Denmark and Norway). The NT hopes to achieve the reduction by doing away with the annual cost-of-living adjustment until 2023/24 alongside measures to reduce the headcount, including a combination of early retirement and natural attrition, and freezing or abolishing of non-critical posts.
However, the wage freeze will be hard to maintain amid strong union resistance. The South African Federation of Trade Unions (Saftu) announced a one-day strike coinciding with the budget speech, with one of their main grievances centred around the government's decision to renege on the public sector wage agreement in 2020/21 (which the High Court subsequently backed as being constitutional). A departure from NT wage ceiling could cause meaningful fiscal slippage, with a three-year inflation-linked agreement causing a shortfall of R113bn (1.9% of GDP) by 2023/24 and an agreement like the one achieved in 2018 (CPI +1%) creating a shortfall of ZAR133bn (2.2% of GDP).
In addition, fiscal space will remain extremely limited amid rising debt service costs. Over the medium term, debt service costs are expected to average 20.9% of tax revenue (2x the peer median over that period). With the NT pencilling in lower debt servicing costs than it did in October's MTBPS, it is possible that these savings fail to materialise. Any rise in South Africa's debt servicing cost could further crowd out much needed social and infrastructure spending and cause the budget deficit to deviate from its targets.
And even if NT targets are achieved, South Africa will still be in a substantially worse fiscal position than most of its peers. The size of its 2020/21 deficit is surpassed only by Brazil among all major EM and low-income countries selected for inclusion in the IMF's January 2021 Fiscal Monitor Update, while its 2021/22 target is surpassed only by India and China.
Little clarity on state-owned entities (SOEs)
Policy announcements on SOEs were a mixed bag, with the government encouragingly showing some resistance to additional funding, but also failing to inspire much confidence that there is a broader reform agenda that will right the ship (see here for a more detailed analysis). From a more general policy perspective, the NT says that any additional support to SOEs will have to come from reprioritising other budget expenditures. In addition, the mandates of all SOEs are currently being re-evaluated with an eye to table overarching legislation for these companies during 2021/22.
On the one hand, a ZAR7bn bailout of the Land Bank is the lone increase in SOE funding over the MTEF period. The government resisted SAA's request for an addition ZAR3.5bn to fund the SAA turnaround (not including the additional ZAR5.3bn being sought from private entities), with Public Enterprises Minister Pravin Gordhan recently announcing that the government has identified three equity partners for SAA and will make a decision on which one to pick in "the next month or so."
In addition, President Ramaphosa announced plans during his 11 February State of the Nation Address (SONA) to procure an additional 11,800MW of renewable power from independent producers (IPPs), with the winners of contracts for 2,000MW of emergency power to be announced shortly, requests for proposals for another 2,600MW due in the coming weeks, and plans to make it easier for companies to produce their own power expected in the next three months (which could unlock up to 5,000MW of new supply).
This will begin the long process of chipping away at South Africa's looming electricity shortage, with load-shedding in 2020 reaching the highest levels since 2015 (for a cumulative 52 days of power cuts versus 103 in 2015). However, Ramaphosa said that, even once the pipeline of new projects is accounted for, there will likely be "an electricity supply shortfall of between 4,000 and 6,000 megawatts over the next five years, as old coal-fired power stations reach their end of life." This follows a resurgence of load-shedding this year that could last until April, threatening to derail the economic recovery.
Despite its challenges, investors have turned notably more positive on Eskom's restructuring prospects, with Nedbank recently appointed to lead talks to restructure its ZAR464bn (US$31.7bn) of debt and Gordhan saying that he expects the debt to become "a thing of the past" in the next three to five years. The news has prompted Eskom's spread over sovereign to contract sharply, falling by c25bps on its guaranteed debt and c100bps on non-guaranteed debt over the past month.
That said, Eskom's reform programme still appears to be progressing behind schedule, with the legal separation of its three divisions now delayed until end-2021 for transmission and end-2022 for generation and distribution compared to an initial end-2020 deadline. This year's budget and SONA collectively mark yet another key moment that has passed without any concrete policy measured aimed at solving South Africa's endemic problem with SOEs, with both events completely ignoring the elephant in the room by failing to explicitly address Eskom. Absent more concerted efforts, we think SOEs will continue to be a drag on public finances in the years to come.
Financing plans will support local bond market, but steepening bias will remain
Stronger-than-expected revenue collection so far this year, along with ahead-of-target domestic debt issuance, helped the government build up its cash balances (which now sit at ZAR176bn for local currency and ZAR119bn for FX) in 2020/21 and will help reduce supply risk over the MTEF period. The lower deficit, coupled with R113bn of cash utilisation in 2020/21, will help reduce domestic debt issuance by ZAR227bn (US$15.6bn) in 2020/21.
But while bond auctions have remained oversubscribed, demand has faltered in recent auctions, serving as a useful reminder that South Africa does not have an infinite capacity locally to absorb such large amounts of government debt. International holdings of domestic debt fell from 37.1% to 29.9% of the total stock in 2020, with domestic banks and other financial institutions increasing their share of the holdings by 8.2% to offset the decline, and further increases will exacerbate private sector crowd out.
The initial market reaction to the budget was positive with the ZAR strengthening by c1%, but has moderated as the market digests the news and was flat on the day at noon EST compared to moderate appreciation across the EM currency universe. Meanwhile, the mid Z-spread on South Africa '25s was about 17bps narrower by midday EST.
While we were pleasantly surprised by the ambitious consolation targets laid out in today's budget, the upside revenue adjustments are not supported by concrete tax measures or growth-enhancing structural reforms and the spending cuts hinge almost entirely on wage cuts, which will be difficult to achieve amid fierce union opposition. As such, we think slippage is likely over the medium term.
This will likely keep the yield curve steep after having risen sharply in recent years, with monetary policy likely to remain accommodative amid weak inflation and the low for long environment in developed markets, and fiscal slippage injecting some added risk premium at the longer end of the curve.
Related reading
South African Reserve Bank resists temptation to cut, 21 January
South Africa's medium-term budget disappoints, 28 October
Conversation with central bank Deputy Governor Rashad Cassim, 16 October
South Africa has to solve the Eskom problem, 8 October