The South African Reserve Bank (SARB) hiked its policy rate by 25bps to 4.25% today, in line with the expectations of 20 of the 22 analysts surveyed by Bloomberg (one expected a 25bps hike and another no hike at all). The decision was split, with three MPC members voting for a 25bps hike and two voting for a 50bps hike, pointing to a hawkish shift by the MPC (in January four voted for a 25bps hike and one for no hike) and potentially for more aggressive hikes as the year progresses.
The decision comes after yesterday's inflation print, which saw headline CPI stay flat at 5.7% yoy in February (versus Bloomberg consensus of 5.8%) and core CPI stay flat at 3.5% yoy (3.6% consensus). However, the SARB's inflation projection has been revised up to 5.8% this year (from 4.9% in January) on the back of rising fuel and food prices, and is forecast to breach the top of the 3-6% target band in Q2 22 before returning to the target midpoint in Q2 23.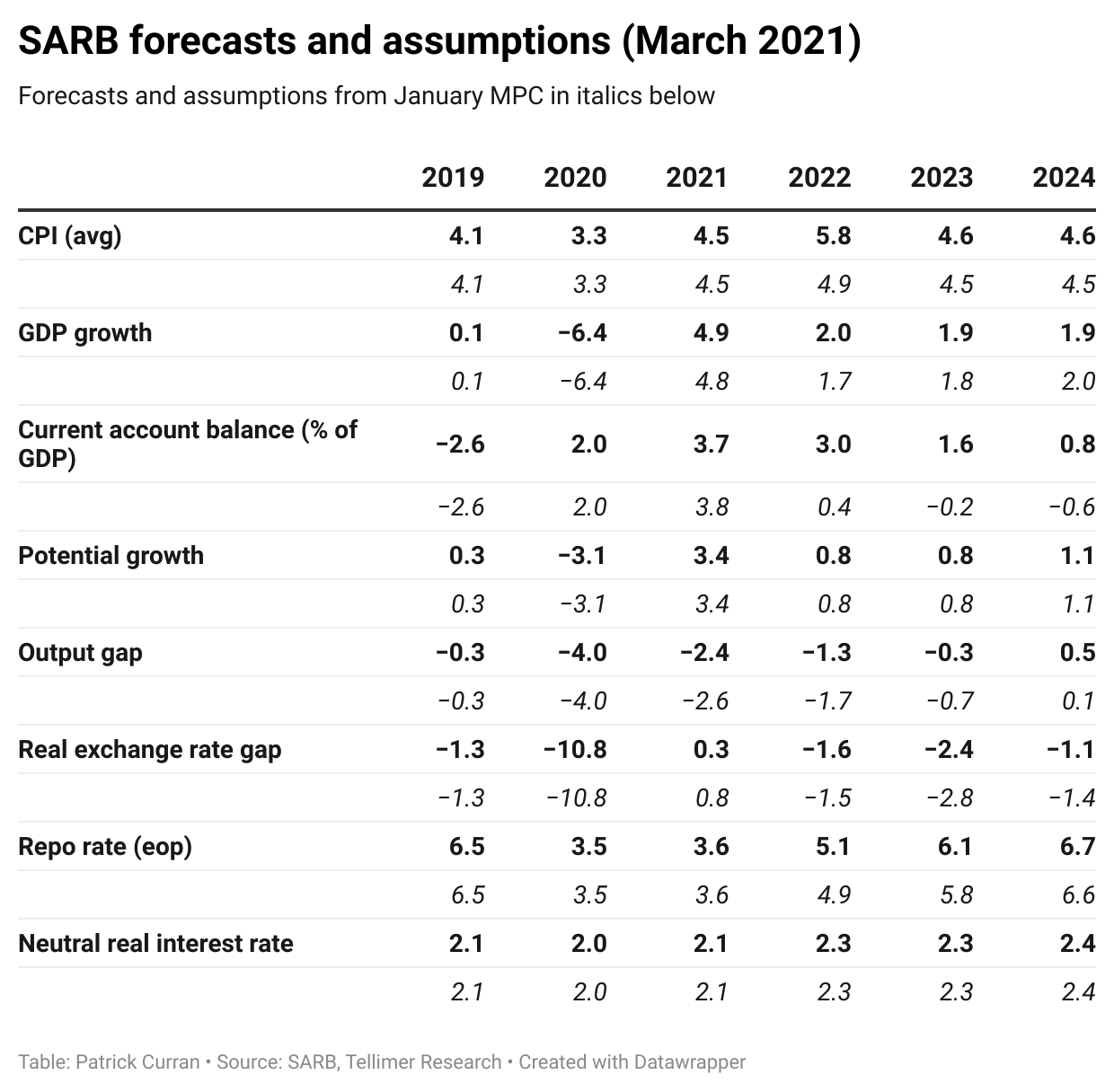 The SARB's growth projection has also been revised up to 2% this year (from 1.7% in January), which, alongside subdued potential growth (0.8% in 2022 and 2023 and 1.1% in 2024), will result in the output gap turning positive in Q3 23 rather than 2024 as projected in January. Rising commodity prices (with South Africa's commodity basket forecast to rise by 8% this year rather than -22% as projected in January) have also resulted in substantial revisions to the current account, which is now expected to remain in surplus over the forecast period (3% of GDP this year from a record 3.7% in 2021).
The MPC says it will "look through temporary price shocks and focus on potential second round effects and the risks of de-anchoring inflation expectations." But with inflation risks assessed to be on the upside, and average survey-based expectations for inflation over the next five years rising to 5% in Q1 from 4.7% in Q4 and market-based indicators rising towards the top of the 3-6% target band (and breaching in for the stickier 10yr breakeven), the SARB must be diligent to prevent a de-anchoring of inflation expectations.
The market continues to price a notably more hawkish interest rate path than the upwardly-revised trajectory from the SARB's Quarterly Projection Model (QPM) from late-2022 onwards, but is pricing in 35bps of cuts in Q2, suggesting there are concerns that South Africa may slip into a recession and be forced to reverse the recent rate hikes. While we have previously seen market pricing as overly hawkish, the recent rise in inflationary pressure has brought it more in line with our expectations, albeit a bit on the hawkish side (the market is pricing 125bps by year-end and 300bps by end-2024).
That said, with the QPM forecasting a real rate of 2% by end-2024 versus a neutral real rate of 2.4%, the SARB's monetary stance will remain accommodative over the medium term based on current projections, and the market may be justified in pricing in some upside risks to the QPM forecast. In any case, it is clear that more hikes are in store in the coming months, and we forecast 100bps of hikes across the four remaining MPC meetings of the year (which could be front-loaded with a 50bps hike in May if upside risks to inflation materialise).
Asset implications
The ZAR continues to be a notable outperformer so far this year on the back of improved terms of trade, rising 9.4% in total return terms versus a 2.9% drop for the Bloomberg EM Local Currency Government Index. The ZAR has risen by 1.5% versus the US$ at the time of writing on the back of the SARB's rate hike and positive global risk sentiment, and is now up 9.6% ytd, while the 10yr mid-yield has risen marginally from 9.8% to 10% so far this year.
We upgraded our recommendation on ZAR-denominated government debt to Buy on 24 February on the back of a relatively positive budget and high real yields. Given the sharp terms of trade improvements since and a still-high real yield of c435bps on South Africa's 10yr bond, the positive investment case has certainly improved.
Some of the fiscal risks we highlighted at the time have also abated, with the Constitutional Court upholding a lower court ruling that allowed the government to renege on a previous offer for wage increases and the sale agreement for a 51% stake in state-owned South Africa Airways to a private consortium finally concluded (subject to regulatory approval).
However, the Public Servant's Association has kicked off the latest round of wage negotiations with a demand for a wage hike of CPI +2%, which is well above the budgeted 1.8% nominal increase and poses a major upside risk for both inflation and the budget. Meanwhile, loadshedding has continued at Eskom, which has received approval for a 9.6% tariff increase in 2022/23, below the requested 20.5%. While this will reduce pressure on inflation, it will exacerbate financial challenges at the struggling state utility.
Heading into the ANC elective conference later in December and elections in 2024, we think the prospects for meaningful structural reforms are dim and that South Africa will struggle to lift growth into positive per capita territory, never mind the 3-5% that would be necessary to begin to make a meaningful dent in South Africa's astronomical 35% unemployment rate.
That said, we think terms of trade will continue to be supportive of the ZAR in the near term, and real yields remain among the most attractive in the EM space. Markets have already largely priced in the SARB's hiking cycle in the coming year, and any upside surprises are more likely to result in a continued bear flattening of the curve as short-term rates rise, while longer-term rates remain well-anchored and largely reflect a healthy term premium due to elevated fiscal risks.
As such, we retain our Buy recommendation on local government debt at a mid-YTM of 10% for the SAGB 8 1/4 03/31/32s at the time of writing on 24 March on Bloomberg.
Related reading
South Africa 2922 Budget: The worst is in the rearview, February 2022
South Africa's road to 2024 elections: Long-term macro outlook remains weak, January 2022
South African Reserve Bank follows the trend with a 25bps hike, November 2021
South Africa budget strikes right tone, but delivery will be challenging, November 2021
South Africa: Cabinet reshuffle creates fiscal uncertainty, August 2021
The stark inequality behind South Africa's riots, July 2021
South Africa: Reforms show first sign of life, June 2021
South African Reserve Bank holds rate; bias towards stable rates in 2021, May 2021
Our discussion with the South African Reserve Bank – inflation concern overblown, April 2021
South African budget surprises positively but lacks substance, February 2021