In October, the government proceeded to the second revision of the 2021 budget, but unlike in 2020 the rewrite was made to reduce the budget deficit to RSD 304.5bn (4.9% of GDP) from RSD 412.2bn gap (6.9% of GDP) planned in April. The general budget gap is set at 4.9% of GDP as well. The revision is not unexpected since the budget has been overperforming in January-September thanks to the higher than planned revenues amid strong economic recovery. As FinMin Sinisa Mali said, that in addition to revenue outperformance, the reasons for the new revision are higher capital expenditures and continuation of the aid to citizens. Namely, the government has decided to disburse one-off aid of EUR 20 (in dinar equivalent) to all adults in December. This comes on top of the one-off aid foreseen within the third package of assistance that included payment of EUR 60 to all adults plus EUR 50 to pensioners. While the increase of the spending on capital projects is welcome, the new aid that aims to boost domestic demand is hardy justifiable because again it is not targeted to help the most vulnerable.
MACROECONOMIC FRAMEWORK
The government revised up 2021 GDP growth forecast from 6% to 7% because of the favourable external environment, faster-than-expected economic recovery at home and effects of the measures to help the economy and citizens amid the COVID-19 pandemic. Domestic demand is seen as the main growth driver this year, while net exports are projected to continue to have negative contribution. The government expects stronger positive contribution from private consumption this year because of the aid package, preserved labour market stability and expected increase of wages in the private and public sectors. Stronger growth in investments is expected as well as a result of the faster-than-expected recovery of private investment and continuation of implementation of infrastructure projects. The projection seems realistic given strong economic expansion in H1, which is estimated to have continued in Q3 as well. The IMF projects GDP growth at 6.5% in 2021.
The government forecasts that CPI inflation will accelerate to 3.5% this year (up from 2.4% projected in April) under the impact of temporary factors such as higher global oil prices and prices of primary agricultural commodities, but also a low base. Inflation is expected to be influenced by these factors in the remainder of the year and then to continue to move in the upper half of the NBS target band (3%+/-1.5pps). The CA deficit is projected to narrow to 3.9% of GDP in 2021 on the back of more favorable trends in real exports and imports. The recovery of the economy will also accelerate the influx of FDIs that will continue to cover the CA gap in 2021, the government said.
The draft of the second budget revision lowers the 2021 budget deficit target to RSD 304.5bn (4.9% of GDP) from RSD 412.2bn gap (6.9% of GDP). The general budget gap is planned at 4.9% of GDP as well. General government debt is planned at 58.3% of GDP in 2021, down from 60.0% of GDP envisaged in the first budget revision.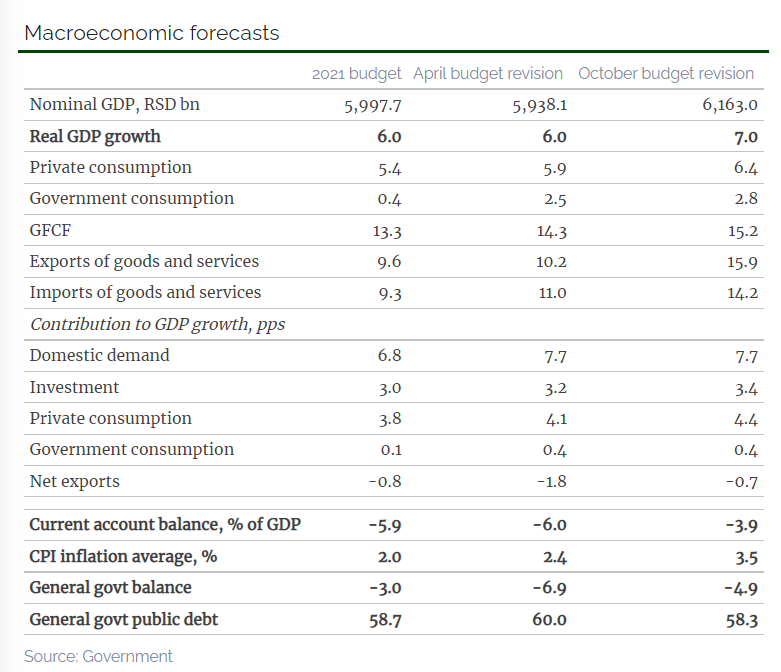 FASTER ECONOMIC RECOVERY BOOSTS BUDGET REVENUES
Revenue outperformance was one of the main reasons for the second revision of the budget this year. Thus, budget revenues are planned at RSD 1,488.5bn, up by RSD 132.3bn or 9.8% compared to the April revision, which reflects higher GDP growth projection, favourable developments in the labour market, payment of initially unplanned non-tax revenues; positive impact of the aid programme on personal consumption; conservative approach in planning of certain categories of tax revenues such as corporate income tax and VAT. Tax revenues were upped by RSD 111bn or 9.5% to RSD 1,279.3bn, mainly on the back of higher revenues from corporate income tax and VAT. The government was cautious when planning corporate income tax revenue in April because profitability of companies in 2020 was unknown back then, but it turned out that the result was better than expected. As for VAT revenues, their collection accelerated in Q2 and Q3 as a result of stronger recovery of personal consumption, effects of the state measures on consumption, better situation in tourism sector and other services. Non-tax revenues are planned at RSD 191.5bn, up by RSD 21.1bn or 12.4%.
BUDGET EXPENDITURES FORESEE MORE FUNDS FOR CAPITAL PROJECTS
Budget expenditure is planned RSD 1,793bn, up by RSD 24.6bn or 1.4%, mainly because of higher spending on capital projects. The second budget revision increases current expenditures by RSD 1.23bn to RSD 1,377bn. Expenditures on employees are upped by RSD 1.27bn (0.4%) to RSD 339.8bn because of new employment at certain institutions. Slightly higher procurement costs reflect additional funds to mitigate the pandemic, support for scientific research activities, management of phytosanitary system and food and feed safety system origin; etc. Expenditures on subsidies were lowered by 0.41bn, mainly because of the cut in funds needed for prevention and mitigation of the impact of the pandemic and subsidies for air transport, while higher spending is foreseen for road maintenance, incentives for procurement of electronic fiscal devices; support for entrepreneurship development; incentives in agriculture; incentives for re-use and utilization of waste, etc. Transfers to the Pension and Disability Insurance Fund were reduced by RSD 33.1bn due to better collection of social contributions.
The second budget revision revises capital expenditures upwards by RSD 26.7bn to RSD 388.9bn (6.3% of GDP), while at general government level, they will reach nearly RSD 478bn (7.8% of GDP). A significant increase of funds is foreseen for the implementation of major infrastructure projects such as the construction of the highway E-761, section Pojate-Preljina; highway E-763, section Novi Beograd-Surcin; highway stretch Pozarevac-Golubac; Serbia-Bulgaria gas interconnector; for procurement of real estate owned by Serbia for the needs of the embassy in Washington; construction of Data center in Kragujevac; construction of a vaccine factory; construction and equipping of COVID hospital in Novi Sad; procurement of equipment for the University Clinical Center of Serbia, Belgrade and other projects.
EUROBOND ISSUANCE TARGET FOR 2021 IS MET
The draft of the second budget revision for 2021 lowers total financing needs by RSD 199.2bn to RSD 707.9bn. Domestic borrowing is set at RSD 210bn (down from RSD 330bn in the first revision), while Eurobond issuance is reduced to RSD 325bn (EUR 2.76bn) from RSD 416.2bn previously. We remind that Serbia placed a 12-year EUR 1bn Eurobond at end-February, while on Sep 16 the country raised EUR 1bn in its first ever 7-year green bond and EUR 750mn in 15-year Eurobond. In the second budget revision the government upped borrowing from IFIs ad foreign governments by RSD 12bn to RSD 165bn.
CONCLUSION
The new budget deficit target seems feasible given the budget execution so far. The coronavirus pandemic continues to pose a risk but despite the rising number of COVID-19 infections the authorities are unlikely to impose a new lockdown that could hurt economic activity. A major uncertainty is related to the energy prices as well. While gas and electricity prices for households will not be changed by the end of the heating season, as the authorities reassured, the prices for businesses will go up and it is up to the government to decide how and whether it will cushion the increase, which would affect the budget. The main parametres of the 2022 draft budget are yet to be presented (expected to happen in November), but an IMF mission agreed with the authorities that it would be appropriate to narrow the fiscal deficit to 3% of GDP, which will allow to put the public debt on a clear downward path. What is known from statements of government officials is that the government will continue with public investments with a focus on projects from the green agenda. Public sector wages are expected to be hiked again, while pensions should increase by at least 5% in line with the Swiss formula for pension indexation. On top of that pensioners will receive a one-off aid of RSD 20,000 in February or March. General elections are expected to take place in April 2022 so there will be no much room for election-related overspending at the beginning of the year, in our view.