The Communications Authority of Kenya (CA) plans to cut the mobile termination rate (MTR) from KES0.99 to KES0.12 per minute. The MTR is the service charge a mobile network operator (MNO) pays to another MNO for terminating calls on the latter's network. For instance, for every call an Airtel Kenya user makes to a Safaricom user, Airtel Kenya must pay Safaricom KES0.99 per minute (or KES0.12 per minute under the proposed change).
The new rate was supposed to become effective on 1 January, but the country's largest MNO, Safaricom, has filed an injunction against the CA's plan, citing insufficient evidence for the change and poor methodology.
As the country's largest MNO, Safaricom earns net revenue from the MTR and pays a smaller cumulative amount to its domestic rivals, Airtel Kenya and Telkom. The other players support the CA's move as it will lower their costs.
A ray of hope for Airtel Kenya and Telkom?
Airtel Kenya and Telkom will benefit from the change, while Safaricom will lose out. Given the industry landscape, Airtel Kenya and Telkom incur higher net interconnection costs (interconnection costs less interconnection revenue) than Safaricom.
In FY 20 (latest available data), Airtel Kenya paid KES5.9bn in interconnection charges and earned KES2.6bn in interconnection revenue, resulting in an interconnection loss of KES3.3bn. Under the new MTR, this would have been a mere cKES0.4bn loss.
There is no publicly available data for Telkom, but past events suggest it is also in a net-interconnection-loss position. Last year, Safaricom announced that Airtel Kenya and Telkom had incurred an outstanding KES1.5bn in interconnection and co-location debt.
Safaricom, meanwhile, earned KES6.2bn in interconnection revenue and incurred cKES2.4bn interconnection costs, resulting in net interconnection revenue of KES3.8bn in the most recent financial year. Therefore, the adjustment will cut the company's net interconnection revenue to cKES0.5bn.
Safaricom's appeal against the rate cut has attracted criticism from Airtel Kenya and Telkom, which is unsurprising given the consistent opposition Safaricom faces from its competitors on pricing issues.
The company has been accused of monopolistic tendencies because of its tight hold of the Kenyan telecoms market. For instance, the premium pricing Safaricom's M-Pesa imposes on non-M-Pesa money transfers came under scrutiny a few months ago, with the company accused of taking advantage of its market leadership. However, we considered the evidence and concluded that the predatory pricing accusations were not entirely objective. Safaricom's massive network advantage has also been a topic of debate among lawmakers who have deliberated the possibility of splitting up its telco and mobile money businesses.
It will take more than an MTR cut to unseat Safaricom
Airtel Kenya has long struggled for market share; it has lowered its prices and undertaken various promotions to win customers. And, besides the eternal struggle for market share, it faces enormous financial difficulties. According to the FY 20 report, the company had an accumulated loss of KES77.4bn on its balance sheet.
Telkom is probably in a similar loss-making situation if the interconnection co-location debt is any indication. The two players had planned to merge, but the plan was later terminated.
In the telecoms sector, there is typically a huge advantage associated with being the market leader, and it is highly challenging and capital intensive to unseat the market leader in most cases. It will take more than a reduction in MTR rates for Airtel Kenya and Telkom to close the wide gap between them and the industry giant. They will have to invest in infrastructure to deliver better coverage, engage in a continuous price war and accelerate product development.
Risks and concerns remain
Aside from the potential impact on its profit, even if Safaricom wins out, recent events highlight the regulatory risk for the company. Complaints from its competitors and pricing concerns are well worth investors keeping a close eye on.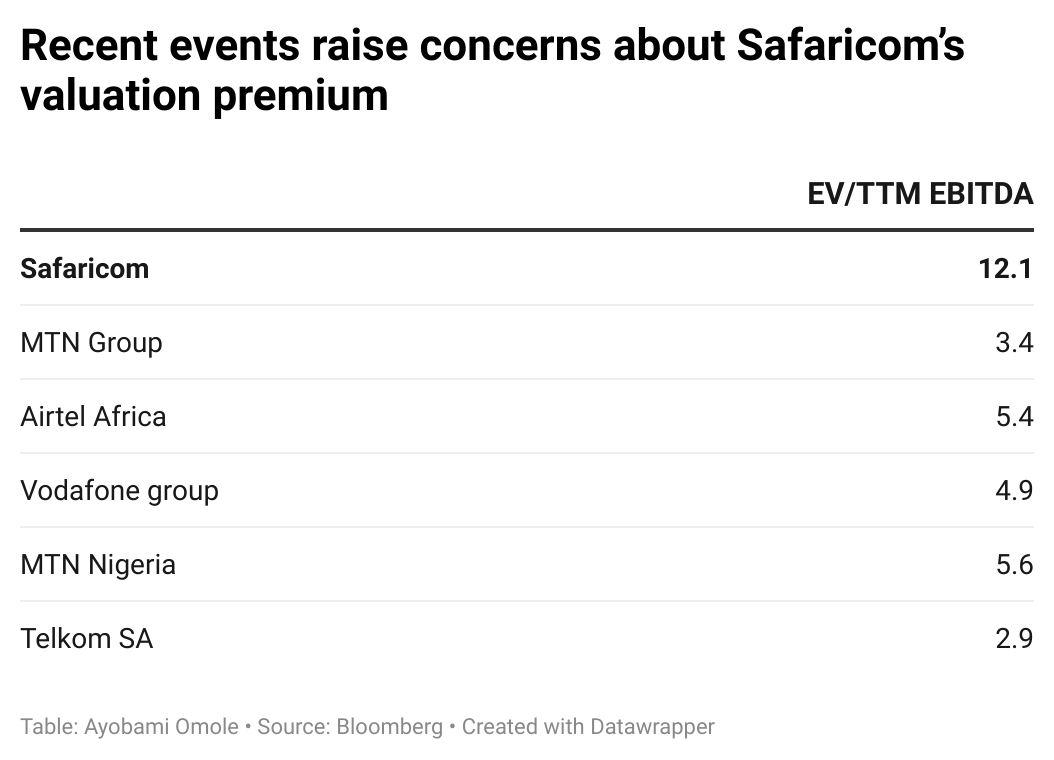 We have previously highlighted that Safaricom is trading at a significant premium to its regional peers, such as Airtel Africa and MTN Group. We think, though, that this premium may now have less justification given these issues and the company's shaky start in Ethiopia.
That being said, Safaricom has protection – it is one of the most successful companies in Kenya and the country's most significant taxpayer, which may afford it a degree of leniency from the government. We reiterate our Hold recommendation on the stock.