The value of Safaricom's Fuliza (an M-Pesa overdraft facility) borrowings increased 25% yoy in H1 21, according to media reports.
What is Fuliza?
In partnership with Kenya lenders, NCBA and KCB Bank, Safaricom operates an overdraft facility dubbed 'Fuliza', a product that enables customers to access an unsecured line of credit by overdrawing on M-PESA to cover short-term cash-flow shortfalls, subject to an applicable pre-determined limit.
Fuliza is underwritten by Kenyan lenders, NCBA and KCB Bank. Fuliza levies a 1% access fee and a maintenance fee on the outstanding balance as shown below.
In terms of fee split in the partnership arrangement, Safaricom retains 40% of the fees with NCBA and KCB Group splitting the balance.
Safaricom's M-Pesa revenue to get a boost from Fuliza
According to Safaricom, Fuliza is the firm's most popular loan product, having recorded revenue growth of 61.3% yoy in FY 21 to KES4.5bn, aided by daily active Fuliza customers more than doubling to 1.4mn. The strong growth trajectory is set to continue given the 25% yoy jump in transaction values.
In our Safaricom valuation, we estimate its M-Pesa revenue to grow 22% yoy in FY 22. We expect M-Pesa to continue to be Safaricom's strongest revenue line due to its strong growth and low competitive pressures, with its contribution to revenue increasing from 32% in FY 20 to 38% in FY 25.
In FY 22, we believe some positives will work in favour of M-Pesa:
The reinstatement of fees on digital transactions. Safaricom had been hard hit by this due to the removal of charges on P2P transactions below KES1,000. The bulk of Safaricom's P2P transactions fall below KES1,500. Additionally, the Central Bank of Kenya removed the limits on how many uncharged transactions of below KES1,000 a client can carry out, which led to clients taking advantage of the loophole.

Retention of higher transaction limits. The Covid-19 relief measures saw the daily transfer limit on e-wallet transactions increase to KES300,000 (to be done in two batches of KES150,000) from KES140,000 previously. Customers are now also allowed to hold up to KES300,000 in their e-wallets, a threefold increase from the previous limit of KES100,000. These higher limits are positive for Safaricom as clients can carry out larger and higher value transactions, and it also encourages customers to keep money within the M-Pesa ecosystem, hence increasing revenue opportunities for Safaricom.
Fuliza is now the dominant loan application on KCB
According to KCB Group, the number of mobile borrowings increased 34% yoy with Fuliza's number increasing 70% yoy in H1 21. In terms of the value of mobile loans advanced, Fuliza loans were up 20% yoy, KCB M-Pesa loans decreased 38% yoy and Vooma loans decreased 24% yoy.
According to Safaricom management, KCB M-Pesa, which is also a loan and savings product in partnership with KCB, recorded a revenue and one-month active customer fall of about a third in FY 21 on account of the impact of the pandemic.
We believe Fuliza's model of recovering loans via deduction at source poses little risk to KCB, which is the underwriter of the risk in partnership with NCBA. Hence we expect Fuliza will continue to boost earnings for KCB.
At present, KCB's digital (mobile) income to total fee and commission is 29%. With Covid-19 accelerating the shift to cashless transactions, we expect fee income to be driven by an increase in transaction values across all digital channels, especially thanks to management supporting the quick rollout of digital products.
NCBA's move to shift micro loans to Fuliza will give the platform a further boost
In August 2020, NCBA raised the minimum loan size on M-Shwari to KES2,000 from KES500. On M-Shwari, loans are charged a one-off 7.5% facilitation fee. According to Safaricom, the average value of M-Shwari loans in FY21 increased by 26.3% to KES5,575.
We believe this will see micro-loans shift to the Fuliza platform, which will earn NCBA higher revenue due to the daily charges the facility attracts from customers. Typically, the average size of Fuliza loans is between KES400 and KES700.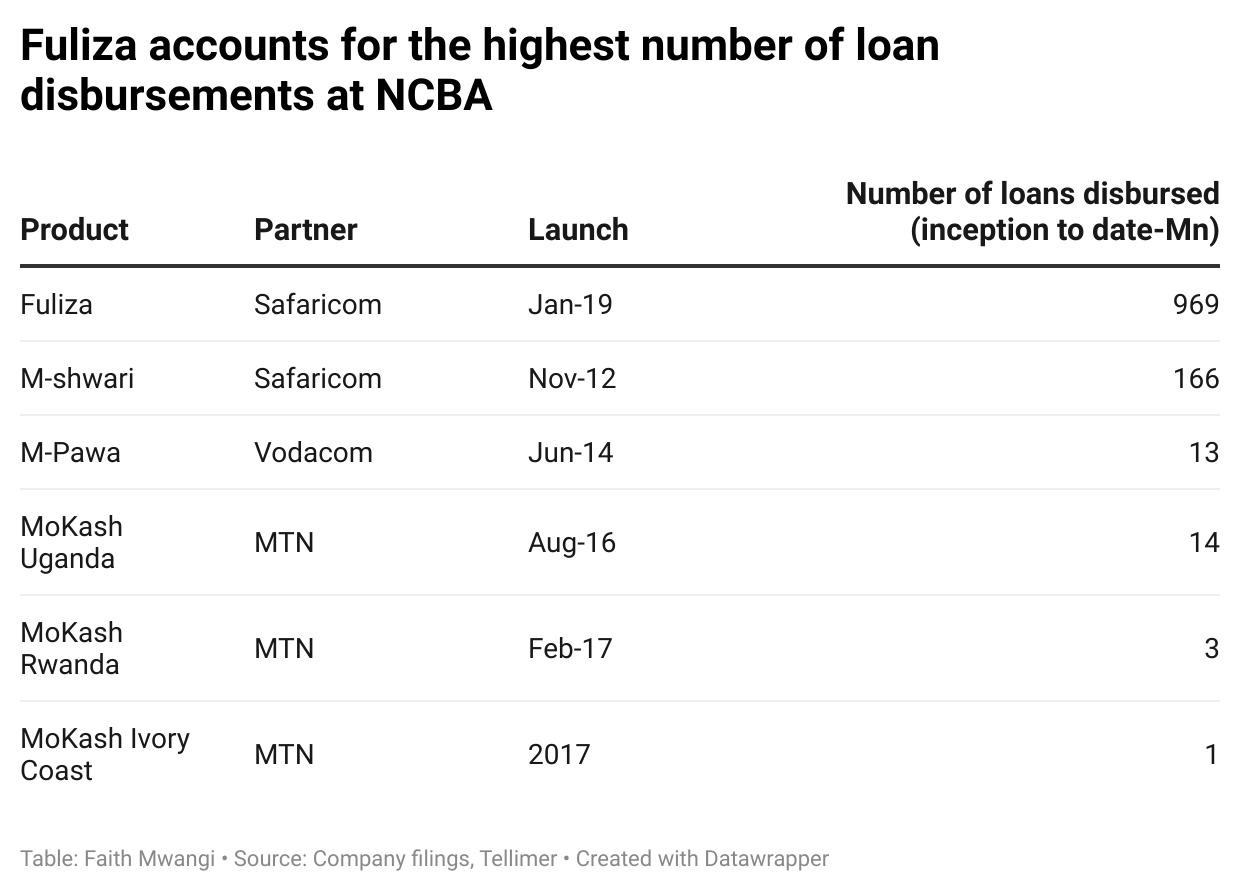 NCBA still relies heavily on fees and commission from loans, which form 51% of non-interest revenue. Other fees and commissions contribute 17% of non-interest revenue.
We believe the fee and commission income opportunity for NCBA remains attractive, but the firm needs to build on its flagship products and pursue larger retail market share to generate higher fees and commission.
Unlike other tier-1 banks whose fees and commissions are from their own customer network, NCBA relies on Safaricom's customers to generate its fee and commission on digital channels, which limits the scale the bank can achieve. Nevertheless, Fuliza remains a low-risk opportunity that the bank can continue to cash in on.