On 5 August, Rwanda issued a 10yr, US$620mn eurobond. Initial price talk in the high 5% range aligned with our projection for a yield of 6% +/- 0.25%, but strong demand (with US$1.6bn of bids, of which 84.5% were holders of the outstanding 6.625% 2023 bond) pushed the yield to just 5.5% at issuance. Yields have fallen even more since, reaching 5.23% at cob on 30 August.
The primary use of proceeds was to fund a tender offer on the existing 6.625% 2023 bond, of which US$61mn is still outstanding of the initial US$400mn (meaning US$339bn was successfully tendered, with the remaining balance largely spread mostly across four key holders, according to Bloomberg. The remainder will be used "to invest in key priority projects for economic recovery in agriculture, such as export promotion, climate change mitigation and health."
Now that Rwanda's 2023 eurobond has been successfully refinanced, its eurobond maturity profile is extremely light. There will be a US$61mn maturity due in May 2023, with no other principal payments until the new US$620mn bond matures in August 2031 and annual interest payments averaging just US$35mn over that period. And while reserves have edged down from U$1.8bn at the end of 2020 to US$1.6bn in July, this will be reversed with this month's US$218mn SDR allocation from the IMF.
Rwanda's trade deficit has widened by US$30mn in H1 21 to US$1,090mn, with exports up 12% yoy and imports up 6%. Rwanda's longer-term prospects will hinge on its efforts to diversify its exports and attract private investment. Exports have increased from US$680mn (8% of GDP) in 2015 to US$1.4bn (13.6% of GDP) in 2020 (62% of which from gold, coffee, tea and minerals), and FDI inflows have averaged US$240mn (2.7% of GDP) over the past decade and fell to US$100mn (1% of GDP) in 2020.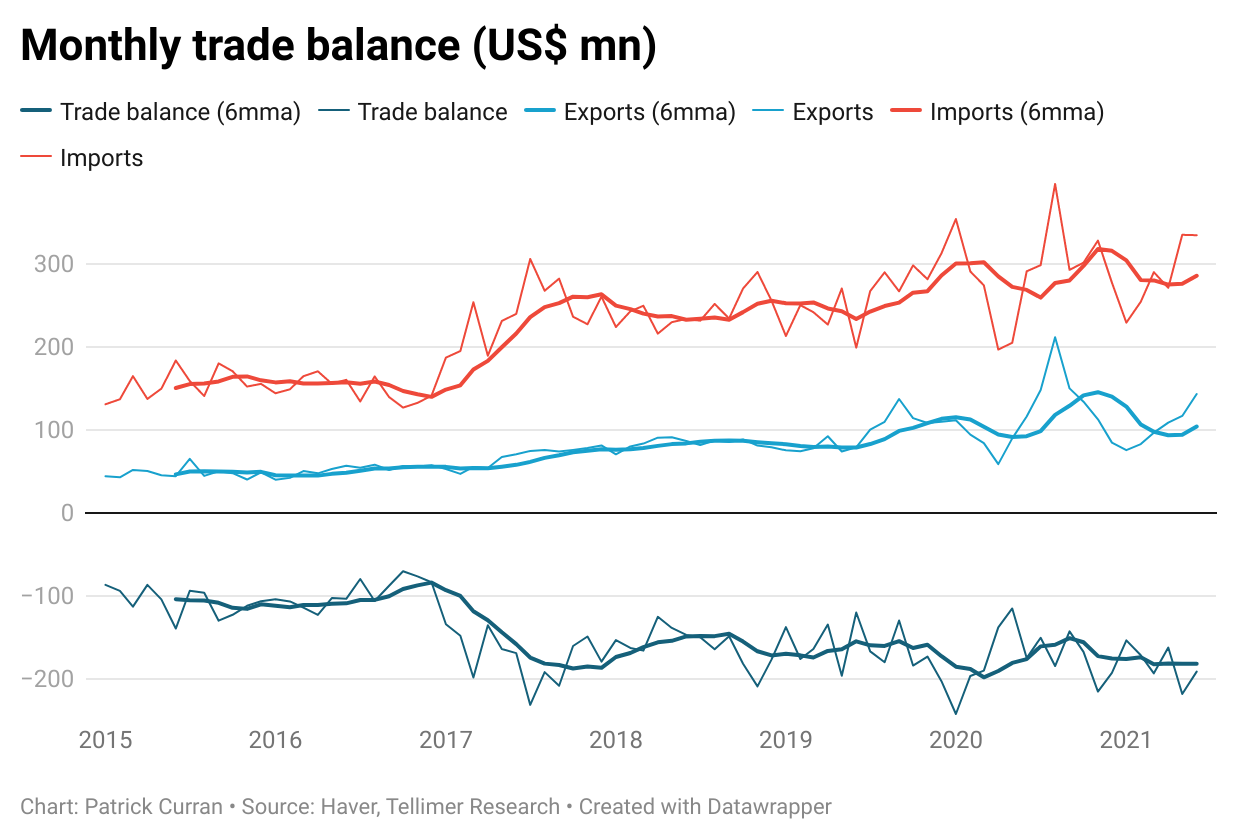 At the same time, the government will need to focus on fiscal consolidation to stabilise its rising debt burden. To bring public debt from a projected 80% of GDP this year to 65% by the end of the decade, Rwanda will need to cut its budget deficit by 6% of GDP (or 3%, excluding temporary Covid-related measures, an achievable but difficult task). Rwanda's Policy Coordination Instrument with the IMF will provide an important backstop for its reform efforts until it expires in June 2023.
Overall, we still think that Rwanda still has one of the continent's best growth stories (with Ethiopia descending into crisis it is probably rivalled only by Senegal and Cote d'Ivoire, with growth projected to average over 7% from 2022-26 and inflation expected to remain subdued around 5% or below), and as such will continue to be an investor favourite.
But perennially large twin deficits (with a projected average budget and current account deficit of 8.4% and 12.3% of GDP, respectively, over the next three years) could quickly lead to imbalances if Rwanda fails to shift from a public sector and debt-driven growth model, prompting S&P to affirm its negative outlook on Rwanda's B+ credit rating earlier in the month.
We've had a Buy recommendation on Rwanda's 6.625% 2023s since last September, and now that the dust has settled on the freshly issued 5.5% 2031s, we roll over our Buy recommendation to the new set of bonds at a price of US$102.06 (yield of 5.23%) at cob on 30 August.
Related reading
Rwanda's new eurobond is a positive signal for debt management, July 2021
Rwanda: Less growth potential but more progress than regional peers, September 2020