13 November 2020
Revisiting the IMF SDR allocation — The time is right

Stuart Culverhouse
Head of Sovereign & Fixed Income Research @ Tellimer Research
13 November 2020
With US political change afoot, now is a good time to resurrect discussion on an IMF SDR allocation, last seen in 2009
All IMF members gain from increased reserves, but main beneficiaries are those whose quota is a bigger share of reserves
Zambia, Ecuador, Suriname, Belarus, Tajikistan among the main winners; it may also help catalyse private capital to EM


13 November 2020
The extraordinary G20 finance ministers and central bank governors (FMCBG) meeting today, ahead of the Leaders' Summit (21-22 November), is due to publish the Common Framework for dealing with bilateral debt and also discuss outstanding issues related to the DSSI, as promised at last month's IMF/WB Annual Meetings.
While they are at it, we think a general SDR allocation is another discussion point for global policymakers that could usefully be revisited in terms of providing support for the most vulnerable countries post-Covid. This issue received a lot of attention at the time of the IMF/WB Spring Meetings, but was rejected by the US, and has since fallen off the radar. But with political change around the corner, with the arrival of President-elect Biden, might now be a good time to resurrect this idea?
What is an SDR allocation?
An SDR allocation essentially provides free financial resources on an unconditional basis to all IMF members, which is especially useful for liquidity constrained developing countries. It is a way of boosting countries' foreign currency reserves, at low cost and at the press of a button (see IMF Q&A). Once allocated, member countries can hold their SDRs as part of their international reserves, convert them for freely usable currencies with other members or use the IMF to facilitate an exchange, or use them for Fund transactions. The IMF's Articles of Agreement give it the authority, subject to certain conditions, to create unconditional liquidity through general allocations of SDRs to its members in proportion to their quotas.
It is this last point that is especially important — general allocation is based on each country's IMF quota. Hence, countries with the biggest quotas are the biggest beneficiaries in absolute terms of an SDR allocation. This includes the G7 and China.
The last general SDR allocation, which amounted to SDR161.2bn (US$250bn), occurred in August 2009. It was called for by G20 Heads of State and the IMF in April 2009 as a response to the Global Financial Crisis (GFC). It is the biggest allocation to date. A special allocation of SDR21.5bn was also granted.
The total of US$250bn represented 74.13% of the overall quota; so each member got an amount of SDRs equal to 74.13% of their quota. We're not sure where the US$250bn came from, however, perhaps a bit of round number-ology.
Crucially, there has been a quota review since 2009 so quotas have increased for many countries. This will boost the firepower by even more today for some.
SDR allocation revisited
In the immediate aftermath of the pandemic, there were many calls in the Spring for the G20 and IMF to repeat what it did in 2009 with another SDR allocation to help emerging markets, especially low-income countries, deal with the impact of Covid. The suggested size of the global allocation ranged from US$500bn (twice as large in US$ terms as 2009), as called for by the Petersen Institute's Chris Collins and Edwin Truman, to US$1tn demanded by Larry Summers and Gordon Brown, or even cUS$3tn (as proposed in US legislation recently passed in the House of Representatives – see here).
But despite wide-ranging support, including from European and African leaders, the US opposed the call for an SDR allocation in the Spring, arguing that the biggest beneficiaries are the Developed Markets (DM) that don't need the help and not the Emerging Markets or poorest countries that do. The US Treasury argued that existing IMF lending facilities are a more efficient way of helping developing countries.
Whilst it is strictly true that DMs benefit more, in absolute terms, any help to liquidity constrained poor countries is beneficial. In fact, in relative terms, the biggest beneficiaries are those members whose quota is a bigger percentage of their existing international reserves. These tend to be smaller emerging markets and poor countries.
So, for example, while China would get US$22.6bn from an SDR allocation at current exchange rates, assuming the same 74.13% of quota, that is trivial compared to its US$3tn of reserves. China, and Switzerland, benefit the least. Chad on the other hand would get US$148mn, 30% of its reserves.
What if there is an SDR allocation today?
We assume the same percentage allocation today as in 2009, namely 74.13%. With an overall quota of SDR477bn, that implies a general allocation of SDR353.6bn (US$504bn).
We've modelled the impact of a US$500bn allocation to see who might be the biggest winners. Zimbabwe, Equatorial Guinea, South Sudan and Burundi are the biggest beneficiaries (from the data we have).
Among EM and frontier economies with eurobonds, Zambia is the biggest winner, with an allocation of nearly 80% of its reserves (that's because its reserves are so low). Ecuador, Suriname, Belarus and Tajikistan are also big winners.
The charts below show the biggest winners and the impact for selected other markets among EM and frontier economies (ie excluding DMs, euro members, fragile and less developed countries, and those without eurobonds).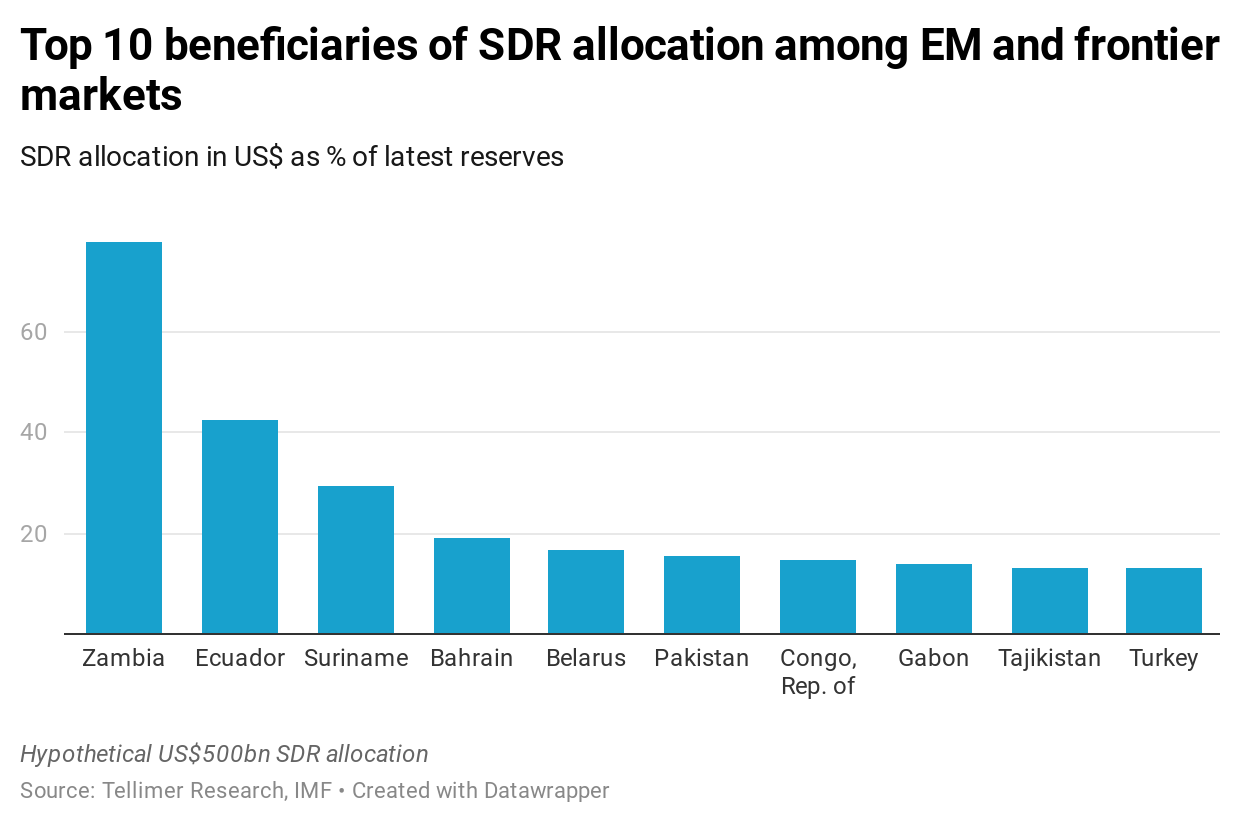 What would be the market impact if an SDR allocation is approved?
The sooner and bigger, the greater the market impact will be as investors price in the benefits of the additional liquidity for EM sovereigns in terms of their reserves being higher than otherwise. After its rejection in April, there has been much less discussion of this idea, so it cannot be priced in now.
There might be two impacts. First, there might be a general boost to EM assets as a whole, as EM benefit in the same proportion – ie lift the whole market (shift the whole spread curve lower). Second, more specifically, (as we explain in detail in the full report — available to Insights Pro subscribers), countries that are the biggest beneficiaries because their quota is a bigger share of their reserves may be rewarded more by markets. This will tend to favour the lowest rated and smaller markets (highest risk) – ie pivot the curve, so that spreads of the lowest rated sovereigns fall by more than the better rated.
As an ancillary impact, any decline in spreads might mean that market access returns for some frontier and smaller EM that currently don't have access to the market, or where access is only fleeting. SDR allocation could therefore provide a catalytic effect on private capital flows.
I am grateful to Luke Richardson for providing research assistance for this note.
---
Disclosures
This report is independent investment research as contemplated by COBS 12.2 of the FCA Handbook and is a research recommendation under COBS 12.4 of the FCA Handbook. Where it is not technically a res...
Full Tellimer disclaimers