The extraordinary G20 finance ministers and central bank governors (FMCBG) meeting today, ahead of the Leaders' Summit (21-22 November), is due to publish the Common Framework for dealing with bilateral debt and also discuss outstanding issues related to the DSSI, as promised at last month's IMF/WB Annual Meetings.
While they are at it, we think a general SDR allocation is another discussion point for global policymakers that could usefully be revisited in terms of providing support for the most vulnerable countries post-Covid. This issue received a lot of attention at the time of the IMF/WB Spring Meetings, but was rejected by the US, and has since fallen off the radar. But with political change around the corner, with the arrival of President-elect Biden, might now be a good time to resurrect this idea?
What is an SDR allocation?
An SDR allocation essentially provides free financial resources on an unconditional basis to all IMF members, which is especially useful for liquidity constrained developing countries. It is a way of boosting countries' foreign currency reserves, at low cost and at the press of a button (see IMF Q&A). Once allocated, member countries can hold their SDRs as part of their international reserves, convert them for freely usable currencies with other members or use the IMF to facilitate an exchange, or use them for Fund transactions. The IMF's Articles of Agreement give it the authority, subject to certain conditions, to create unconditional liquidity through general allocations of SDRs to its members in proportion to their quotas.
It is this last point that is especially important — general allocation is based on each country's IMF quota. Hence, countries with the biggest quotas are the biggest beneficiaries in absolute terms of an SDR allocation. This includes the G7 and China.
The last general SDR allocation, which amounted to SDR161.2bn (US$250bn), occurred in August 2009. It was called for by G20 Heads of State and the IMF in April 2009 as a response to the Global Financial Crisis (GFC). It is the biggest allocation to date. A special allocation of SDR21.5bn was also granted.
The total of US$250bn represented 74.13% of the overall quota; so each member got an amount of SDRs equal to 74.13% of their quota. We're not sure where the US$250bn came from, however, perhaps a bit of round number-ology.
Crucially, there has been a quota review since 2009 so quotas have increased for many countries. This will boost the firepower by even more today for some.
SDR allocation revisited
In the immediate aftermath of the pandemic, there were many calls in the Spring for the G20 and IMF to repeat what it did in 2009 with another SDR allocation to help emerging markets, especially low-income countries, deal with the impact of Covid. The suggested size of the global allocation ranged from US$500bn (twice as large in US$ terms as 2009), as called for by the Petersen Institute's Chris Collins and Edwin Truman, to US$1tn demanded by Larry Summers and Gordon Brown, or even cUS$3tn (as proposed in US legislation recently passed in the House of Representatives – see here).
But despite wide-ranging support, including from European and African leaders, the US opposed the call for an SDR allocation in the Spring, arguing that the biggest beneficiaries are the Developed Markets (DM) that don't need the help and not the Emerging Markets or poorest countries that do. The US Treasury argued that existing IMF lending facilities are a more efficient way of helping developing countries.
Whilst it is strictly true that DMs benefit more, in absolute terms, any help to liquidity constrained poor countries is beneficial. In fact, in relative terms, the biggest beneficiaries are those members whose quota is a bigger percentage of their existing international reserves. These tend to be smaller emerging markets and poor countries.
So, for example, while China would get US$22.6bn from an SDR allocation at current exchange rates, assuming the same 74.13% of quota, that is trivial compared to its US$3tn of reserves. China, and Switzerland, benefit the least. Chad on the other hand would get US$148mn, 30% of its reserves.
What if there is an SDR allocation today?
We assume the same percentage allocation today as in 2009, namely 74.13%. With an overall quota of SDR477bn, that implies a general allocation of SDR353.6bn (US$504bn).
We've modelled the impact of a US$500bn allocation to see who might be the biggest winners. Zimbabwe, Equatorial Guinea, South Sudan and Burundi are the biggest beneficiaries (from the data we have).
Among EM and frontier economies with eurobonds, Zambia is the biggest winner, with an allocation of nearly 80% of its reserves (that's because its reserves are so low). Ecuador, Suriname, Belarus and Tajikistan are also big winners.
The charts below show the biggest winners and the impact for selected other markets among EM and frontier economies (ie excluding DMs, euro members, fragile and less developed countries, and those without eurobonds).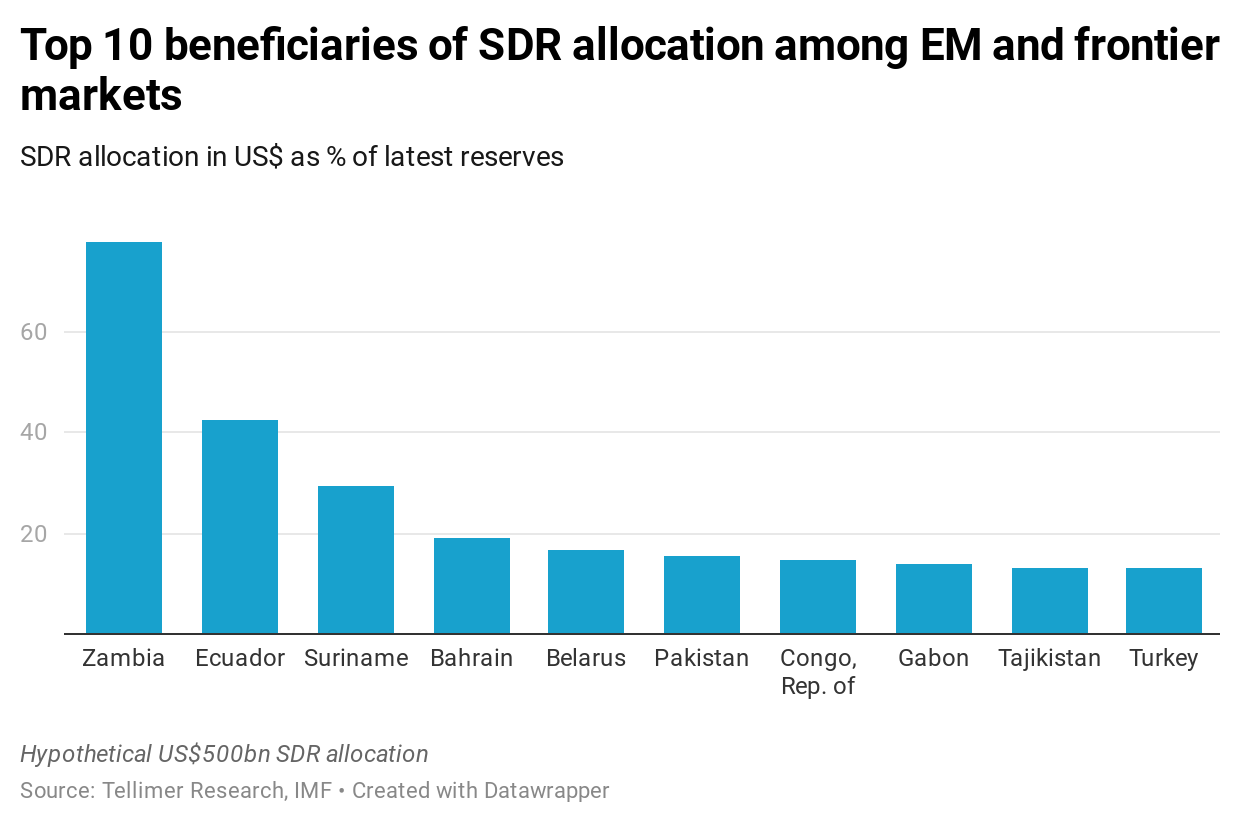 To put this further into perspective, according to our estimates, those countries that have received emergency RCF/RFI disbursements from the Fund (70 of them) have received a combined US$29bn. A US$500bn SDR allocation would boost their collective reserves by nearly the same amount, US$27bn.
DSSI participants are even bigger beneficiaries of this allocation. For the 73 DSSI-eligible countries, the SDR allocation we've modelled amounts to a US$21bn boost to their overall reserves — about 9% of existing pooled reserves. This compares to potential DSSI savings for this year (before the extension) for all countries (although not all have participated) of US$12bn.
It is time to revisit this proposal, while it is not too late. But the opportunity and impetus may have been lost, especially after the vaccine news this week.
Challenges and other considerations
Despite its benefits, it may not be that simple:
The US needs to be on board. An allocation requires broad support from Fund members, with an 85% weighted majority of governors. The US can alone block this given its 16.5% voting share.

US approval requires Senate approval. The US Treasury's concerns back in April still hold today. But while the Senate likely remains in Republican control, the US position may change under a Biden administration.

Another problem with the SDR allocation, because of its indiscriminate nature, is that it will also benefit countries that Western leaders may not want to see more resources going to — eg Venezuela, Belarus, Iran, Syria etc. For Venezuela, we calculate that this SDR allocation would boost reserves by US$3.9bn (about 61% of existing reserves).

All or nothing. By nature of a general allocation, we don't think it is possible to carve out a specific set of countries that can benefit (eg low income countries) in order to address those concerns that it benefits those that don't need it or that the West would rather not have it. Perhaps creative solutions can be found to achieve this, although this might be difficult if it requires changes to the Fund's Articles, and if a simple solution did exist, wouldn't it have been tried already? 

While augmenting countries' reserves, an allocation should not conflate liquidity needs with insolvency, nor diminish the need for reform or – when appropriate – fiscal consolidation. Member countries should not see this as a reason to avoid adjustment in a situation of impending debt distress or an unsustainable debt situation. Moreover, an SDR allocation lacks any kind of conditionality, so recipients could mismanage the money. Meanwhile creditors (bondholders) should not see this as improving recoveries for countries in default.

Timing. We think help is needed now, but the longer this is left, the less necessary it becomes and the more likely it slips down the policy agenda. This might especially be the case in the wake of the positive vaccine news earlier this week (see here). We think there is still an urgent need for resources for many poor countries, as well as some emerging markets, which is likely to extend well into 2021. Given it took four months in 2009, from the G20's call in April to implementation in August, policymakers need to move quickly if they want to see countries benefit from this sooner than later.

Is it inflationary? An SDR allocation is essentially printing money but its inflationary impact will depend on its size and the state of the global economy. It wasn't considered inflationary in 2009 given the small scale relative to global GDP (reported as 0.33% of GDP at the time), trade (less than 1%) and reserves (3%), and because not all recipients would spend the money at the same time. The same arguments would likely apply today, even more so given the scale of the collapse in global GDP, and hence lack of global inflationary pressures given the amount of spare capacity. However, leave it too long and it risks becoming more pro-cyclical. Size will also matter – a US$2.8tn allocation (3.3% of projected 2020 US dollar global GDP) would surely carry more risk than US$500bn (0.6% of global GDP).
What would be the market impact if an SDR allocation is approved?
The sooner and bigger, the greater the market impact will be as investors price in the benefits of the additional liquidity for EM sovereigns in terms of their reserves being higher than otherwise. After its rejection in April, there has been much less discussion of this idea, so it cannot be priced in now.
There might be two impacts. First, there might be a general boost to EM assets as a whole, as EM benefit in the same proportion – ie lift the whole market (shift the whole spread curve lower). Second, more specifically, as we explained above, countries that are the biggest beneficiaries because their quota is a bigger share of their reserves may be rewarded more by markets. This will tend to favour the lowest rated and smaller markets (highest risk) – ie pivot the curve, so that spreads of the lowest rated sovereigns fall by more than the better rated.
As an ancillary impact, any decline in spreads might mean that market access returns for some frontier and smaller EM that currently don't have access to the market, or where access is only fleeting. SDR allocation could therefore provide a catalytic effect on private capital flows.
I am grateful to Luke Richardson for providing research assistance for this note.