Rapidly diminishing reserves have grabbed headlines in both Ethiopia and Sri Lanka this week. The news is particularly notable in Ethiopia, given the backward-looking nature of its reserve data (it is published quarterly and deeply in arrears, with the previous reserve print dating back to September). The latest release brings the data to end-2021, and shows a US$700mn drop in reserves on the quarter to just US$2bn. This corresponds to just 1.15 months of trailing goods and services imports and is equal to the US$2bn of external principal payments due in 2022 per World Bank IDS estimates. Once foreign liabilities of US$3.9bn are factored out, net reserves have fallen to a record low of negative US$1.9bn.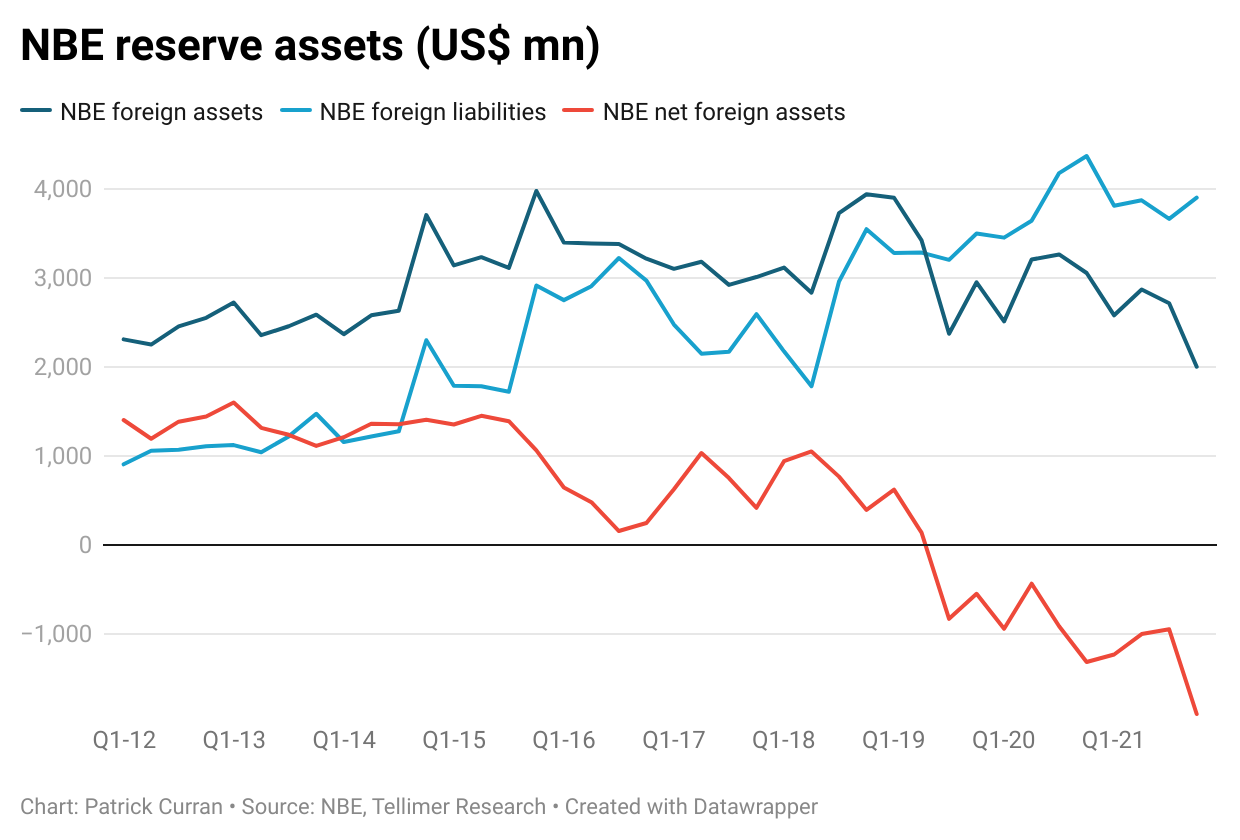 While Sri Lanka has not yet released its April reserves data (it is expected any day), Finance Minister Ali Sabry said yesterday that "usable reserves" have dropped to an alarming US$50mn.
Gross reserves stood at US$1.9bn in March, of which US$1.7bn is liquid FX. But against that is US$2.1bn of outstanding swap lines, including a US$1.5bn swap with the PBoC, leaving just US$50mn that can be used to settle US$-denominated payments, according to Sabry. Even the US$1.9bn gross figure equates to just 1 month of trailing goods and services imports, and is dwarfed by the US$5.8bn of external principal payments that would have been due over the next 12 months had Sri Lanka not stopped paying.
Implications
For Ethiopia, the latest reserve data is at odds with the relatively rosy picture painted by the updated IMF WEO projections last month, and hints at severe external imbalances (a risk we highlighted in our recent summary of the IMF Spring Meetings).
As such, despite the IMF's projections for public debt to drop below 35% of GDP by 2025 and official preferences to exclude private bondholders from the ongoing Common Framework restructuring, there is an increasing risk that liquidity constraints necessitate a more thorough restructuring that includes bondholders. Further, reserves have likely declined even further since end-2021, with S&P estimating a further drop to US$1.8bn in January and the ETB trading at a c50% premium on the parallel market, hinting at major BOP imbalances.
The immediate implications for Sri Lanka are less obvious, as it has already started the restructuring process. But it is still a poignant signal of the uphill battle that Sri Lanka faces, with worsening shortages of fuel and medicine, severe power cuts, and a jump in inflation from 19% to 30% yoy in April stoking public anger against the Rajapaksa family. A no-confidence vote against PM Rajapaksa is expected in parliament in the coming days, but the prospect of its success was called into question today when the 40 MPs who broke away from the ruling party last month voted alongside the government to elect a new deputy speaker. Meanwhile, the LKR has continued to plummet and is now down 44% since it was allowed to float two months ago, but is showing signs of bottoming out with the parallel premium dropping below 10% from almost 30% at the end of March.
Sri Lanka's government is seeking bridge financing of US$3-4bn from major partners like China and India until an IMF programme is secured, which Sabry says could take as long as six months to finalise, while plans to appoint legal advisors have been delayed and are now expected within the next two weeks. Sabry says that it could take up to two years to emerge from the current crisis.
With the Common Framework restructuring dragging on in Ethiopia, and the current economic and political crisis likely to delay the finalisation of IMF and restructuring talks in Sri Lanka, this week's reserve headlines paint a worrying picture for both countries and will exacerbate the economic and humanitarian hardships faced by their citizens as the restructuring processes drag out.
That said, with the risks largely priced in, we retain our Hold recommendation on both Ethiopian and Sri Lankan eurobonds (see here and here for our full investment rationale).