In general, robust remittances so far in 2021 continue to provide partial relief from higher commodity import bills and shortfalls in tourism revenues in emerging and frontier markets. Remittances supported many countries reliant on them in 2020 – the exceptions were Jordan, India, Nigeria, Philippines, and Ukraine.
In updating the monthly remittance data we track across over ten markets we observe the following.
Remittances growth yoy in 1Q 2021 has seen notable acceleration in Georgia, Jordan, Pakistan and Morocco, compared to 4Q 2020, whereas there is no example in our sample of a major deceleration.

Significant dispersion in growth rates continues and is not explained by differences in the main source region for those remittances; eg

Growth in remittances to Jordan substantially underperform those to Bangladesh or Pakistan, even though the GCC is the largest source region for all three, and

Growth in 1Q 2021 of c30% or more has been registered in countries with very different source regions (eg Morocco from the EU, Bangladesh or Pakistan from the GCC, Jamaica from the US-Canada, and Georgia or Moldova from Russia).
Nigeria remains exceptional, where the collapse in remittances – down 75% in 1Q 2021, 88% in 4Q 2020, and -71% in full-year 2020 – is due to the dysfunction in the FX market. The very large discount in the parallel rate versus the official one encourages remitters to use undocumented, unofficial channels. It appears that the one-third of Nigerian remitters who hail from the US and Canada and are no longer so easily able to use Bitcoin transfers, because of a regulatory crackdown by the central bank in Nigeria, may have modestly shifted to more official channels, explaining the moderation in yoy decline seen in 1Q 2021 – while the one-quarter of remitters from neighbouring countries are likely still easily accessing unofficial routes.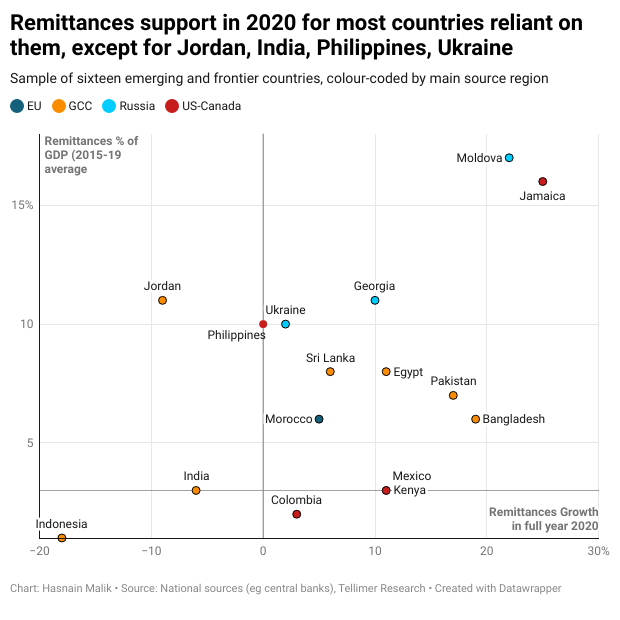 Related reading
Remittances very strong for some, but not all, emerging markets, March 2021
Remittance drop in 2021 forecast by World Bank despite better 2020 than feared, November 2020
Remittances: Better than feared so far, September 2020
If remittances drop 20% who is exposed in emerging and frontier markets?, April 2020
Commodity food prices scorch higher in April, May 2021
Tourism in EM a geared play on Pfizer-type vaccines, November 2020