This week, I received an email offering me the chance to win an Airbnb gift card in return for filling out a survey. Two years ago, that would have been nothing unusual but, today, it shows a dogged optimism from the marketer in question. Recently, I've been more focused on tracking vaccine rollouts and vaccine diplomacy, but the combination of the plucky marketer and a couple of client questions have led me to ask what's really going on with reopening, and the data is surprisingly hard to find.
I found that, despite students returning to school in many parts of the developed world, and our high-profile reopening in the UK, Covid-related restrictions actually remain broadly stable across the world, but public health measures have progressed substantially. This sets the stage for a broad, and sustained, reopening, provided that foolish rejection of the Oxford-AstraZeneca and Johnson & Johnson vaccines doesn't derail progress.
The Tellimer Readiness for Reopening Index shows many countries that are, or soon will be, ready for reopening.
Figure 1: The Tellimer Readiness for Reopening Index
The UK, China, Israel, Hong Kong, the UAE, Chile, Qatar and Morocco appear ready for reopening. And, with strong public health measures globally, others will follow. The US, parts of the EU, Malaysia, Saudi Arabia and others appear to be on track.
India can be expected to slip in light of its new outbreak, but impressive progress with vaccination, especially given the country's level of development, means that we should be ready for it to spring back faster than many expect.
This is good news for the travel and leisure industry globally, but rising vaccine scepticism could derail the second wave of possible reopening.
Containment measures: Stable, but not for much longer
The overall level of containment measures has been broadly stable over the past three months, with increases in parts of Europe, Latin America, the Middle East and Asia, offset by relaxation in the US, Mexico, Russia, Sweden and much of Africa. In total, 69 countries reduced their measures, and 64 increased them.
Figure 2: Despite regional changes, the global level of containment measures was quite stable
As such, today, the strongest containment measures are in Canada, Europe (except for Sweden), Latin America, China, India and Southeast Asia, while measures are relatively weaker in Russia, Sweden, Africa, the Pacific rim democracies, the US and Central America.
Figure 3: The strength of containment measures varies regionally
This regional variation becomes much starker when looking at restrictions on international travel. Want a beach holiday this summer? Vaccine passports are coming, so you're going to Israel, Greece or the UAE if you've been vaccinated, or Brazil and the Swahili coast if you haven't been. Don't worry – there are plenty of Ugandans weathering the political storm in Mombasa and the whale sharks in Mafia don't have Covid – you'll have a great time.
Figure 4: Sharp global difference in openness to international travel
Public health measure: Substantial progress will unlock reopening
The picture when it comes to public health is as consistent as the picture with containment is varied. Only 16 countries[1] have weakened their public health measures in the past 12 months, while 142 have strengthened them, on average strengthening their measures by c20%. The biggest progress has been made in Australia, India, Southeast Asia, Central Europe, and parts of Latin America and Africa.
Figure 5: Public health measures have been strengthened globally
As such, although measures are somewhat weaker in Central Africa, Central America and, having weakened its policy, Thailand, the world has finally achieved a broadly acceptable level of public health measures to manage the virus, creating the opportunity for reopening to begin in earnest.
Figure 6: Public health measures are now broadly strong globally
There are now virtually no countries that are trying to address the virus through containment rather than public health (the southeast quadrant of the scatterplot below). Instead, we see a picture where many countries in the northeast quadrant are actively pursuing both policies (eg India, China, Colombia, Indonesia, Canada and much of Europe). Some in the northwest quadrant have relaxed containment, but maintain public health (eg Sweden, New Zealand, Taiwan, Sri Lanka and Japan). And some, in the southwest quadrant, reject both, for reasons of low capacity (Nicaragua, Burundi and the Central African Republic), political preference (Liechtenstein) or a combination of the two (Tanzania, although this is now changing with President Magufuli's death).
Figure 7: The global distribution of policy choices shows a strong commitment to public health policies
Reopening is on the way…
This strong progress with public health, combined with a continued vaccine roll-out, means that it is hard to imagine strict containment continuing in many countries that continue to have such policies despite having successfully controlled the virus. Strong candidates for reopening include the UK, China, Israel, Hong Kong, the UAE, Chile, Qatar and Morocco, while the US, parts of the EU, Malaysia, Saudi Arabia and others will be next if their vaccine programmes continue to progress.
Figure 8: Many countries with low cases and strict containment policies are ready for reopening
…but could be undermined by vaccine scepticism, in both emerging and developed countries
The US, Canada, the Philippines and parts of the EU are on the cusp of entering that reopening group, and vaccines are likely to be their only route in. As such, recent decisions to halt use of the Johnson & Johnson and Oxford-AstraZeneca vaccines are deeply troubling. Not only do these vaccines appear effective and safe, but also the one in a million risk of them causing fatal blood clots is far smaller than the risk of Covid. Indeed, despite having suffered side-effects from the Oxford-AstraZeneca vaccine, the most dangerous part of my ordeal was still the 11km roundtrip to the vaccination centre on my bicycle.
The decisions in the US, Denmark and Australia to halt usage of these vaccines are foolish, but these countries have the resources to take another course. The impact in emerging markets, many of which already suffer from mistrust of health authorities and modern medicine, is far more worrying. South Africa has paused distribution of the Johnson & Johnson single dose vaccine, which was meant to be the workhorse of the vaccination effort in developing countries. The Democratic Republic of the Congo did the same with the 1.7mn doses of Oxford-AstraZeneca that it recently received from COVAX, although it has now changed course and will begin its inoculation programme shortly.
Even where policy makers are committed to Oxford-AstraZeneca, public scepticism prompted by events in Europe is stalling the roll-out. Malawi, a country that I love despite its many challenges, recently destroyed 16,000 doses of Oxford-AstraZeneca, having been unable to administer all of a nearly expired shipment it received from the African Union prior to the use-by date. Administering vaccines in Africa is tough enough, and Malawian public health experts blame the public rejection of these vaccines in developed countries for driving public hesitancy about vaccinations and taking their vaccine messaging "back to square zero". The silver lining is that European vaccine hesitancy may act as an antidote to vaccine colonialism, freeing vaccine doses for developing countries if those developing countries are able to effectively deploy them against a backdrop of vaccine scepticism.
Assessing the risk of reopening
Back in April 2020, the WHO set out a rubric for relaxation that still applies today, arguing that countries needed to achieve six things before they could relax containment, namely:
Control the disease itself

Ensure sufficient health system capacity is in place to continue to control the disease

Avoid outbreaks in high-vulnerability settings (the WTO talked about doing this with social distance but, today, vaccines are the primary mechanism)

Implement appropriate safety in workplaces (and, today, we can also add places like schools)

Manage the risk of exporting and importing cases from areas of high risk, using mechanisms like travel restrictions and surge testing

Ensure that the public are fully engaging in supporting measures to contain the virus
The University of Oxford's Blavatnik School of Government has produced a comprehensive and comparable dataset on measures that governments have taken to respond to Covid. The dataset includes 20 measures across three general categories: containment measures (eg social distancing, closures and movement restrictions), public health measures (eg testing and vaccines) and economic measures (eg income support).
In early March, the Blavatnik School used their data to measure the risk of openness, assessing against these metrics. The overall picture then was unsurprising, with China and Asia-Pacific well-positioned for reopening and the UK and US leading much of the EU and the developing world.
Figure 9: China leads the world in readiness for reopening
What's more surprising, and encouraging, is that the risk associated with reopening appeared to have fallen substantially in both developed and a number of developing countries, including Colombia, Argentina and Turkey, since the beginning of the year.
Figure 10: Changes in risk of openness index from 1 January to 4 March 2021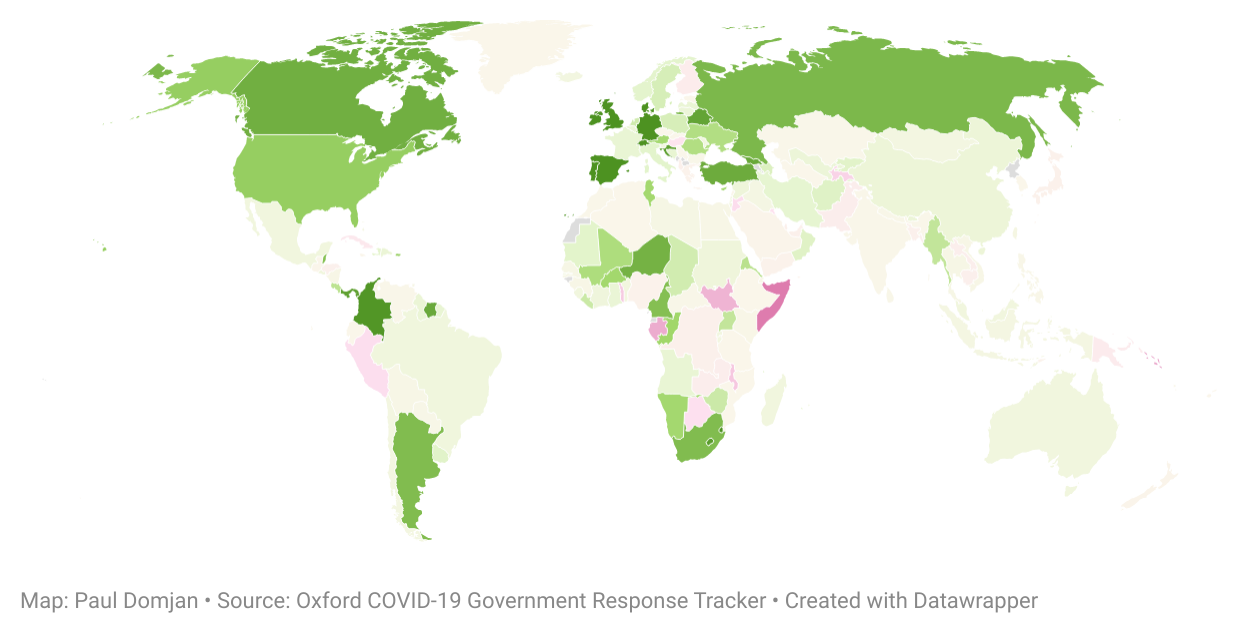 Constructing the Tellimer Readiness for Reopening Index
A great deal has happened since March, and I also wanted to develop a better view of reopening. The main Oxford dataset was designed to measure the overall strength of the government response, so it clusters containment and public health together into a single index of measures to stop the virus. To understand reopening, we still need to look at the public health and containment measures, but we need to look at them separately. The whole premise of reopening is that public health measures should reach a point where they provide sufficient control of the virus on their own to relax containment measures. As such, I've constructed two additional new indices based on the Oxford data and public health information from Our World in Data.
For the Tellimer Readiness for Reopening Index, we can see the reopening as driven by three factors:
The strength of public health measures (Oxford COVID-19 Government Response Tracker)

The prevalence of the disease (seven-day moving average of new cases)

Success with vaccination (vaccine doses administered by hundred people)
In most of our indices, I use a weighted average of the factors to show progress. In this case, however, I've summed the factors because strength in one area does not offset weakness in another. Countries need to do well on all the factors to succeed. Alongside the Tellimer Readiness for Reopening Index, I've also created a separate Containment Index, based exclusively on the Oxford data, to see the current level of restrictions and how that has evolved.
Figure 11: The structure of the Tellimer Readiness for Reopening Index and the separate Containment Index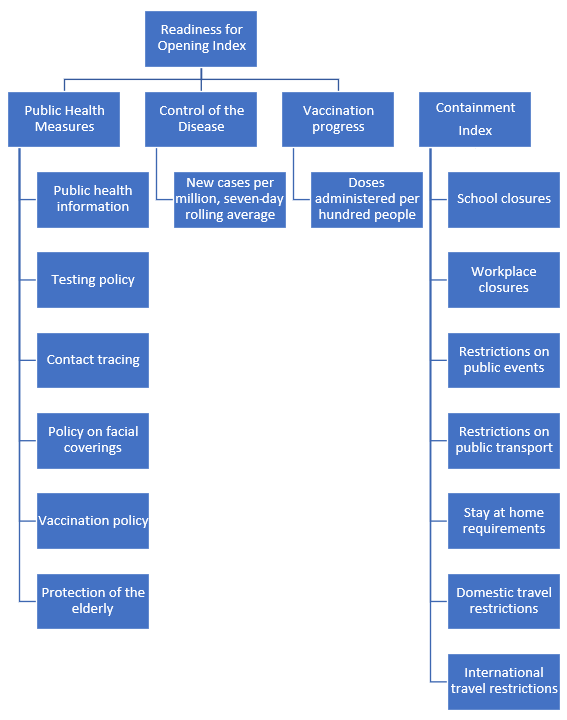 [1] Thailand, the Solomon Islands, Cameroon, the Democratic Republic of Congo, Libya, Mongolia, Zambia, Cyprus, the Czech Republic, Honduras, Jordan, Niger, Nigeria, Kosovo, Syria and Vanuatu.