Rates Spark: Calm before the storm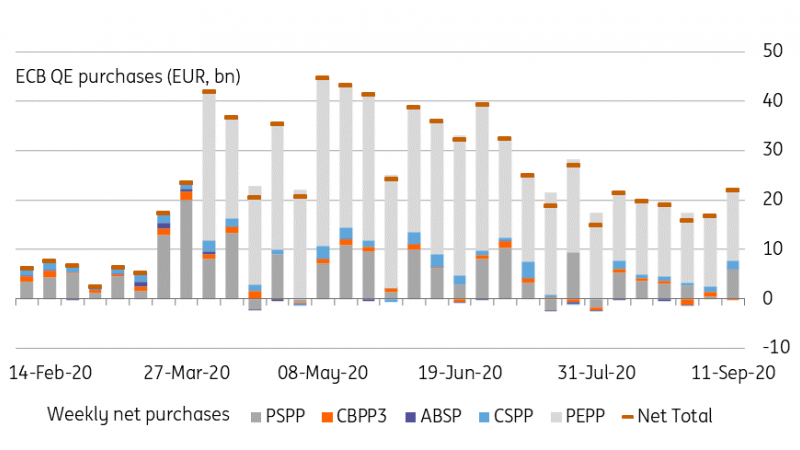 Rates on a holding pattern despite long end selling
The US 10yr is right back where it was when Powell became explicit on average inflation targeting. The dominant impulse since then has been for market rates to be pulled lower, shrugging off a firm payrolls report two weeks ago, and behaving in an inverse fashion to the higher-than-expected CPI print last Friday.
At the same time, flows data show there was some clear selling of long dated funds last week, and some buying of short dated funds - it seems that funds are setting duration short trades, at the margin.
Against that backdrop it is impressive that market rates are not moving higher and that the curve is not stretching steeper. It is indicative of a rates market that is still not convinced on the medium-term outlook. At the same time, liquidations of prime funds and inflows to risk assets point to a positive outlook.
Something must give, although market rates just don't seem fussed about doing anything dramatic anytime soon. We continue to suspect we end up net steeper from the back end, but this is a patient waiting game.
Not much to upset the cart
Today promises to be another fairly benign session for EUR rates, at least judging from the lack of 'tier 1' items on the events schedule. It could bring two minor challenges to our near-term view that they should remains pinned down however. The most pressing one is supply. Germany sells 7Y debt today as core supply gets underway in earnest. To us, the amounts involved seem manageable hence why we don't expect any setback.
The second potential threat today is the ZEW survey result. We find it hard to believe a further push higher would resonate with investors given the focus on reinstated lockdown measures but note that sentiment indicators have had a tendency to surprise to the upside. Rightly or wrongly, markets could see this as the precursor to another strong PMI reading next week.
Central bank caution later this week
On balance, we think the two looming central bank meetings, at the Fed and BOE, are enough to keep developed market rates low. If the forward guidance we're expecting the Fed to unveil this week should achieve little in the near term to a yield curve that only discounts half a 25bp hike in 2023, a cautious tone and 2023 forecasts would vindicate market pricing.
The BOE meeting on Thursday could lay the foundation for easing at the November meeting. This should make discussions about the relative benefits of QE and negative interest rates policy all the more relevant for market rates. Our hunch is that QE remains the easing tool of choice. A higher probability of QE would translate into a straightforward downward shift in the path of GBP rates. Negative rates, on the other hand, would have far-reaching implications, not least because markets would feel justified in pricing a non-negligible change of further cuts.
ECB purchases still in holiday mode
ECB net buying of €7.8bn under its asset purchase program (APP) over the last week means activities are back to volumes last seen in late July. Purchases under the pandemic emergency programme (PEPP) have yet to pick up though with the weekly volume little changed at €14.4bn. It means the ECB is underspending currently, both versus the average volume to date (€22bn) and the implied average weekly volume if the remaining envelope were to be spent evenly until the PEPP's expiry date mid 2021 (€19.7bn) – a threshold that could be more closely eyed by markets. For now though the ECB may deem financial market conditions, especially in the periphery, benign enough to warrant a more hands-off approach.
Visit ING Think
---
Disclosures
This publication has been prepared by ING solely for information purposes irrespective of a particular user's means, financial situation or investment objectives. The information does not constitute i...
Full Tellimer disclaimers