Ferdinand Marcos Jnr, known as Bongbong, aged 64, has won the Philippines presidential election with an absolute majority, compared to Rodrigo Duterte's 39% in the 2016 election and PNoy Aquino's 42% in 2010.
Bongbong's victory was expected — his opinion poll ratings have exceeded 50% since the start of the year. His election is unlikely to lead to any significant change in economic or foreign policy compared to outgoing Rodrigo Duterte.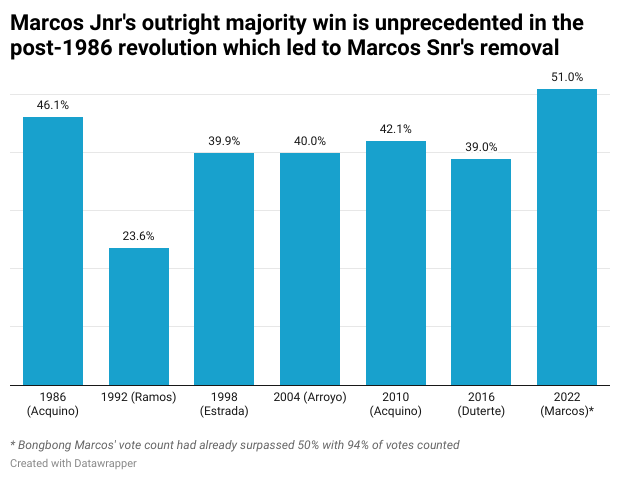 The office of the president wields considerable executive power in the Philippines and the single-term limit releases some incumbents from the need to start compromising on their agenda in the run up to the next election.
However, any incumbent still needs to keep two key constituencies on board: the military leadership, which tends to lean towards the US rather than China, and the commercial elite, which powers the economy but also throttles root and branch structural reform.
This partly explains why there are much greater differences in style, as opposed to policy, between different presidential candidates.
Bongbong's clear and expected win
With a population median age of 26 years, a large enough portion of the electorate has no memory of the dictatorial regime of Ferdinand Marcos Snr, which was backed by the US in the context of the Cold War with the USSR, until it was toppled by the 1986 People Power Revolution.
Bongbong's campaign was built on three planks:
Social media branding which appealed to the national pride of the youth segment, painted the two-decade era under Marcos Snr era as one characterised by peace and prosperity as opposed to brutality, tyranny, and egregious corruption.

Portraying his candidacy as representing continuity, particularly in terms of domestic security, with the presidency of the popular Rodrigo Duterte.

Partnering with Rodrigo Duterte's daughter, Sara, who is very popular in her own right (she had a clear lead in presidential opinion polls prior to the final nominations but decided to run for the vice presidency), and hails from the south (Marcos is from the north).
Policy agenda
Bongbong's challenges and likely responses are no different from the main candidate, Leni Robredo, whom he has so comprehensively defeated:
Economy — deregulate, enact further tax reform, and implement infrastructure upgrades at least as far as allowed by the vested interests of the dominant, family-run, commercial conglomerates (which Duterte tangled with but did not decisively break down).

Domestic security — attempt to retain the security gains, against both drugs-related mafia and separatist movements, made by Duterte but with greater regard for human rights.

Foreign policy — continue to balance between China, with which partnership is necessary to efficiently exploit offshore oil and gas, and the US, which provides an ultimate security blanket via treaties such as the Visiting Forces Agreement.

Covid — remain vigilant in managing future waves, allowing as much space as possible for the tourism sector (over 10% direct and indirect contribution to GDP) to recover.
Philippines equities
The Philippines Composite index is flat over the past 12 months and down 7% ytd, in total US$ terms. This compares favourably with most of Asia EM, excluding Indonesia.
Valuation looks reasonably attractive:
Trailing PB is 1.7x, an enticing c15% discount relative to the 5-year median, albeit expensive, in absolute terms, alongside merely 9% ROE.

Forward PE is 16x, a 10% discount to the 5-year median, alongside 16% consensus earnings growth in 2023 but merely 2% dividend yield.

Spot FX rate has 5% downside should REER revert to its 10-year median and over 10% downside if REER fades back to 100. But there is little external account risk with FX reserves import cover of 9 months and current account deficits of under 3% over 2022 and 2023 (according to IMF forecasts).