Ahead of its forthcoming listing, we profile PB Fintech Limited (PBF), including its two main brands, Policybazaar and Paisabazaar. Using an asset-light business model, the firm dominates digital insurance and consumer lending distribution in India, two sectors with good long-term growth prospects, but is currently heavily loss-making. In follow-up reports, we will dig more deeply into the firm's insurance and lending activities, and its financial performance and potential valuation, as well as highlighting key areas in which PBF differs from its global fintech industry peers.
Profile
Haryana-based PB Fintech Limited is an Indian fintech with leadership positions in digital insurance and lending. Its two main brands are Policybazaar and Paisabazaar. The firm has an asset-light model and does not underwrite any insurance or credit products itself. Instead, it acts as an online distribution channel for firms willing to accept these risks. Retail insurance and consumer lending are both under-penetrated in India versus comparable markets. PB Fintech's digital leadership position makes it well-placed to capture this structural growth story.
Policybazaar was launched in 2008 to provide consumers access to a transparent online insurance marketplace. Today, it is India's largest online portal for insurance products, with over 90% digital market share by number of policies sold and 65% share by premium volume. As of March 2021, 51 insurance firms offered 340 different insurance products on the Policybazar platform.
2014 saw the launch of Paisabazaar, which today is India's largest digital consumer credit marketplace, with over 50% market share of disbursals. The platform has partnerships with 54 financial institutions (banks, NBFCs and fintechs), offering a range of products from personal and business loans to credit cards and home loans.
Today, digital sales comprise just 1% of the volume of insurance and consumer loan sales. PBF should benefit as this proportion increases. Around two-thirds of PBF's top line is generated by its insurance business, with the remainder largely coming from its lending activities. The firm is loss-making at the EBITDA and net profit levels.
Source: PB Fintech
Revenue mix
Insurance generates around two-thirds of PB Fintech's revenues. Insurance revenues consist largely of sales commissions, plus fees for value-added services (such as marketing, collection and account servicing). Lending revenues are primarily in the form of sales commission, plus fees for credit account, advisory and marketing services. PB Fintech also generates revenues from marketing and consulting services.
Market opportunity
India's insurance market generated INR7.6tn premiums in fiscal 2020 and PBF expects it to grow to INR39.0tn in fiscal 2030 ie 18% CAGR. Key growth drivers include rising insurance penetration and healthcare expenditure. An additional growth driver for Policybazaar is that only 1% of insurance premiums were sold online in fiscal 2020; this proportion is likely to grow significantly (it is 5.5% in China and 13.3% in the USA, according to Frost & Sullivan).
India's consumer lending volume was INR32.8tn outstanding credit in fiscal 2020 and is forecast to rise to INR78.1tn in fiscal 2030 ie 9% CAGR. Less than 1% of disbursals in fiscal 2020 went through digital marketplaces, a figure that should increase over time.
Competitive strengths
Strong brands that stand for choice, transparency and convenience. Most of PBF's customers come directly to the brand rather than being directed through third parties.
Proprietary technology, enabling a user-friendly and highly automated customer experience. Data analytics, artificial intelligence and machine learning technologies are driving better risk management and operational efficiency, as well as enhancing customer service. The firm also employs a suite of tools and policies to protect customer data and prevent security breaches.
Scale. As the #1 digital provider for both insurance policies and consumer loans, with the technological infrastructure to match, PBF is an attractive partner for insurers and lenders looking to distribute at low cost and risk to a large retail customer base.
Source: PB Fintech
High renewal rates improve top-line visibility and lower customer acquisition costs. On average, 65-70% of health insurance customers and around 40-45% of motor insurance customers renew their policies annually.
Effective segmentation allows PBF to deliver a more tailored and personalised user experience, offer more appropriate products to its customers, and allow its product partners to better manage operating costs and underwriting risks.

Source: PB Fintech
Capital-efficient business model with no credit or underwriting risks.
Growth strategy
Below we highlight key strategic priorities of PB Fintech, for both its insurance and lending businesses. The forthcoming share sale will generate additional resources to help achieve these goals.
Strengthening customer engagement by cross-selling and up-selling. The firm plans to add offline distribution capacity in the coming years.
Expanding into the SME and corporate sectors. PBF plans to leverage its retail capabilities and partnership network to expand its product offerings for SME and corporate clients.
Investing in branding activities covering traditional mediums like televisions but also including modern channels, like social media, to better capture shifting consumer media consumption habits.
Introducing innovative digital lending products to better serve more segments of society by income level and geography, and to make better use of the data at its disposal.
Investing in digital infrastructure to ensure seamless execution, convenience and speed. Planned new technologies include image recognition, voice analytics and language processing.
Pursuing strategic investments and M&A. Target areas include the health and wellness segment, particularly firms that can improve the consumer's sales and claims experience.
Expanding internationally. PBF is already present in the UAE and intends to expand more broadly across the GCC region. Southeast Asia is also on the company's radar.
Competitive environment
PB Fintech operates in India's fast-growing digital insurance and lending industry and competes with both traditional insurance intermediaries and new start-ups in the segment, as highlighted below. Relative to other insurtechs we have looked at, PBF regards incumbent firms as more relevant competitors.
Risk factors
Covid-19 related lockdowns could hamper demand. Covid-related restrictions have, in the past, reduced demand for travel insurance. Lending volumes also declined.
Operating in a highly competitive environment. PBF competes with both established firms and start-ups. It needs to continuously improve to maintain its high market share.
High reliance on partner firms. PBF does not sell its own insurance or lending products. Any failings by partner firms could damage PBF's reputation. Any withdrawal of products by partner firms could impact PBF's sales.
History of losses and negative cashflows. The company expects expenses to keep rising to support growth. If revenue growth slows, this would worsen the firm's profitability and cashflow situation.
Regulatory environment could toughen. The company is subject to various regulations, especially after it recently acquired a direct insurance broker licence. Additional, more stringent, regulations cannot be ruled out, which could hurt operational flexibility and innovative capacity. The regulatory crackdown on Ant Group provides a salutary lesson.
Data protection. The company controls a high volume of customer data. Its data systems are also integrated with its partners. Any data breaches could compromise PBF's standing with customers and regulators.
Pricing power is limited and regulated. PBF's main revenue line is commissions from partners on the sale of insurance and lending products. Such commission is subject to regulated maximum rates and is also subject to effective negotiation with partners.
Credit cycles could impact the lending business. While Paisabazaar does not directly carry credit risk on its books, it is still subject to the effect of economic and credit cycles on the demand and availability of credit.
International expansion carries significant risks. PBF has limited international operating experience. It may lack the management ability and resources to successfully deploy its business model abroad, while diverted attention could limit its ability to fully capture domestic growth opportunities.
Technology and infrastructure
PB Fintech uses modern technologies to create, market and distribute insurance and lending products on its platform in innovative and effective ways. Its Policybazaar business operates on an open platform, allowing it to connect with various partners and offer a tech-enabled end-to-end user experience from policy buying, issuance, to claims management and renewals. Its lending arm, Paisabazaar, has digitised processes like loan applications, KYC authentication, income verification, real-time decision making, repayments and loan disbursal.
Source: PB Fintech
Some key initiatives driving competitive advantage include:
Data analytics. PBF has built an intelligent cloud and data analytics infrastructure, enabling it to process large amounts of complex data in-house and offer targeted products to its customers.
AI and Machine Learning help to improve risk management (digital KYC), operating efficiency (less human intervention) and consumer satisfaction (via automated chatbots).
Data Privacy and Security. Data is a key asset. PB Fintech has a strong data security and compliance programme.
Source: PB Fintech
Board of Directors
The Board currently consists of 10 seats, with two Executive Directors, three Non-executive Directors and five Independent Directors.
The Executive Director positions are filled by Yashish Dahiya, Chairman and CEO, and by Alok Bansal, CFO. Both these individuals are jointly entitled to nominate three Directors to the Board, one of whom shall be the chairperson of the Board. Any shareholder (other than the Founders) with a 10% stake in the company shall be entitled to nominate one independent Director to the Board.
We note that the current Chairman of the Board, Yashish Dahiya, is also the CEO. Two of the Non-executive Director positions are permanent appointments, which seems unusual. The other Non-executive Director, Sarbvir Singh, is also President of Policybazaar and listed as one of the senior managers of the company. None of the independent Directors sat on the Board prior to June of this year.
Three of the Directors are alumni of the Indian Institute of Management (IIM), and two from the Indian Institute of Technology (IIT). Three of the directors are female.
We note that Munish Varma is also on the Board of one 97 Communications Limited (Paytm's parent). Kaushik Dutta is on the Board of Zomato.
Senior Management
The senior management team is presented below:
The remuneration of the senior management team ranges from INR22.4mn to INR2.3mn, as highlighted below. Sarbvir Singh's management compensation is not disclosed (we assume it is zero); as a Non-executive Board Member he is entitled to INR2.4mn fixed fees per annum, plus an INR0.1mn fee per each Board or Committee meeting attended.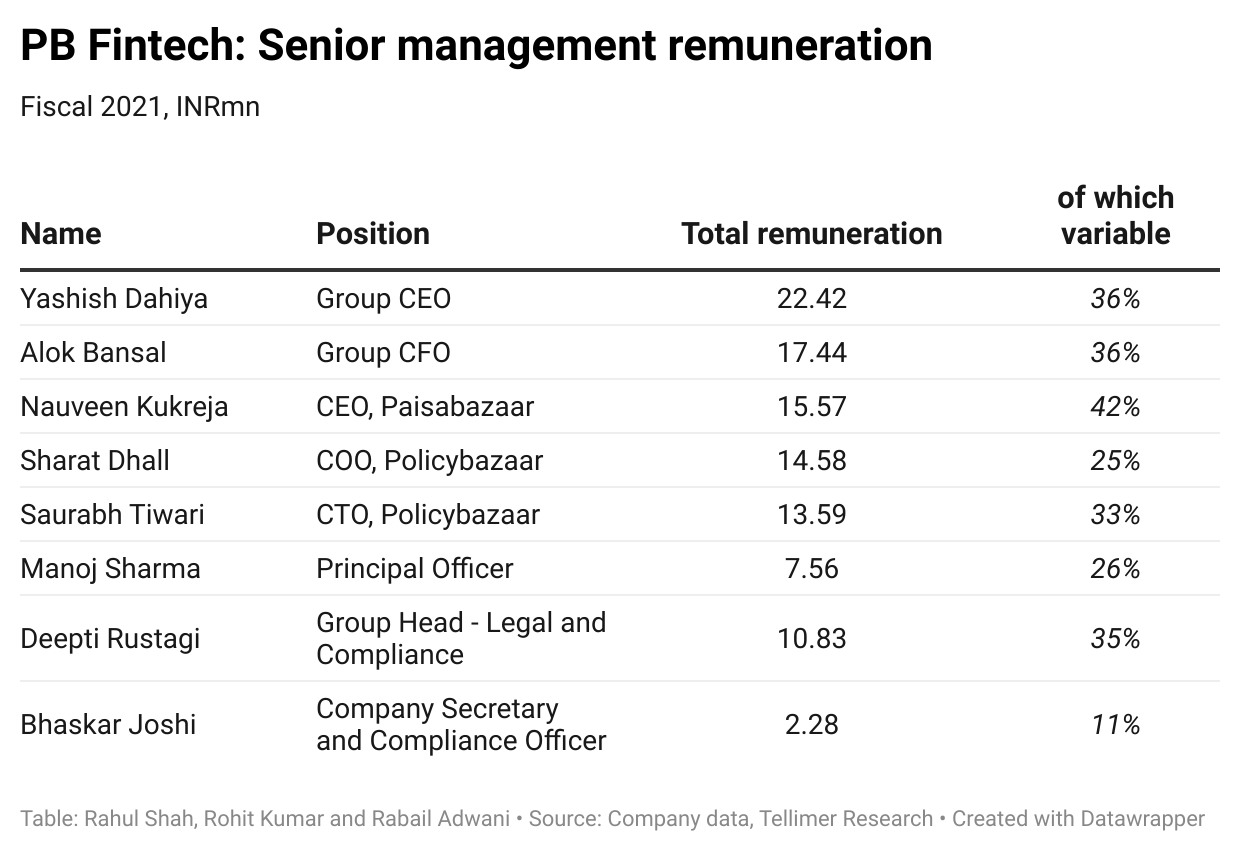 Share ownership
Prior to the IPO, no single shareholder owns more than 15% of the company. The main shareholders as at the draft red herring prospectus date are presented below, together with the shareholdings in prior periods. Notable investors include Alpha Wave, Claymore Investment, Falcon Edge, Info Edge, Softbank, Tencent and Tiger Global. There are currently three Employee Stock Ownership Plans (ESOPs) in place: ESOP 2014, ESOP 2020 and ESOP 2021.
6.73% of the shares are currently in the hands of the Directors/ Senior Management, as indicated below:
Transaction information
SEBI earlier this week gave the go-ahead for PB Fintech Ltd to proceed with an Offer for Sale for its shares. The transaction itself is likely to take place within the next month or so, with press reports pointing to a US$6-7bn valuation for the company. This would comfortably make PB Fintech one of the largest listed insurtech firms in emerging markets.
The offer is likely to be around INR60bn (US$0.8bn), consisting of an INR37.5bn primary tranche and an INR22.675bn secondary tranche. Shares will be made available to both institutional and retail investors. Selling shareholders include Softbank's Vision Fund and founders, including CEO Yashish Dahiya.
The company is likely to use the fresh capital for the following purposes, over the next three years:
Increasing the visibility and awareness of its stable of brands

Growing the customer base, including development of a physical distribution presence

Funding strategic investments and acquisitions

Expanding the business outside India

General corporate purposes
The listing exercise itself is also expected to generate multiple benefits for the company.