29 April 2021
Passive beats Active in Emerging Market flows so far in 2021: Don't despair!

Hasnain Malik
Strategy & Head of Equity Research @ Tellimer Research
29 April 2021
Passive equity funds attracted most of the inflows into EM so far this year and are close to 20% share of total EM
Do asset allocators and retail ETF buyers realise the country concentration in the EM index; the top 5 are now 80%?
And can a passive strategy capture the performance difference seen on a 1, 5 or 10-year view between TSMC and Brazil?


29 April 2021
Passive funds in emerging market equities have gained share from Active in the first quarter of 2021, but we reiterate our arguments on why Active managers in Emerging Markets should not despair and instead stick to their mission.
EM fund inflows captured by Passive so far in 2021
Virtually all of the net inflows into the EM asset class in 1Q 2021 were captured by Passive sector, with about US$20bn of inflows. We estimate this using the disclosure in MSCI's 27 April quarterly results and EPFR data.

Passive funds (ETFs, or exchange-traded funds) now account for close to 20% of total assets benchmarked to the MSCI Emerging Market index; cUS$357bn out of a total of cUS$1.9trn. We estimate this using an MSCI disclosure from mid-2018 on total assets benchmarked to the EM index and the subsequent cumulative net inflows to emerging market equities according to data from the EPFR (sourced via IIF).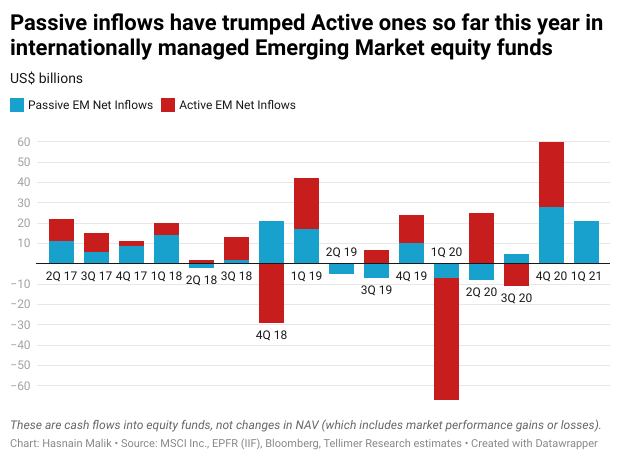 Active EM equity managers: don't despair!
We reiterate the arguments we have made before on why Active managers in EM should not give up.
It was not always the case – as recently as 2019, on a full-year basis, or 4Q 2020, on a quarterly basis, Active was more successful than Passive in attracting assets in EM.

Check under the Passive hood – country concentration in the MSCI EM index has been increasing over the past two decades to the point where the top five countries account for 80% of the index (and China-HK alone accounts for 40%).

Analysis should anticipate large index weight changes – Passive strategies cannot anticipate the sort of performance dispersion seen across the fundamentally diverse universe of EM, with the divergence between a single stock, Taiwan Semiconductor Company (TSMC), and an entire country, Brazil, providing one example (in 2010, Brazil was almost 6x the weight of TSMC whereas it is currently 0.7x).

Equity research coverage (ie bottom-up company analysis) has declined across the board but in Developed markets, ironically where information is most readily accessible, the level of coverage (estimated by extrapolating the number of analyst ratings for the top 10 index constituents) is 1.5x that of Emerging markets and 11x that of Frontier markets. This suggests that the opportunity for alpha-generation (benchmark outperformance) should be greater in EM and, particularly FM, compared to DM, putting liquidity considerations to one side.

In many countries in EM (eg China, Saudi, Pakistan more than South Korea, Taiwan, Turkey), it is the local investor base that is driving market performance (ie the attractiveness of equity dividend yields compared to local bank deposit and local currency government bond yields often matter more than the marginal foreign in- or outflow into equities). The local investor base can spark the performance gains which should ultimately drive inflows into the foreign active funds attuned to the same stories that locals are.
As before, there is a sixth (unmentionably disingenuous) reason, of course, which is that I would like the Active sector to flourish because I do not think the trading algorithms that manage the Passive side of the industry have much need for my analysis.
Related reading
Death of a Sell-Side Equity Analyst drives the opportunity in active management, April 2021
Passive crushed Active in EM in 2020: Why Active should not give up, February 2021
7 reasons to consider investing in small Emerging and Frontier, April 2020
Locals should drive small EM and FM equities, a salvation for foreign survivors, October 2020
Frontier-Emerging strategy: Benchmark, identity and confidence crises, January 2019
Quant technical analysis: Machine learning set to revolutionise investing (Huckle), February 2021
---
Disclosures
This report is independent investment research as contemplated by COBS 12.2 of the FCA Handbook and is a research recommendation under COBS 12.4 of the FCA Handbook. Where it is not technically a res...
Full Tellimer disclaimers