Global oil prices have surged after the attack on the Saudi Arabian oil facilities on Saturday. There are grave concerns about the viability of Saudi oil supply. Oil prices have risen from US$60/bbl to US$70/bbl in a single session
Meanwhile, Singapore and other ASEAN cities are shrouded in a dark haze. Forest fires from Indonesia have driven the Pollutant Standards Index (PSI) to the worst level in three years. The forest fires are allegedly caused by Indonesian palm oil planters burning rain forests to increase production.
The haze has directed the world's attention to the other oil – palm oil. Palm oil is the cheapest form of edible oil. It is used principally as a source of cooking oil. Further applications are found in a wide range of food products ranging from instant noodles to Kit-Kat chocolates. About one-sixth of palm oil could be used as a source of bio-diesel, as governments look for cheaper and cleaner alternatives to crude oil.
Singapore was shrouded in darkness at noon 
Source: Tellimer
Palm oils are highly correlated to crude oil prices. Since the global financial crisis (GFC), palm oil prices have shown a 77% correlation coefficient with Brent crude oil prices. Palm oil is viewed as a proxy for crude oil due to biodiesel. Palm oil prices have halved in the last five years due to a concerted environmental campaign in the West, as well as the fallout of the trade war.
Crude Oil v Palm Oil (2008 - 2019)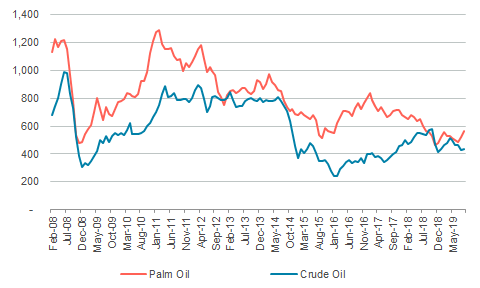 Source: Bloomberg
Indonesia's President is looking to vigorously promote palm-based biodiesel. The mandatory palm oil quotient in biodiesel is currently 20% (B20). President Widodo wants to increase the quotient to 30% (B30) by January and then 50% (B50) by the end of 2020. The change in the incentive structure and could generate a further 15mn tonnes of palm oil demand by 2021. This would deplete the current inventory levels, as it represents over a fifth of the world's supply.

The haze could worsen if El Nino appears and disrupts palm oil production. El Nino is a climatic condition associated with dry weather. It has traditionally reduced palm oil production by at least 1 standard deviation from its 30-year average. The previous El Nino in 2015 worsened the haze and drove palm oil prices up by 15%. The haze in ASEAN can reduce planting of palm oil due to logistical constraints.

Palm oil stocks are trading at the low end of the EV/mature hectare range. Palm oil producers such as Golden Agri (GGR SP), Indofood Agri (IFAR SP), First Resources (FR SP), IOI (IOI MK), and Kuala Lumpur Kepong (KLK MK) are trading close to the lowest EV/mature hectare multiple since the GFC. The current EV/mature hectare average for the Indonesian planters are US$6,000/hectare to US$8,000/hectare, which is below the replacement cost. A surge in palm oil prices could be a massive boost to these value stocks.