Pakistan's huge fintech opportunity is now also on the M&A radar. ZoodPay, a leading Buy Now Pay Later provider in the Middle East and Central Asia, has entered Pakistan with the acquisition of Tez Financial Services. With the acquisition, ZoodPay seeks to position itself as a key new player in Pakistan's consumer lending and fintech industry. Some other international operators, such as Tajikistan's Alif and Egypt's Paymob, are also expanding into Pakistan.
The country presents a huge opportunity for fintechs, as only c3% of individuals borrow from financial institutions or use a credit card, and therefore we think M&A activity will continue to be a feature of Pakistan's fintech ecosystem. In this report, we discuss the digital lending opportunity and challenges in Pakistan, along with brief profiles ZoodPay and Tez Financial Services.
ZoodPay's acquisition of Tez Financial Services
ZoodPay, a leading and innovative BNPL ecosystem in Central Asia & Middle East, is entering Pakistan by acquiring Tez Financial Services. Transaction details and deal multiples have not been announced. Tez was one of the first entrants into Pakistan's digital lending industry and is among the leading lending fintechs in the country.
We think the acquisition will help ZoodPay swiftly and efficiently launch its products in Pakistan; ZoodPay has a strong track record of successfully rolling out its offerings in markets including Lebanon, Uzbekistan and Jordan, while Tez has extensive knowledge of Pakistan's lending ecosystem.
ZoodPay's lending strategy has three key elements:
Acquisition of consumers and merchants via its diverse distribution channels, including its own e-commerce marketplace and network of retailers and partners.

Deriving rich transactional data from its internal universe of fintech, e-commerce marketplace and logistics.

Leveraging its proprietary credit scoring algorithms to assess credit risk and extend credit to both consumers and merchants.
We provide more detailed profiles of ZoodPay and Tez Financial services in the appendix.
Pakistan is now on the radar of regional fintechs
The immense opportunity in Pakistan is gradually being recognised by international fintechs. Among the companies with plans to expand in the country are Tajikistan's Alif and Egypt's Paymob. We think fintech M&A activity in Pakistan will increase over the coming years with both regional and global players entering the country's attractive fintech ecosystem.
Pakistan represents a huge digital lending opportunity
Only 3% of Pakistan's adults borrow from formal financial institutions or use a credit card (as per World Bank 2017 statistics), a much lower figure than elsewhere.
The ratio of private sector credit to GDP is also among the lowest in emerging markets. And this figure has actually declined over the past decade, whereas for most emerging markets the ratio has almost doubled.
Key drivers of low credit penetration in Pakistan include:
The government crowding-out private sector borrowing.

Low credit bureau coverage.

Religious sensitivities to interest-bearing products.

Low levels of financial literacy.
Challenges that Pakistan fintechs must overcome to build sustainable business models
Lending fintechs have huge opportunities in Pakistan, but face significant obstacles too, these include:
Lack of alternative data. Given very weak coverage from credit bureaus, alternative data holds great importance for fintechs. However, obtaining this data is also difficult as the digital infrastructure is not developed. Nevertheless, the situation is improving, with mobile wallets gaining popularity and Raast becoming operational.

Controlling defaults is tricky. Using alternative data to identify credit-worthy customers will not in itself help lenders limit losses. This is because most consumers are not very concerned about protecting their credit history; borrowing is not a mainstream concept and consumers are often not aware of the consequences of default.

Trust and awareness issues. Digital lenders have a huge opportunity in the underbanked segments of society. Many of these individuals live in rural areas and/or have low levels of literacy. Even for those that are aware of fintechs' products, there is a significant lack of trust. For example, consumers may suspect there are hidden charges.

Integration difficulties and cumbersome reporting. Most corporates and financial institutions are still operating on traditional data systems that make system integration difficult for fintechs. In addition, regulatory reporting procedures are still mostly manual and based on outdated methodologies. However, we expect this issue to be resolved gradually over the next few years, as corporates and regulators are now more aware of the changing global trends.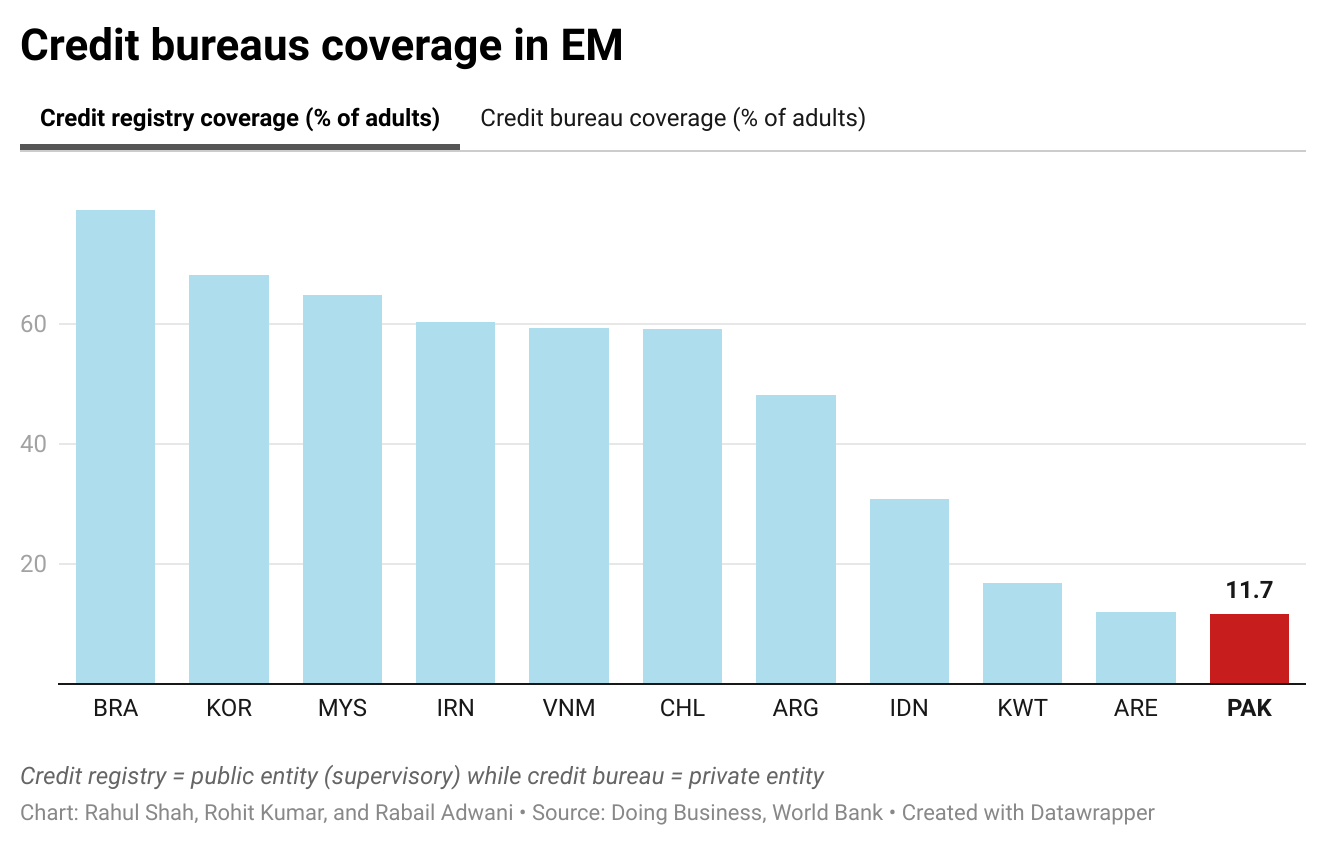 Appendix
ZoodPay profile
ZoodPay, headquartered in Switzerland, is a leading Buy Now Pay Later (BNPL) provider serving the underbanked in Central Asia and untapped markets in the Middle East, with its own demand generator marketplace, ZoodMall, as one of its distribution channels.
The company already has a presence in five countries; Lebanon, Uzbekistan, Iraq, Kazakhstan and Jordan, with almost 10mn users. ZoodPay has raised US$50mn to date from strategic investors including Zain Group, the leading mobile telecommunications operator in the Middle East, and London-based VC Sturgeon Capital.
The company is unique in many aspects. It operates a more vertically-integrated model than its peers, with its own e-logistics network, and online as well as offline sales platforms. It also operates in markets that have large unbanked populations. ZoodPay also offers cross-border BNPL, which we think is a promising area for BNPL providers. We provide a more detailed overview of the company here.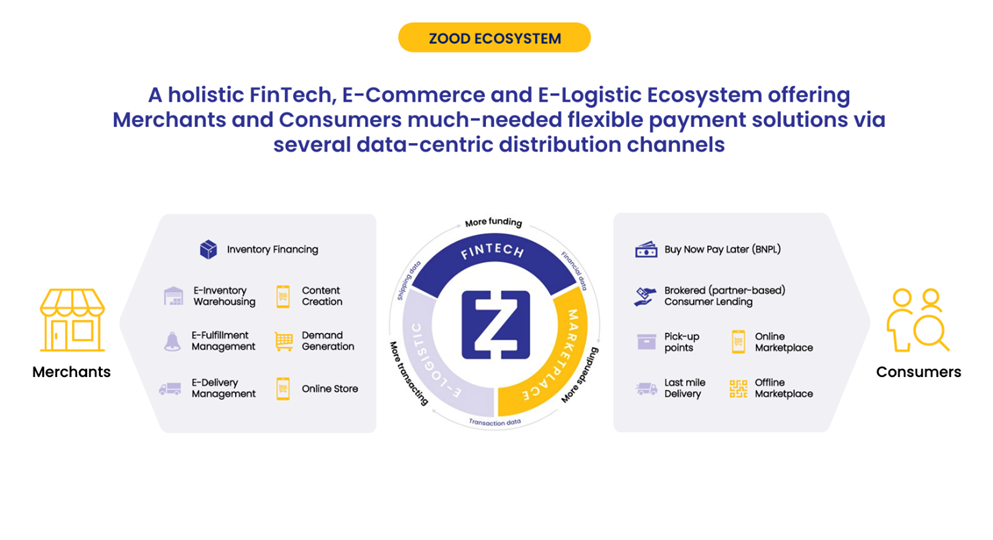 Source: ZoodPay
Tez Financial Services profile
Tez, founded in 2018, is the first fully licenced digital lending company in Pakistan, with an aim to improve financial inclusion in the country. The company has served unbanked customers across 160+ cities in the country. It is backed by leading investors including Planet N, Flourish Ventures (Omidyar Network) and Accion.
Tez offers nano-loans of up to PKR10,000 (cUS$50, via Tez Advance) through a fully digital and easy-to-use interface. Tez charges a one-time fixed fee of 10-20% based on the customer profile. The company uses its proprietary credit scoring algorithm model based on alternative data, which has enabled the company to build strong credit risk and fraud management.