In this report, we initiate our Sovereign coverage of Pakistan with a comprehensive macroeconomic overview. We outline the path to its July 2019 IMF program, performance under the program pre-Covid and how the economic backdrop has evolved since Covid began.
Although improvements to Pakistan's fiscal and external accounts have largely continued despite Covid, the program has fallen off track and Pakistan must quickly return to its planned consolidation path to keep debt on a sustainable trajectory. Conversely, if the program falls apart then external liquidity pressures could remerge, with external buffers still very low notwithstanding the recent improvement.
Against this backdrop, we assign a Hold recommendation to Pakistan's four outstanding eurobonds, with a yield on the 6.15% (z-spread of 520bps) on the '27s as of cob 9 December on Bloomberg. Successful completion of the second IMF program review could lead to further spread compression, but failure of the program is a material downside risk.
How we got here
In July 2019, the IMF approved a US$6bn (210% of quota), 39-month extended fund facility (EFF) to run through September 2022. The program was meant to correct Pakistan's misaligned economic policies, which included:
Large fiscal deficits, doubling from 4.4% of GDP in FY 15/16 to 9% in FY 18/19 (ending June);

Loose monetary policy, which caused inflation to more than double to 8% yoy in June 2019; and

Defence of an overvalued exchange rate, which the IMF estimated at 7-42% in real effective exchange rate (REER) terms.
This model fuelled consumption and short-term growth, with real GDP growth reaching a post-global financial crisis (GFC) high of 5.5% in 2018. But it also pushed the debt burden to 75% of GDP in June 2019, widened the current account deficit from just 1% of GDP in 2014/15 to 6.3% in 2017/18, and depleted its reserves from US$16.2bn to US$7.8bn, or 1.8 months of imports, in the 12 months to June 2019, necessitating a sharp adjustment to restore balance.
Pakistan also suffered from long-standing and severe structural weaknesses, including weak tax administration, a difficult business environment, inefficient and lossmaking state-owned enterprises (SOEs), low labour productivity and a large informal economy. The EFF is specifically designed to support countries with structural weaknesses, with an emphasis on structural reforms.  
Against this backdrop, the July 2019 EFF aimed to achieve the following objectives:
Consolidate the primary balance by 4.4% of GDP consolidation over four years to stabilise the debt burden, centred on a 4-5% of GDP revenue boost alongside an expanded social safety net;

Eliminate central bank (SBP) financing of the deficit and scale back its short swap/forward FX position to US$4bn by the end of the program;

Move towards a flexible, market-determined exchange rate, alongside tighter monetary policy to contain inflation;

Eliminate quasi-fiscal losses through SOE and energy sector reforms, including cost-reflective pricing;

Strengthen institutions and improve governance and transparency to promote an investment-friendly environment necessary for improved productivity and sustainable growth; and

Improve the anti-money laundering (AML) regime to exit the Financial Action Task Force's list of jurisdictions with serious deficiencies.
In addition to US$6bn of IMF funding, approval of the EFF was expected to unlock over US$38bn of additional support from international partners over the program period.
Program performance initially on track
The program was on track as of the December 2019 first review, with all targets met barring the end-October structural benchmark on strengthening the AML framework.
In the seven months between the start of the program and Covid (July to February), the primary balance improved from a 1.2% of GDP deficit to a 0.5% surplus, the current account deficit contracted from 3.4% to 1% of GDP (with exports up 3.6% and imports down 13.9% yoy), and reserves increased by US$5.5bn while swaps decreased by US$5.2bn (leading to a net US$10.7bn reserve increase).
Meanwhile, an aggressive front-loaded adjustment of PKR saw it depreciate by 27% in real effective terms through July 2019 from its April 2017 peak, with the IMF saying in December that "the exchange rate overvaluation has been corrected."
Major improvements were also made to Pakistan's business environment, with the country jumping 28 places in the World Bank's Ease of Doing Business rankings to 108th (bringing the total improvement to 39 places over the past two years).
Covid pushes the program off track
Notwithstanding its initial success, Covid has unsurprisingly put the IMF program targets out of reach for the time being. Although completion of the second EFF review has been delayed, the IMF agreed in April to extend US$1.4bn of fresh emergency financing under its rapid financing instrument (RFI).
In an IMF press conference in June, Spokesman Gerry Rice said that the IMF is "working with the authorities, constructively, to ensure that [the review] can be brought to a positive conclusion, as soon as possible, while taking into account the new conditions that we're facing in Pakistan." But, nine months after the second review was due for completion, it remains outstanding.
While Covid clearly necessitated a recalibration of the program and some minor slippage should not be concerning, we think a delay of this magnitude speaks to more fundamental disagreements. Unnamed senior government officials were cited recently as saying that talks have stalled over Prime Minister Imran Khan's refusal to introduce unpopular measures due to fear of a backlash from the middle class.
Prime Minister Khan's commitment to program targets has wavered in the face of increasing political pressure, with the Pakistan Democratic Movement, an alliance of 11 opposition parties, launching a mass protest movement in October. The PDM has called on Khan to resign, claiming that he was installed by the military in a rigged election in 2018 and alleging a track record of poor governance and corruption, and an intensifying crackdown on the opposition and freedom of speech. A planned rally in Lahore on 13 December is the next key flashpoint, with Khan condemning it as a violation of Covid restrictions.
The political crisis has deepened this week after the PDM announced that their lawmakers will resign from parliament by the end of this month, which would prompt by-elections to fill their seats but would not be enough to force early elections. However, it is not clear that the opposition will necessarily follow through – PDM chief Fazl Ur Rehman of the MMA party is no longer a lawmaker and thus has nothing to lose, while leaders of the much larger PPP and PMLN parties have yet to explicitly back Rehman's decree.
Regardless, a rising cost of living and increases in the tax burden will serve as fodder for Khan's critics and could undermine support within his voter base, with the ruling PTI's approval rating falling from 56% in November to 2018 to 38% this August. The PTI-led ruling coalition is likely to hold onto power until the election in 2023 with the support of the military, with the opposition held back by a series of legal challenges against their leaders. However, with a razor-thin majority in the Lower House of parliament and a minority in the Upper House (although this may change with an election upcoming in 2021), Prime Minister Khan will find it increasingly difficult to push through the tough reforms required under the EFF program.
The key sticking points reportedly include raising electricity tariffs and tax collection to reduce imbalances in the electricity sector and bring the budget deficit closer to initial program targets. There is also reportedly some talk about increasing the repo rate, which has been lowered sharply from 13.25% to 7% since January (although we expect the main priorities will be on the fiscal policy front, with inflation declining by 6.2% over the same period).
Recent REER appreciation (nearly 7% since August) has also led to some concerns over the State Bank of Pakistan's (SBP) commitment to a freely floating exchange rate. However, the REER is up by less than 2% since December, when the IMF said overvaluation had been erased, and at just over 100 is still c7% below its 10-year average, so it does not appear materially overvalued, if at all, at the moment.
A planned IMF mission in October has yet to take place, with officials reportedly awaiting clarity on plans to reduce the budget deficit. If the EFF remains off track, it would be a major blow to Pakistan's economy. Not only would it result in the loss of US$4.6bn of undisbursed IMF funding, but it would also put at risk some of the US$38bn of other international funding the program was meant to unlock and make it difficult to complete a eurobond/sukuk sale by January as planned.
Pakistan has reportedly reached some sort of agreement with the IMF and World Bank on power tariff hikes over the next few years, with the government giving a 50% discount through next June for incremental power (eg consumption above last year's level) for SMEs and a 25% discount for the next three years for large-scale manufacturers. This could set program negotiations back on track but, until we have concrete evidence of progress, the threat of program failure remains a major risk.
Covid exacerbates stagflation amid a renewed surge
GDP growth had already begun to falter before Covid hit, falling from 5.5% in 2017/18 to 1.9% in 2018/19 (partially the result of tighter policy measures ahead of the IMF agreement). It dipped even further in 2019/20 to -0.4%, but the SBP expects a rebound to 1.5-2.5% this year. However, a second wave of Covid (with cases surpassing 425,000 this week and new cases surpassing 3,000 daily) has threatened to derail the recovery and could lead to downward growth revisions. The IMF has a more conservative 1% projection for 2020/21 and Fitch recently revised its projection down to 0.8%.
Over the medium term, Pakistan needs to boost investment in the economy after a decade of stagnation. From c12% of GDP before the GFC, private sector investment has declined to c10% of GDP now. This has been exacerbated by Pakistan's loose fiscal stance, which has crowded out lending to the private sector by funnelling financial sector resources to the government. At c17% of GDP over the past decade, domestic credit to the private sector is among the lowest of all major EMs.
Meanwhile, CPI has fallen from its January peak of 14.6%yoy to 8.4% by November. While this is within the 2020/21 target of 7-9% (which the SBP sets annually), it is above the medium-term target of 5-7%. The SBP held its policy rate at 7% at its last meeting on 23 November, projecting a continued decline in inflation as temporary food price pressure begins to dissipate. But, with the policy rate now negative in real terms, there is a risk the inflationary pressure will re-emerge once the economy begins to recover from Covid.
Fiscal slippage not fatal, but debt remains elevated
On the fiscal front, Pakistan had been performing quite well before, despite Covid. From a budget deficit of 9.1% of GDP in 2018/19, it fell to 8.1% in 2019/20 (with a 1% of GDP contraction from July to February offset by a 0.1% rise from March to June). This was slightly worse than the 7.5% of GDP target, but still a notable achievement given the average fiscal slippage of 5.9% of GDP in emerging markets and 1.8% in low-income countries (although Pakistan's fiscal year only encompassed four months of Covid).
The driving force of the consolidation was a massive 28% increase in revenue, more than offsetting a 16% rise in spending (driven by a 2.9% of GDP Covid relief package, which was only partially disbursed). However, the revenue increase was due almost entirely to higher SBP profits (stemming from higher interest earnings and revaluation gains), with tax collection rising only 6.5%. As such, the increase is likely to be one-off and will be hard to replicate.
The net result was that gross public debt rose slightly from 86.1% of GDP in June 2019 to 87.2% in June 2020, after having initially dropped to 84.4% in February. This compares with the initial EFF target of 80.5% and is far above the 60% threshold laid out in the Fiscal Responsibility and Debt Limitation Act and B-rated average of 50.8% (according to Fitch).
The government aims to reduce the budget deficit further to 7% of GDP in 2020/21, 5.6% in 2021/22 and 4.8% in 2022/23, notably worse than the initial EFF targets of 5.2%, 3.7% and 2.6%, respectively. So far, the budget deficit has reached 1.1% of GDP from July to September versus 0.7% in the same period last year amid a 1% drop in revenue and 11% rise in spending, while the primary surplus has widened only slightly from 0.6% to 0.7% of GDP (with around two-thirds of the slippage driven by higher domestic interest payments, which the government expects to dissipate as rate cuts by the SBP filter through).
Further slippage is likely, though, with the budget targeting a 30% yoy increase in tax revenue on the back of administrative measures and no new taxes. With the run rate currently sitting at -2% yoy through September and a fresh spike in Covid cases likely to weigh on activity (there was never a total lockdown last fiscal year, hence the limited revenue impact), tax revenue will almost certainly fall well short of target. That said, with a debt stabilising primary deficit estimated by the IMF at 1.2% of GDP versus a full-year target of 0.5%, the debt burden can still be stabilised with some minor slippage.
In its April 2020 DSA, the IMF judged Pakistan's debt as sustainable so long as the authorities remain committed to the fiscal consolidation path embedded in the EFF. Despite a high debt stock, the risk is somewhat mitigated by the fact that roughly two-thirds of it is denominated in local currency versus a B median of about a third. The government is also seeking to extend maturities to limit rollover risks, taking advantage of the apparent appetite for longer-dated issues from the domestic banking sector.
That said, Pakistan's liquidity indicators are more alarming, with Pakistan's interest bill now absorbing over 50% of federal government revenue. Will the mast majority stems from domestic debt, the interest bill limits fiscal space and leads to high domestic liquidity risks if SBP financing remains off the table.
As such, Pakistan must return quickly to the fiscal consolidation path outlined in the EFF and, if the deviation from EFF targets turns out to be sticky in the years ahead, Pakistan's debt could quickly become unsustainable.
External improvement boosted by remittances, but unclear if it is durable
On the external front, Pakistan's financing needs have declined on the back of a narrowing current account deficit, which fell from a peak of 6.1% of GDP in 2017/18 to 4.8% in 2018/19 and 1.1% in 2019/20. Some deterioration this year is likely, but the IMF projects that it will settle at around a manageable 2.5% of GDP over the medium term.
The consolidation in 2019/20 was due to an 18.6% contraction in imports (-13.9% pre-Covid, -28.2% thereafter), due to low oil prices and weak demand. This followed a 9.9% contraction the year before (due largely to tighter monetary policy and slower growth). Meanwhile, exports dropped 6.8% (+3.6% pre-Covid, -26.7% thereafter). Remittance growth was also robust, rising 6.5% yoy.
Through the first five months of 2020/21, export growth of 2.4% yoy has offset import growth of 1.5%, keeping the trade deficit broadly unchanged compared with the same period last year.
Meanwhile, remittance growth reached 26.4% yoy over the first four months of the year. However, we have previously highlighted how temporary factors may be driving increased remittances across EM, and some unwinding of the strong performance this year is to be expected (around two-third of remittances come from the crisis-hit GCC). Even the SBP forecasts a decline of 0-5% from the record high of US$23.1bn last year.
Altogether, this has pushed SBP reserves to US$12.35bn in October, still a meagre 1.7 months of trailing imports of goods and services but a vast improvement from the 2017/18 trough of US$7.8bn. The reserve increase also understates the improvement, with the SBP's forward/swap liabilities declining by US$2.3bn throughout 2019/20 (leading to a net reserve increase of US$7.1bn over the fiscal year).
We estimate the SBP's forward/swap liabilities at cUS$5.75bn as of June (lower than the program ceiling of US$7.56bn). However, in August, Fitch pointed to a renewed increase in the SBP's net forward position and said that reserves remain negative once they are stripped out. The IMF had estimated the other FX liabilities at nearly US$16bn as of May 2019, including the People's Bank of China swap line and liabilities to other central banks. Net international reserves could therefore be as low as negative US$9bn-10bn, slightly worse than the EFF benchmark of negative US$8.8bn as of September.
External financing remains a key risk, with limited buffers
Although a gradual recovery in imports and decline in remittances will lead to some slight current account deterioration, the SBP still projects a deficit of only 1-2% of GDP this year (versus the IMF's 2.5% projection). The problem for Pakistan, however, lies on the financing side of the balance of payments (BOP) equation. After initially surging to US$2.1bn from July to February, portfolio inflows reversed with US$2.7bn of outflows from March to June. The risk of capital outflows has decreased, but it remains material, with US$9.2bn of portfolio investment in the country as of June (US$3.1bn equities, US$6.1bn government debt).
FDI also remains woefully low at US$2.5bn in net terms in 2019/20 (less than 1% of GDP), highlighting Pakistan's weak investment environment. Although inflows are up 9% yoy from July to October, at only US$733m (0.3% of GDP), volatile portfolio and "other" financial flows (largely in the form of government borrowing) will have to continue doing the heavy lifting to plug the external funding gap.
Financing risks have been mitigated by the agreed rollover of maturing obligations by key creditors (including US$3bn from Saudi Arabia, US$2bn from China, and US$1bn each from the UAE and ADB). However, Saudi Arabia has recently demanded the early repayment of US$1bn of its existing loan facility and froze an oil credit facility worth more than US$3bn. And, if Pakistan is unable to get its EFF back on track, it risks losing the undisbursed US$4.6bn of IMF funding in addition to whatever portion of its US$38bn financing pipeline is tied to the program, potentially creating a large funding gap.
A lapse in relations and funding from other key bilateral or multilateral partners would likely push Pakistan closer to China to plug the gap. As of August 2019, the IMF estimated that China holds over US$25bn of Pakistan's external public debt, c30% of the total. And the China-Pakistan Economic Corridor (CPEC) is a centrepiece of China's Belt and Road Initiative (BRI), with cUS$70bn of projects already agreed. But while China has a keen strategic interest in Pakistan, the extent to which it can be relied upon to plug external financing gaps via general BOP support loans or swaps rather than project loans is unclear.  
To mitigate financing risks, Pakistan has decided to participate in the G20's debt service suspension initiative (DSSI) and has encouragingly ruled out private sector involvement (PSI). Pakistan is the largest recipient of DSSI relief in nominal terms from Paris Club creditors so far this year, reaching US$873m, but this is a minuscule 0.3% of GDP and compares to initial G20 guidance of "potential savings" totalling US$3.65bn, suggesting that not all official bilateral creditors have participated in full. Potential relief for 2021 totals another US$3.66bn if it is extended through year-end (the G20 agreed in October to extend DSSI by six months through to end-June 2021), but in reality this number is likely to be much smaller.
Regardless, the fickleness of Pakistan's financing flows means that external financing risks will remain elevated. Using August 2019 data, the IMF estimates external amortisations of US$13.9bn in 2020/21 and US$11bn in 2021/22 (113% and 85% of reserves, respectively), and financing needs balloon even further once current account deficits of US$6.6bn and US$7.4bn are included.
While Pakistan's debt remains sustainable for now, if bilateral funding sources waver like we have seen recently with Saudi Arabia and/or the EFF is not put back on track, and Chinese or commercial creditors fail to step up to plug the resulting funding gap, a liquidity crisis could quickly emerge.
Conclusion: Hold Pakistani eurobonds
Year-to-date Pakistan has underperformed the broader EMBI index but has performed exactly in line with its B-rated peers (excluding Sri Lanka), with an unchanged spread of 37bps inside the B average.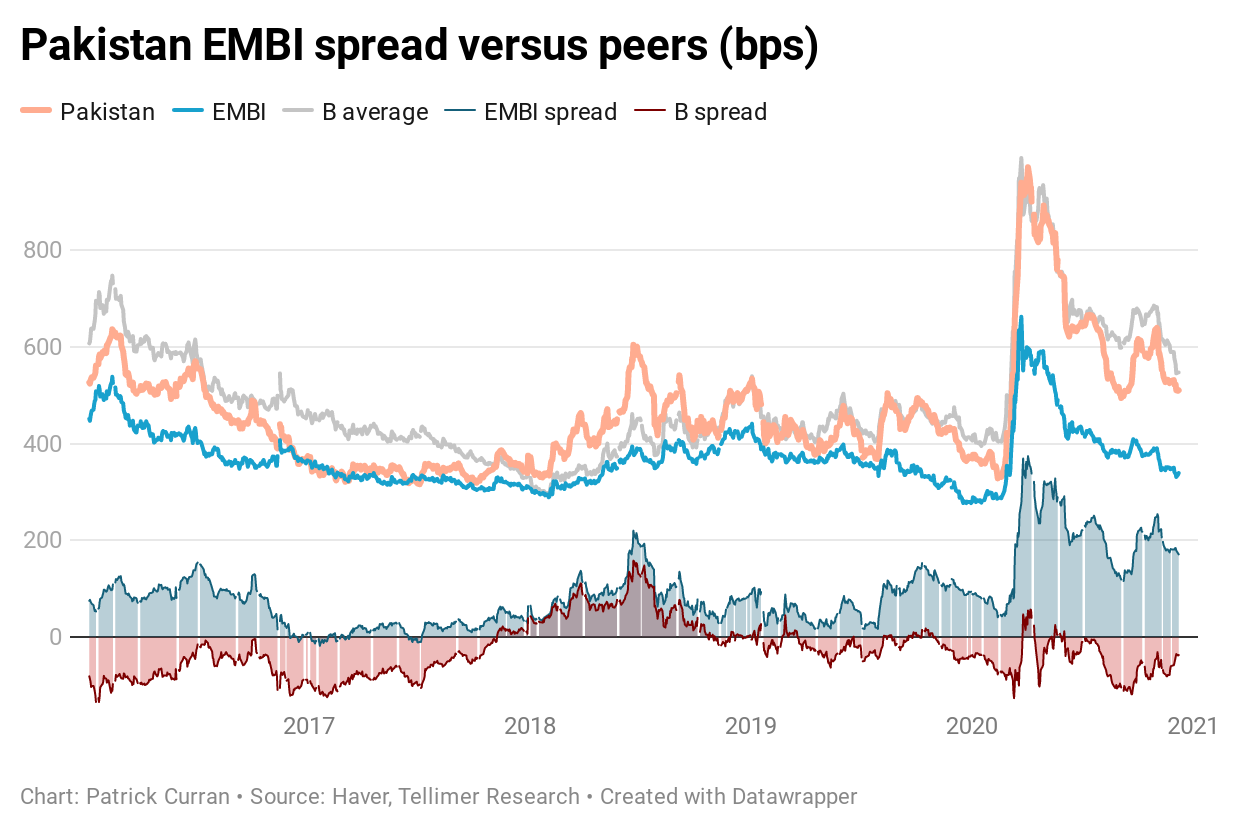 On the one hand, Pakistan's fundamentals have not deteriorated as much as its peers, with growth projected at 0.4% in 2020 (versus the EM and LIDC averages of 3.3% and 1.2%, respectively), the budget deficit narrowing by 1% of GDP (versus slippage of 5.9% and 1.8%, respectively, in EMs and LIDCs), and impressive reform efforts pre-Covid under the EFF program. However, it is hard to compare since Pakistan's data refers to its fiscal year, which only encompasses four months of post-Covid performance.
In addition, this outperformance has come from a much worse base, with Pakistan's large debt stock and limited buffers leaving little margin for error and necessitating a rapid return to EFF targets. If Pakistan loses the support of any of its bilateral or multilateral partners, or external rebalancing falters due to overly accommodative policy or a reversal of strong remittance trends, then the country will be forced to either seek more support from Chinese or commercial creditors or face a BOP crisis.
Although Pakistan's EMBI spread of 510bps on 8 December is still 170bps wide ytd, elevated risks mean it is unlikely to return to its post-Covid lows unless the IMF programme gets back on track. Indeed, this will be the major catalyst for its eurobonds in the near term. If Pakistan is ultimately able to complete its second program review, then there is certainly upside for the bonds.
But if Prime Minister Khan's government succumbs to populist pressure and fails to get the program back on track, Pakistan's recent gains could quickly be erased. With such a sharp rally since March despite uncertainty over the fate of the IMF program, it is possible that investors are too sanguine and are under-pricing the risk that the program will remain off track.
Pakistan does have some leeway, with the next eurobond (out of four totalling US$3.3bn) maturing in early 2024. However, it also has US$1bn sukuks maturing at the end of the next two years, and external financing constraints will remain over the medium term. 
Barring a loss of bilateral or multilateral support (which could be catalysed by the failure of the existing EFF) and loss of market access (which is unlikely for now given yields of 5-6% and favourable risk sentiment towards EM assets), we do not see a default as likely in the near term.
Yields may of course rise if it becomes clear the IMF programme is irretrievably off-track, potentially limiting market access, but, in the meantime, Pakistan will likely continue to benefit from the global search for yield.
Over the medium term, Pakistan, however, will need to continue walking a fiscal and external tightrope to keep debt on a sustainable path, which will remain a risk. As such, we initiate on Pakistan's outstanding eurobonds with a Hold recommendation.