The State Bank of Pakistan (SBP) hiked its policy rate by 100bps today to 17%, in line with the median expectation of the 43 analysts surveyed by Bloomberg (estimates ranged from +0bps to +200bps). The MPC statement noted that price pressures remained broad-based and inflation expectations are on the rise, stressing the need to anchor inflation expectations and prevent more sustained price increases.
Indeed, while headline CPI has moderated over the past two months on declining energy prices, core inflation has continued to tick up. Meanwhile, the real policy rate is still sharply negative at -7.5% after today's hike and is just marginally positive at +2% based on the end-2023 forecast of 15% from the IMF's October WEO (which now seems overly optimistic).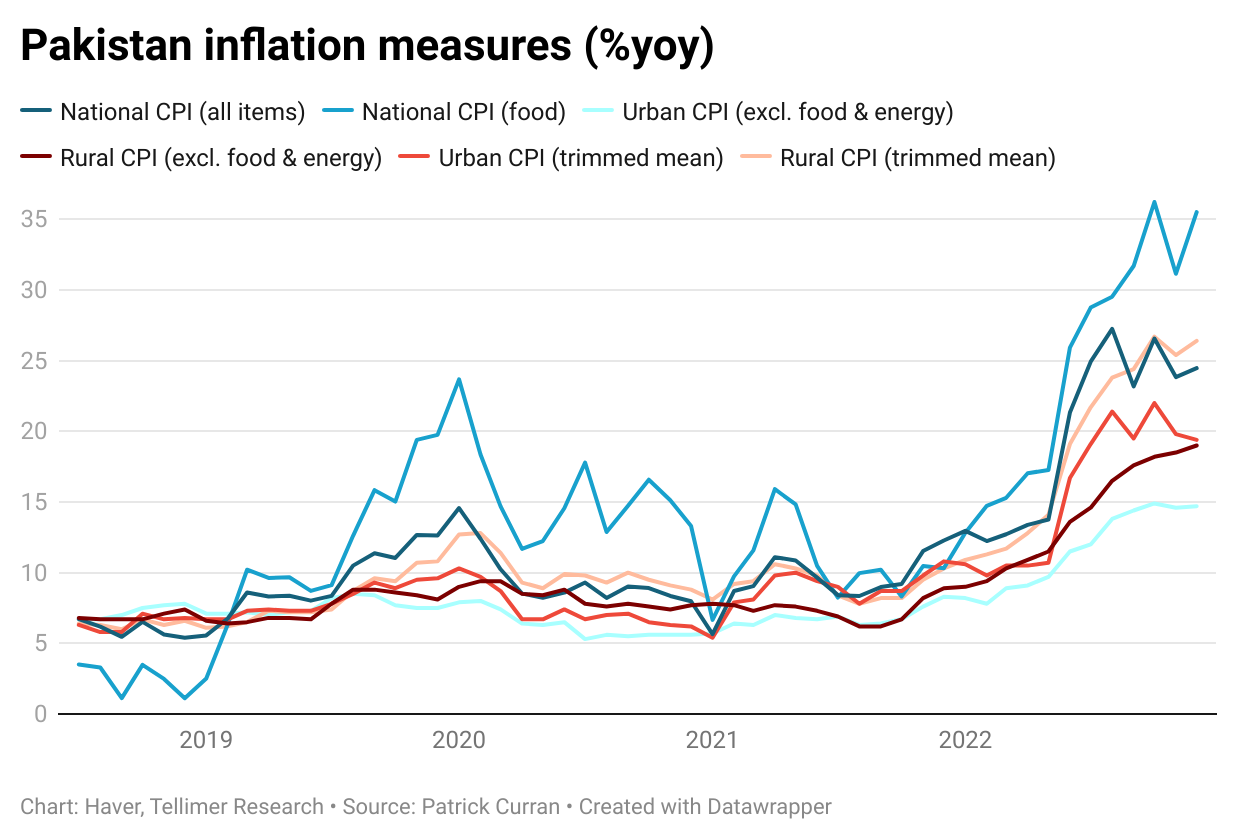 However, Pakistan's worsening external imbalances were the main driver of today's decision, in our view. The SBP's liquid FX reserves have fallen precipitously from US$20.15bn in August 2021 and US$17.7bn at the end of 2021 to just US$4.6bn on 13 January, equivalent to just 0.7 months of trailing goods & services imports and 13% of Pakistan's gross external financing needs (based on a trailing 12m current account deficit of US$11.79bn and US$21.55bn of external principal payments due over the next 12m). This is even worse than the corresponding ratios of 1 month/18% before Sri Lanka defaulted.
This is causing serious shortages of key imports such as food, fuel, medicine, and raw materials, with importers failing to receive letters of credit to clear the growing backlogs at Pakistan's ports. It has also pushed the PKR to a c10-15% premium on the parallel market, with the PKR trading at c260/US$ versus the official exchange rate of c230/US$. The renewed focus on exchange rate stability has contributed to the FX shortfall, with the government adopting a de facto crawling peg in the wake of Finance Minister Dar's appointment (which we warned at the time would exacerbate external imbalances).
These challenges are occurring despite a contracting current account deficit, falling to US$3.67bn in H2 22 from US$9.09bn in H2 21 on an 18% decline in imports and a 7% decline in exports. However, a sharp decline in financing flows led to net outflows of US$1.2bn in H2 22 compared to inflows of US$10.11bn in H2 21, with huge declines across all categories (including negative net FDI of US$0.67bn, portfolio outflows of US$1.03bn, and government borrowing that exceeded its amortisation needs by just US$0.27bn), explaining the decline in reserves over that period.  
According to SBP Governor Jameel Ahmad, Pakistan has so far repaid US$15bn of a total of US$23bn of external principal payments due in FY 23 (ending June). Of the US$8bn that remains to be paid over the next five months, he says cUS$3bn will be rolled over and another cUS$2.2bn of fresh bilateral loans will be extended, meaning Pakistan will have to repay cUS$2.8bn of loans before the end of the fiscal year. Adding in an estimated current account deficit of cUS$5bn over the period (SBP estimate) leaves Pakistan with an external funding gap of cUS$7.8bn in H1 FY 23.
With US$2.6bn of IMF funding originally scheduled to be disbursed before the end of the fiscal year, this would plug about 1/3 of the funding gap. Pakistan has also reportedly secured promises for more funding and investment from the UAE and Saudi Arabia to help plug the gap, but new pledges are likely contingent on the resumption of its IMF programme and may still prove insufficient in the absence of additional new financing pledges. So, once again, Pakistan is in a position where it either gets its IMF programme back on track or defaults.
Its 9th EFF review has been delayed since the beginning of November, with the deadlock driven principally by disagreements over the government's fuel tariff and revenue plans. Governor Ahmad says that discussions are due to begin next week, which could mark a major milestone after months of delays, but it is unclear if they will be formal or informal in nature and whether the government has the wherewithal to implement the prior actions that will be needed for programme approval (including fuel and power tariff hikes, a new revenue package, and a more flexible exchange rate).
Further, it is not clear if the IMF will grant approval even if the reforms are undertaken, as it could deem Pakistan's debt to be unsustainable and require a restructuring before extending any further disbursements.
Eurobonds remain attractive even if default is likely
In December we named Pakistan as one of our top trades of 2023 despite being one of the countries most likely to default, with the '31s trading at cUS$36 at the time versus an estimated recovery value of US$53-71. Since then bonds have rallied sharply, with the '31s rising by c7pts to cUS$43 and the '24s rising by c6pts to cUS$61 (equating to a total return of nearly 15% for the Bloomberg Pakistan Sovereign Index versus 2.5% for the Bloomberg EM Sovereign Aggregate over that period).
The government has continued to express a strong commitment to servicing its external debt obligations, and the successful completion of its IMF review could be a catalyst for further appreciation. However, with reserves continuing to decline in the intervening weeks Pakistan is now teetering on the precipice of default and completely reliant on the largesse of the IMF and bilateral partners to avoid a restructuring.
The moment of truth for Pakistan is here. If it does not pass the reforms necessary to complete its IMF review and unlock enough financing to reverse the reserve drawdown within the next couple of weeks then it will have no choice but to default, with reserves fast approaching zero and import shortages biting. And with former PM Imran Khan continuing to push for early elections, passing politically unpopular subsidy cuts and tax hikes will be no easy task.
Today's MPC decision is a step in the right direction, helping to further dampen import demand and inflation (while also restraining growth even further at a time when it is already under severe pressure). However, if the government is unable to pass the required policy reforms and continues to insist on a stable PKR then today's hike will be for nought.
With bonds still trading below recovery value, we retain our Buy recommendation on PKSTAN 7 ⅜ 04/08/2031s at US$42.8 (23.3% YTM) as of cob on 20 January, albeit with less upside than there was during the Q4 trough and with default now looking imminent without a miraculous last-minute push to secure the IMF review and unlock fresh external funding.
Close to an untouchable equity market for foreigners
Pakistan is in full-blown economic crisis, with high risk of default on external debt, at worst, and adherence to a managed official exchange rate, which throttles growth by rationing hard currency and encourages the growth of the unofficial channel for remittances, at best.
The political catalyst of a change in government is possible, with the election due before October. But, even if an outright parliamentary majority for Imran Khan's PTI emerges that may be insufficient.
It is unclear whether it will have the political will to take the painful fiscal decisions needed to maintain IMF and multilateral support and enjoy the cooperation of the same military-intelligence deep state that played the major role in derailing its last stint in power in April 2022.
Pakistan equities (KSE100 index) are, in US$ total return terms, down 35% in the 12 months (worst in Asia, excluding Sri Lanka) and down 7% ytd.
The forward PE valuation of 3.5x appears enticing, given it equates to over a 50% discount to the 5-year median, and alongside a 9.4% forward dividend yield.
However, this needs to be considered alongside inflation of almost 25%, a real interest rate of negative 7.5%, and 5-year local currency bond yield of 15%.
For foreigners, external debt and currency risks need to be properly resolved first before revisiting local currency equities.
For more, see Pakistan: Imran Khan shot, not fatally, as the revolt continues (November 2022)
Related reading
The most vulnerable countries as we head into 2023, December 2022 (Curran)
Fixed Income Strategy: Top picks for 2023, December 2022 (Curran & Culverhouse)
Pakistan's policy rate and debt relief plans on hold, October 2022
Pakistan: Finance minister's resignation could signal dangerous policy reversal, September 2022 (Curran & Malik)
Risk and reward: the investment case for Pakistan, September 2022 (Curran)
Pakistan floods: Evaluating the impact, September 2022 (Curran)
Pakistan: IMF Board approval grants temporary reprieve, August 2022 (Curran)
Pakistan: SBP on pause as IMF optimism and lower trade deficit boost rupee, August 2022 (Curran)
Pakistan: Khan's support endures despite repression, implying army is split, August 2022 (Malik)
Pakistan eurobonds are compelling value, July 2022 (Curran)
Pakistan: IMF staff-level agreement may help avert crisis, July 2022 (Curran & Malik)
Pakistan: Rising inflation prompts much-needed rate hike, July 2022 (Curran)
Pakistan: DSA and restructuring analysis shows bonds are near recovery value, June 2022 (Curran)