The State Bank of Pakistan (SBP) hiked its standing lending rate by 125bps on 7 July to 15%, slightly above the median 14.75% forecast of 23 analysts surveyed by Bloomberg (forecasts ranged from no hike to +150bps). This brings the cumulative tightening since the hiking cycle began in September to 800bps, and is the second time in a row the SBP has hiked above consensus expectations, further solidifying a (necessary) hawkish shift in the SBP's policy stance.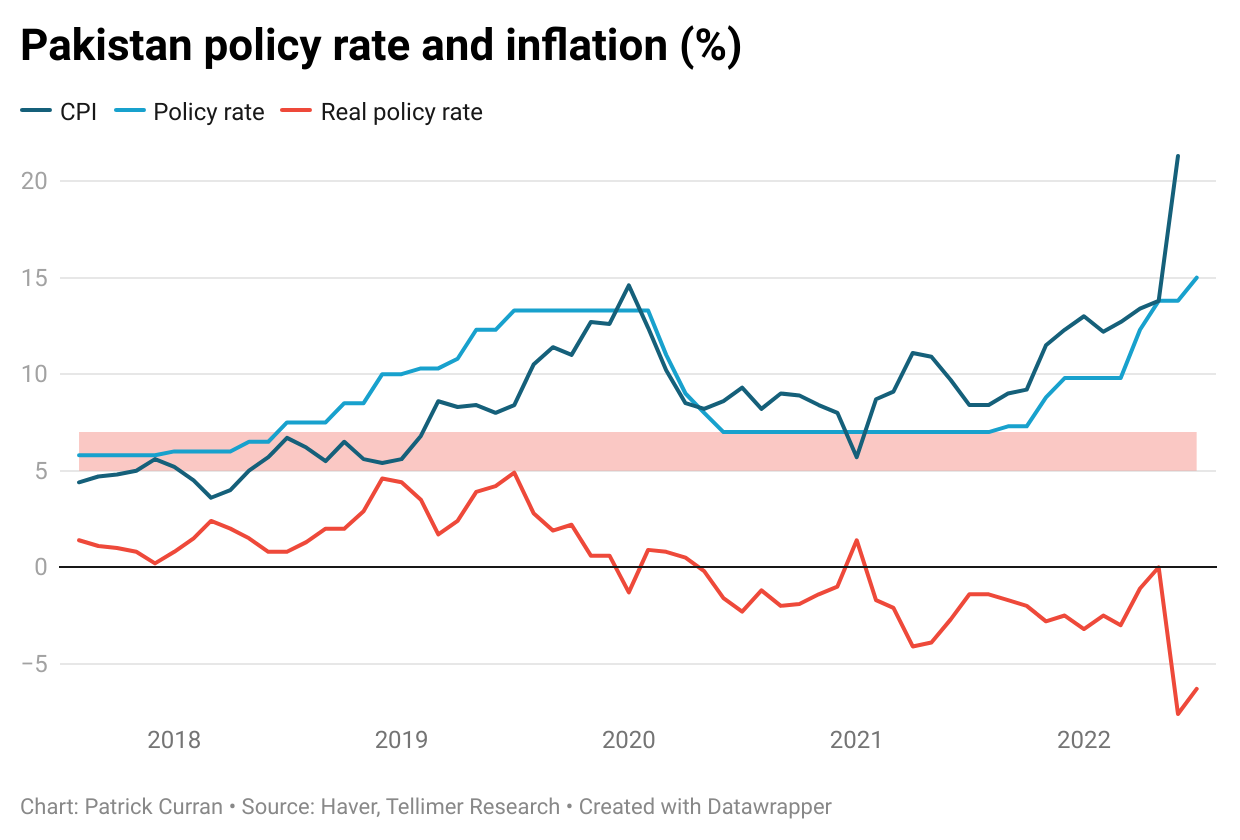 The interest rates on the SBP's subsidized EFS and LTFF credit schemes have also been linked to the policy rate (-500bps) to strengthen monetary policy transmission, which takes the effective policy tightening to 175bps, according to SBP Governor Murtaza Syed. These subsidised schemes have doubled to over 16% of total private sector credit compared with pre-Covid levels and have helped push private sector credit extension 3x higher in the first 11 months of FY 22 versus the same period of FY 21.
The decision comes amid a surge in inflation, which rose from 13.8% yoy in May to a 14-year high of 21.3% yoy in June (and from +0.4% mom to a 43-year high of +6.3% mom). While the main driver was the removal of fuel subsidies (with energy prices rising 32.2% mom), inflation was broad-based with jumps across all major categories and income groups, inflation exceeding 6% yoy in more than 80% of items in the CPI basket, and urban core inflation rising from 9.7% to 11.5% yoy and from 0.7% to 2% mom.
Inflation is now projected to average 18-20% in FY 23, with elevated inflation in the earlier part of the year before it begins to moderate sharply towards the end of FY 23 on base effects and reaches its 5-7% target by the end of FY 24. That said, the SBP expressed concern that high core inflation could be sticky, with inflation expectations rising sharply and an SBP survey of market analysts projecting 17.5% inflation over the coming 12 months, and expressed concern that expectations could become de-anchored.
Further, rapid growth has pushed Pakistan's economy beyond its productive capacity, with real growth now exceeding 6% yoy in the past two fiscal years versus potential growth closer to 4-5%. Growth overshot the SBP's initial 4-5% projection in FY 22 due to the "unwarranted fiscal expansion", which doubled the primary deficit to 2.4% of GDP (more than 3x the 0.7% target). As a result, high-frequency growth indicators have picked up in the past three months, pushing GDP above its pre-Covid trend and c12% above pre-Covid levels, surpassed only by Turkey and Egypt among EM peers. 
The SBP expressed optimism that a more coordinated approach between fiscal and monetary policy would resume in FY 23 after breaking down last year, with the recently passed FY 23 budget targeting a primary surplus of 0.2% of GDP on the reversal of last year's energy subsidy package and the imposition of a 10% 'super-tax'. Alongside tighter monetary policy, this should lower growth to a more sustainable 3-4% in FY 23, according to SBP projections.
Tighter policy will also help keep a lid on external imbalances, with the current account deficit doubling from a US$0.7bn average in the three months to April to US$1.4bn in May on the back of lower remittances and higher fuel imports, reversing the improvement seen in recent months (the deficit fell from a US$2.1bn average in the three months to January to US$0.7bn in the three months to April). This helped push liquid FX reserves from US$17.7bn at the beginning of the year to US$8.2bn on 17 June, before rebounding to US$10.3bn the following week on the back of a US$2.3bn commercial loan from China.
Based on a projected 3% of GDP current account deficit in FY 23 (down from c4.5% of GDP in FY 22, based on the current run rate), the SBP projects external financing requirements of US$41bn in FY 23, equal to 4x liquid FX reserves. If the current account continues to widen and that forecast proves overly optimistic, further import compression and/or PKR depreciation will be required to prevent a balance of payments (BOP) crisis (PKR is down nearly 15% ytd but NDFs are pricing in almost 10% more depreciation by year-end).
As we have repeatedly emphasised (see 'Related reading', below), the resumption of Pakistan's IMF programme is also necessary to prevent a BOP crisis and debt restructuring. Pakistan has been inching towards approval of its seventh and eighth reviews, with the passage of the revised FY 23 budget and reversal of last year's energy subsidy package moving the country a step closer. SBP Governor Syed says he expects a staff-level agreement will be approved "very soon", which will catalyse additional external financing and ensure Pakistan's external funding needs for FY 23 are fully met.
However, with four months of delays and counting, we are cautious of turning too optimistic until staff-level approval is officially granted, with more prior actions potentially needed to get the review over the line and a risk that it will need to be rephased or renegotiated if a timely agreement cannot be reached. Markets seem similarly circumspect, with the spread on the PKSTAN 7 ⅜ 04/08/2031s continuing to shrug off any positive IMF headlines and widening to 1,280bps (US$60.7 mid-price, 15.8% YTM). That said, yesterday's rate hike moves Pakistan one step closer to programme approval, and will reduce the risk of a BOP crisis by further dampening non-energy import demand.
Looking ahead, it is likely that further rate hikes will be needed. Pakistan's -6.3% real policy rate is an all-time low and compares to a -3.4% median across the sample of 66 emerging and frontier markets tracked by Tellimer, and external imbalances remain unsustainably high. However, the SBP emphasised that, given its forecast for a sharp decline in inflation from late FY 23 onward, real rates are positive on a forward-looking basis. Governor Syed says that there is too much uncertainty for forward guidance, and the SBP will remain data-dependent with a focus on month-on-month inflation and PKR movements to inform its policy stance. 
We will remain keenly focused on changes to Pakistan's external accounts and reserve buffers, with further monetary policy tightening and PKR depreciation necessary if the current account and trade deficits fail to contract and reserve buffers continue to decline. That said, if Pakistan is able to get its IMF programme back on track, we still think a BOP and debt crisis can be avoided (if only very narrowly), and with the PKSTAN 7 ⅜ 04/08/2031s now trading in the middle of our estimated US$53-71 recovery value range, we think the risks are now largely priced in.
We retain our Buy recommendation on the PKSTAN 7 ⅜ 04/08/2031s at US$60.7 (15.8% YTM) as of cob on 7 July on Bloomberg.
Click here for the SBP's post-MPC analyst presentation.
Download .pdf
Related reading
Pakistan: DSA and restructuring analysis shows bonds are near recovery value, June 2022 (Curran)
Pakistan: Crackdown on protests and IMF talks futile, but value reflects crisis, May 2022 (Malik & Curran)
Pakistan: Rate hike provides breathing room but not enough on its own, May 2022 (Curran)
Pakistan shows signs of progress on IMF programme, April 2022 (Curran & Malik)
Imran Khan is out as old parties prevail, for now, April 2022 (Malik & Curran)
Our discussion with the State Bank of Pakistan, April 2022 (Curran)
Pakistan hikes rates as political crisis reaches a crescendo, April 2022 (Curran & Malik)
Pakistan's early elections are positive for Imran's PTI and investors, April 2022 (Malik & Curran)
Pakistan's no-confidence vote: Last stand for the opposition, not Imran Khan, March 2022 (Malik & Curran)
Pakistan's Eurobonds collapse on rising risk, but may have overshot fundamentals, March 2022 (Curran)
Pakistan: Underperformance unjustified, but risks remain high, January 2022 (Curran)
Pakistan: Upgrade to Buy after positive IMF review and policy shift, November 2021 (Curran & Malik)
State Bank of Pakistan provides rosy economic outlook, November 2021 (Curran)
Pakistan's currency crash in charts, October 2021 (Curran)
Pakistan: External risks to rise if IMF programme cannot be secured, August 2025 (Curran & Malik)
Pakistan: Budget solidifies shift from stabilisation to growth, June 2021 (Curran)