Since the Taliban took over Kabul over the weekend of 14-15 August, the z-spread on the recently issued PKSTAN 7 ⅜ 04/08/2031 eurobond has widened by 25bps (with the EMBI global spread narrowing by 3bps over that period). This brings the selloff to nearly 100bps (+15bps for the EMBI global) since mid-June as investors question Pakistan's commitment to its IMF-backed reform programme and try to parse the potential impact of developments in Afghanistan.
We published our initial thoughts on the implications of the Taliban's takeover for Pakistan here and here, and our partners at Intermarket Securities in Karachi published their thoughts here. We consolidate the key takeaways below, across four broad categories:
Trade/investment: Pakistan's exports to Afghanistan are limited (cUS$1bn in FY 21, totaling c4% of total exports and c0.3% of GDP). However, instability in Afghanistan could slow regional integration, and foreign investors may think twice about investing in Pakistan with the Taliban back in control of their northern neighbor due to the perception of heightened insecurity risks. FDI inflows already reached a woefully low US$3bn (1% of GDP) in FY 21, or just US$1.85bn (0.6% of GDP) in net terms.

Security: It is not yet clear if a Taliban-led government will lead to more or less insecurity in Pakistan. On the one hand, if they can form a stable government and clamp down on other transnational terrorist groups as promised, then security risks for Pakistan may decline. But there is also a risk that this sparks open conflict with rival groups, including the local affiliates of Al Qaeda and Islamic State (IS). Nonetheless, the perception of increasing insecurity may still be enough to deter investment (see above).

Spending: Pakistani officials estimate that 700,000-800,000 refugees could flee over the border (in addition to the estimated 3mn Afghan refugees currently believed to be in Pakistan), resulting in a projected cost of US$2.2bn to the government. While some of this could be covered by international aid, Pakistan has already expressed resistance to taking on more refugees.

Funding: Pakistan's perceived friendliness with the Taliban could incur reputational damage. While the government has not officially endorsed their takeover, Prime Minister Imran Khan added his implicit support last week by saying that Afghanistan has broken the "shackles of slavery". This, in turn, could weigh on external funding to the country (including from the IMF – see below). Conversely, Pakistan's increased strategic importance to the West could cause support to rise.   
Overall, we don't think the security risks to Pakistan are too severe. We recently outlined an argument for why the Taliban's takeover is unlikely to derail recent security improvements in Pakistan – the quantum of refugees is small relative to population, the military is much more on top of insecurity than a decade ago, the military and civilian government are on the same page unlike in previous eras, the Chinese have a vested interest in Pakistan's domestic security in a way the US never did, and there were already intermittent attempts at destabilisation in Balochistan province anyway.
The key macro risk to Pakistan is, instead, the potential failure of its IMF programme, which is the cornerstone of its reform agenda and lends credibility after a long history of implementation shortfalls. With the programme seemingly off track, Pakistan can ill afford any increased resistance from key players like the US, which holds a veto on the Board. However, after striking the deal that brought the Taliban back into politics under President Trump and paving the way for their takeover with Biden's hasty withdrawal, the US can hardly blame Pakistan for the Taliban's return to power.
Instead, Pakistan's strategic importance to the US in managing the fallout in Afghanistan has increased, potentially reducing the bar for Pakistan to secure a successful IMF programme review and funding disbursement. The US may see the continuation of the programme, in spite of recent reform slippage (see here and below), as an important carrot to prod Pakistan to do what it can to encourage "good behaviour" from the Taliban. Indeed, Finance Minister Tarin told the FT earlier this summer that Pakistan's strategic importance to the US has given it "some space" to delay IMF reforms and made it more receptive to Pakistan's requests to hold off on power tariff and tax increases.
IMF programme has gone off track
When Pakistan released its FY 22 budget in June, it solidified its policy shift from stabilisation to growth. The government penciled in slippage of 1.1% of GDP over the next two fiscal years, including a reversal of its promise to increase electricity tariffs and corporate income taxes, which were key sticking points with the IMF earlier in the year when the programme went off track. Despite claims from the government earlier in the year that the IMF supported increased flexibility, Tarin recently conceded that the IMF was not happy with some of the measures announced in the budget.
To be fair, Pakistan's slippage from headline targets has been minimal, and was arguably a warranted response to the Covid crisis. Indeed, Pakistan is one of just a handful of countries globally whose debt and budget deficit are actually lower than they were pre-Covid, an impressive achievement given the scale of the crisis. From this perspective, there is a strong argument for the IMF to be lenient. As some policymakers in the country have said, there is no point in building buffers if you can't use them when a crisis hits.
Public debt is still projected to decline over the medium term, in line with the IMF programme targets, albeit based on relatively optimistic growth projections. Plans to re-base Pakistan's GDP by the end of the year could also flatter the headline debt and deficit figures as a percentage of GDP. But it is not the slippage itself that is likely to rattle the IMF, but the composition of the slippage (namely backtracking on electricity tariff and tax hikes, which are essential to achieve stability in the long-suffering electricity sector and put debt on a sustainable path). After many years of unfulfilled promises on this front, the IMF may choose to take a hard line even if its headline debt and deficit targets are achieved.
It is also not clear that an ideological reversal is at play, with the civilian and military government still largely behind the reforms, just not at the pace that the IMF wants. With a fragmented opposition and elections not due until August 2023, it is possible that the government returns to its reform path after a temporary delay. However, Pakistan's history of failed reforms shows how difficult it is to deliver politically difficult measures like tariff hikes, and, with each passing month, the problem will get increasingly difficult to address as the scale of circular debt grows and elections get closer.
If the government returns to its reform path on its own, one could argue that Pakistan no longer needs the IMF programme anyway. Pakistan's balance of payments (BOP) outlook improved greatly in FY 21, with gross liquid FX reserves rising from a low of US$7.1bn at the beginning of July 2019 to US$17.6bn by mid-August. The gross figure understates the true extent of the improvement, with forward liabilities falling from US$8bn in June 2019 to US$4.7bn by May 2021. This month's US$2.77bn SDR allocation from the IMF would also nearly offset the US$3bn of undisbursed funding under the EFF programme.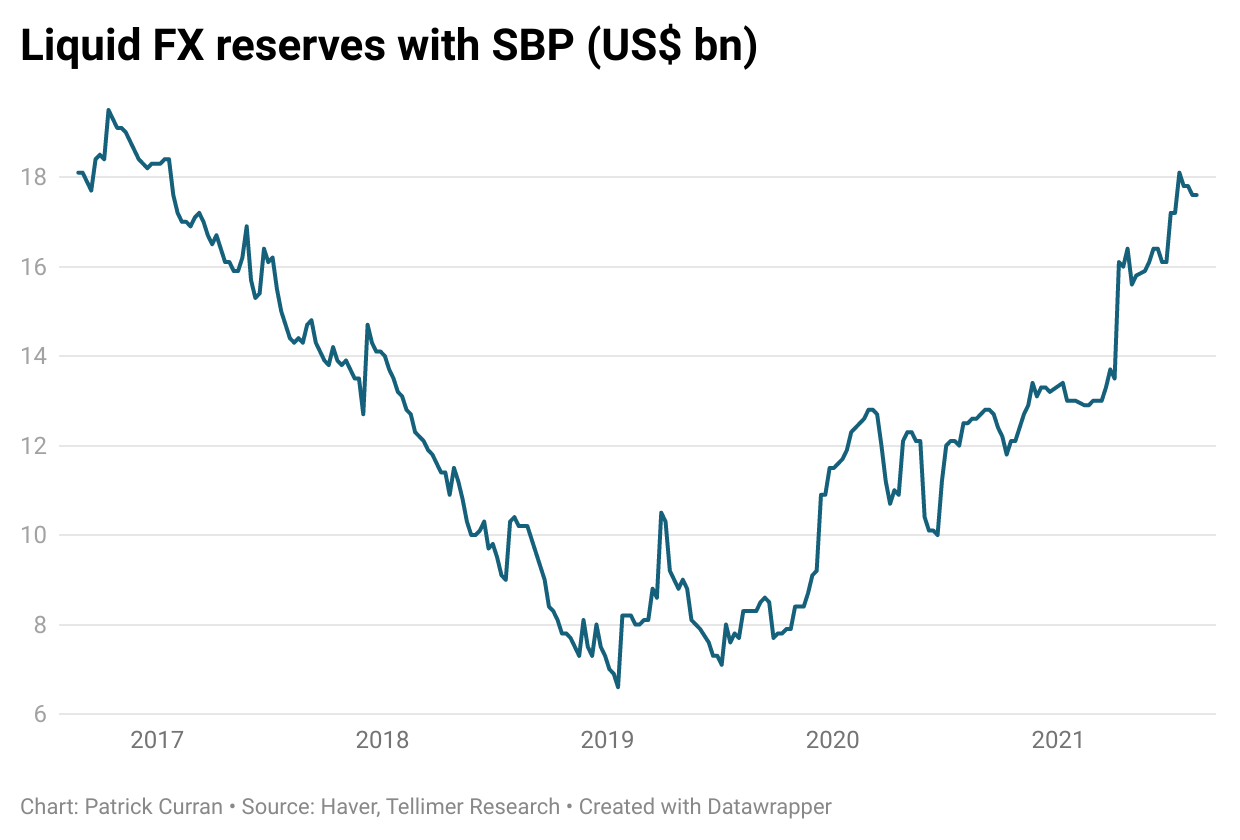 That said, with up to US$38bn of funding reportedly tied to the IMF programme at its outset, failure to complete the programme could put other sources of external financing at risk and erode the buffers Pakistan has worked so hard to build over the past two years. The next programme review is due on 3 September, and if completed, would unlock a fresh US$700mn disbursement. But continued resistance to tariff and tax hikes is likely to cause delays, potentially causing the programme to collapse if a compromise cannot be reached by the time it expires in September 2022. This would undermine investor confidence in the government's commitment to reforms, likely causing bonds to sell off.
The IMF last made public remarks during its press briefing on 24 June, saying "we welcome the open, constructive discussions we're having with the Pakistani authorities. We stand ready to continue to support Pakistan as to achieving its objectives of debt sustainability and strong and sustainable growth. This will require continued discussion on the sustainable fiscal path, structural reforms, particularly on the tax and energy sectors, and social spending enhancements envisaged in the authorities' reform program."
BOP improvements starting to slow
The improvement in Pakistan's BOP was driven by a falling current account deficit, which fell from US$4.45bn (1.7% of GDP) in FY 20 to a 10-year low of US$1.85bn (0.6% of GDP) in FY 21 (far below the highs of 6.1% of GDP in FY 18 and 4.8% in FY 19). Reserves were also supported by robust financial flows, with the government issuing US$3.5bn worth of eurobonds (with July's US$1bn offering 3x oversubscribed) and a US$500mn green bond so far this year alongside US$1bn of funding from China and US$440mn from the World Bank.
However, Pakistan's BOP outlook has begun to soften in recent months on the back of surging imports, which rose 49% yoy over the first seven months of the year versus a 31% rise in exports. The State Bank of Pakistan (SBP) claims that the surge has been driven largely by one-off imports of food and fuel (due to surging commodity prices), cotton (a key input for textile exports), vaccines (to battle a fourth wave of Covid cases) and machinery such as mobile phones, cars and other capital equipment (driven by the government's cUS$2.8bn TERF stimulus programme). And, indeed, imports started to ease in July after hitting a record US$6.35bn in June, food prices have finally started to soften and oil has evidently hit its peak.
Rising imports should also be expected given Pakistan's growth rebound, with the SBP expecting real GDP growth to rise from 3.9% in FY 21 to 4-5% in FY 22. If import growth is driven by more robust growth, but not an overheating economy (like we see perennially in Turkey), it is not necessarily a bad sign. The SBP projects a small output gap will remain in FY 22, and the recent decline in inflation and growth of monetary aggregates decreases the risk of overheating. However, if the import surge proves more durable than expected, it could begin to erode Pakistan's external buffers.
Growth in remittances could also begin to slow. After rising 27% yoy in FY 21 to US$29.4bn (9.9% of GDP), remittances declined by 2% yoy in July. While July's remittances were still at a near-record US$2.7bn, Finance Minister Tarin recently expressed some concern that the robust rate of growth may not hold up and said that efforts should be accelerated to bring in remittances through the Roshan Digital Account initiative (which has brought in cUS$1.9bn since its launch last June). That said, remittances will continue to be a tailwind for the BOP even if they decline slightly from last year's record levels.
Overall, the SBP has expressed confidence that the current account will remain in a manageable range of 2-3% of GDP in FY 22, bolstered by Pakistan's flexible exchange rate (which it has demonstrated its commitment to by letting PKR weaken by 8% since mid-May amid the surge of imports versus a 2.7% decline for the JP Morgan EM currency index). The SBP claims PKR will remain the first line of defense against any further BOP pressure, and has also reportedly approached Saudi Arabia to defer oil payments totaling US$4.5bn over the next three years as an additional backstop.
In the near term, the SBP will likely see its FX reserves rise above US$20bn on the back of the upcoming US$2.77bn SDR allocation from the IMF. However, if rising imports prove more durable than the SBP expects, external imbalances could begin to emerge again in Q4. From this perspective, the continuation of its IMF programme is essential, less so for the funding it entails than for the signaling effect. Failure of the programme could put Pakistan's pipeline of external funding at risk, potentially causing it to lose market access and prompting other official creditors to put disbursements on hold.
To underline the importance of external funding access, reserve accretion so far this year would fall to zero once commercial, Chinese and World Bank funding is factored out, and would drop into negative territory without the IMF's US$500m disbursement and the US$536m of debt service relief from the DSSI (which has not yet been approved for Pakistan for H2 21 and in any case is set to expire at the end of the year). With the current account deficit set to widen this year, the government's hard-earned BOP improvement in recent years could be eroded if external funding is threatened.
Retain Hold on Eurobonds pending IMF review
Pakistan's eurobonds are likely to trade in Q4 largely on whether its IMF programme is secured. If it emerges that the review is again delayed, we think spreads would widen by c25-50bps across the curve, while if the review is completed we think spreads could narrow by c50bps in the near term and c100bps if the programme stays on track through year-end (which would take it to where it was trading in February when the IMF approved the grouped 2nd through 5th reviews at the Staff level).
The risk of a BOP crisis over the next 6-12 months has greatly diminished over the course of the past two years and, with a relatively light external commercial maturity profile over the next several years (with just US$2bn of sukuks maturing in the next two years before its next US$1bn eurobond maturity in April 2024), we think Pakistan's liquidity risks are manageable.
That said, with interest payments still taking up over a third of total government revenue (and over two-thirds of federal revenue) and the BOP having hit a nexus, Pakistan cannot afford for its reform programme to falter. Failure to successfully see its IMF programme through could lead to the loss of necessary sources of external financing, which could cause BOP imbalances to gradually re-emerge.
While the upside for bonds if the review is completed is likely greater than the downside if it is not (with markets likely largely pricing in the latter outcome), we think it is more likely that the review will be delayed unless the IMF decides to show leniency (which is possible, but not likely given the growing fragility of the electricity sector and the importance of tariff hikes to restore balance, alongside Pakistan's history of broken promises on this front).
Balancing these two outcomes, we retain a Hold on Pakistan's eurobonds across the curve (with the PKSTAN 7 ⅜ 04/08/2031s trading at a price of US$101, yield of 7.23%, and z-spread of 609bps on a mid-basis as of cob on Bloomberg on 24 August). We will reconsider reviewing our recommendation once the status of the IMF programme becomes clearer.
Equity valuations are cheap, reflecting low expectations
Pakistan equities (KSE100 index) are up 6% ytd in total US$ return terms, outperforming for MSCI FEM (up 2%, dragged down by Philippines) and for MSCI Asia ex-Japan (down 2%, dragged down by China-HK) but significantly underperforming regional peers like Bangladesh (up 27%) and Vietnam (up 20%).
Valuations suggest there is considerable pessimism on growth, continuing reform, and maintenance of security already priced in: trailing PB is 1.0x, a 27% discount to the 5-year median, for 16% ROE, and forward 2021 PE is 5.7x, a 30% discount to the 5-year median, for 6% consensus earnings growth in 2022.
For foreign investors, as discussed above, there are FX risks present, but modest current account deficits, little short-term external debt, FX reserves of four months of imports and an REER of just under 100, suggest there is no imminent crisis.
For local investors, who remain over 90% of trading activity, forward dividend yield of 6.5% remains compelling relative to local real interest rate of negative 1.4%, albeit less attractive than local currency 5-year bond yields of 8.9%.
We are in for a testing period for investors' faith in the economic, security and political/institutional reform story but performance and valuation of equities imply a very low base of expectations, setting up attractive risk-reward in our view.
Related reading
Middle East security risks unchanged by US withdrawal from Afghanistan, August 2021 (Malik)
Regional impact of Afghanistan's collapse – initial thoughts, August 2021 (Culverhouse & Curran)
Afghanistan's abyss in 10 charts: China's power reduces risk for Pakistan, August 2021 (Malik)
Pakistan: Budget solidifies shift from stabilisation to growth, June 2021 (Curran)
Pakistan political storm in a teacup (again), May 2021 (Malik)
Pakistan central bank strikes optimistic tone on economic and reform outlook, April 2021 (Curran)
India, China, Pakistan détente but we've been here before so low expectations, March 2021 (Malik)
Pakistan: The reform story foreigners forget, February 2021 (Malik & Curran)
Fixed income strategy: Our top picks for 2021, December 2020 (Culverhouse & Curran)
Pakistan: Time to get back on track, December 2020 (Curran)
Pakistan opposition rally but Army-Imran-China triumvirate to persist, October 2020 (Malik)