This report takes a detailed look at retail payments in Pakistan – including the various options that are open to individuals and the growth trends we are seeing. We also benchmark against India to assess the size and form the industry could ultimately take.
Pakistan is still largely a cash-based economy with only 21% of adults having a bank or mobile money account, according to the World Bank

Only 1.5% of adults have access to a credit card

Cash in circulation has grown by 17% CAGR over the past decade (ie 4.6x)

By value, 58% of non-cash retail payment transactions in Pakistan are paper-based, with a skew towards the largest contracts

eCommerce transaction volume in the year to June 2022 more than doubled year-on-year but still only accounts for 3% of all digital payment transactions (and just 0.1% by value)

While these data points compare unfavourably with EM peers, the experience in neighbouring India suggests rapid development is possible
Pakistan is a hugely cash-intensive economy
According to the State Bank of Pakistan (SBP), the currency in circulation stood at PKR7.4tn (US$32bn) at the end of FY 2021 ie 9% of GDP. Over the past decade, the volume of currency in circulation has increased by roughly 16% CAGR.
Another way of demonstrating that Pakistan is one of the most cash-exposed emerging economies: the ratio of M0 (defined as currency in circulation and bank reserves) to M2 (defined as cash plus readily-accessible/transactional bank deposits), stands at 34%, well above the global EM median of 18%.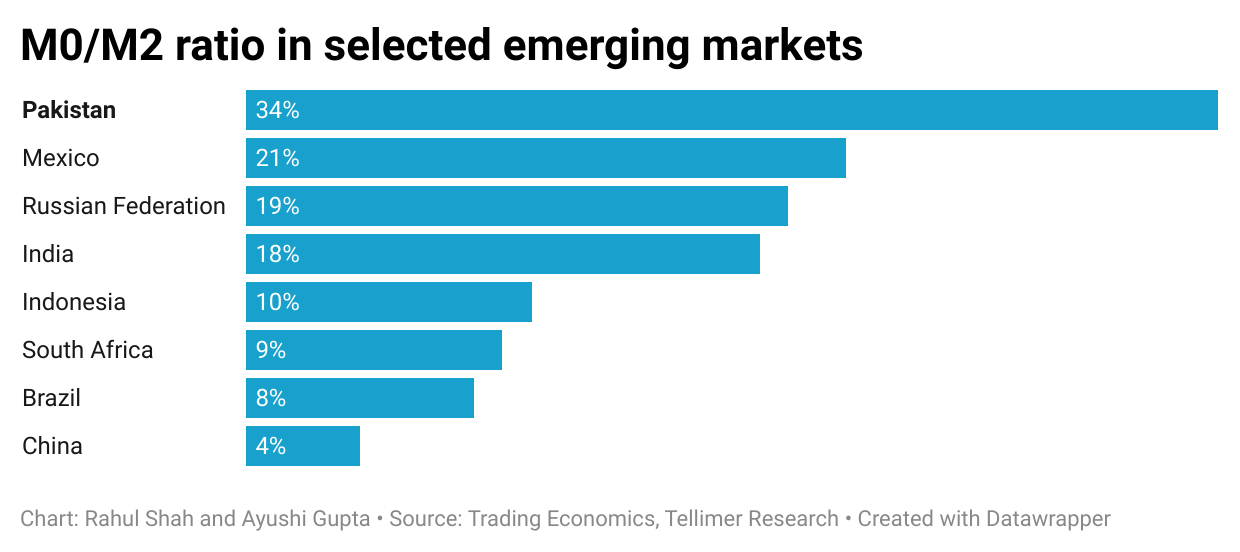 Ultimately, cash rather than the banking system is the main means of conducting economic transactions in the country.
This widespread usage of cash has several negative effects. One is that it becomes difficult for the government to track and tax economic activity. It is no surprise that Pakistan has one of the lowest ratios of tax revenue/GDP. According to OECD's 2020 survey, this ratio was 10%, half the Asia-Pacific average and well below the level of most large EMs.
Another adverse consequence of the cash-based economy is that it makes it more difficult for financial institutions to assess individuals' creditworthiness. Pakistan compares poorly to its large GEM peers across a wide range of financial inclusion measures.
Fortunately, the experience of several other emerging markets suggests that progress, when it does come, could be rapid. Later, we focus on India as a guide to the direction that Pakistan could take as digital payments channels gain greater acceptance and build more use-cases.
The retail payments pie in Pakistan
Pakistan is still largely a cash-based, informal economy. Non-digital channels dominate the economic landscape. According to the World Bank, only 21% of adults have a bank account. During FY 2022 (ie the financial year ending June 2022), total non-cash retail payments transactions volume was 2.0bn, with a value of PKR328.3tn (US$1.5tn). By volume, 80% of these transactions used electronic media. But by value, the majority (58%) were paper-based.
However, it does look like changes are afoot. While the volume of paper-based transactions has been quite stable in recent years, electronic channels are seeing strong growth.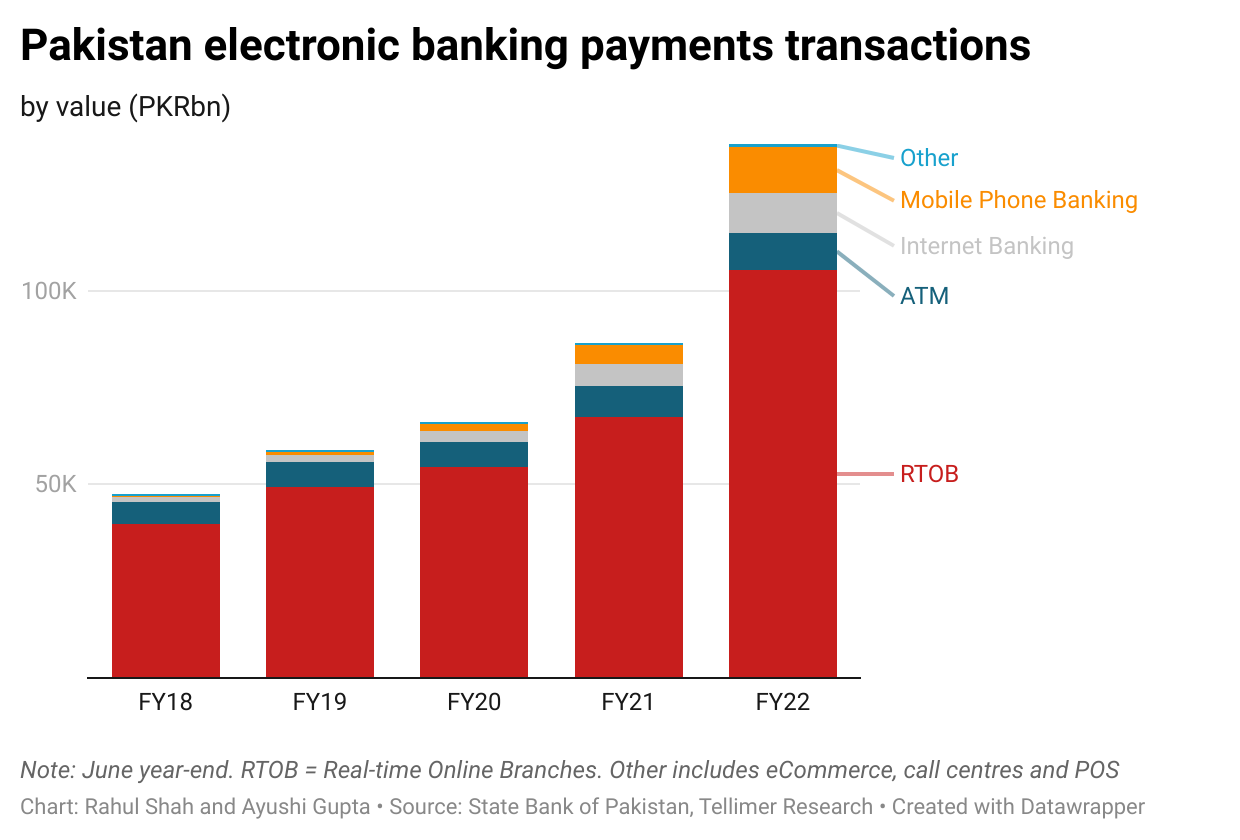 Looking at average transaction size, both Real-Time Online Branches (RTOB, meaning branches that are connected through the bank's core banking application and provide real-time online banking) and paper-based deals are the largest, with over US$2k average size. For other channels, typical transaction sizes are much smaller, ranging from US$320 (internet banking) to just US$10 (e-commerce).
According to the IMF, the number of mobile and internet banking transactions per adults in 2021 was just 2.1. But if we consider the number of transactions for customers with access to mobile banking and internet banking, this figure jumps to 25.2. The key to increased adoption of digital payments in the economy is therefore to provide access to more individuals, rather than encouraging those with existing access to be more active. 
Relative to India, digital finance in Pakistan has massive growth potential
From across the border, India provides a compelling example of how a favourable marrying of technology and regulations can boost financial inclusion, even among rural and low-income communities.
According to the World Bank, only 21% of adults have an account in Pakistan, while 78% of adults have a bank account in India. Looking at debit cards, 20% of Pakistani adults have access to this product, versus 87% in India. For credit cards, the respective statistics are 1.2% and 6.0%.
We think it is worth Pakistan's policymakers focusing their attention on the payments environment; in Kenya, the rapid adoption of MPesa lead to a massive improvement in financial inclusion. While it is still very much early days for Raast (Pakistan's first instant digital payments system), the experience in India provides a powerful example of how such infrastructure can support rapid growth in the digital economy.
The 2016 launch of the Unified Payments Interface (UPI) platform has helped to transform the payments space in India and the broader fintech landscape in that country. According to NPCI, approximately 74 billion transactions worth INR126tn (US$1.5tn, or 43% of GDP) were conducted using UPI in the calendar year 2022. The current run rate for transaction volume is comfortably above 250mn per day.
For the purposes of comparison, annualising Raast's April-June 2022 transaction value is equivalent to 0.5% of Pakistan's GDP, with 79k transactions conducted daily.
The chart below compares India and Pakistan across a range of economic and financial sector metrics. While per capita wealth differs between both markets, the differences in key financial sector metrics are much larger, particularly when we consider digital transactions. The data highlights Pakistan's massive fintech growth potential, which will deliver substantial benefits for the broader economy. Recent data points suggest rapid strides are starting to be made.
Pakistan's digital payments journey
Below, we dig deeper into some of the developments that are driving the rapid growth in digital payments activity in Pakistan.
Raast has seen rapid growth – with much more to come!   
In November 2021, the State Bank of Pakistan launched Raast, Pakistan's first instant payment platform that enables end-to-end digital payments between individuals, businesses, and government entities, and enables payments in a seamless and convenient manner, free of cost, using mobile phone numbers for user identification.
In June 2022, Raast had 15 million IDs registered, a figure that has undoubtedly increased since then.  For the quarter that ended June 2022, total transaction volume and value both increased 920% qoq, to 7.9mn transactions, and PKR117.3bn (US$520mn), respectively. Note that Raast's P2P transaction functionality only started in February 2022 and is a key reason for the huge qoq growth. Previously, only bulk payments (such as dividend payments, salaries, pensions, and other payments of government departments) were possible. As of June 2022, P2P payments accounted for 98% of Raast's volume and 87% of its value.
eCommerce transaction volume is small but growing fast
eCommerce transaction volume in the year to June 2022 was 45.5mn, up 107% yoy, with transaction value PKR106bn (US$460mn), up 75% yoy. The typical transaction size was just PKR2.4k (US$10), down 15% yoy.
Interestingly, around a tenth of transaction volume relates to international eCommerce volume (with an average transaction size of US$27), suggesting that for some travellers, online shopping is a key component of their overseas trips.  Some of the leading eCommerce websites in Pakistan are OLX, daraz, PakWheels, Zameen, Shophive, and Homeshopping.
Attracted by Pakistan's low credit penetration and limited ecommerce activity, ZoodPay, a digital lending platform, has recently entered Pakistan after enjoying strong growth in Uzbekistan, where it is a market leader, with over a 50% share of e-commerce and online lending. 
Four electronic money institution licences have been issued
Electronic Money Institutions (EMIs) are non-banking entities providing e-wallets to consumers and merchants. By the end of FY 2022, four EMIs had been licensed and gone live: NayaPay, Finja, CMPECC, and SadaTech (SadaPay). Together they had opened 0.26mn active accounts, with 0.5mn payment cards and PKR5mn (US$0.02mn) e-money issuance. Several other entities have received regulatory permission, either in principle or for pilot operations, which suggests competition in this area is likely to intensify.
Given the limited reach of debit and credit cards in Pakistan, as well as poor bank account access, digital wallets are likely to play a big role in tackling financial exclusion. For example, in Bangladesh, the mobile money market leader, bKash, has 45mn active users. This firm is actively rolling out its digital wallet functionality to its customer base and signing up merchants. 
Card issuance is stable, with significant gender disparities
The number of cards issued in Pakistan totalled 42mn in FY 2022. But of these 10mn cards are purely for disbursement of welfare payments. Debit cards number 30mn, while there are just 1.8mn credit cards in issue. In both cases, around 85% of these cards have been issued to men, highlighting the big gender divide that exists in the country. 
Digital banking access is improving, but will not be a game-changer
The number of mobile phone banking users in Pakistan increased by 14% to 12.3mn, while internet banking users rose by 60% to 8.4mn users.  As shown below, the number and value of transactions processed through these channels are growing strongly, with 385mn mobile banking transactions (US$52bn) and 140mn internet banking transactions (US$45bn).
The average transaction value for internet banking is almost 2.5x of mobile banking transactions (ie US$320 versus US$134); the greater convenience of mobile banking makes it more suitable for lower-value transactions.
However, the experience in other emerging markets suggests mobile payments activity is more likely to drive the initial wave of financial inclusion. Banks' high costs structures and risk-averse mindsets limit their willingness to reach out to low-income individuals.