Only 3% of Pakistan's adults borrow from formal financial institutions or use a credit card, a much lower figure than elsewhere. The ratio of private sector credit to GDP is also among the lowest in emerging markets; this figure has declined over the past decade, whereas for most emerging markets the ratio has almost doubled.
In this report we explain what is driving this low credit penetration, what steps the authorities have recently taken to tackle this issue, and the potential impact of fintechs. We also highlight those banks that have been more active in disbursing credit, and examine the reasons why.
Pakistan's formal credit penetration is poor and worsening
The State Bank of Pakistan (SBP) in its recent report highlighted that Pakistan's private sector to GDP ratio is one of the lowest among the emerging markets. The ratio has declined from an average of 18.5% between 1990-99 to 17.4% in 2010-19; this compares to a median of 58% for peer countries.
The only other places in this 19-country sample that have witnessed a deterioration in credit penetration between these two time periods are Argentina, Egypt and Indonesia. In contrast, credit penetration in China and India has doubled.
Since 2008's NPLs cycle, Pakistan banks have become increasingly attracted towards government securities as they offer a better risk/reward profile. Even within lending, the prime focus has been corporates, therefore leaving the SME and consumer sectors starved of bank credit. This has led to the overall loans/deposits ratio of banks coming down from 66% in 2004 to 45% in Q1 2021. The loans/deposits ratio recovered during 2016-18 due to lower interest rates, but subsequently declined due to the temporary rebound in interest rates in 2018-19 and more recently, a more cautious lending approach in the wake of Covid-19.
Consumers and SMEs remain deeply underpenetrated in Pakistan. However, credit demand is not the major problem; World Bank data (as of 2017) shows that 29% of Pakistan's adult population (aged 15+) borrowed money from friends and family, in line with the peer median, but only 3% used formal financial institutions or credit cards, compared to a median of 21% for peer countries.
What drives Pakistan's low credit penetration?
We think there are several reasons for Pakistan's extremely low formal credit penetration:
1) The government is crowding-out private sector borrowing. Investments (mainly comprising government securities) accounted for 50% of the total assets of Pakistan's banking sector in Q1 21. Pakistan has averaged a budget deficit of c7% of GDP in the past 10 years, which keeps government debt issuance levels high. Limited credibility/ appetite from international investors means the bulk of this borrowing is funded by domestic sources, of which banks would represent the largest proportion.
2) Low credit bureau coverage. Pakistan's credit registry coverage stands at a mere 11.7% of total adults, this ratio is much lower than the median of 59.1% for peer countries. Credit bureaus, which are privately owned entities, cover an even smaller number of adults (6.7% versus 51.3% for peers).
3) Religious sensitivities are a key factor. 97% of Pakistanis are Muslims. According to an SBP survey, 98% of unbanked individuals consider interest as prohibited. 64% of unbanked individuals are interested in Islamic banking. Among banked individuals, 78% would be willing to switch to Islamic banks, with the most important reasons mentioned by participants being religious satisfaction and comfort. The leading Islamic bank in Pakistan is Meezan, and the leading conventional banks also have Islamic windows.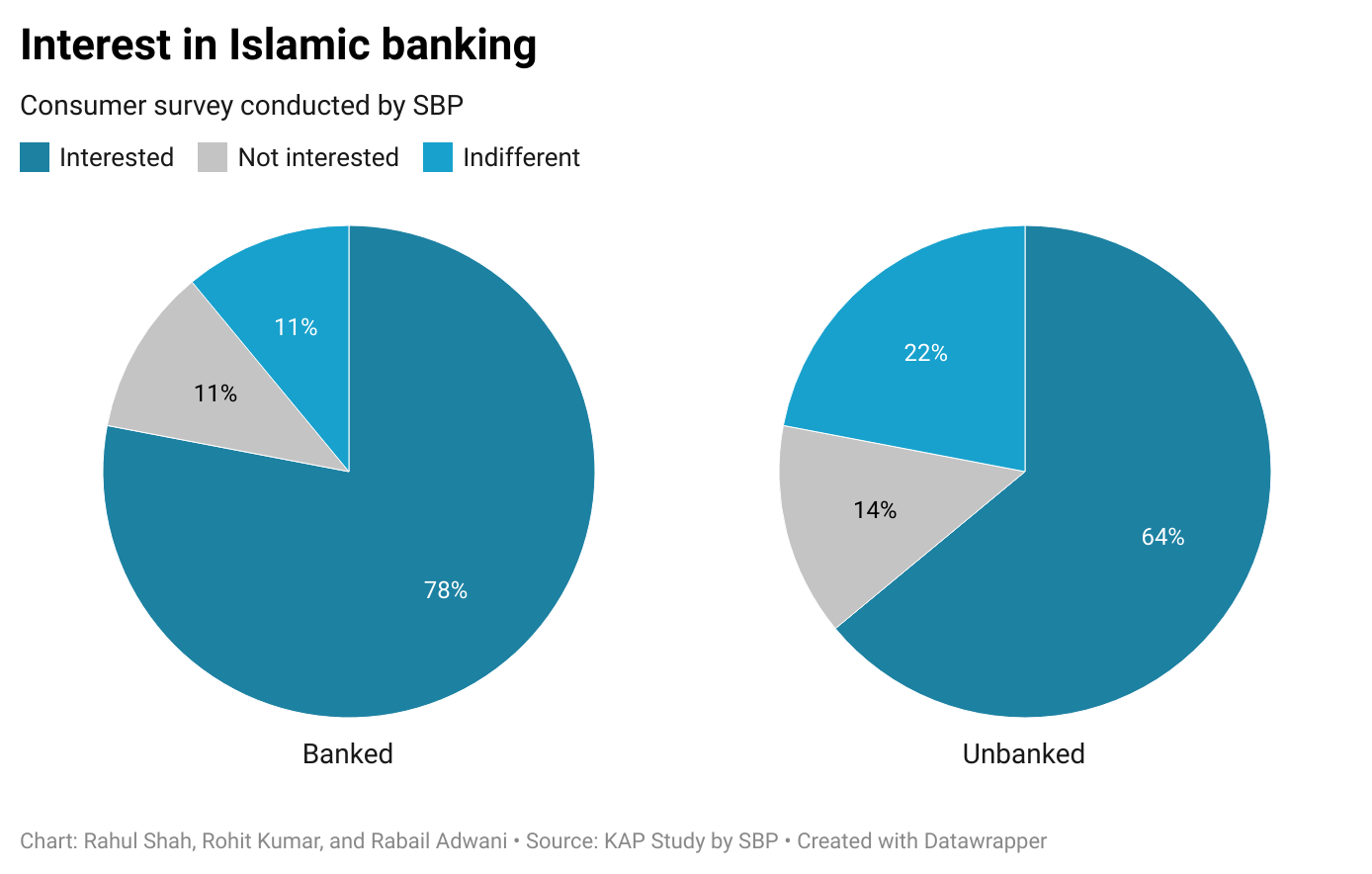 4) Financial literacy is low. As per S&P's 2015 Financial Literacy Survey, only 26% of Pakistan's individuals are financially literate, which is defined as a knowledge of one of these four concepts: i) risk diversification, ii) inflation, iii) simple interest and iv) compound interest. This is a lower level than in most other emerging markets.
Overcoming these obstacles
Regulators have recently taken steps to address some of the obstacles such as:
Higher taxes on government securities income. In its FY2021 budget, the government imposed an additional 2.5% tax on income from incremental government securities during the year.

Additional taxation on banks with low lending. In the FY2022 budget, the government imposed an additional 2.5% tax on banks whose loans/deposits ratio fall below 40%.

Construction loan targets. In 2020 Pakistan's central bank (SBP) set mandatory targets for banks to grow their housing and construction loan portfolio to at least 5% of their total private sector credit by December 2021. Banks missing these targets will be subject to penalties, such as fines.
However, we think these steps are not enough to materially lift bank lending volumes as any punitive measures are likely to have a minimal impact on banks' bottom lines.
More importantly, the government's borrowing needs will remain substantial; its net borrowing requirement is likely to remain in the range of 3-7% of GDP in the next 5 years, according to the IMF. This ongoing public sector borrowing need will likely prevent the regulator from taking any drastic steps to increase lending volume at the expense of banks' appetite for government debt issuance.
BAFL leads its banking peers for credit penetration
Though Pakistan banks have low loan exposure, some show greater credit appetite than others. Among the larger institutions Bank Alfalah is the clear leader with a 42% loans/ assets ratio, well ahead of the sector median of 31%. SME and consumer loans together form 40% of its total loans, compared with 12% for the overall banking sector.
Bank Alfalah also leads its peers in relation to IT spending and has developed a full suite mobile banking application, Alfa, which has helped it grow its consumer banking franchise. The bank is trading at 0.6x 2021 PB and 5.1x PE with a 2021f ROE of 12.1% (Bloomberg consensus).
The role of fintechs in Pakistan's credit penetration
As highlighted above, we think banks are unlikely to experience a significant shift in their lending appetite, especially towards the SME and consumer segments. On paper, therefore, fintechs in Pakistan have a huge opportunity to cater to this unmet need. However, a lack of availability of alternative information (like consumer spending patterns) to develop feasible risk assessment models remains the major hurdle, in our view. Part of the reason is that the economy is heavily cash-based. In addition, banks appear unwilling to partner with fintechs to share this data, while payments fintechs are still quite small (and they are still mostly carrying out P2P transfers rather than facilitating actual purchase transactions).
Nevertheless, as payments fintechs grow and obtain more consumer data, we think they will be able to offer loan products. But it will likely be a few years before we see a visible impact on the country's credit penetration ratios. Also, Raast, a digital payments initiative by the SBP, might in the future make spending data available to lending fintechs.