Around half of Pakistan's banking sector assets are government exposures. Banks are scheduled to implement IFRS9 from the start of this year, and recent news reports suggest that in contrast to the current approach, the State Bank of Pakistan (SBP) may not grant a provisioning exemption for government exposures under the expected credit loss model.
This change would bring Pakistan more into line with international best practice, but our discussions with banks suggest that there is still no clarity on this matter, while recent comments by the finance minister indicate that there is government pressure on the SBP to continue granting the provisions exemption.
In this note, we discuss the current situation and what any rule change could mean for banks and other sectors, along with the implications for investors.
IFRS9 implementation and the issue of government exposure
Pakistan banks are set to implement IFRS9 this year
Pakistan's banks have been instructed to implement IFRS9, which stipulates the accounting treatment of financial instruments, from January 2022. The accounting standard has already been implemented by most other banking systems across the globe.
IFRS9 is likely to have a material impact on the banking sector in terms of provisioning as well as asset classification. Banks are required to carry provisioning based on an expected credit loss model versus the current event-based regime where provisions are mainly taken after the borrower defaults.
Provisioning treatment on government exposure may change
One issue that has recently come under the spotlight is whether Pakistan banks will be required to take provisions on their government-backed exposure.
Under the current regime in the country, banks are exempt from any credit provisioning on government exposures. As per selected news reports, the IFRS9 instructions initially issued by the SBP in 2019 also exempted banks from taking provision under ECL on these exposures. But revised instructions, issued in July 2021 (and effective from January 2022), did not mention this exemption, creating some uncertainty regarding banks' provisioning requirements for exposure to government-related loans/securities.
The finance minister commented that they would sit with SBP to grant the exemption on the government loans.
Is it sensible to carry provisions on government loans/securities?
Local currency debt by governments is usually considered credit risk-free, mainly on the premise that government has the ability to print money, so it cannot default on its domestic obligations. However, recent developments in the case of Pakistan suggest that there might indeed be a valid argument to consider credit risk on the government exposure. These include:
The government can no longer borrow from the SBP as per the new SBP Amendment Act, therefore limiting its ability to print money and rely on the central bank for budgetary support.

The current stock of government securities with SBP, which is significant, will not be rolled over after maturity and the government will need to finance this from other avenues.

Commercial banks are increasingly being pushed to increase their lending activities, especially in the housing segment, therefore limiting banks' ability to lend to the government.

Government borrowing needs have been increasing due to rising fiscal and current account deficits.
Also, Pakistan would not be alone in taking provisions on government-backed loans and securities. Some other countries, such as Nigeria, already do so. Therefore, in our view, it is sensible that banks prudently take provisions on government exposures based on the expected credit loss model. In addition, it increases the credibility of the SBP as an autonomous institution and also improves transparency in the banking sector as their provisioning will reflect economic reality.
Implications for the banking sector
Which banks are most exposed to the public sector?
Currently, c50% of banking sector assets are parked in government loans/securities. Of this, 43% is in government securities and a further 8% in public sector lending (this also includes exposure to state-owned entities). Looking at individual banks, Allied Bank appears to be most exposed to the public sector while Meezan Bank has the least exposure.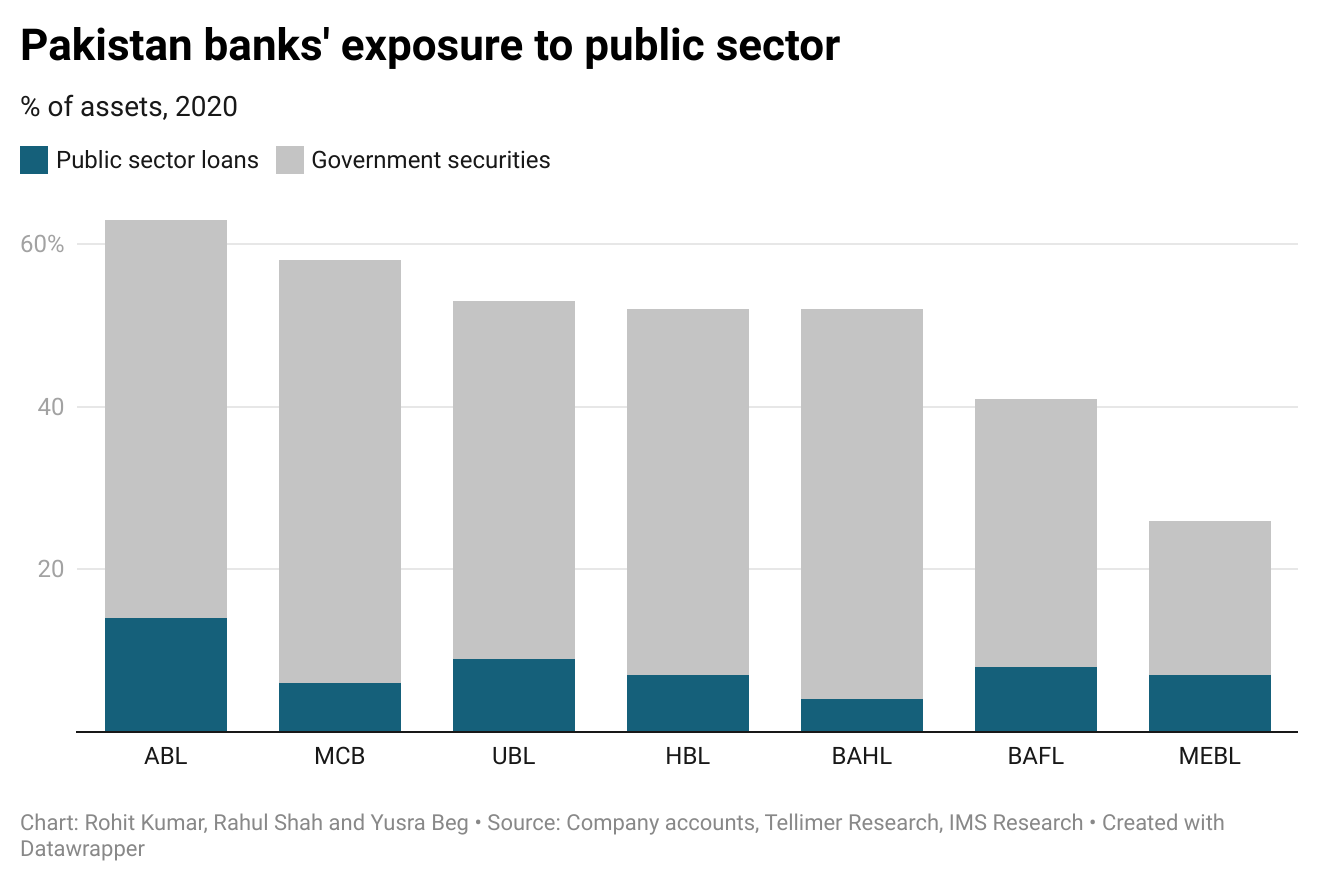 Key factors to consider
If the provisioning requirement is indeed imposed on government exposure, we think there are two major considerations:
Whether the requirement is imposed on the lending portfolio only, or also encompasses government securities.

What probability of default would be applied to government exposures.
Another important question is whether the government exposure increases risk-weighted assets. Currently, these assets do not attract credit risk weight, as per our understanding.
That said, we think the government securities exposures, if included under the ECL model, might carry a smaller provision requirement relative to banks' lending portfolios. For example, Nigeria banks carry only c0.2% provisions on average under the ECL model on government securities, compared to c4% on the lending portfolio.
Impact analysis and sensitivities
Below we present book value impact assuming banks carry 0.2% ECL provisioning on government exposure. Note that this only includes the one-time impact at the time of implementation based on the outstanding portfolio.
Overall, the impact appears manageable if the ECL requirement settles around Nigeria's levels. BAHL could be impacted most (it has high leverage) while MEBL would be cushioned (due to its low exposure to government).
However, the impact would mainly depend on the default probabilities used, which, in turn, is a function of the macroeconomic situation, the government's financial position and the underlying entities' cashflow positions.
For this purpose, we have presented sensitivities for book value and capital ratios at different levels of ECL exposures in the appendix.
Implications for other sectors
State-owned entities (SOEs)
SOEs are heavily reliant on commercial banks for their borrowing needs and are often loss-making. The major reason commercial banks still continue to lend to most of these entities despite losses is the government guarantee and exemption from provisions even if the required payments are not made on time.
If SBP decides to remove the exemption, this could make it difficult for these entities to raise money for working capital needs, let alone the rise in borrowing costs.
Some examples of listed SOEs reliant on banks for their funding needs include PIAA PA, PSO PA, SSGC PA and SNGPL PA.
Power sector
The power sector is highly leveraged and most of the debt is government guaranteed. There are serious cash flow issues in the sector due to circular debt (the pile-up of huge receivables in the energy sector due to the government's inability to pay its dues).
Despite this, commercial banks continue to lend to these power projects due to government backing. If the provisioning exemption is lifted, power sector cash flows could be further impacted as banks might turn cautious about lending, because the sector could attract high provisioning requirements due to its underlying issues.
Some listed power companies include: HUBC PA, NCPL PA, NPL PA and KEL PA.
Infrastructure projects
Infrastructure development is a key target for governments and most of these projects are completed with the help of commercial bank financing. Payments from these infrastructure projects are often delayed, but usually this does not require banks to charge provisions.
However, if the exemption is lifted banks, banks could shy away from lending to these projects and could also charge higher rates, which could hurt government development plans.
Government budgetary support and bond market
The government actively borrows from commercial banks via the bond market. If lending to the government carries an additional charge, then banks may demand higher rates, lifting borrowing costs for the government.
In the worst case, if the government credit position worsens (see recent developments discussed above), banks could stop buying government bonds, which would add further fuel to the fire and worsen the government's cash flows.
Implications for investors
It is still too early to know what the SBP's decision on this issue will be. But even if the exemption on government exposure continues, investors may still want to price in the economic reality that government funding requirements are increasing while its fund-raising avenues are declining.
In addition, the credibility of economic reforms and the SBP's independence could also be damaged if the SBP grants this exemption at the government's request.
Investment case for Pakistan banks
We expect Pakistan banks' earnings to rise on the back of rising interest rates, while the sector currently trades at attractive valuations. Median 2022f P/B stands at 0.8x with ROE of 17.4%.
The top picks of our research providers in Pakistan, Intermarket Securities (IMS), include MEBL and BAFL, and our sensitivity analysis suggests both these banks should be relatively less impacted within the sector if the SBP decides to impose provisioning requirements on the government exposure.
MEBL is delivering on all fronts. Aggressive balance sheet expansion, superior asset quality and sensitivity to higher interest rates are key attractions of the bank.
BAFL is one of the most margin-sensitive banks in our coverage. This is because it has a higher current concentration in the deposits mix, a high loans-to-deposits ratio, and sizeable Islamic window operations.
Appendix
Below we present book value and capital ratios sensitivities at different levels of ECL. Note that these impacts are based on both government securities and public sector loan exposure, and do not assume any tax credit on provisions or any change in risk-weighted assets.