We hosted a call last week with the South African Reserve Bank (SARB). This note outlines our key takeaways. We would like to thank Chris Loewald (Head of Economic Policy & Research and MPC member) and David Fowkes (Senior Economist in the Financial Markets Department) for their insights during the call and preparation of this note.
South Africa has been impacted relatively hard by Covid, with growth contracting by 7% in real terms last year. While it is projected to rebound to 3.8% and settle around 2.5% from 2022-23, the lower base means that South Africa won't return to its pre-Covid output level until 2023. The growth outlook will depend heavily on the vaccination drive, but encouragingly the economic impact of the second wave was not as bad as the first and any resurgence of the disease will likely prove manageable.
At the same time, inflation has also come down considerably and stood at a mere 2.9% yoy in February. While it is projected to rise in the coming months due to higher commodity prices and base effects, it is projected to remain around the midpoint of the SARB's 3-6% target through 2023. Inflation expectations seem to be responding well to forward guidance and are more well anchored than in years past, but market-based measures have ticked up in recent weeks and the 10-year breakeven rate and household survey expectations have been sticky towards the top of the SARB's target range.
The SARB thinks the market may have got a bit ahead of itself on inflation risks and believes its stance is appropriately accommodative. That said, the conversation has shifted away from cuts towards the maintenance of rates at current levels to support the ongoing recovery. Aside from rising commodity prices and base effects, there is upside risk to inflation forecasts from administered prices and wages (though the SARB assumes the government will deliver on its wage freeze as promised).
If the wage freeze is not maintained and fiscal consolidation is pushed off track, large ongoing financing needs could start to crowd out the private sector. While a pickup in household and corporate savings has limited financing constraints for now and pushed the current account into surplus, these trends will begin to reverse as the economy recovers and could make crowding out an issue in the next 2-3 years, with the savings constraint making it hard to grow out of South Africa's looming debt crisis.
Much of the external improvement post-Covid has been due to rising terms of trade and weak investment, boosting exports and pushing down imports. As a result, the current account surplus will decline from 2.2% of GDP in 2020 to a projected 1.3% of GDP this year, before swinging back to modest deficits of 0.8% and 1.3% of GDP, respectively, in 2022 and 2023 (still well below pre-Covid levels of 3-4% of GDP). The exchange rate will continue to serve as the first line of defence against external shocks.
Increased investment and structural reforms are necessary to put South Africa on a sustainably positive per capita growth path. If the government delivers on its structural reform agenda it may be able to boost potential growth from c1.5% to c3%, which is not a phenomenal growth rate but is consistent with South Africa's longer-term performance. That said, investment numbers have not improved in line with the positive anecdotes, and the government must restore confidence to unlock enough private investment to offset the decreased space for public investment.
The SARB is not particularly concerned about the risk of capital outflows if rates continue to rise in the US, as the risk is mitigated by a relatively stronger external position and flexible exchange rate. Recent ZAR strength has been surprising, but the SARB's baseline forecast is that it is still a bit undervalued. That said, there is a large divergence of views on fair value for the ZAR, with one internal SARB model suggesting overvaluation, and it is still likely to depreciate a bit in nominal terms this year.
10-year bond yields have been sticky in the c8.5-9.5% range despite the SARB's accommodative policy stance, largely resulting from a rising term premium. But unlike some other major EM central banks, the SARB has no plans to intervene with asset purchases outside of smoothing over market dislocations. The SARB does not think South Africa has a compelling enough growth story to get away with asset purchases, and higher long-term yields are a message to the Treasury to bring down debt.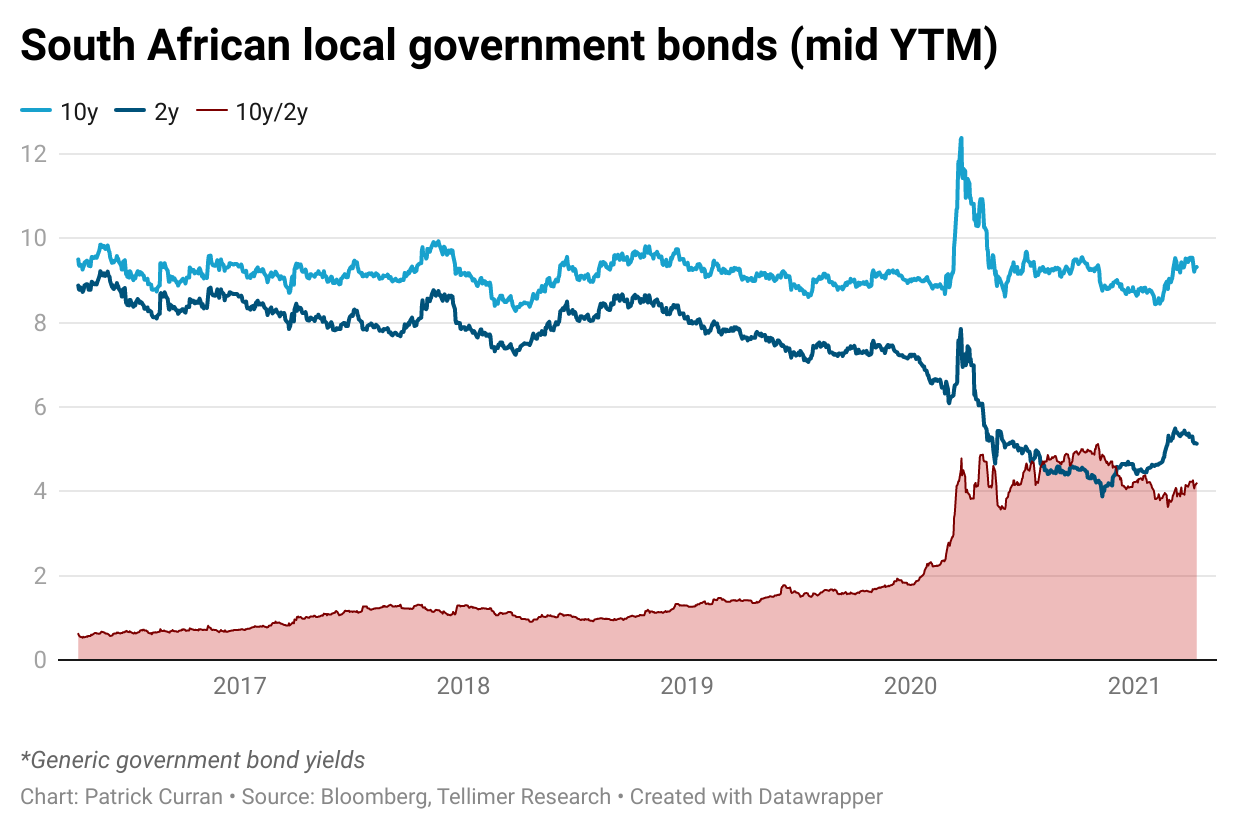 The Treasury can manage borrowing costs by shortening the maturity profile at times of elevated steepness, effectively managing yields as a fiscal rather than monetary operation. Indeed, the average cost of borrowing for the Treasury is in the c5-6% range as the Treasury has done just that.
However, there is still some concern over how the rising term premium muddies the monetary transmission mechanism by pushing up the cost of borrowing longer-term. The SARB thinks the yield curve is more likely to flatten as the repo rate rises over the medium term, but hopes any flattening comes from improved fiscal credibility (ie looser monetary policy and tighter fiscal policy).