The pandemic winners among developed market stocks, almost all tech firms, are now household names, with the likes of Zoom helping to transform our working and personal lives and Tesla becoming a retail-investor favourite, recording staggering share price growth. But there has been super-normal performance in emerging markets too.
On Monday, we published our list of 20 pandemic-proof stocks that are either based in emerging markets or have significant exposure to emerging markets, ranked by percentage gains in market cap through 2020. Some of these companies already appear to be over-valued, despite surfing trends that pre-date Covid and will outlast it.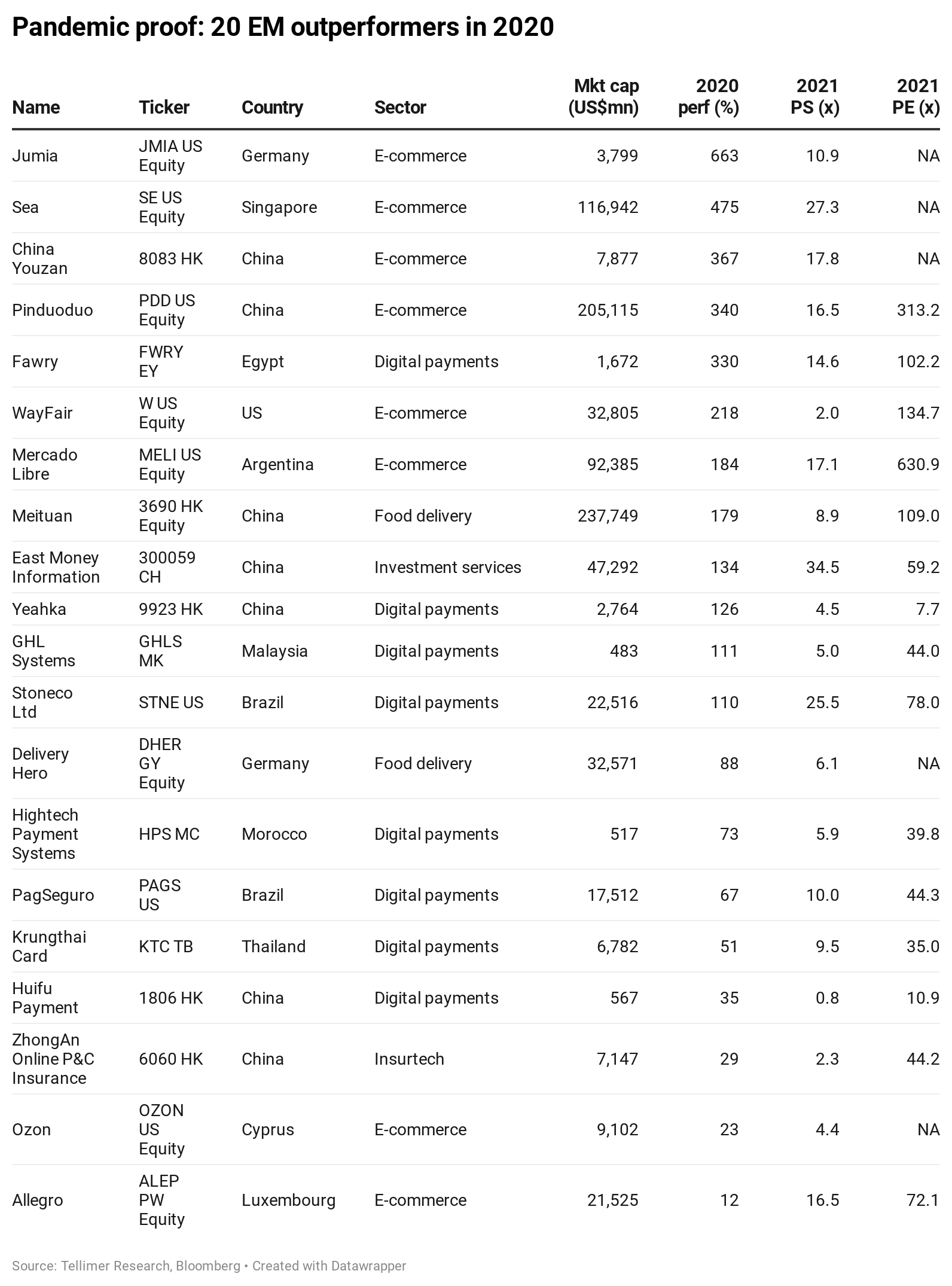 Key takeaways
Investors are hungry for growth stories
Many of our showcased companies are trading at elevated multiples but this has not stopped the upward march of their shares. In an environment where the global economy has contracted, investors are willing to pay a significant premium for growth outliers.
For example, Brazilian payments firm StoneCo's stock has more than doubled in 2020, despite its valuation multiples being significantly higher than those of its peers.
Recession-proof companies are delivering the right product via the right channel
All the companies on our list are seeing rapid growth in at least some parts of their business, highlighting that, even in these challenging times, customers are willing to pay for accessible products that better meet their needs.
For example, Pagseguro's digital banking arm, PagBank, has seen its Q3 20 transaction value and user base grow by over 2.5x yoy.
To identify transformational growth stories, investors need to look under the hood
Several of our highlighted companies are experiencing slow or even negative growth at the group level. This is because their legacy businesses are shrinking even as their future value drivers are experiencing explosive growth.
For example, China's Huifu Payments saw its revenues decline by 9% yoy in the first nine months of 2020 due to shrinkage in its legacy merchant-acquiring and industry solutions segments, but its SaaS division posted strong top-line growth (+51%) and is expected to be a key driver of future growth.
There is a lot of money to be made at the bottom of the pyramid; technology holds the key
Using technology to drive-down unit production and distribution costs can give companies exposure to the billions of individuals that form the EM mass market. Scalable platforms can handle huge volumes of customer interactions, while AI/machine learning can help drive competitive advantage by improving customer knowledge.
Fawry, an Egyptian payments provider, is pioneering direct digital lending to underbanked SMEs with a credit-scoring algorithm that leverages behavioural data from the firm's large merchant network.
Innovation, investment and execution are key to success
Companies should set aside some resources to fund innovation. But they also need to back up any promising pilots to scale fast, and to pivot as customer preferences and the competitive dynamic evolve. Not all companies have the management capacity and shareholder backing to succeed through this transition.
For example, Thailand's Krungthai Card is diverting returns from its traditional credit card business to build a suite of digital products such as digital payments, insurance, consumer loans. Further investment will now likely be needed to scale up these offerings.
Partnership models can be a win-win for investors
Many of the companies on our list employ partnership-style revenue models; they help their clients through distribution, risk management or marketing, and take a slice of the economic benefits in return. The end-user also gains through lower costs and/ or improved convenience. These models can create powerful virtuous circle effects, turbo-charging stock performance.
For example, China Youzan offers various commercialisation products to merchants to market their products digitally and improve customer conversion rates. This has helped the company grow its merchant service segment revenues by 90% in the pandemic and share price growing by 367% in 2020.
But beware of the risks!
For the firms on our list that can broadly be defined as e-commerce in particular, revenues may have been brought forward during Covid and there are strong reasons to be suspicious of claims that their stunning performance last year can continue as the pandemic eventually begins to ease. The trend of increased online shopping and more frequent remote work was already well underway pre-Covid, but investors will eventually make the distinction between pandemic revenue and recurring revenue.
Moreover, the tech boom has been built on non-financial metrics, especially in emerging markets. For example, Sea Limited has become Asean's largest company despite being unlikely to be cashflow positive for many quarters – in its quarterly results, the market focuses on line items such as number of users and hours of usage. The trouble with non-financial metrics is that they are even more susceptible to manipulation than financial ones, as we have in the case of the fraud allegations levelled against Chinese video streaming company, YY Live, which is controlled by Nasdaq-listed Joyy.