OPEC+ extended its restrained output stance contrary to expectations at its 3-4 March meeting, with an increase of 150,000 barrels per day (bpd) versus expectations of 0.5mn-1.5mn. Brent is up almost 9% since the day prior to the meeting, 30% ytd and 230% since the April 2020 trough.
Short term, this adds more fuel to inflation hawks (upward pressure on US yields), which is negative for Technology stocks and countries with high external debt in emerging markets (EM), and further tilts equity portfolios towards commodity exporters in EM. The cheapest oil exporter markets include Russia in large EM, Colombia in small EM and Oman in FM.
Long term, for those with the luxury to act with a view that far ahead, sustained oil price strength risks the breakup of OPEC+ output discipline and the resurrection of US oil output growth, further compromises US efforts to negotiate with Iran, and prompts the faster adoption of renewable technology in electricity generation. The theme of oil price strength is not a structural one to the degree that, for example, the copper price is (where copper is a beneficiary not only of post-Covid economic normalisation but the adoption of renewable technology).
The next OPEC+ meetings are on 31 March (Joint Ministerial Monitoring Committee) and 1 April (OPEC and non-OPEC Ministerial).
Oil price strength implications
This sharp rise in oil price has the following short- and long-term implications.
Short term
Adds fuel to inflation hawks and may provide another reason for US Treasury yields to rise further (already up 64bps ytd and 104bps since the April 2020 trough). The implications of rising yields is negative for companies where valuation is highly dependent on long-term cash flows, ie Technology, and for countries with high external debt.

Favours those emerging and frontier markets that are net exporters of oil. Among these, the cheapest equity markets relative to history, on price/book, include Colombia and the UAE. In larger EM, Saudi Arabia and Russia are similarly valued on this metric but Russia's FX rate is much cheaper (a reversion to the 10-year median real effective exchange rate would imply 17% upside in Russia compared with 2% downside in Saudi Arabia).
Long term
Cracks in OPEC+ discipline (some members are already open about their desire for higher output, eg Russia and the UAE, and a collection of OPEC members with low sovereign wealth are increasingly in need of higher hard currency revenues, eg Ecuador, Iran, Iraq, Libya and Nigeria).

Demonstrates Saudi Arabia's ability to cause economic discomfort for the US in the context of the sanctions levied on it, under the Khashoggi policy, and the strategy of Biden to re-engage Iran on the nuclear deal (ie it reminds Biden that the concerns of Saudi Arabia, and others in the region like Israel, about Iran's conventional military capability and regional proxies need to be addressed in any new deal; something that, in turn, would likely make any deal with Iran undoable in the short term).

Resurrects US shale and tight oil expansion again: US rig count is up 80% from its April 2020 low but still 55% and 65% down, respectively, on the March 2020 and November 2020 peaks.

Accelerates the adoption of green energy, particularly under the Biden (Democrat) administration in the US, where the US EIA currently projects the share of electricity generation from renewables to increase from 21% in 2020 to 42% by 2050.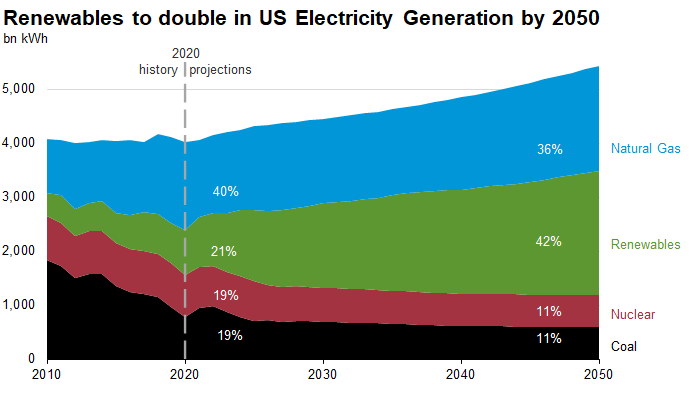 Related reading
Emerging-Frontier Equity Monthly, February: US yields help Commodities beat Tech, March 2021
Khashoggi report will not derail US-Saudi relations or Crown Prince's succession, February 2021
Oil: Saudi takes one for the team, masking demand and compliance cracks, January 2021
Oil: The cheapest oil exporter equity markets, January 2021
Commodities rally benefits EMs like Chile, Indonesia, Russia, December 2020