Emerging market equities assets under management (AUM) in international funds likely dropped in Q1 22 by under 1%, looking at IIF (EPFR) data on net foreign flows in the top 10 markets (which account for over 90% of the MSCI EM index).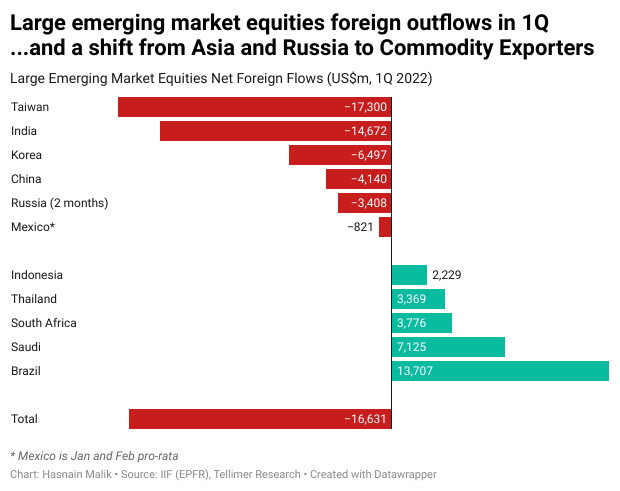 That mild hit to EM AUM is perhaps a surprise, given the universally pessimistic views currently espoused on emerging markets:
Slowing growth.

Shrinking risk appetite as US Fed shifts to a tightening cycle.

Social unrest risk in an era of high commodity prices.

Spillover from war zones.

Sanctions risk from foreign policies not aligned with the US and the EU.

Enduring strength of the US dollar.

The earnings juggernaut of US large-cap tech.
There is clearly more to the EM story than this, at least for those prepared to treat it as a heterogeneous asset class and go through the difficult work of country, sector and stock selection.
Commodity exporters
A general portfolio shift from tech-heavy and commodity-importing Asia to commodity exporters – eg Brazil, Saudi Arabia and South Africa – is evident in the distribution of flows across countries.
Russia off limits
On a much smaller scale, there has been a reallocation of the capital that was withdrawn from Russia prior to the imposition of sanctions and trading restrictions to alternative commodity exporters. Prior to its 9 March exclusion from MSCI EM, Russia enjoyed around a 3.5% weight.
China turn?
China witnessed a rare monthly outflow in March, its first since September 2020.
It is tempting to attribute this to factors – which have been brushed aside hitherto – finally catching up with China portfolio allocation:
However, that may be too convenient a narrative. All of the other large Asia EM markets – Taiwan, India and South Korea – saw outflows, and across January and February too, not merely March. And the size of the outflows in those markets dwarfed those seen in China.
It is more likely that China saw net outflows for the same reasons as the rest of Large Asia EM, but it remains relatively insulated because of the need for most global funds to allocate more to China as its weight in global equity indices grows to match its share of global market capitalisation.
Related reading
For a summary of our latest top-down views, please see Emerging-Frontier Equity Monthly - March: Roaring commodities meet rising rates, 31 March 2022.