16 September 2020
Nigeria's SEC steps in to oversee the country's crypto boom
Busola Jeje
Junior Research Analyst @ Tellimer Research
Janet Ogunkoya
Senior Research Analyst @ Tellimer Research
16 September 2020
Activities of blockchain related services and digital assets will now be subject to regulation by the SEC.
Regulatory interests come as Nigeria's cryptocurrency market is flourishing – likely the largest in Sub Saharan Africa.
SEC's action could improve transparency of digital asset transactions, and prompt possible regulatory actions from CBN.


16 September 2020
In a push to protect investors' interests and maintain the integrity of financial markets, Nigeria has joined the list of countries governing the activities of digital assets, such as crypto-token and crypto-coin investments. Recently, the Securities and Exchange Commission (SEC) released a statement classifying these assets as securities, and subjecting market participants – crypto exchanges, custody services, portfolio management and any aspect of Blockchain-related or virtual digital asset services – to regulation going forward.
Trends show Nigeria's growing demand for crypto assets – despite CBN's warning
The decision to keep an eye on the activities in the "digital asset" space was needed, as Nigeria is currently undergoing a "crypto boom". Despite the warning calls by the Central Bank of Nigeria (CBN) on the risks associated with cryptocurrencies and rebuking it as a legal tender in Nigeria in 2018, its adoption has become increasingly widespread. According to data from Usefultulips, a Bitcoin (BTC) analytics data provider, Nigeria led Sub-Saharan Africa in terms of peer-to-peer (P2P) Bitcoin trading volumes on two major bitcoin trading platforms, Localbitcoin and Paxful. For the 12 months up to September 2020, Nigeria accounted for a transaction value of US$342mn, with the next closest SSA country, Kenya, reporting volumes five times less, at US$70mn. However, we note that in the past year, the growth in transactions from the likes of Kenya (+146%) and Ghana (+624%), outweighed that of Nigeria (+17%).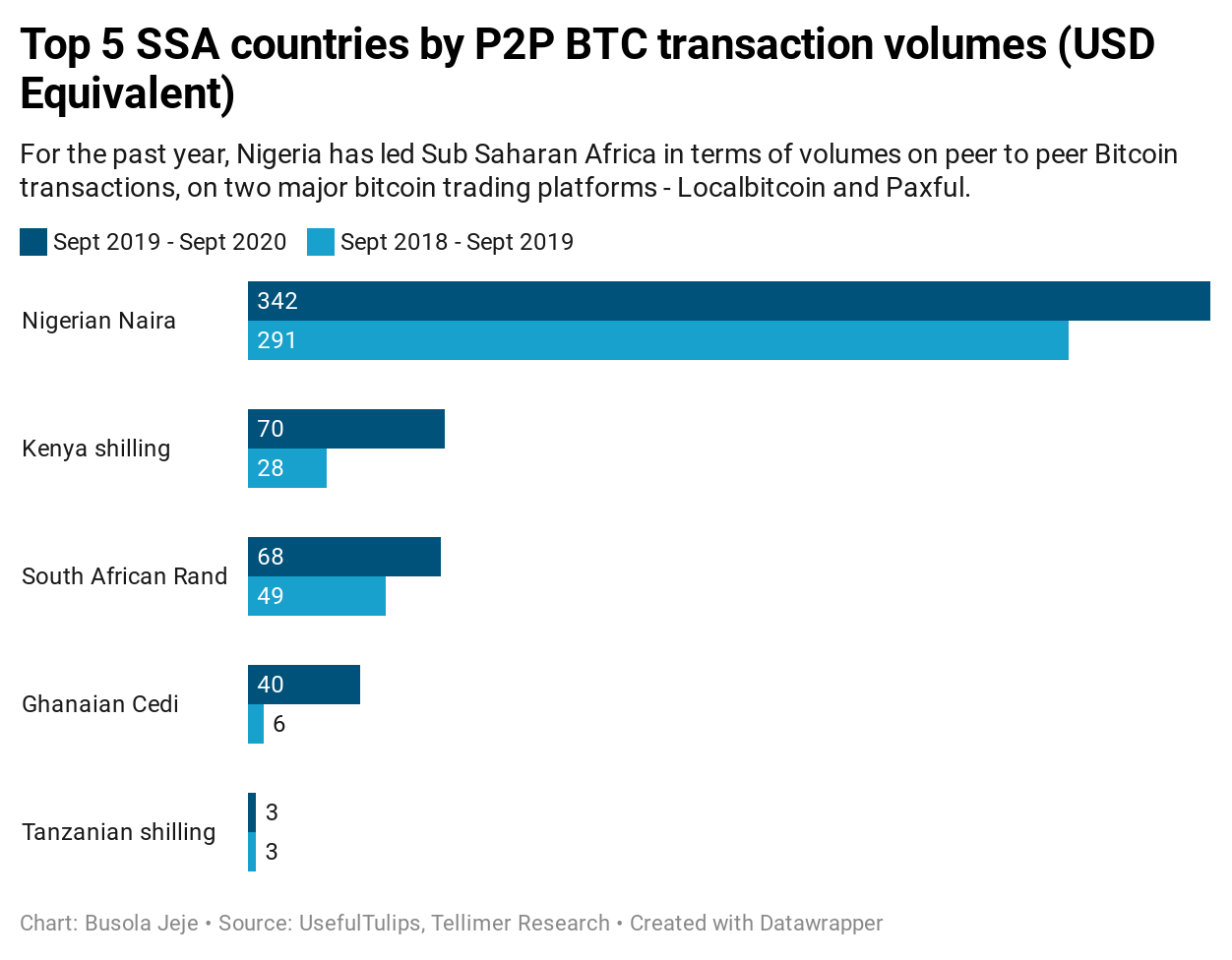 The 2020 Global Crypto Adoption Index provided by Chainalysis also told an interesting story on the rate of crypto adoption in Nigeria. Using a combination of four metrics: on-chain value received, on-chain retail value received, number of on-chain deposits and P2P exchange trade volume, Nigeria ranked 8th out of 154 countries. SSA counterparts Kenya and South Africa ranked 5th and 7th respectively, which shows the adoption of digital assets is spreading well beyond Nigeria.
Furthermore, in the heat of Nigeria's FX woes and weakening currency challenges, more interesting trends emerged. According to Blockchain.com, a major cryptocurrency exchange, Nigeria's usage of its web wallet has increased by 60% since April 2020. Also, the weekly volume of P2P BTC trading volumes on Localbitcoin and Paxful peaked at US$10mn in late July 2020, compared to the average weekly volume of US$6mn in 2020. This could signal that the FX illiquidity at the time increased the demand for BTC by businesses and individuals, as a means of settling payments for international transactions.
The increased interest in BTC also coincides with the fact that real yields on local securities have gone south, and have made traditional investments unattractive. Given all this, it was only a matter of time before the country's financial market regulator stepped in as a watchdog, to prevent risks of fraud and poor disclosure of information to Nigerian investors.
SEC's approach to crypto regulation
The SEC has adopted a two-step approach. Crypto operators are given the opportunity to prove that their digital assets are not securities via an initial assessment filing. However, we believe this would be difficult, as the regulator defines crypto assets as a digital representation of value that can be digitally traded and functions as: 1) medium of exchange, and/or 2) unit of account, and/or 3) store of value, but does not have legal tender status in any jurisdiction. Failure to justify crypto assets as non-securities prompts the second step – registering for regulation.
Other highlights of the regulation include:
Foreign issuers targeting Nigerian investors will be subject to SEC regulation and may be required to establish a branch office within Nigeria.

Existing digital assets offerings prior to the implementation of the guidelines have three months to either submit the initial assessment filing or register for regulation.
Regulation should be a welcome development
We think the regulation of blockchain activities is a welcome development, given the increased adoption in Nigeria, and the need to curb crypto-related fraudulent practices. We also believe it could facilitate more adoption in the country, due to increased confidence as a result of regulatory oversight. Similar moves have been noted by other economies. This includes South Africa, where it is compulsory for crypto operators to register as 'accountable institutions', with the Financial Intelligence Centre (FIC) and comply with all the FIC's legislative requirements. Singapore passed the Payment Service Act 2019 in Jan 2020, which brought exchanges and other cryptocurrency businesses under the regulation of its monetary authority. Some countries such as Australia have gone a step further, with the government declaring that cryptocurrencies are legal and coins like Bitcoin should be treated as property, and subject to capital gains tax.
With the SEC Nigeria's move to regulate, we could also see the CBN change its frosty stance on virtual currencies and seek to develop a framework for its regulation and possible integration into Nigeria's financial system.
---
Disclosures
This report is independent investment research as contemplated by COBS 12.2 of the FCA Handbook and is a research recommendation under COBS 12.4 of the FCA Handbook. Where it is not technically a res...
Full Tellimer disclaimers