Nigeria's low rate of financial inclusion, and how to solve it
Busola Jeje
Junior Research Analyst @ Tellimer Research

Ayobami Omole
Junior Research Analyst @ Tellimer Research
7 June 2021
Nigeria missed its 2020 financial inclusion target, as banks still cannot capture financially excluded Nigerians
Fintechs are innovating but fail to address the real issues, with most solutions being directed at people who are banked
We reiterate that telcos will make the best banks in Nigeria, as mobile money is critical to boost financial inclusion
Nigeria has failed to deepen financial inclusion, but if that was to change it would be a strong catalyst for economic growth. The traditional banks and fintechs are creating solutions, but there remains a significant untapped resource – telcos and their extremely wide reach.
In this report, we analyse how these different stakeholders – banks, telcos and fintechs – are trying to broaden access to financial services, and who is best positioned to finally bridge the gap.
Source: Tellimer research
Last week, Nigeria released its bi-annual financial inclusion report for 2020, which showed how far Africa's largest economy has come in meeting its financial inclusion goals. 2020 was of particular significance because the Central Bank of Nigeria (CBN) had set an ambitious target in 2012, to reduce the number of adult Nigerians without access to financial services (both formal and informal) to 20% from 40%.
Perhaps unsurprisingly, the country missed this target significantly, with 36% of adult Nigerians financially excluded, a meagre reduction from 37% in 2018. Furthermore, current metrics highlight that Nigeria is still far from adequately accessing the unbanked and financially underserved population.
As of May 2021, about 48mn Nigerians had a Bank Verification Number (BVN) – a unique ID to access banking and other financial services. This is very low in comparison with the estimated 106mn adults and 201mn total population. Also, the latest data from the Nigeria Inter-Bank Settlement System (NIBSS) showed 30% of total bank accounts are inactive, suggesting that a huge proportion of Nigerians are still transacting outside of the banking system.
Nevertheless, like a diamond in the rough, different stakeholders have identified the opportunity and potential gains to be made in reaching Nigeria's unbanked population. We streamline these stakeholders into three categories:
The traditional banks themselves

Mobile network operators (MNOs)

Fintechs
In the rest of this report, we analyse how these different stakeholders are approaching solving Nigeria's relatively low rate of inclusion, and which of the three is best positioned to be the leading provider of mass-market financial services to excluded Nigerians in the coming few years.
Banks
The banks' solution: Enabling inclusion by close-proximity service points
In seeking to reach Nigeria's financially excluded population, the traditional banks have not stood idle on the sidelines. Agency banking has become a significant tool, by which the banks enroll third parties to provide basic financial services to people in underserved/rural areas, on their behalf. The transactions are usually deposits, withdrawals, bill payments, account opening and P2P transfers.
While many banks are doing this, we highlight two that are involved on a relatively large scale – First Bank of Nigeria (FBN) and Access Bank.
FBN has the highest number of banking agents at c100,000 as at end-2020 (notably it doubled yoy), via its FirstMonie agent solution. The agents are spread impressively, covering 99.7% of the 774 local government areas in Nigeria. The bank's transaction volumes and value from the channel both grew at triple-digit rates in FY 20, to 479mn and NGN10tn respectively.
Access Bank's network consists of about 59,000 agents (up 216% yoy), servicing a total of 6mn customers under its agency banking platform. Apart from its solely owned agents, the bank has collaborated with MTN and Airtel via a telco-partnership initiative, using part of these telcos' agent networks to provided financial services. Its transaction volumes and value also grew at high-triple-digit rates, to 347mn and NGN8.4tn respectively in FY 20.
Going forward, we expect these banks to further develop their agency banking solutions (a plus for financial inclusion), given the large scale of Nigeria's unbanked populace, a source of cheap retail deposits and increased income from transaction fees.
Access Bank is targeting a total of 120,000 agents and is looking to increase its agent banking customer base by 3mn in 2021, while FBN is looking to expand the scheme to other African countries, such as Ghana, DRC and Guinea. Aside from these two banks, others such as Fidelity Bank, Zenith Bank and FCMB group have indicated an interest in expanding their agent networks in Nigeria.
Progress on the expansion of Payment Service Banks is still abysmal
One of the low-hanging fruits that the CBN can use to promote financial inclusion is to respond to the license applications of entities looking to operate as Payment Service Banks (PSB) or allow telcos to offer mobile money services.
For context, a PSB is small-scale bank that offers almost all banking services apart from credit and foreign exchange operations. The purpose of a PSB is to create room for a non-bank player, such as a fintech, telco or fast-moving consumer good (FMCGs) company with a large distribution network, to leverage on its existing structure to provide financial services for the unbanked.
So far, there are only three licensed PSB operators:
Hope PSB – a subsidiary of Unified Payments.

Moneymaster PSB – a subsidiary of Glo.

9PSB – a subsidiary of 9mobile.
The activities of these licensed PSBs are not in full swing yet. But the biggest missed opportunity is that MTN and Airtel Africa, which both have experience operating mobile money in other parts of the continent, have not been granted a PSB license.
Telcos
The MNO's solution: Potential for mobile money is huge
We have long argued that Telcos will make the best banks in Africa. We have also gradually seen how telco-led digital payments (mobile money) have impacted financial inclusion and consumer behaviour in countries like Kenya and Ghana. Other countries like Rwanda, Tanzania and most recently, Ethiopia are adopting mobile money.
Unfortunately, despite the huge success in other countries, the telco-led mobile money model is yet to kick off fully in Nigeria.
Of all the mobile network operators in Nigeria, we believe that MTN is best positioned to deliver last-mile mobile money services. Currently, MTN controls c40% of the mobile network market, with over 77mn subscribers, a huge lead over Glo's 54mn and Airtel's 51mn. MTN also has network coverage of over 90% of the population – the highest in the country.
Beyond mobile penetration, infrastructure and consumer data, a strong agent network is an important element of a successful mobile money operation. In Kenya, Safaricom has over 215,000 agents behind the operations of its M-Pesa service. In Ghana, MTN Ghana has over 200,000 agents.
In Nigeria, MTN Nigeria is fast building a strong and widely distributed network of agents. In 2020, it increased its registered agent base by 269% yoy to over 350,000, making it the largest agent network in the country. The agent network, under the umbrella of MTN's financial services business, Yello Digital Financial Services Limited, is currently operating through a super-agent licence.
Despite having the perfect ingredient to spread mobile money across the country, the telco giant is held back by regulation. Specifically, the exclusion of telecommunication companies from mobile money and the delay in granting a PSB license to MTN.
Fintechs
Still have a long way to go to deepen financial inclusion...
Financial inclusion also tracks access to core financial services such as payments, credit, savings, insurance, pensions, and others. Several fintechs have sprung up and are developing products across these segments.
Nigeria's fintech ecosystem is dominated by payment companies, with fintechs like Paystack and Flutterwave offering businesses an easy way to collect payments. Apart from payments, fintechs such as Carbon and Renmoney are simplifying access to consumer credit, while PiggyVest and Cowrywise are encouraging savings and personal finance. Curacel and Autogenius are offering insurance services, while fully digital banks such as Kuda Bank and ALAT by WEMA are attempting to simplify the banking experience.
Also, the CBN recently established a regulatory framework for open banking in Nigeria, although operational guidelines are yet to be provided. For context, open banking promotes the sharing of customer-permissioned data by banks with third-party firms (usually fintechs) using application programming interfaces (APIs). Banks have a lot of data including Know Your Customer (KYC) information, spending patterns, financial capabilities, loan activities, credit scores etc., which fintechs can use to build more customer-centric financial products. Okra, Mono and OnePipe are fintechs in Nigeria that develop APIs and they will benefit significantly when open banking kicks off fully.
Despite these disruptive innovations, a critical look at the recently released figures tells us that fintechs have done little to deepen financial inclusion. For many of these platforms, customers are required to provide a BVN to access their services – which means they mostly target the banked population.
Also, most fintechs have applications that need to be accessed by platforms on smartphones (via Play Store, App Store, etc.), and Nigeria's internet penetration rate is 72%. Its mobile penetration rate is 95%, but smartphone penetration is far lower. We rank Nigeria 15th out of 30 countries in our fintech financial inclusion scorecard, which ranks countries based on their level of financial and technological sophistication.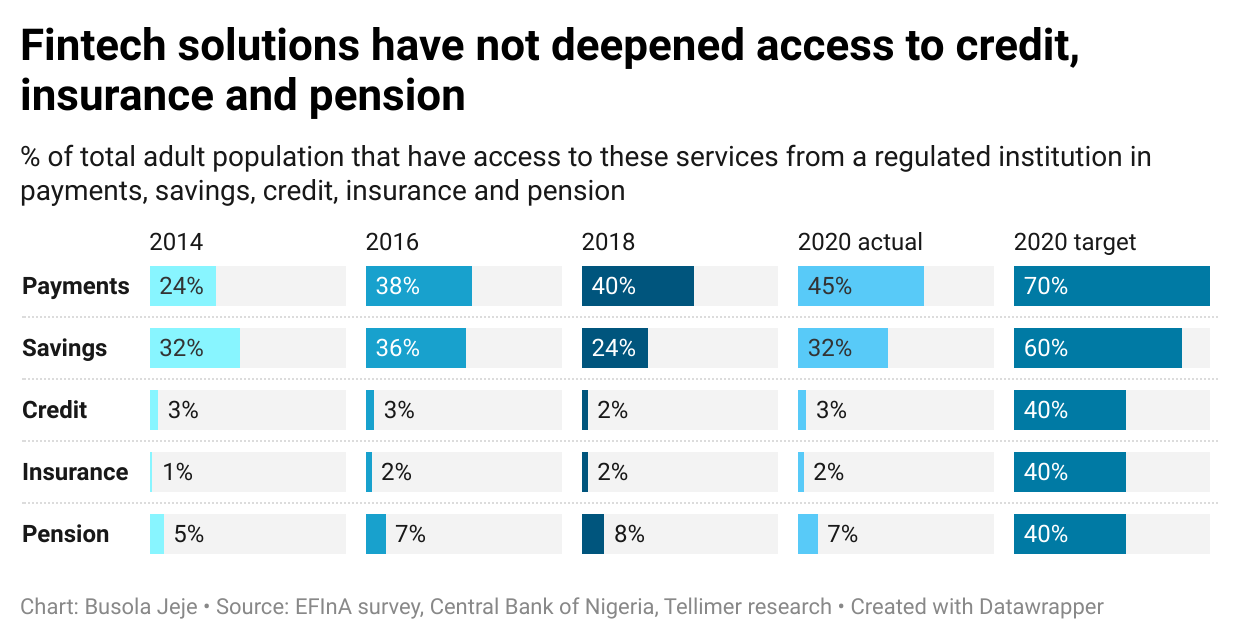 …but some are showing significant promise
Fintechs like OPay, Paga, Moniepoint and Bankly have embraced the mobile money and agent network and are growing operations to cater to almost every local government area in Nigeria. As at May 2020, OPay reported that it had 300,000 agents, and later disclosed it had over 2mn mobile wallets, with balances totaling over US$17mn as at end-2020. The fintech company has also been in the news recently, reportedly looking to raise US$400mn at a US$1.5bn valuation – potentially attaining unicorn status. Paga currently has about 27,000 agents and is looking to further scale its network to 90,000 agents by 2024. Moniepoint has 50,000 agents present in all Nigerian states, up from 8,000 in 2019. Bankly recently closed a US$2mn seed round led by Vault, looking to expand its current agent network of 15,000 and grow its customer base to 2 million unbanked Nigerians over the next three years. The fintech also offers services where people in communities can collectively save their income with agents.
The path to solving the problem of financial exclusion in Nigeria and most African countries must be well thought out and designed to fit the economic, social, and technological structures in place. The incentives have not been strong enough for the banks to take agency banking to rural areas on a large scale and make services easily accessible to the rural population.
While banks, MNOs and fintechs have made efforts to collaborate to improve financial exclusion, there has also been friction. The most recent example is the clash between banks and MNO giant, MTN, on which party bears the cost for customers' usage of unstructured supplementary service data (USSD) platforms. The tussle led to the banks cutting off MTN subscribers from buying mobile airtime with USSD, bank mobile apps or any digital channel linked to the bank accounts of subscribers.
Although the dispute was resolved in the same weekend, the most important takeaway from the showdown was the speed with which MTN enrolled alternative channels for the purchase of airtime for its subscriber base. The MNO partnered with fintechs like Flutterwave, Jumia pay, OPay, Carbon and Kuda Bank, while promoting its long-existing airtime loan product and utilising its strong MoMo agent network.
The move reinforced strongly, more than ever, that the traditional banks in Nigeria are up against strong competitors. Bearing all the above in mind, we think telcos have all it takes to drive financial inclusion via mobile money, given their extensive coverage. The only question is if they will be given the opportunity.
Related reading
Mobile money in Africa: Deep value beyond Safaricom/M-Pesa (2, June 2021)
How technology can boost financial inclusion and which markets will benefit (1, May 2021)
The ultimate guide to Africa fintech (6, April 2020)
2020s Vision: In Africa, telcos will make the best banks (8, December 2019)
---
Disclosures
This report is independent investment research as contemplated by COBS 12.2 of the FCA Handbook and is a research recommendation under COBS 12.4 of the FCA Handbook. Where it is not technically a res...
Full Tellimer disclaimers