10 June 2021
Nigeria: Wider trade deficit and absent inflows = further pressure for the naira
Janet Ogunkoya
Senior Research Analyst @ Tellimer Research
10 June 2021
Nigeria's trade deficit widens to US$9.7bn in Q1 21
Imports unfazed by CBN FX restrictions and depreciating naira; oil exports decline despite higher production and prices
The persistent decline in reserves despite higher oil prices shows that balance of payment pressures persist

10 June 2021
Nigeria's Q1 21 trade data released by the National Bureau of Statistics showed total trade rose 7% qoq to NGN9.8tn (US$24bn) in Q1 21. The bulk of the trade was imports, which rose 16% qoq to 6.9tn (US$17bn), while exports declined 9% to US$2.9tn (US$7bn).
As a result, Nigeria reported a 44% qoq increase in its trade deficit to US$3.9tn (US$9.7bn). On an annual basis, the trade deficit was 12x greater than it was in Q1 20 (US$853mn), owing to a 54% increase in imports (US$11bn) and a 29% decline in exports (US$5.8bn).
Imports return to pre-Covid levels, unfazed by naira depreciation and CBN's FX restrictions
Imports increased to pre-pandemic levels, as Nigerians ramped up demand for foreign products. This comes despite the continued depreciation of the naira and scarcity of FX following several restrictive measures by the Central Bank of Nigeria (CBN). This contrasts with the previous FX crisis in 2016/17 when naira depreciation made imports less competitive. According to data from the CBN, average monthly imports over Jan-Apr 2021 came in at US$6.5bn, beating the Q1 20 average of US$5.1bn and the 2019 monthly average of US$5.3bn.
A significant proportion of imports continues to comprise refined crude products (US$1.7bn; 10% of total imports) given that Nigeria does not have refinery operational capacity despite being Africa's largest crude oil producer.
However, the 650kbpd Dangote refinery (over 80% complete as at Mar-2021) that is expected to be ready by 2022 is Nigeria's best hope for achieving energy independence. Items tagged "other antibiotics" were the second-largest import category, as Nigerians ramped up medical spending (US$1bn; +3% qoq) in the quarter amid recovery from Covid. While it is unclear if these refer to spending on Covid vaccines – we think it could be the case, considering US$997mn was spent on vaccines in the previous quarter.
We also noted US$866mn (5% of total imports) used in the importation of wheat and sugar, which explains the CBN's announcement in April to include these items in the FX restriction list which poses risk to inflation.
Oil exports drop despite increased oil prices and production
However, the biggest surprise was the 26% qoq decline in oil exports to US$4.8bn, given the increase in both oil production (+10% qoq to 1.7mbpd) and oil prices (+38% qoq to US$61/bbl). While production was higher, we believe the lower exports were due to frail demand from key markets in Asia. Reports also show that the US's recovery in production could be taking up some of Nigeria's market share in European markets.
On an annual basis, oil exports were down 40% from Q1 20, driven by an 18% yoy decline in production which offset the 16% yoy increase in oil prices. The decline in production from last year largely reflects Nigeria's efforts to meet OPEC compliance requirements and lower capex investments since Covid hit.
The pressure on oil receipts is unlikely to ease anytime soon, given the Covid resurgence in India — Nigeria's biggest oil export market, that bought 24% of total crude export in Q1 21. Thus, Nigeria could miss benefiting from the oil price rally which has pushed the commodity to US$72/bbl — the highest since May 2019.
Beyond oil, Nigeria recorded 80% qoq growth in non-oil exports to NGN435bn (US$1bn). This was the highest since the pandemic hit in Q1 20. These included helicopters, vessels and floating structures — most of which were re-exported to neighbouring countries like Ghana, Eq. Guinea and Cameroon — and agricultural products such as sesame seeds. cocoa beans and cashew nuts. While impressive, it is worth stating that Nigeria needs to take its oil diversification plan more seriously as global economies go green and calls for sustainable energy increase. Despite the decline in crude oil sales, oil exports still made up 85% of total exports in the quarter.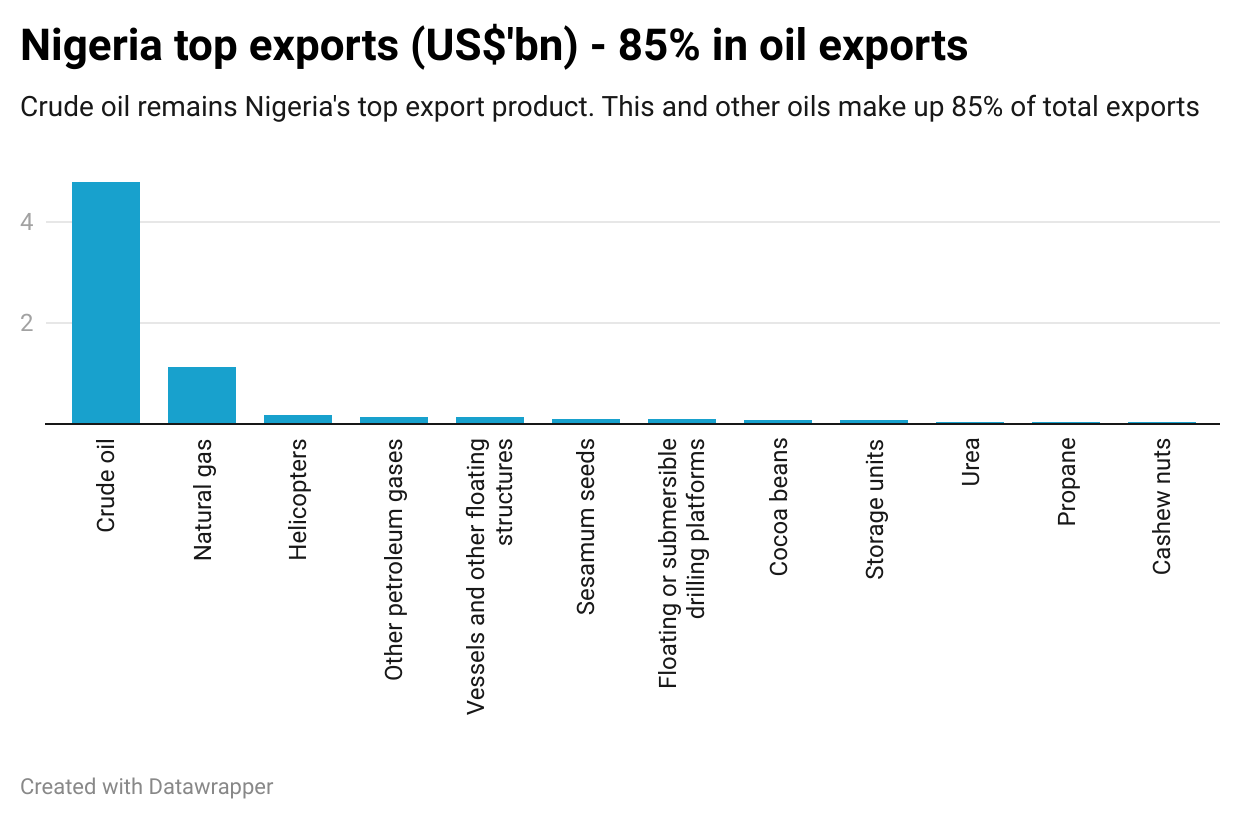 Trade deficits are likely to persist in the short term. Further out, Dangote's refinery should lessen the pressure
Going forward, there is a likelihood that the deficits increase in the coming quarters given India's oil demand is expected to take a hit in Q2 21. In addition, FX troubles, insecurity and recent bad publicity (with the Twitter ban) are likely to keep investors away for some time, limiting FDIs and economic growth.
On the other hand, it appears Nigeria's demand for foreign products remains unabated by the CBN's FX restrictions. The FX ban on sugar and wheat (contributing 5% to total imports), while significant, is unlikely to outweigh the pressure from lower oil exports and thus have a limited impact on reducing the deficit. However, adding savings from the importation of refined crude products when the Dangote refinery opens in 2022 will make a more significant impact on the trade balance. In addition, allowing for a more flexible FX regime and proper valuation of the naira would make imports less competitive and reduce the deficit.
Until then, trade deficit expansion is not good news for Nigeria's deteriorating external balance. That, added to receding remittances through official channels (as Nigerians abroad opt for crypto and favourable black market rates to send money home, despite a naira-for-dollar scheme) and dissipated foreign portfolio investments, leave the FX reserves in a feeble state. Therefore pressures on FX are unlikely to abate anytime soon. The naira has depreciated 7% ytd to NGN502 in the parallel market and 2% to NGN410 in the I&E market (now the CBN's official rate).
It is also worth noting that reserves have declined 7% since they peaked in January, and are now at US$34bn. But this is stable compared to the similar period last year and above the CBN's US$30bn threshold. However, the fact that the reserves continue to decline despite the sharp recovery in oil prices affirms our view that the balance of payments could indeed come under pressure.
---
Disclosures
This report is independent investment research as contemplated by COBS 12.2 of the FCA Handbook and is a research recommendation under COBS 12.4 of the FCA Handbook. Where it is not technically a res...
Full Tellimer disclaimers