The Central Bank of Nigeria (CBN) hiked its policy rate by 100bps today to 17.5%, above the median expectation for a 50bps hike among the 12 analysts surveyed by Bloomberg (with estimates ranging from unchanged to +100bps). Only one analyst successfully predicted the decision, which marks the 5th consecutive above-consensus rate hike since the hiking cycle began in May 2022 and brings the cumulative tightening over this period to 600bps.
The hike comes despite a decline in inflation in December from 21.5% to 21.3% yoy. However, the moderation was driven by base effects, with month-on-month inflation actually ticking up from 1.4% to 1.7% due primarily to an increase in consumer spending during the festive period. Core inflation also continued to rise from 18.0% to 18.2% yoy. CBN Governor Emefiele emphasised in the post-MPC press conference that more work was needed to rein in inflation and narrow the negative real rate margin.
Today's rate hike takes the CBN's real policy rate to -3.8%, up from a trough of -6.5% in August but still below the median of -1.7% across our sample of 66 emerging and frontier markets. However, the policy rate is purely symbolic, with money printing and direct credit intervention by the CBN muddling the transmission mechanism. The Cash Reserve Ratio (CRR) – which was maintained at 32.5% at today's meeting – and ad hoc use of CRR debits are more indicative of the CBN's policy stance.
Indeed, we wrote in November that after diverging sharply from the policy rate following the bifurcation of the T-bill and OMO markets in October 2019, the yield on Nigeria's T-bills had finally converged with the CBN's policy rate. However, T-bill yields have once again fallen below 5% from around 16% at the end of November, marking another breakdown of monetary policy transmission and rendering today's rate hike meaningless (with the real 12m T-bill yield at -16.4%, the lowest since series inception in 2007).
CPI will continue to moderate over the course of the year due to base effects and an easing of food and energy price pressures – we project inflation of 18% yoy by mid-year and below 16% by year-end. Still, inflation is projected by the IMF to remain in double digits (c11.5%) over the medium term, pointing to structural pressures that are unlikely to go away absent major reforms to Nigeria's underlying monetary policy framework (which the IMF emphasised in a November statement).
Indeed, the CBN's money printing has come under intense scrutiny in recent weeks, with President Buhari seeking parliamentary approval for to securitise the so-called "ways & means" advances from the CBN to the government. The CBN extended NGN6.3tn (3.1% of est. full-year GDP) to the government via ways & means advances over the first 10 months of 2022, up from NGN4.3tn (2.5% of GDP) in 2022, well above the statutory maximum of 5% of the previous year's revenue.
This takes the total stock to NGN23.8tn (11.5% of est. full-year GDP), which would increase the official debt stock from 23.4% of GDP (as of September 2022) to 34.9% of GDP (or 37.7% including the AMCON bonds). It is a bit strange that the securitisation of ways & means advances is receiving so much attention now, as it has been well-telegraphed and is simply an accounting exercise which does not change the underlying debt stock but makes it more transparent (see here for our analysis in October).
However, parliamentary resistance could derail Buhari's plans to convert the existing stock of advances to 40-year bonds at a 9% interest rate (with a 3-year interest moratorium). Buhari told the Senate that this would save the government cNGN1.8tn (cUS$4bn) of interest in 2023, although it is unclear where this calculation comes from as the implied interest rate in ways & means advances is just 9.5% based on NGN1.64tn of interest paid from January-November 2022 and an NGN17.3tn stock in November 2021.
As we have pointed out before, so long as the operation does not harm the capital position of the CBN it is simply an accounting exercise and is necessary to improve transparency in Nigeria's debt management practices. The key question is whether the CBN will adhere to the statutory cap of 5% moving forward. If not, monetisation by the CBN will continue to lead to fiscal dominance and undermine the monetary transmission mechanism.
On the exchange rate front, the press conference offered no guidance. But here, too, there has been a change since the last MPC meeting. After depreciating gradually in a de facto crawling peg from 415/US$ at the end of 2021 to 445/US$ by mid-December, the naira (NGN) was allowed to depreciate more sharply to 460/US$ over the last two weeks of the year. Alongside parallel market appreciation to 750/US$ from a peak of 900/US$ in early November, the parallel premium has fallen to c60% from c100%.
However, the NGN remains overvalued, and more flexibility is needed to reduce FX shortages and unify Nigeria's multiple exchange rates, something that all three major candidates in the upcoming election have promised to do. Net FX inflows to the Nigerian economy averaged cUS$2.5bn per month over the first nine months of 2022, down from cUS$6bn in 2019, and there is currently a large stock of cUS$37bn of foreign portfolio investment (including cUS$33bn of local government debt and OMO bills and cUS$4bn of equities), much of which is likely stuck in the country due to inability to repatriate.
CBN data showed that it injected NGN6.9tn into the economy between January and October 2022 to defend the naira, equating to US$16.3bn at the average official exchange rate over that period. As such, despite the sharp rise in oil prices in 2022 (with Brent averaging cUS$99/bbl versus cUS$71/bbl in 2021) reserves continued to decline throughout the year from US$40.5bn at the end of 2021 to just US$37bn at the end of 2022 (also driven by the drop in gross oil production from 1.62mbpd in 2021 to 1.38mbpd in 2022, or from 1.31mbpd to 1.14mbpd including condensates).
Lastly, beyond the controversial securitisation of ways & means advances, CBN Governor Emefiele's legal troubles have kept the CBN in the news. Nigeria's secret police are investigating Emefiele for alleged financial crimes related to CBN's direct lending programmes. While Emefiele's supporters claim that the charges are politically motivated by those opposed to his ongoing currency reforms, there is a risk that the charges eventually result in his dismissal.
If anything, we view this as a positive risk factor. As we have pointed out before, a bona fide liberalisation of Nigeria's exchange rate regime and shift towards more orthodox monetary policymaking is unlikely while Emefiele remains at the helm, and the controversy now surrounding him could give the new president an elegant excuse to replace him once they take office in May 2023, over a year ahead of the expiration of Emefiele's term in June 2024.
Fixed income implications
We upgraded our recommendation on the NGERIA 7 ⅞ 02/16/2032s to Buy in June and made it one of our top 5 picks for 2023 in December. It has delivered a total return of 22.7% since June and 8.1% since December versus 6.1% and 2.5%, respectively for the Bloomberg EM Sovereign Aggregate Index and 9.5% and 4% for the Bloomberg EM Sovereign High Yield Index over those periods, rising from a low of cUS$60 (1,237bps z-spread) in October to cUS$81 (799bps z-spread) at the time of writing today (down from cUS$84 last week).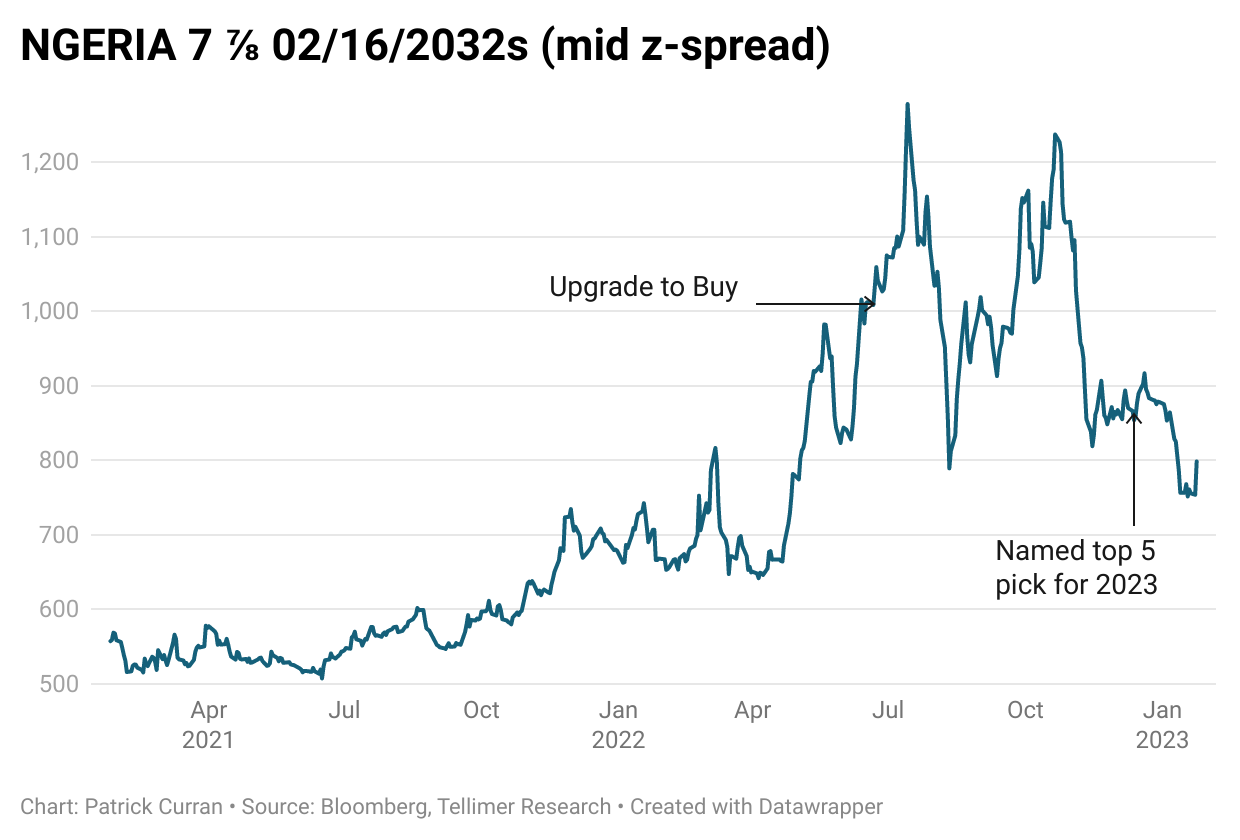 Today's MPC decision and recent monetary developments outlined above have little bearing on our fundamental view. With elections a month from tomorrow, we continue to hold out hope for a positive policy shift at the margins and think bonds will continue to outperform in the leadup to elections (and contingent on the outcome possibly enjoy a further rally in their wake). While Nigeria's bonds have rallied sharply, there is still some upside with the '32s trading c250bps above pre-Covid levels, c150bps above the spring 2022 lows, and c235bps wide versus its B-rated peers relative to the 2019 average.
As such, we retain our Buy recommendation on the NGERIA 7 ⅞ 02/16/2032s at US$81.2 (11.24% YTM, 799bps z-spread) on a mid basis at the time of writing on Bloomberg.
Meanwhile, local government debt continues to be uninvestable with sharply negative real yields across the curve alongside an overvalued exchange rate and FX repatriation issues.
Related reading
Nigeria: Hawkish shift continues with another surprise rate hike, November 2022
Nigeria: Exploding interest and exchange rates in 2 charts, November 2022
Nigeria: Demonitisation won't salvage the naira – not a game-changer for banks, October 2022
Nigeria: Securitizing CBN loans may not signal the end of monetisation, October 2022
Nigeria's budget is not the farewell Buhari intends, October 2022
Assessing the impact of Nigeria's worst floods in a decade, October 2022
Nigeria: Confusion over debt restructuring plans drives eurobonds sell-off, October 2022
Nigeria webinar: Presidential hopefuls to inherit poisoned chalice, October 2022
Nigerian central bank strikes orthodox tone but larger policy overhaul is needed, September 2022
Nigeria: CBN's elevated funding to the government increases risk to the naira, August 2022
Nigeria: The factors driving the Naira's collapse on the parallel market, July 2022
Nigerian central bank surprises with another rate hike, July 2022
Nigeria: Upgrade to Buy after excessive sell-off, June 2022
Nigerian central bank surprises with symbolic 150bps rate hike, May 2022
Nigeria annual macro overview: The song remains the same, February 2022