We are almost halfway through the year, and the Nigerian equity market has delivered the best US$ return globally. The rally bucks the trend in global markets and also defies the odds given the country's persistently weak macroeconomic fundamentals.
The NGX all share index has returned 26% year-to-date in US$ terms, compared to the MSCI Frontier return of -17%, MSCI Emerging Markets of -16%, and MSCI World of -15%.
The league table above uses the official USD:NGN pegged rate of NGN416 (while the parallel market rate is at NGN590) and so it could be argued that the NGXASI US$ returns do not reflect true market dynamics using the official rates. Nevertheless, using the market-reflective unofficial market rate, Nigeria has delivered a 20% US$ return ytd and this is still the best performance globally.
For context, the official USD:NGN rate has appreciated by 2% ytd, from NGN423 pegged as at FY 2021, while in the parallel market the naira has depreciated by 3% from NGN575 at FY 2021.
In local currency (LCY), the stock market has returned 24%, second only to Turkey globally (and note that the lira has also taken a beating due to unorthodox monetary policy).
What is driving the market
We have identified three major factors that have driven the rally this year:
Local players are dominating equity markets. No foreign portfolio investors (FPIs), little contagion

Low fixed income yields

FPI exits through dual-listed stocks
No foreigners, less contagion
There has been minimal participation by foreign investors on Nigeria's stock exchange, due to long-standing foreign exchange challenges. The multiplicity of exchange rates and lack of FX liquidity has dampened investor interest.
A typical scenario is for equities to perform better when foreigners return to the market, as we saw in 2017, after the 2015/16 FX crisis. However, the market's positive US$ returns in 2020 (+37%), and now in 2022 (+26% ytd) has bucked that trend, thanks to low fixed income yields that have sparked local institutional investors' interest (more on this below).
The minimal presence of foreign holdings means there is less risk of contagion from the global market sell-off sparked by the US Fed rate hikes (less attractive carry trade), China's Covid lockdowns and Russia's war in Ukraine.
There is a school of thought that trapped FPIs unable to repartriate their investments are also driving the rally in equities by reinvesting dividends. Another view is that there is no reaction from them because they are trapped and unable to sell. We think the latter is more likely than the former.
However, the chart below shows that local investors have been the dominant force on the exchange. This also corroborates with feedback from traders. For context, pre-2020, FPIs participation in the exchange was as high as 50% compared to c20% now.
Whatever the case, it is clear that the market has bucked the global sell-off trend and there has been minimal FPI selloffs in the market... so far.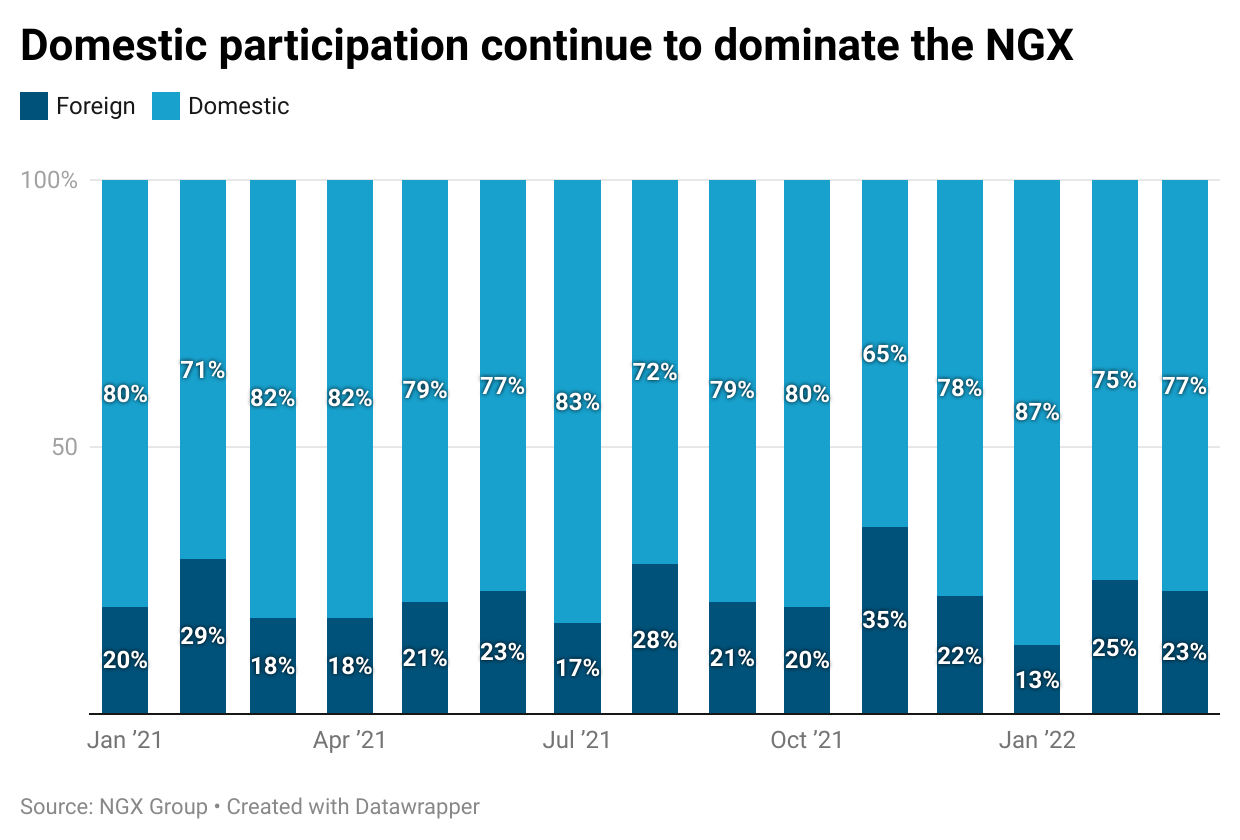 Low domestic fixed-income yields
For local players, the equity market has been the preferred portfolio play, because of the low yields that have persisted since 2020 in fixed income. With rising inflation, it means portfolio managers would have to settle for negative real interest rates in the FI market.
On the other hand, stocks have been delivering attractive dividends, especially post FY2021 corporate results. With attractive dividend yields coupled with capital appreciation, the preference for equity is clear for local investors.
FPI exits through dual-listed stocks
As mentioned above, FPIs have been seeking a means to repatriate their investments and dual-listed stocks, such as Seplat and Airtel, have garnered interest for that reason.
Fundamentally speaking, these stocks do have bull cases for their performance: for Airtel it is securing a banking licence to allow participation in fintech, and for Seplat it is high oil prices and asset acquisitions. That said, they have an added advantage of being exit routes for FPIs, with their dual listings on the Nigeria and London exchanges.
Multiples are still relatively cheap, but they remain off-limits to FPIs
The NGXASI's current P/E is 10.8x, which is below the 5-yr and 10-yr historical averages of 11.3x and 13.5x. While the multiple appears cheap, the discount to history is arguably justified, due to high inflation, low macroeconomic growth and lower liquidity from minimal foreign participation.
With the rally so far this year, valuations for many of the blue-chip names have become stretched. And the market might agree, as the 5-week winning streak (as we highlight in our weekly reports) could likely come to an end this week, as investors take a breather from the excitement of Q1 22 earnings releases and book profits from the recent rally. The market has closed in the red every trading day this week, with a cummulative loss of 0.71%.
As highlighted in his monthly Emerging-Frontier Equity note, my colleague Hasnain Malik's call on Nigeria stands: it remains off-limits for FPIs and this is due to the persistently unfriendly policy environment for foreign investors.
Overall, we think the FX restrictions will keep Nigeria off-limits for fresh capital from foreign investors, while locals continue to dominate. Several factors point to increased domestic bond yields in the second half of this year, which might put a dampener on local participation in equities including:
Lower liquidity from declining maturities in the coming quarters compared to Q1 22.

An increase in the government's domestic borrowing.

A projected hike in Nigeria's benchmark interest rate amid global rate hikes and surging inflation.