Overall cement sales by the three key players in Nigeria increased 11% over 9M 2021 to 22mt, from 20mt last year. This was just above our expectation of 10% for the period. The high growth rate was aided slightly by the low base over the first half of 2020, during the peak of the Covid lockdown.
In Q3 21, cement sales declined 3% yoy to 6.8mt (in line with our forecast), due to the unusually high cement sales in Q3 last year which were boosted by the post Covid recovery and unusually light rain showers in the quarter.
Thus, we leave our 2021 domestic cement sales forecast unchanged at 29mt (up 12% yoy).
All three key producers — Dangote Cement, BUA and Lafarge — increased volumes over the 9M period by 15%, 7% and 4%, respectively. Clearly, Dangote captured the most market share, inching up 2ppts from FY 20 to 62%, while its two biggest rivals have each lost 1ppt to 19ppts apiece. Dangote's market capture, most of which occurred in the first half of 2021, was aided by the new 3mt Obajana line 5, which was commissioned in 2020 but improved operations over the 2021 period.
Going forward, key sector highlights to note include:
1) Capacity additions
Dangote and BUA have announced that plans to add new 3mt capacity plants (in Okpella line 1 and Sokoto line 3) are still going ahead and will be commissioned before the end of 2021. Lafarge plans to debottleneck 2mt of the company's c4.8mt (46% of total) non-operational capacity. Beyond 2021, BUA stated on its last analyst call that the other 3mt plants in Sokoto (line 4) and Obu (line 3) are scheduled to be completed by July 2023 (rather than 2022, as expected). By the end of 2021, BUA will have overtaken Lafarge (10.5mt) to have the second-largest plant capacity at 11mt (2023:17mt), while Dangote remains the clear leader with 35mt.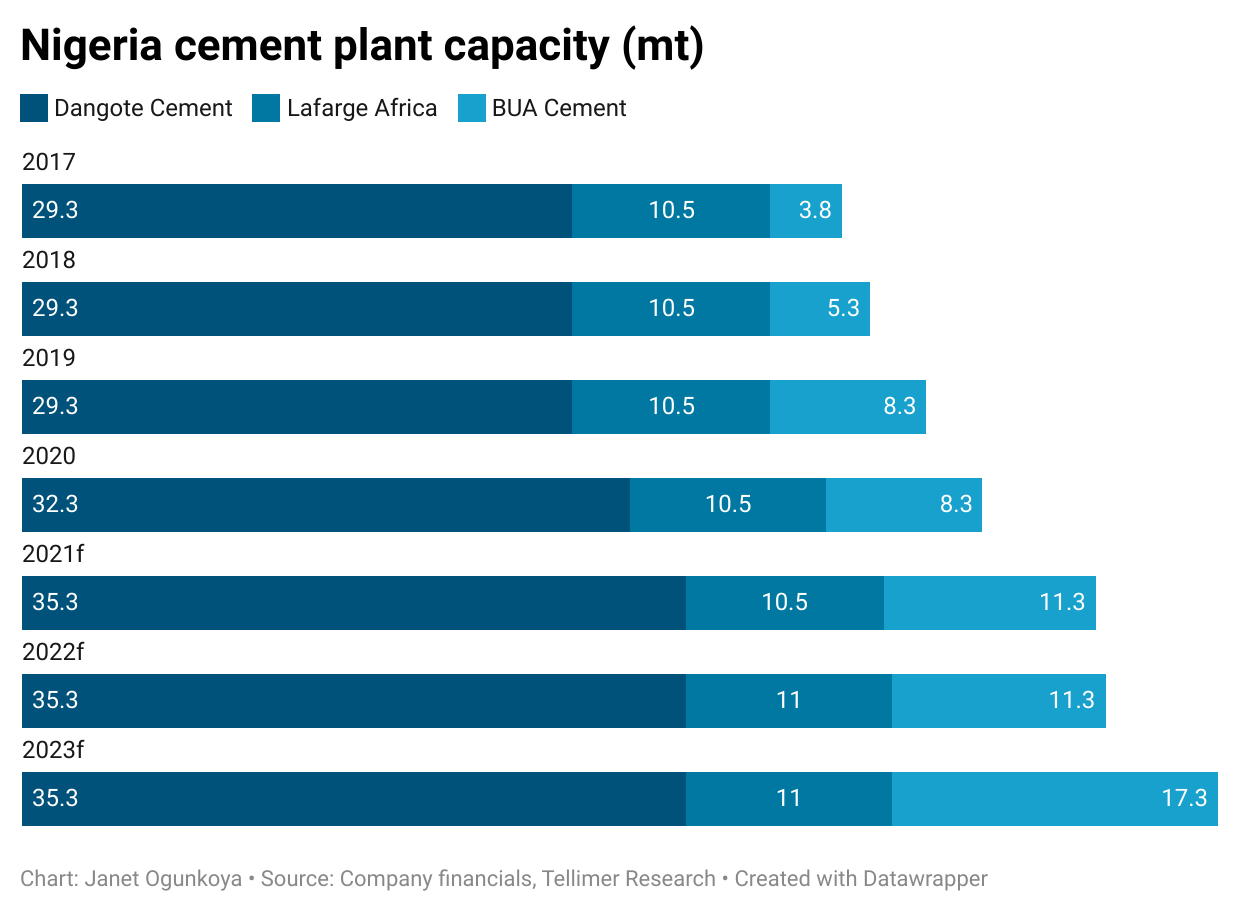 2) New cement players preparing to enter the market
While existing cement companies pursue plans to increase operational plant capacities, there are ongoing discussions about new players joining the sector. First, Madugu Cement is looking to build 5mt capacity plants in two phases (2.5mt each) in Gombe State. We spoke with a representative of the company who mentioned that the plant was supposed to begin construction in October but was delayed due to some issues (that are now resolved).
Second, another new company known as Mangal Industries recently announced plans to construct new 3mt cement plants in Kogi state.
The two new players are working with the Chinese-based engineering firm, Sinoma, to construct the cement and power plants. The first phase of the Madugu plant is expected to take 18 months to complete construction (around 2023, more likely 2024) while the Mangal plant is scheduled for completion in 2024). We will continue to look out for any updates on the new companies, as not much is known about them yet.
3) Implication for cement prices
Even before these new players start operations (if they do indeed make it that far), we think competition is likely to intensify among the three existing players – particularly between Dangote and BUA. Aside from the fact that the two players plan to add new 6mt of capacity by the end of 2021, Dangote's 3mt plant in Okpella (Edo state) is situated close to BUA's operating OBU plants (also in Okpella, Edo state).
Thus, it will be no surprise if we do see competition heat up between the two producers and, as a result, pressure ex-factory prices lower. However, persisting cost pressures and still-healthy demand could limit any drastic decreases. Thus, while we think average prices in 2022f (NGN55,847) will be higher than the average in 2021e (NGN52,574 – players hiked prices in July), we think they will be slightly lower than the exit price by the end of the year.
4) Attractive dividend story could go up a notch
We mentioned in our previous sector note that Nigeria's cement players offered attractive dividends. However, this is panning out even better than expected. Lafarge Africa recently announced an interim dividend of NGN1/share (which is the same as that declared in FY 20) after strong earnings with 9M EPS of NGN2.51 (beating the entire FY 21 EPS of NGN1.91).
The positive surprise means Lafarge could double dividends this year to NGN2/share, which is an effective yield of 8% on the current price of NGN25.5.
On the other hand, Dangcem has been declaring NGN16 dividends since 2018. And like Lafarge, Dangcem's 9M 21 EPS of NGN16.23 is also above the FY 20 EPS of NGN16.14. The company's FCFF is also at a healthy NGN20/share as at 9M 21. Thus, an increase in dividends (like Lafarge) this year by the board would not be a surprise.
5) Cement producers are talking more green
The talk of how to make operations more 'green' has increased among all the cement companies as they continue to issue detailed sustainability reports (as they have been doing since 2018) and outline strategies to lower their carbon footprint. Interestingly, 'greening' cement operations through non-conventional alternative fuels (AF) in kilns (such as reutilisation of tyres as tyre-derived fuel, etc) appears to make economic sense compared to other fuel sources. The reasons are:
they are easily accessible.

it is better to reuse these tyres for energy than have them polluting the environment as waste.

it reduces FX exposure in production costs.
That said, actions are yet to match the words. Lafarge and Dangote are looking to increase the use of alternative fuels, and BUA is reducing use of coal (particularly imported coal) and replacing it with gas. But fossil fuels (particularly gas) still make up the majority of fuel used. For Dangote and Lafarge, alternative fuels make up only 0.98% and 9% of total fuels (as at 2020), respectively, while BUA does not use any alternative fuels. We find Lafarge is leading the pack in lowering its carbon footprint, in line with the parent company's vision.
Dangote Cement (TP: NGN290, Hold)
We update our view on Dangote Cement and increase our target price on the stock to NGN290 (previously NGN245). This equates to 3% upside from the current market price of NGN280 and suggests an expected total return (ETR) of 9% (dividend yield expectation is 6%, assuming a conservative expectation of NGN16 dividend). It is worth noting that the dividends could be as high as NGN21 assuming a typical c90% payout (dividend yield of 8%).
With less than 15% upside potential, we downgrade our recommendation to Hold (from Buy).
The increase in ex-factory cement prices (in July) and cement consumption growth forecasts are the key drivers behind the increase in our target price. Our adjustments result in an increase in EPS to NGN24 (previously NGN19) in FY 21 and NGN28 in FY 22. Specifically, we:
Increase our sales volume forecast for Nigeria and Pan Africa: Dangcem's domestic sale volume in 9M 21 came in at 13.5mt compared to our estimate of 13.2mt, while Pan Africa businesses posted 8.2mt in sales vs our expectation of 7.8mt. We increase our FY 21 and FY 22 total volume forecast to 30mt (previously 29mt) and 32mt (previously 31mt). The increased sales are supported by the additional 3mt Okpella plant line 1, which is expected to be commissioned before the end of 2021, but likely operational in 2022.

Increase 2021f prices across Nigeria and Pan Africa business to NGN46,600 per tonne (previously NGN42,700), as the company has passed on the increases in costs with a price hike in the Nigeria business.
The stock trades at FY 21 and FY 22 EV/EBITDA of 7x and 6x (5-year historical: 9x), compared to the median for MEA peers of 14x and 13x, respectively. The forward P/E for FY 21 and FY 22 is 12x and 10x (5-year historical: 16x), compared to the median for MEA peers of 26x and 23x, respectively.
The share buyback programme presents an upside risk
Dangote Cement announced it has plans to carry out a second share buyback programme soon. All required approvals have been obtained from the SEC and shareholders, and the company has until January 2022 to execute the buyback programme.
However, we are yet to get any substantial details on when it will be executed, despite it being announced last July. In our view, it will take a more significant buyback than the 0.5% (85mn share units) of outstanding shares that was puchased at the last buyback programme in December 2020 for this move to be of significant value to shareholders. We continue to monitor developments on the second tranche of the programme.
Lafarge (TP: NGN35, BUY)
We update our view on Lafarge, incorporating the increase in cement prices, slightly pent up demand outlook, lower finance costs and increasing production costs. A culmination of these adjustments lead us to increase our FY 21 and FY 22 EPS to NGN2.52 and NGN3.0 (previously NGN2.05 and NGN2.6), respectively. We also raise our target price for the stock to NGN35 from NGN32, which translates into a Buy recommendation with an ETR of 42% based on the current share price of NGN26.
The updates to our model include:
Increasing our volume forecast for FY 21 and FY 22 to 5.6mt and 5.9mt (previously 5.4mt and 5.7mt), respectively. This stems from our slightly higher overall demand growth outlook.

Reducing our finance cost: Since liquidating the NGN34bn bond in its debt book in Q2 21, Lafarge's leverage positiion has declined, with debt to capital now at 6% compared to 13% as at FY 21. This has led to much lower finance costs than we estimated (9M 21: -25% yoy). The company has continued to post impressive finance cost savings since the debt swap deal during the sale of the South Africa arm in 2019.

Increasing costs, from FX exposure: On the negative side, we find the company's increasing cost pressure concerning. In Q3 21, the company's variable COGS/tonne spiked 31% to NGN38,000 compared to an average NGN29,000 over H1 21. This eroded the benefits of the July cement price hike, as gross margin plunged 12ppts to 21%, from an average of 33% over H1 21. Management attributed the increased costs to increased maintenance during the quarter, high FX exposure in costs (over 30%) and inflation. As a result, we increase our FY 21f variable COGS/tonne to NGN33,000 from NGN29,000.

Tax credit: In Q3 21, Lafarge posted a NGN5bn tax credit, as the company recognised the backlog of outstanding credit since the start of 2021. This relates to the credit extension granted on Mfamosing line 2, which was recently approved. This brought the effective tax credit for the 9M 21 period to 10%. As a result, we reduce our FY21 tax rate to 12% from 25%.
Wapco's multiples remain cheap, as the stock's FY 21 and FY 22 EV/EBITDA are at 5x and 4x (5-year historical: 10x), compared to the median for MEA peers of 14x and 13x, respectively. The forward P/E for FY 21 and FY 22 is 10x and 9x (5-year historical: 16x), compared to the median for MEA peers of 26x and 23x, respectively.
So far this year, the stock is the best peforming of the three listed players, with a 24% share price return ytd, compared to 10% for Dangcem and -10% for BUA. The potential upside in the share price and good dividend yield (8%, compared to Dangcem's 6%), makes the stock an attractive Buy for investors. That said, we find the company's ramp-up in costs concerning.