7 April 2021
Nigeria Cement: Infrastructure needs and growing export market boost outlook
Janet Ogunkoya
Senior Research Analyst @ Tellimer Research
7 April 2021
Recovery in cement consumption post-Covid has been impressive (+13% yoy). Low cement per capita shows room for growth
Nigeria's evolution from net importer to exporter of cement (taking advantage of AfCTA) offers opportunity
We update our views on our coverage companies – Dangote Cement and Lafarge Africa

7 April 2021
The sharp recovery in Nigeria's cement consumption post-Covid was impressive, taking both producers and analysts by surprise. The demand was (and still is) so strong that many of the cement distributors (not producers) took advantage to increase cement prices — passing on the effect of increased transport prices to their final consumers. Cement volumes rose 13% yoy to 26Mt in 2020 and this was helped by the lower-than-normal rainfall levels in Q3 20, which typically would be a period of heavy rains that would drench sites, slowing construction and building activity.
In this report, we highlight our positive outlook on Nigeria's cement market. The country's large infrastructure and housing deficits, combined with current low cement consumption per capita, paint a positive picture for the sector. In addition, the major Nigeria cement players (all listed on the local stock exchange) trade at a discount to MEA peers and also pay similar yielding dividends compared to peers (priced in US$). .
Large infrastructure and housing deficits present growth opportunities for Nigeria cement
According to the National Integrated Infrastructure Master Plan, Nigeria requires US$3trn (US$100bn annually) over the next 30 years to close the infrastructure gap. This is far above the current US$33bn annual investment (2014-18 average). The World Bank also estimates Nigeria has a housing deficit of up to 17mn with annual growth of 20% as at 2016, due to growing population and rural-urban migration. The World Bank also puts the required number of houses to keep up with growing population and urban migration at 700,000 units per year.
Another key highlight of Nigeria's shortfall in optimum cement consumption is the low cement consumption per capita of 97kg compared to the global average of 304kg (ex-China, 581kg including China) and SSA average of 130kg. To raise Nigeria's consumption to the SSA average level would require a 25% increase in annual consumption, equating to 6.6bn kg or 6.6Mt. This points to the growth potential in the cement sector which the key cement players – Dangote, Lafarge and BUA – are positioning for.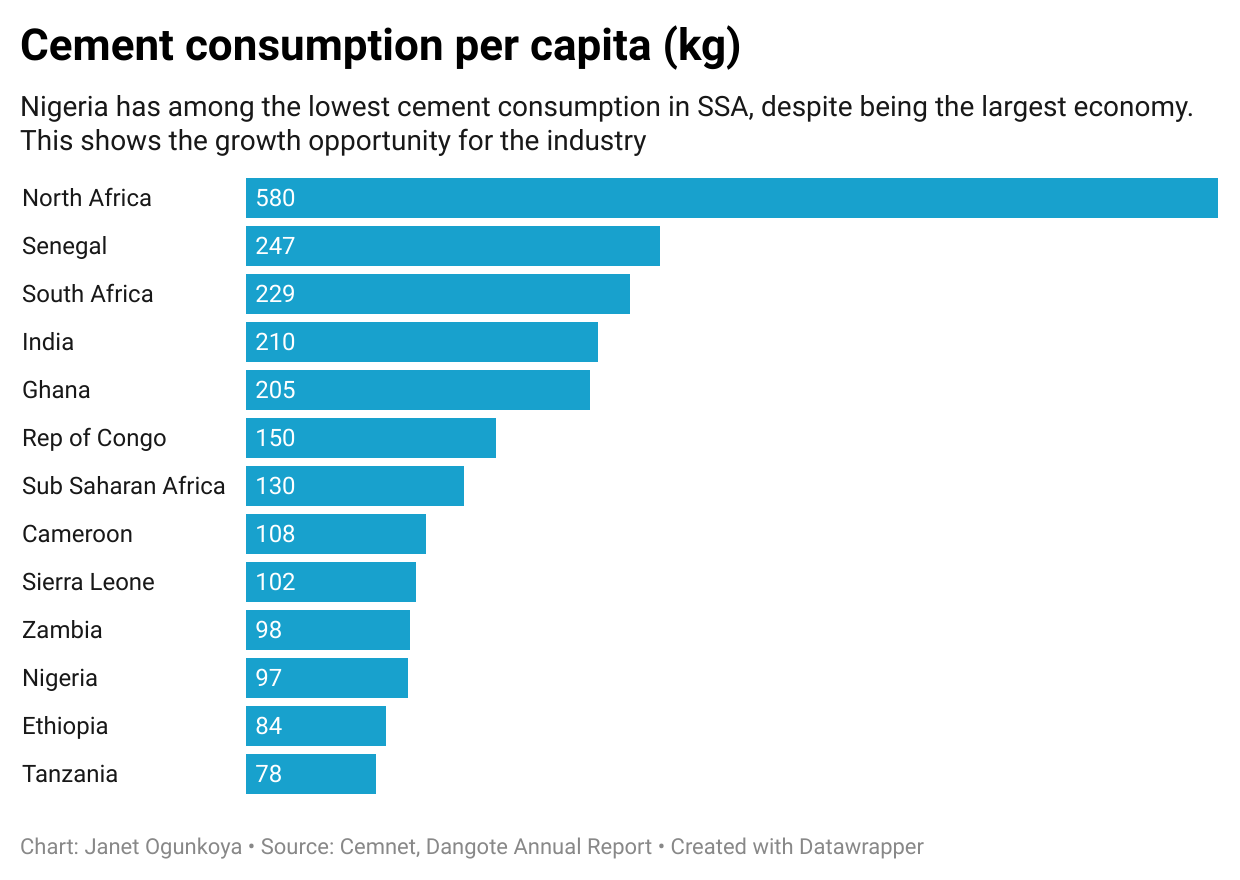 In 2020, consumption increased 13% yoy to 26Mt. The strong recovery from Covid was impressive and aided by less rainfall in the year. We saw the rise in construction activities reflect in the H2 20 GDP numbers, as the construction sector grew 2% yoy on average over the period (H1 20: -15% yoy), while the cement sector spiked 9% yoy (H1 20: -13% yoy). We believe the bulk of cement consumption was driven by the private sector rather than the public sector, as is usually the case. The government, on the other hand, scaled back on fiscal capex plans for the year due to the Covid impact on oil revenues. This resulted in a 20% reduction in the FY 20 budgeted capex with only 53% of capex implemented as at June 2020.
Going forward, we forecast cement consumption will grow by a slower pace of 8% to 28Mt in 2021 and by a 6% CAGR in the next 10 years to 2030. Our forecast assumes a normal weather cycle – the Nigerian Meteorological Agency (NiMet) forecast normal to heavy rains in 2021. We expect growth in both private and public consumption. On the public front, projects such as the 300,000 low-cost housing project, the 1,400km Lagos-Calabar Coastal Railway, 312km Lagos-Ibadan Railway and many others are expected to support increased demand for cement.
A mindless expansion? Maybe...maybe not
Nigeria's current cement demand has been met with 51Mt/annum in production capacity, held by Dangote (32Mt), Lafarge (11Mt) and BUA (8Mt). However, altogether the plants operate at c54% utilistion rate. BUA has the highest utilisation of 62%, ahead of Lafarge (50%) and Dangote Cement (49%). However, despite having 46% of spare plant capacity, the cement players have not put the brakes on increasing cement capacity, as they continue the construction of new cement plants.
In 2019, BUA added 4.5Mt of new plant capacity in Okpella and Kalambaina. In 2020, Dangote increased plant capacity by 3Mt with Obajana line 5. And it does not stop there. In 2021, BUA and Dangote Cement plan to increase production capacity by 3Mt in Kalambaina and 6Mt in Okpella (greenfield), respectively. Interestingly, Dangote's new plant site in Okpella, Edo, comes after the court restrained Dangote from interfering in the disputed Obu-Okpella mines which belong to BUA. Lastly, BUA announced plans to add another 9Mt in Adamawa, Edo and Sokoto states by end of 2022 (but more likely from 2023). Lafarge Africa is the only player yet to announce any plans to add capacity, however, we would not be surprised if any plans are kept under wraps.
According to the two companies' management, the key reasons for the expansion plans are similar:
1. To capture oppurtunities that spring up as Nigeria's cement consumption grows; and
2. To meet growing export markets.
What is certain is that competition among the players will step up a notch as the new plants are commissioned. Upon completion of the new plants, BUA will overtake Lafarge to have the second-largest cement plant capacity in Nigeria with 20Mt.
In our view, a more important factor than just adding new production plants, is where these new plants are located. We think BUA is more strategic in its location choices, going by its announcements, as it seems to target untapped markets where there are fewer cement plants and places its new plants farthest from existing production.
To give some context, in 2018, BUA commissioned the new 4.5Mt plants in Sokoto (North) and Edo States, after the 0.5Mt Sokoto plant operated at almost 100% capacity. This increased BUA's market share by 7ppts to 19% in 2019, from 11% in 2017. On the other hand, the impact of Dangote's addition of 3Mt with the Obajana line 5 was almost unnoticed in 2020, as the market share was unchanged at 60%, by our estimates.
While Dangote has an impressively wide distribution network that brings cement closer to these 'untapped' markets, BUA's plant location in these markets makes the pricing more favourable as lower distribution costs are incurred. BUA also has the least revenue per ton compared to Dangote and Lafarge. And while BUA's pricing could be keeping them from improving gross margin (46%), which is lower than Dangote's 58% but higher than Lafarge's 29%, the favourable pricing along with the high cement quality (based on distributors' feedback) is likely to favour BUA's market share capturing.
In addition, BUA's plant locations in Sokoto share borders with neighbouring countries like Niger, and the new plant situated in Adamawa shares borders with Cameroun, which could position them for exports via the road networks. These show strategic positioning targeting export markets.
The growing export market
The Nigeria cement market has evolved over the past decade, from being a net importer of cement to now, a growing net exporter. As we highlighted, the increasing spare capacity from the cement plants are to be channelled towards meeting the growing export market. Dangote and BUA are at the front of this export strategy. Lafarge is yet to announce any plans to commence export, however, management mentioned on their previous calls that there were plans to sell to sister Lafarge companies across Africa. Again, we would not be surprised if Lafarge is just being discreet with its plans.
The closure of the land borders in 2019 led to a 60% drop in cement exports to 0.38Mt in 2020, compared to 0.6Mt in 2018. However, in H2 20, the government granted the two producers export permits for limited exports via the road borders, before fully reopening the borders in December, just before the commencement of the AfCTA agreement in January. Asides from road channels, Dangote's recent launch of the two port terminals in Apapa and Onne lessens the risk for the company. That said, we did see Dangote's export decline in Q4 20 (103kt vs 215kt in Q3 20). According to the company management, the lower export in Q4 20 was due to strong local demand as well as plant maintenance, bad roads and the #ENDSARS protest which limited available capacity for exports.
The African Continental Free Trade Area (AfCTA) agreement is expected to improve trade among 1.3 billion people and across 54 of 55 African Union (AU) countries with a combined GDP valued at US$3.4 trillion, according to the World Bank. It aims to eliminate tariffs between members on 90% of line items over the next five years and to reduce non-tariff barriers on both goods and services. Removing the trade barriers makes for a smoother export strategy for the cement players to export cement/clinker to neighbouring countries that have fewer limestone resources than Nigeria.
The deep discount and attractive dividend yield from Nigeria Cement producers
Overall, we are quite positive on the outlook for the Nigeria cement sector, as the three key players position to capture both the growing local demand and increasing opportunities in export markets. On a multiples basis, the Nigeria cement sector is discounted compared to MEA peers. The median P/E and EV/EBITDA of 13x and 10x are a discount to the MEA peer median of 22x and 12x. In addition, the three major cement players are all dividend-paying stocks with a median dividend yield of 4.6%, similar to MEA's median of 4.8%.
Our detailed forecasts for Dangote Cement and Lafarge Africa are available for Insights Pro subscribers.
---