New commodity super-cycle begins

Kieran Siney
Head of African Markets @ ETM Analytics
Lloyd Miller, Takudzwa Ndawona, Edmond Muzinda
27 May 2021
A new commodity super-cycle appears to be unfolding with global commodity prices broadly on the rise
Unprecedented stimulus, more aggressive environmental policies and sustained dollar weakness underpinning commodities
Agricultural commodities are also rallying this year, pushing international food prices to levels not seen since 2014
New commodity super-cycle begins
A new commodity super-cycle appears to be unfolding with global commodity prices broadly on the rise, underpinned by unprecedented stimulus spending, growth in the US and China, more aggressive environmental policies and sustained dollar weakness. Commodity prices have risen sharply in recent months with the prices of metals, oil and softs recovering all of their losses suffered in 2020. The extent of the rally in global commodity prices is evident when looking at the Bloomberg Commodity Index, which has gained almost 20% on a year-to-date basis.
A key driver behind the marked recovery in global commodity prices has been the unprecedented stimulus measures deployed by fiscal and monetary authorities to shore up their respective economies in the wake of the COVID-19 outbreak, which sent the global economy into a free fall in 2020. While economic activity is picking up amid the easing of virus restrictions and progress on the vaccination front, policymakers remain committed to reflating their economies. As such, quantitative easing (QE) has become more entrenched, and although there are signs that some central banks will start to tighten in the months ahead, global liquidity levels will remain elevated.
As central banks continue to prime the printing presses and economies reopen as the global vaccine rollout gains momentum, so a new business cycle begins, creating a new commodity cycle. Commodity prices are also being supported by expectations that the fight against climate change will threaten supplies while at the same time boosting demand for commodities needed to build renewable energy infrastructure and bolster the rotation towards electric vehicles. Given the global shift to greener energy and decarbonisation efforts, the commodity super-cycle is likely to be uneven. Demand for oil, natural gas and coal is expected to be less robust than other commodity classes such as copper, steel and palladium which would be used in the rotation to renewable energy and electric vehicles.
Agricultural commodities have also rallied this year, pushing international food prices to levels not seen since 2014. The Food and Agriculture Organization of the United Nations (FAO) reported earlier this month that international food commodity prices rose for the 11th consecutive month in April, with sugar leading the increase and cereals resuming their upward trend.
Adding to the bullish bias in commodities this year has been the sustained slide in the dollar. Note that most commodity futures are priced in dollars. Therefore, commodity prices tend to rally on the back of dollar weakness. For context, the trade-weighted dollar (DXY) has pulled back sharply from its peaks seen in the first half of last year when there was a mass rotation into the dollar as investors sought safety. The trade-weighted dollar is currently trading near multi-year lows as the combination of the Fed's commitment to "looser for longer" monetary policy and ballooning twin deficits continue to weigh. The short to medium-term outlook for the USD remains bearish, which will be supportive of commodities.
A breakdown of the Bloomberg commodities index shows that the top-performing commodity classes this year have been tin, oil, corn, natural gas and copper. The chart above provides an overview of the year to date performance of 10 selected commodities. Below is an overview of four main commodity classes, namely metals, oil, grains and softs. Key factors and an outlook for each of the respective commodity classes is provided.
Commodities overview and outlook
Metals
Central banks worldwide are pumping massive amounts of money into their respective economies to create a new credit cycle. Developed market central banks have printed around $8 trillion in new money. To provide some context, following the Great Financial Crisis of 2008, it took ten years for the central banks' balance sheets to grow by $10 trillion.

The current US administration has put forward a considerable stimulus programme that will drive new infrastructure spending and revamp old systems and technology. Parallels are being drawn between this programme and the series of programs and public works in the United States between 1933 and 1939 during the Great Depression.

China is restocking across the board as it drives its inward-focused growth trajectory.

Decarbonisation. This will probably be the single most important driver of demand for industrial metals over the next decade. Advanced economies are all putting legislation in place to reduce carbon emissions and move towards transportation electrification. Electric vehicles require copper and lithium as part of their componentry, while the necessary electronics for PV panels and the upgrading of electric grids all require copper. Bloomberg New Energy Finance conducted a study that found Electric Vehicles will be cheaper than those with an internal combustion engine within the next six years. By 2035, all cars sold in the EU could be electric. Although not to the same degree as the United States or Europe, the trend is similar in China.
Bottom line: We are bullish on industrial metals and believe that the current price trajectory is fundamentally sound. Predictions of copper reaching $15000/tonne within 18 months and $20000/tonne in the next 36 months seem plausible but are contingent on governments keeping the growth strategies in place. China has recently stated that price volatility is unwelcome, and the state planner has indicated that it will strengthen its controls of crucial commodities. We believe that this will take the froth of the market at the margin. China's trading activity is opaque; they will adopt a strategy that suits the narrative of restocking without creating an overheated market in the process. Longer-term risks to the view include inflation, which is a real risk with all the money washing through the system, which may prompt the tightening of monetary policy, thus crimping growth dynamics.
Oil
Oil demand has recovered strongly since the worst of the pandemic in 2020, with prices gaining almost 30% since the start of the year. As the global economy has reopened, oil demand has surged back with the massive levels of monetary and fiscal stimulus being delivered the world over, underpinning the impressive gains seen so far.  Furthermore, supply cuts at the height of the pandemic by OPEC+ added some additional impetus.

These supply cuts are now being unwound, with OPEC+ looking to increase output between May and July by 1.14mn barrels per day, with production increasing gradually by 350k barrels in both May and June, and then a further 440k barrels in July. In addition, Saudi Arabia will also start to bring back the 1mn barrels per day of production that it has voluntarily cut since February. Given the demand outlook, these extra barrels of oil should be absorbed by the market, with this view supported by the fact that the market showed very little reaction to OPEC+'s announcement. An inventory drawdown, therefore, will continue through the remainder of the year. The excess oil that was accumulated through Q2 of last year has already been wiped out.

There is, however, currently another supply risk lurking. Talks with Iran appear to be progressing and we could soon see the nuclear deal reinstated, even if some amendments need to be made. This could see a further 3mn barrels per day of oil supply come back online. The market is slowly positioning itself for this, meaning that there are some notable downside risks still present. Iran's infrastructure means that not all of its full capacity can come online immediately, while European buyers may take a cautious approach to buying the country's crude at first. Nevertheless, increased supply levels are coming, and this may cause a rethink of OPEC's plan to increase production levels through June and July gradually.
Bottom Line: The global economy is recovering at a fairly robust pace, driving demand for oil which has seen prices surge since the worst of the lockdown. The recovery has been uneven, but it has been strong enough to take ICE Brent back towards $70 per barrel. The upside from here, however, looks more limited at the moment as additional supply could enter the market relatively soon. Therefore, we see Brent as likely to continue to trade around the $70 mark through the year ahead, with risks skewed marginally to the downside.  
Grains
Maize prices have been supported by recent downward revisions to global supplies and strong demand for animal feed by China (and healthy demand in Latin America).

Maize uptake for biofuel is expected to improve as restrictions are rolled back, and normal driving patterns return. Successful COVID-19 vaccines are improving prospects of a global economic recovery. The expectation of more commerce has helped to lift the outlook in the energy sector, which extends to corn via the ethanol market.

Firm global demand, consumption, and weather-related concerns will continue to support global prices. Weather patterns in various maize-producing countries such as Brazil, Argentina, and the US remain a key determinant. As an example, the US, the world's top grower, was forecast by the International Grains Council (IGC) in April to produce 379mn tonnes in the 2021/22 season, down from a previous projection of 384mn as a cold snap in the Midwest slowed plantings.

Food consumption of maize is expected to rise steadily, although at a below-trend average rate, according to the International Grains Council (IGC) 5-year forecast. Maize remains a staple in diets in some developing countries, especially in Sub-Saharan Africa, but further gains may be pared by continued shifts in dietary preferences, including wheat- and pulse-based products.
Bottom Line: Given the above-mentioned factors, the outlook for maize/corn prices remains positive in the near-to-medium term. High demand from China, shrinking supplies of corn from major producing countries and increased demand for ethanol use suggest that prices will likely remain well supported. Buoyant maize/corn prices could therefore continue to underpin higher global food prices. Food price increases, combined with reduced incomes, will aggravate chronic and acute hunger, hitting vulnerable households in almost every country as well as stoke inflationary pressures, which policymakers across the board will closely monitor.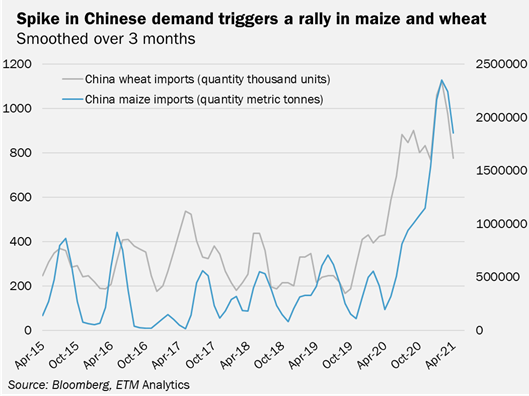 Softs
The current outlook for sugar prices remains tilted to the upside, driven by the strong demand from China and expectations for a recovery in global demand. While sugar prices are expected to remain buoyed in the months ahead, it is worth highlighting that global production is expected to rise in the 2021/22 season. Higher output in the European Union, India, and Thailand is expected to offset a decline in supplies from Brazil and could result in a supply surplus.

Weather in Brazil is likely to be a major determinant in the path of soft commodities, given that Brazil contributes to around 10% of global food supply. Although Brazil has been hit by a wave of droughts, recent data shows above-normal rains for Brazil's top agriculture producing regions. Consumption dynamics in India will also be watched closely as the pandemic continues to stifle economic activity in the country.

Shifting the focus to coffee, a surge in home coffee consumption is helping to offset the slump in retail coffee sales due to the closure of bars, restaurants and coffee shops amid ongoing COVID-19 containment measures. Home coffee consumption is helping prop up coffee demand. Coffee prices are also rallying off the back of expectations of a drop in production this year, owing to Brazil's smaller 2021/22 crop. Note that Brazil accounts for around a third of coffee production worldwide.

Pent up demand driven by eased lockdown measures and the reopening of economies has supported a rebound in chocolate demand and, by extension, demand for cocoa beans. On the supply side, favourable weather in West Africa is likely to keep the market well supplied.
Bottom Line: The broader bias for soft commodities is bullish. The degree of bullishness for sugar and coffee is however dependent on incoming weather in Brazil. Given the droughts that growing communities in Brazil have faced, risks are tilted in favour of a decline in the supply of sugar and coffee out of Brazil. That said, the latest weather reports suggest that above-normal rains are on the way, which could help boost the country's output of both commodities. Increased production in other parts of the world will help offset part of the slide in Brazilian supply. On the demand side, while risks relating to a drop in demand for soft commodities persist, global demand is expected to recover in the months ahead, which should help keep prices buoyed.
---
Disclosures
This publication is being distributed by Tellimer solely for information purposes irrespective of a particular user's means, financial situation or investment objectives. The information does not con...
Full Tellimer disclaimers