The Central Bank of Nigeria's (CBN) recent in-principal approval of payment service bank (PSB) licences for Airtel Africa and MTN Nigeria, the country's two largest telcos, opens the door to the widescale provision of mobile money services in Nigeria (other telcos had been granted licences previously).
We think this is an important step forward; both companies have waited two years for approval and, in contrast to existing licencees, already run successful mobile money operations elsewhere in Africa.
Moreover, financial inclusion in Nigeria lags several similar markets, with little positive progress over the past decade. The success of Kenya's M-Pesa shows that there is high demand for such services and that financial inclusion can increase rapidly as a result.
In this report, we consider how the financial services landscape in Nigeria could change, and the implications for the banks. Our findings are broadly positive. 
PSBs/mobile money providers can only offer a limited range of services, but the market is still attractive
These entities can offer payments and remittance services, collect NGN deposits and use agent networks to assist with their operations. The latter point is a key advantage for the telcos over the banks; for example, MTN Nigeria has access to a 560,000-strong network of agents; in contrast, FBN (via FirstMonie) has the largest agent network among the banks, at 117,000. The telcos also benefit from their larger reach; MTN Nigeria's 68mn customer base exceeds that of the whole banking system.
However, the new licencees cannot provide lending or insurance products; their interest-bearing assets are limited to government and central bank-issued instruments. As we have seen elsewhere, lending can be a profitable add-on for digital payments providers. And restrictions on offering insurance and investment products could stymie any ambitions to copy the Asian super-app model. But unless pricing/ competition proves to be extremely aggressive, the vast scale of the market should still prove attractive for investors. Nigeria is already home to several payments-focused unicorns: Interswitch, Flutterwave, Opay and, most recently, Chipper Cash. 
Nigeria is one of the big global financial inclusion stories
As we have highlighted previously, financial inclusion in Nigeria is lower than in similar markets. Disappointingly, the situation has failed to materially improve in recent years. However, due to its large population, Nigeria is likely to be one of the biggest beneficiaries of technology-driven financial inclusion.  
Although banks are using new technologies to reduce their physical footprint (branch numbers have been declining for several years), the tough operating environment has weakened their appetite for growth in lower-income retail segments. At the same time, the salaried worker segment in the formal sector is almost fully saturated.
Kenya provides a positive template for how things could change
The success of mobile money in Kenya, notably via the M-Pesa platform, has driven a substantial improvement in levels of financial inclusion, as highlighted in the chart below. After becoming mobile money customers, many individuals have found it easier to migrate into the formal banking system. Meanwhile, financial exclusion, or dependence on informal providers, has declined substantially.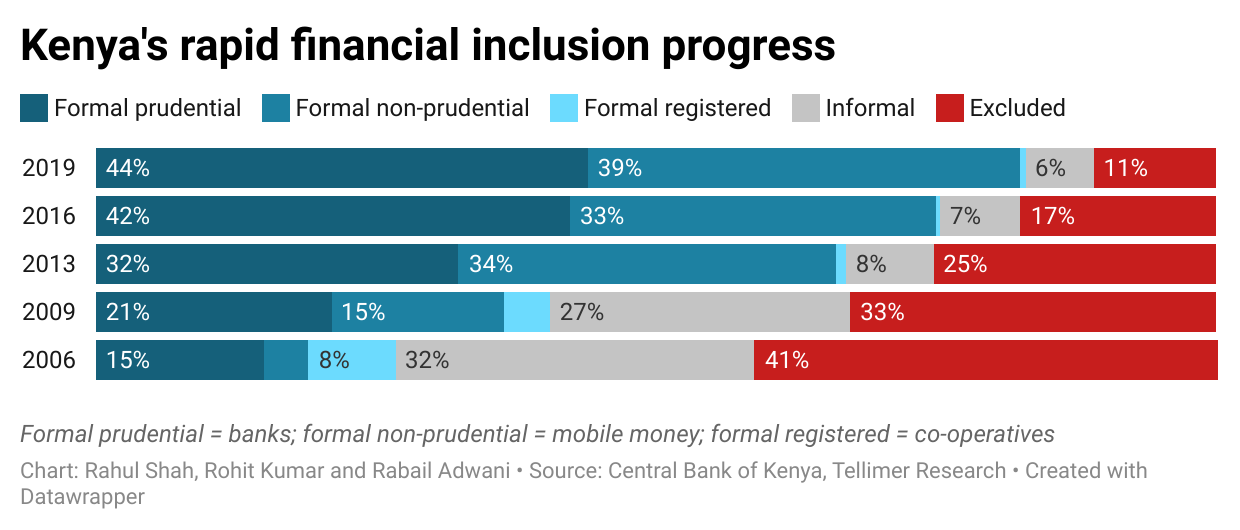 If this experience were repeated in Nigeria, over the next decade we could see c45mn individuals join the financial system for the first time. The broader economic benefits of such a transition would be immense. While growing smartphone penetration and the recent introduction of the eNaira should help lift financial inclusion, cumbersome KYC procedures are a huge roadblock. 
Improved financial inclusion should be positive for the Nigerian banks
Although banks and their shareholders may view the arrival of PSBs and mobile money with some trepidation, the experience in Kenya suggests a more sanguine view is appropriate. More retail customers mean readier access to low-cost deposits. And Kenyan banks have also found ways to boost their payments-related fee income. This suggests that the recent trend of Nigerian banks growing their e-banking fees could well continue.