Retail sales (April): 4.6% y/y; Banorte: 4.7%; consensus: 4.3% (range: 3.2% to 5.6%); previous: 3.8% 

In monthly terms, sales rose 0.4%, adding nine consecutive months of improvements. We believe the sector continued to benefit from a consolidation in fundamentals and stability in virus conditions 

Sector dynamics were mixed, although skewed slightly downwards. The largest increases included vehicles and gasoline (2.3%) and appliances, computers, and interior decoration (2.0%). On the contrary, the most substantial declines were seen in healthcare products (-4.1%) and office and leisure goods (-3.0%) 

We expect retail sales to keep climbing, favored by fundamentals (e.g. employment, wages and remittances). However, inflationary pressures and their expectations may slow down sales in the following months
The annual rate climbs to 4.6% in April, with a positive seasonal effect. This was higher than the consensus (4.3%) but closer to our 4.7%. This result implies an acceleration vs the previous month, in line with higher seasonal spending by households related to the Easter holiday. We believe performance was helped again by lower COVID-19 contagions and higher mobility. However, it continued to be limited by price pressures, with inflation reaching 7.68% y/y, a new high since January 2001.
Nine months of sequential improvements. Retail sales rose 0.4% m/m, continuing the recovery that began in August 2021 and accumulating a 4.4% gain since then. Growth seems explained by the additional recovery in fundamentals. In detail, employment and wages accelerated in the period, while remittances rebounded and consumer loans continued to strengthen. By sectors, 4 out of the 9 were higher. We highlight important increases in non-essential sectors such as appliances, computers, and interior decoration (2.0%), as well as clothing (0.5%). On the contrary, items with strong falls were healthcare products (-4.1%) and office and leisure goods (-3.0%). These results suggest three possible effects: (1) Inflationary pressures are having an impact, to a certain extent, on households' consumption decisions; (2) in some items, this is not quite clear as purchases could be related to acquisitions that were postponed during the pandemic, or due to supply disruptions that have limited availability in recent months (e.g. semidurable goods, vehicles). Lastly, vehicles and fuel continue gaining, at 2.3%. Inside, autos rose 2.3%, in line with sales data released by AMIA. Meanwhile, fuel sales advanced 2.0%, consistent with Pemex figures that suggested an acceleration.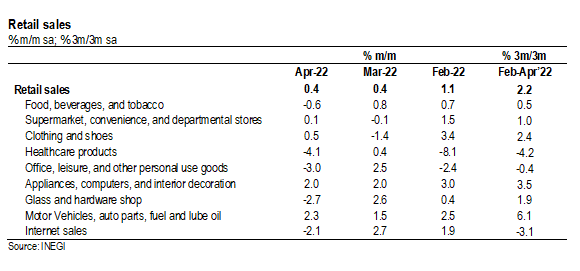 Sales will continue climbing in the short-term, probably at a more modest pace. Timely figures point to sales in May maintaining a positive rate. According to AMIA, vehicle sales reached 91.2 thousand units, translating into +5.6% m/m (calculated with an internal adjustment model), stringing six months up. In addition, ANTAD sales expanded further, with total-stores up 8.1% y/y in real terms and same-stores at +6.1%. It is possible that this level of sales has been benefitted by Hot Sale discounts. However, IMEF's non-manufacturing PMI suggests that supply-side dynamism could be slowing down, with declines in all its components, especially production.
Going forward we believe that inflation will limit consumption growth. International pressures will prevail, especially in commodities. Locally, concerns remain on the core component, with significant increases in processed foods (e.g. 'bread, corn tortillas and cereals' 7.8%, 'cooking oil' 9.1%, up to May). On the other hand, the consumer will continue facing higher prices for durable goods (5.7%, to date, vs 1.8% for non-durable goods). The latter given industry's high production costs and disruptions related to its supply chains. These pressures may trigger a change in consumption patterns, limiting or eliminating this kind of purchases to cover primary needs and impacting sales in general.
Regarding fundamentals, we expect them to remain as a key support for consumption. However, there are certain risks. Although employment has picked up –even at a higher pace than activity–, sentiment indicators point to a slowdown. In addition, given the recent increase in contagions, we do not rule out distortions, considering that the sector remains highly exposed to the pandemic. Remittances will probably keep climbing, although awaiting the effect from the Fed's monetary tightening effect on economic activity and the labor market in the US. Lastly, consumer loans have room to continue expanding. However, we believe it is necessary for inflationary pressures to decrease for this trend to continue.