Retail sales (July): 9.9% y/y; Banorte: 11.6%; consensus: 11.7% (range: -0.9% to 14.2%); previous: 17.0% 

In monthly terms, sales fell 0.4%, extending the 0.8% decline in June. In our view, performance was likely impacted by an additional deterioration in virus conditions, making consumers more cautious about their spending decisions 

Sector dynamics were differentiated, in our view influenced at least in part by inflation, as well as some base effects. In this sense, contractions were relevant in internet sales (-10.4%), appliances (-2.1%) and food and beverages (-1.8%). On the contrary, healthcare products surged 3.3%, consistent with higher virus cases, while supermarket and departmental was also stronger (+0.7%) 

We expect more headwinds in the short-term, especially as conditions took a turn for the worse in August. Nevertheless, the outlook for the remainder of the year is more positive, expecting the recovery to extend into 2022
Retail sales moderated to 9.9% y/y in July. This was lower than consensus (11.7%) and our 11.6% estimate. The period had also one less working day relative to one year ago, but one more for the weekend, which we estimate is net negative. Correcting for the latter with seasonally adjusted figures, activity rose 10.0% y/y. In our view, there was increased cautiousness among consumers as COVID-19 cases kept climbing while vaccinations lagged somewhat, a situation that may have affected performance at the margin. This would have been mainly on behavioral changes, at least judging by available data on mobility, which was relatively resilient.
Slight sequential decline, with inflation likely affecting relative performance. Total sales declined 0.4% m/m, extending the -0.8% observed in the previous month. In our view, this is broadly in line with more timely data, which was mainly skewed to the downside despite good dynamics in terms of fundamentals. In turn, sector performance may have been influenced by both higher uncertainty and consistently high inflation. We highlight that setbacks were concentrated in internet sales at -10.4% –but with a challenging base due to discounts in June–, and appliances (-2.1%). On the contrary, stronger growth was seen in healthcare (3.3%) –consistent with an increase in COVID-19 cases– and supermarket and departmental stores (0.7%). Given that these figures are deflated, it is our take that at least part of the differentiation may be related to price dynamics, in which essential categories (e.g. processed foods, agricultural goods) as well as LP gas (at least before the introduction of maximum prices by the government starting in August) remained very pressured but remain a necessity. Broadly speaking, we also think these figures clearly reflect some caution, with most non-essential categories decreasing at the margin.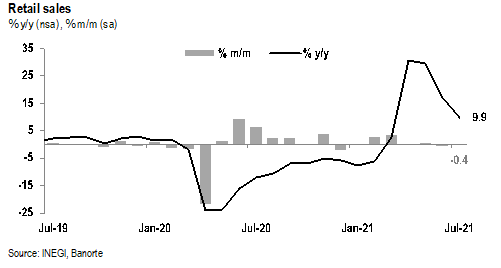 Short-term risks lingering for retail sales. As we have been stating recently, we see additional risks ahead for consumption, with today's report pointing to this scenario. In our view, cautiousness because of COVID-19 probably remained on the rise at least during August, in which new historical highs in daily cases were registered in several days until a local peak was reached near the end of the period. Regarding data already released, consumer confidence ticked down further to 42.7pts, with all components lower relative to July and at its lowest level since May. In addition: (1) ANTAD's same-store sales fell 1.0% y/y in real terms, its first decline since February and dragged by both supermarkets and departmental stores; and (2) vehicle sales moderated to 78,235 units, with the annual rate slowing to 1.4% from 12.7% in the previous month and at its lowest in little over a year.
In our view, inflation remains an issue for retail growth despite the relief in August due to the introduction of maximum prices to LP gas. This good kept climbing in 1H-September as global prices stayed on the upside on demand and supply imbalances. According to some experts in the energy sector, this is very relevant as about 83% of Mexican households use LP gas and prices are likely to keep moving higher in coming months. Core goods also showed relevant pressures.
Looking forward, employment and remittances have surprised further to the upside and may well help compensate for the abovementioned headwinds, especially as COVID-19 cases are starting to drop. We maintain our view that this wave of the pandemic could have a more modest impact, decelerating but not reversing, the recovery. Banking credit has shown some signs of revival, albeit remaining in deep contraction territory. Meanwhile, we will be focused on the upcoming negotiations of yearly revisions to the minimum wage. According to press reports, the government goal is for an increase of up to 21% –consisting of 15% in real terms plus 6% due to inflation–, which would be the highest since the current administration started. We are also watching the approval process of the 2022 Budget, as the proposal included relevant increases in direct transfers of key social programs, such as pensions for the elderly and student scholarships. All in all, we expect consumption to keep recovering the rest of this year and into 2022, although warning signs have been building up recently and have inserted some downside risks to our GDP growth outlook, estimating 6.2% and 3.0% for this year and next, in the same order.