Mexico: IP – Strong acceleration in March on a more favorable backdrop
Juan Carlos Alderete Macal
Director of Economic Research @ Banorte

Francisco Jose Flores Serrano
Senior Economist, Mexico @ Banorte
12 May 2021
IP climbed 1.7% y/y, which represents +0.7% m/m, better than expected. This is higher than implied in 1Q21 GDP
Sectors most impacted by blackouts (utilities and manufacturing) recovered, while construction and mining backtracked
This implies an upward revision to 1Q21 GDP of 10bps to -3.7% y/y. The outlook remains positive despite some risks
Industrial production (March): 1.7% y/y nsa; Banorte: 0.9%; consensus: 0.6% (range: -2.6% to 3.5%); previous: -4.5% 

This result was much higher than the implied figure within 1Q21 GDP, at around 0.5%. Several factors explain this, including the initial impact from the pandemic last year and mixed calendar effects. With seasonally adjusted data, activity grew 1.5% 

Activity accelerated in monthly terms, growing 0.7% from 0.3% m/m in February. Given this, industry stands 2.4% below its pre-pandemic level 

In our view, several factors helped, including: (1) The resumption of activity after weather-related interruptions in February; (2) better COVID-19 dynamics; and (3) the benefit from US fiscal stimulus, given the integration of supply chains 

This positive surprise would imply a revision of around +10bps to 1Q21 GDP, towards -3.7% y/y. We remain positive on industry future despite some risks, with a close eye on manufacturing
Industry strengthens considerably in March. The headline stood at 1.7% y/y (see Chart 1), much higher than consensus (0.6%) and our forecast. The result was also significantly better than the implied figure within 1Q21 GDP, at around 0.5%. Several factors distorted the annual rate, including: (1) The initial impact of the pandemic last year, which resulted in a more favorable base; and (2) mixed calendar adjustments, with one more working day but with the start of the Easter holiday at the end of the period. Adjusting for the latter, the sector grew 1.5% (seasonally adjusted), also above INEGI's Timely Indicator of Economic Activity, at -0.9%. Hence, we think that overall performance was very favorable. In our view, several factors helped, including: (1) The resumption of activities after weather-related shocks in February; (2) better COVID-19 dynamics; and (3) the benefit from US fiscal stimulus, given the integration of supply chains. By sector, and back to original figures, manufacturing led higher, up 6.2% and highest since March 2017 (see Chart 2). Meanwhile, utilities (where the impact from blackouts was direct) stood at -3.5% from -9.8% in the previous month. Lastly, both construction and mining remained in contraction, standing at -5.5% and -2.2%, respectively. For further details, please refer to Table 1.
Sequential rebound in sectors affected by energy disruptions. Industry rose 0.7% m/m (Chart 3), its tenth consecutive monthly recovery and above the 0.3% seen in February, which in turn was a positive surprise. The leading sectors were those most affected by the blackouts. First, utilities rebounded 4.9%, more than recovering its previous losses. More importantly, manufacturing picked up 3.0%, reversing two consecutive months of decline and virtually at its pre-pandemic level (February 2020). This happened despite limits to production, driven by the scarcity of raw materials. For example, automakers such as Honda and Toyota temporarily halted production at some plants in the middle of the month. Despite of the latter, autos rebounded 10.9%, likely drawing down on inventories.
Out of the remaining 20 sectors, 14 were higher. Among those with the most gains were clothing (10.1%), oil and carbon (13.3%) and machinery and equipment (8.7%), consistent with the trade balance report. Among those lower, we highlight beverages and tobacco (-0.8%) and furniture (-0.9%), as shown in Table 2.
Meanwhile, sectors relatively isolated from the shock were more modest. Firstly, construction stood at -0.1%, not enough to compensate for the previous +2.5%. Edification showed some payback at -1.7%, while civil engineering picked up again to 4.6%, with added signals of better performance, which we believe is likely tied to the upcoming elections. Finally, mining fell 3.1%, driven by both non-oil (-7.1%) and oil (-2.1%). On the latter, comments from the MoF's Chief Economist in the latest call with analysts suggested there were some issues for Pemex production at the turn of the year. However, he also added that the situation started to normalize in February. With today's data, industry stands near levels last seen in late 2011 (Chart 4) and is 2.4% lower relative to the second month of 2020, just before the most meaningful impacts of the pandemic were evident.
Despite a favorable outlook, some risks remain for manufacturing. As expected, activity rebounded after negative shocks in February, consistent with higher dynamism –as epidemiological conditions improved– and a renewed boost from external demand –as stimulus started to flow through. Considering that most of these conditions prevailed in April and so far in May, we expect activity to remain on the upside. However, some risks are mounting, especially those from supply chain disruptions, which should have a more focalized impact on manufacturing.
In this sense, Markit's PMI manufacturing for Mexico in April affirms that companies still identify several obstacles for a more protracted expansion, including: (1) Lack of raw materials; (2) rising input costs; and (3) lingering restrictions to comply with social distancing measures. On the lack of semiconductors that has plagued the auto industry throughout the year, Nissan was added to the list of companies that have been forced to temporarily halt production, with stoppages occurring in early May. This comes on top of previous announcements by Honda, Toyota and GM, among others. Another short-term risk is related to 'oil and carbon', with a fire damaging the Minatitlan refinery in early April, which is expected to halt activities for at least three months. However, a relevant backstop will continue to be strong demand, boosting other sectors that are not as affected by these shortages. Among them, we could see some dynamism in clothing and textiles, as well as other essentials such as food and beverages. As such, the pace of the deployment of additional stimulus in the US will be key, albeit with the need for overall conditions to begin normalizing. Our view is that this could dampen growth, but it will not trigger strong additional declines.
In construction, news has been mostly positive, albeit also with some risks. On a favorable note, sentiment data kept improving, with broad gains both in the aggregate trend indicator and business confidence. Meanwhile, the President of Mexico's Construction Industry Chamber (CMIC, in Spanish), Francisco Javier Solares, stated that they expect the sector to grow around 5.0% in the year.
Specifically, he said dynamism has prevailed in the development of low-income housing and roadworks, especially highways. However, he reiterated the need to avoid displacement from the Army in public works. Moreover, he called for caution after the Mexico City subway accident on May 3rd, asking to avoid speculation before official investigations conclude as this affects the private companies involved. This is relevant considering that similar projects may be halted for a while after an accident such as this, resulting in lower activity. In this backdrop we cannot rule out delays, particularly in the Mayan and Mexico-Toluca trains.
Lastly, on mining the outlook remains somewhat bleak. Despite continuing efforts from Pemex to increase production, relevant hurdles remain, with the scenario for private producers –especially foreigners– worsening. In this sense, the American Petroleum Institute (API) sent a letter on May 5th to the Secretary of State, the USTR and the Secretary of Commerce complaining of discriminatory practices in Mexico. They argue this because of the recent approval of the Power Industry Law and the Hydrocarbons Law. On the non-oil sector, booming commodities prices, especially raw materials such as aluminum, iron ore and copper, among others, should provide support. Nevertheless, further investment is needed to set the groundwork for a sustainable expansion ahead.
In this context, IP in 1Q21 fell 2.7% y/y, above the -3.0% seen in the preliminary GDP. As such, this would imply an upward revision of around 10bps to the final print, to -3.7% from -3.8%. However, we will await relevant information for services –such as retail sales– as these could also be revised. Final GDP for the period will be published on May 26th.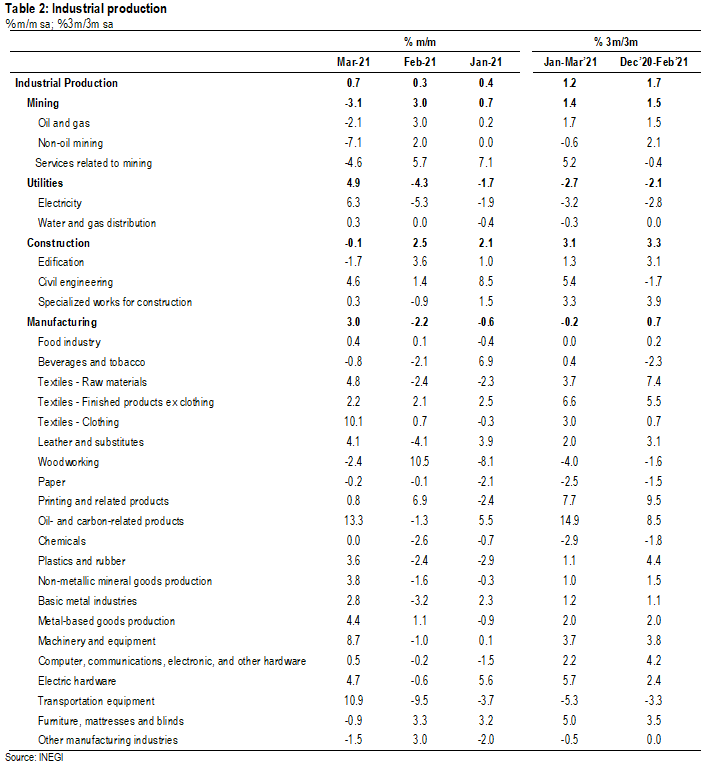 ---
Disclosures
This publication is being distributed by Tellimer solely for information purposes irrespective of a particular user's means, financial situation or investment objectives. The information does not con...
Full Tellimer disclaimers