Mexico: April inflation – An upward surprise on more pressures in food items

Gabriel Casillas Olvera
Managing DirectorInvestor Relations Officer and Chief Economist @ Banorte
Alejandro Padilla Santana, Juan Carlos Alderete Macal, Francisco Jose Flores Serrano, Manuel Jimenez Zaldivar, Santiago Leal Singer, Leslie Thalia Orozco Velez
7 May 2021
Headline inflation came in at 0.33% m/m, higher than expected. The core stood at 0.37%, more in line with forecasts
Despite discounts in electricity tariffs, pressures in food items (both core and non-core) dominated performance
Annual inflation climbed to 6.08% from 4.67% in March, which, along other risks, should make Banxico hold next week
Headline inflation (April): 0.33% m/m; Banorte: 0.27%; consensus: 0.27% (range of estimates: 0.21% to 0.40%); previous: 0.83% 

Core inflation (April): 0.37% m/m; Banorte: 0.36%; consensus: 0.34% (range of estimates: 0.28% to 0.36%); previous: 0.54% 

Non-core prices grew 0.21%, despite electricity tariffs falling 12.0% given the first round of subsidies. This was compensated by the 2.6% increase in agricultural goods, while other energy such as LP gas (-0.7%) and low-grade gasoline (0.4%) were more stable. At the core, goods picked up 0.4%, highlighting again corn tortilla (1.8%). Services were slightly lower at 0.3%, with a relevant fall in tourism-related categories 

Annual inflation increased to 6.08% from 4.67% in March, highest since end-2017. Core inflation was little changed, at 4.13% from 4.12% in the same period. We believe Banxico could show a more cautious tone in next week's decision given recent price dynamics 

Short-term Udibonos will benefit despite an elevated valuation
Inflation of 0.33% m/m in April. This was above consensus, which matched our estimate. Moreover, we should recall that it was observed after an upward surprise in the first half of the month. As we already knew, electricity tariffs fell 12.0% given the first round of government subsidies, contributing -25bps in the month. Other energy prices were more stable following recent pressures, such as LP gas (-0.7%) and low-grade gasoline (0.4%). This was compensated by the 2.6% increase in agricultural goods, with fruits and vegetables up 4.3% –affected by droughts– and meat and egg at 1.4%. At the core, goods were higher by 0.4%, highlighting corn tortilla (1.8%) which picked up again in the second half. Services (0.3%) were helped by the seasonal decline in some categories related to tourism, albeit with additional pressures in 'dining away from home', in our view signaling some passthrough from higher input costs.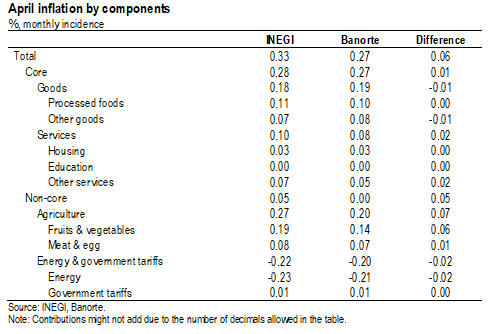 Annual inflation at its highest since end-2017. Headline inflation reached 6.08% y/y from 4.67% in the previous month, its highest since end 2017, in the aftermath of the liberalization of gasoline prices at the beginning of that year. In monthly terms, it is a maximum for the period since 2009. Core inflation was more stable, at 4.13% from 4.12%, although also above Banxico's upper bound around the target. As explained in the previous fortnight, this was mostly driven by an adverse base effect due to the pandemic. Hence, annual inflation should come down gradually from here in coming months and all the way through 3Q21, albeit up once again in the last quarter. In our view, this is not the only factor weighing on inflation, with higher commodities' prices globally adding pressures that are showing up also in goods at the core. We maintain our year-end forecast at 4.7%, higher than in the latest Banxico survey released early this week, at 4.6%. Given recent price dynamics both at the headline and core level, it is our take that Banxico is likely to show more caution about price dynamics and expectations at next week's meeting. Specifically, lingering risks in this front, along the current level of inflation, suggest that the decision to remain on hold is quite clear. Hence, we will focus on possible changes to the statement given recent developments, including higher year-end expectations and consistent upgrades to GDP estimates for 2021, which have accelerated since the start of the year.   
From our fixed income and FX strategy team
Short-term Udibonos will benefit despite an elevated valuation. Local yield curves took a breather in the last sessions, with Mbonos outperforming Udibonos, and accumulating as of yesterday's close an 11bps rally for the former and an 7bps gain for the latter. Today's report will likely result in a profit taking, although Udibonos will hold its strong performance especially in short-term tenors, despite an enriching valuation. Since the last CPI report, inflation breakevens between Mbonos and Udibonos have remained above 4%, both for short- and long-term maturities. In this sense, the 3-year mark trades at 4.10%, its highest since June 2019. Meanwhile, the yield curve prices implied hikes for Banxico of 14bps for the 3Q21 and 31bps for the 4Q21, lowering from 18bps and 39bps, respectively, last week.
---
Disclosures
This publication is being distributed by Tellimer solely for information purposes irrespective of a particular user's means, financial situation or investment objectives. The information does not con...
Full Tellimer disclaimers