Relevant information about the tightening cycle in Banxico's minutes
Banxico's Minutes (June 23rd). We will focus on members' analysis about: (1) The possibility (or not) of increasing the rate by a higher or lower magnitude, as well as advantages and disadvantages of each option; (2) the likely path of upcoming rate increases, especially given changes to the statement and recent actions by the Fed; and (3) the most adequate level for the terminal rate in this cycle, both in nominal and real terms. Moreover, discussions about inflation will likely center around dynamics in categories such as process foods (and its second-round effects) and estimate revisions, which were substantial. In our view, the document will support our call of an additional +75bps in August, followed by three 50bps hikes each in September, November, and December. With this, the reference rate would reach 10.00% by year-end, level that coincides with our terminal rate forecast for this cycle

Inflation (June). We anticipate headline inflation at 0.87% m/m (previous 0.18%). The core would climb 0.83% (contribution: +62pb), with the non-core higher at 0.99% (+25pb). We expect the period's performance to be characterized by important pressures in food items –both processed and fresh–, a situation already seen in the first fortnight. Energy would have been more stable, with a modest positive contribution. On the other hand, services likely accelerated at the margin. If our estimates materialize, headline inflation would increase to 8.02% from 7.65%, its highest since January 2001. The core would also be higher, reaching 7.56% (previous: 7.28%), adding 19 months in a row increasing. Meanwhile, the non-core would climb to 9.39% (previous: 8.77%)
Proceeding in chronological order...
Consumer confidence stable in June. We expect confidence at 44.5pts (seasonally adjusted), marginally higher than the 44.2pts in May. In our view, the slight fall in the price of LP gas and some MXN strength helped sentiment. Nevertheless,  other factors may have limited an additional recovery including: (1) The absence of disbursements from social programs –as they were brought forward to March due to the electoral ban; and (2) the persistence of inflation, highlighting again pressures on food items in the first fortnight. Lastly, the beginning of the fifth wave of COVID-19 could have had a negative effect, albeit likely of a quite modest magnitude.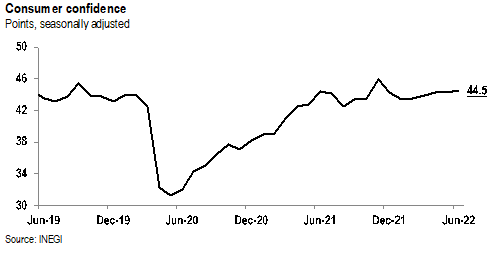 Weekly international reserves report. Last week, net international reserves increased by US$313 million, closing at US$198.5 billion.According to Banxico's report, this was explained by a positive valuation effect in institutional assets. Year-to-date, the central bank's international reserves have fallen by US$3.9 billion.
Investment probably extended gains in April. We expect GFI at 5.0% y/y (previous: 5.9%), with the annual rate dragged to some extent by the timing of the Easter holiday, reducing working days in the annual comparison. On the other hand, activity was relatively strong according to the monthly GDP-proxy IGAE. Although this was mostly because of services, industry accelerated sequentially. Better epidemiological conditions, US economic resiliency, and few signs of an impact to trade from Chinese lockdowns in the period, likely acted as tailwinds. Hence, with seasonally adjusted data we estimate 0.9% m/m growth. This would be positive after the 2.9% seen in March, in turn helped by construction (likely from an acceleration in the government's infrastructure spending).
Specifically, we expect the latter at 0.5% m/m (+2.5% y/y). Monthly figures were more modest at the margin, with the sector within industrial production also at 0.5%. Edification stayed positive, but the headline was affected by civil engineering at -4.8%. Other positive factor was the state of epidemiological conditions across the country, with the latest wave of new cases noticeable until June. On the contrary, there were 67,640 jobs lost after strong gains in March. Nevertheless, we are cautious about overinterpreting this as we do not rule out temporary distortions in the data due to works in the government's key projects (e.g. Santa Lucía Airport). If we are right, performance would have been positive, supporting our view of a good start of the year for domestic demand.   
In machinery and equipment, we see 2.0% m/m growth (+8.0% y/y). This would be observed after falling 1.3% in the previous month, with recent figures exhibiting higher volatility. Increased caution is needed as the latter may be related to inflation and exchange rate adjustments, among others. We believe the imported component will lead higher, up 3.1%. In this sense, capital goods imports in the trade balance surged 6.9% after a similar pace previously, with clearer weakness until May. In our view, both this component and non-oil consumer goods imports do not suggest a sizable impact to trade flows because of Chinese lockdowns, despite restrictions accelerating by the end of March. Domestically, we anticipate +1.5% m/m. Specifically, we are relatively optimistic as machinery and equipment in industrial production surged 4.8%, increasing for a third month in a row. Other capital-intensive sectors in manufacturing were also favorable, including autos, electric and electronic goods, as well as oil and carbon.
Consumption to continue with an upward trend in April. We believe the sector could string its 10th consecutive month of sequential growth, despite having accumulated gains of 7.0% from June-21 to March-22. Growth would be justified by momentum seen at the start of the quarter, both grounded on fundamentals and activity. Regarding the former, employment and wages made significant progress, with total employees reaching a new historical high. Moreover, both remittances and consumer loans were quite positive, extending higher once again. An additional driver included the early disbursement of social program payments (in March) due to the electoral ban. On activity, data also was favorable. Firstly, services within the GDP-proxy (IGAE) grew 1.3% m/m, with significant upside in entertainment, but also with a significant rebound in retail sales. The latter was also seen in the stand-alone report, highlighting growth in appliances, vehicle and fuel sales. Lastly, non-oil consumption goods imports rose 1.8% m/m.
In contrast, the pace could moderate on rising inflation, which remains as the main risk for performance ahead. We are especially concerned about higher food prices, a key driver that led us to revise our year-end forecast higher. We also think that this could dampen spending in other categories. Lastly, we will remain on watch for possible impacts from the fifth wave of COVID-19 infections, albeit anticipating them to be modest. Despite of these challenges, we see consumption as one of the key drivers for GDP growth this year.
Inflation in June to accelerate further, driven again by food items. We anticipate headline inflation at 0.87% m/m (previous 0.18%). The core would climb 0.83% (contribution: +62bps), with the non-core higher at 0.99% (+25bps). We expect the period's dynamics to be characterized by important pressures in food items –both processed and fresh–, a situation already seen in the first fortnight. Energy would have been more stable, with a modest positive contribution. On the other hand, services likely accelerated at the margin. If our estimates materialize, headline inflation would increase to 8.02% from 7.65%, its highest since January 2001. The core would also be higher, reaching 7.56% (previous: 7.28%), adding 19 months in a row increasing. Meanwhile, the non-core would climb to 9.39% (previous: 8.77%).
On the monthly performance, goods at the core would continue as responsible of most of the contribution, up 1.1% (+43bps). As in recent months, processed foods would be highest (1.3%; +28bps), with evidence of shocks from recent announcements of price increases in sodas and other beverages, as well as on grain-based goods, a situation that likely extended to the second fortnight. Meanwhile, 'other goods' (0.2%; +14bps) would be more modest, benefiting from the start of summer discounts on clothing and shoes in the second half. In services, we anticipate a 0.6% increase (+19bps), with the expansion centered in 'others' (0.5%; +14bps). Specifically, tourism-related categories would be pressured given the proximity of the summer holiday period –with some states bringing vacations forward for elementary and middle-school students–, while restaurants and other sectors would continue adjusting prices because of cost pressures. Housing would maintain moderately high, up 0.3% (+5bps)
Going to the non-core, we highlight higher agricultural goods prices, increasing 1.9% (+22bps). Specifically, we note that meat & egg should stay high (1.5%; +10bps), extending the move of the first half in goods such as chicken (that was affected by the bout of avian flu). Meanwhile, fruits and vegetables (2.4%; +12bps) would accelerate, with reports of more price hikes in potatoes, as well as a rebound in onions and bananas. On the contrary, our monitoring flagged lower prices in tomatoes, chilies and grapes. In energy, we see +0.2% (+2bps), with mixed dynamics. LP gas would extend its decline (-2.4%; -5bps), benefiting from lower international prices. In contrast, electricity (+2.6%; +4bps) and low-grade gasoline (0.6%; +3bps) picked up. In the latter, the smoothing mechanism from excise tax subsidies would result in an additional increase despite lower global benchmarks in the second fortnight. Lastly, government tariffs are expected at 0.4% (+1bps), modestly resenting the $1 increase in the cost of public transportation concessions in Mexico City.
Banxico's minutes to shed light on inflation views and the central bank's likely responses. The minutes of the meeting held on June 23rd will be released on Thursday, when the reference rate was increased by 75bps, to 7.75%. The voting was unanimous, and the statement remained hawkish. We will focus on members' analysis about: (1) The possibility (or not) of increasing the rate by a higher or lower magnitude, as well as advantages and disadvantages of each option; (2) the likely path of upcoming rate increases, especially given changes to the statement and recent actions by the Fed; and (3) the most adequate level for the terminal rate in this cycle, both in nominal and real terms. Moreover, discussions about inflation will likely center around dynamics in categories such as process foods (and its second-round effects) and estimate revisions, which were substantial. In our view, the document will support our call of an additional +75bps in August, followed by three 50bps hikes each in September, November, and December. With this, the reference rate would reach 10.00% by year-end, level that coincides with our terminal rate forecast for this cycle.  
On Board member comments, Governor Victoria Rodríguez appeared in several forums just after the decision. The tone was very similar to the statement, which is consistent with her role as the institution's speaker, highlighting that "…the balance of risks for the trajectory of inflation within the forecast horizon is biased significantly to the upside…". Moreover, she mentioned that inflation could reach its peak in 3Q22, with the convergence to the target estimated by 1Q24. On activity, she stated that "…we do not see a recession in our base case…". In addition, there were comments in private venues from Irene Espinosa (in a forum organized by JPMorgan) and Jonathan Heath (in a forum from Porto Investimentos).
Despite relatively scarce new information, we believe comments could focus on three issues. The first is whether someone argued about the need of acting in another magnitude than the one decided. In our view, the chance of a discussion about a more modest hike is quite low when factoring in the +75bps announced by the Fed in the previous week. In contrast, a more aggressive increase (e.g. 100bps) could have been mentioned, either by Deputy Governors Espinosa and/or Heath. The second has to do with the inflation path ahead, with the statement saying that "…For the next policy decisions, the Board […] will evaluate taking the same forceful measures if conditions so require…". For us, this was a very clear signal of the low probability of increasing the pace again. In turn, this is important as the market discounted at some point some probability of this scenario, albeit it has already eliminated it. More importantly given the current backdrop, we will also search for any opinion about when to cut the current hiking pace, or if it remains prudent to remain unchanged for more time. Lastly, the third point would be the level of the terminal rate for this cycle. Although we do not rule that some mention of the nominal rate could be made, it is more likely that, if any, it would be about the ex-ante real interest rate, which has been gaining relevance since the last decision.
Concerns about core inflation will remain in place, especially processed foods. This is because energy prices have been more mixed lately. In addition, any change on the analysis of the effects from the war in Ukraine and lockdowns in China would be important.
We could also have opinions on the Plan Against Inflation, but the majority will likely consider that its effect is limited. We will look for additional details about the potential implications of the fact that the balance of risks was characterized as "biased significantly to the upside" instead of "with a deterioration".
All in all, we expect the document to reaffirm the Board's more cautious and hawkish stance. If this is the case, it would help cement our view of a relatively faster tightening with the aim of reaching the terminal rate sooner. We believe this implies +75bps in August, followed by +50bps each in September, November, and December, with the rate reaching 10.00%.