Trade figures to signal a slight moderation in imports, while PMIs for June could decelerate
Trade balance (May). We estimate a US$885.1 million deficit. Exports and imports would grow 18.7% and 22.1% y/y, respectively. At the margin, we still believe that strong inflationary pressures will continue to drive the figures –remembering that they are measured in nominal terms–. However, in terms of volumes, we do expect a moderation, particularly in imports, anticipating that the impact of the lockdowns in China will be more evident this month, but still relatively modest to our previous estimates

IMEF's PMIs (June). We expect both indicators to fall for a second consecutive month, signaling a flat economic performance as headwinds rose and financial conditions tightened on the back of policy decisions. Specifically, the brunt of the hit would be in manufacturing, estimated at 49.3pts from 50.8pts in May. This would be the first print below the 50pts threshold since the start of the year, driven by weakness in the US. In turn, we expect non-manufacturing to slow down from the 52.5pts seen in the previous month, albeit staying in expansion territory at 50.8pts, partly impacted by further price pressures and to a lesser extent the increase in COVID-19 cases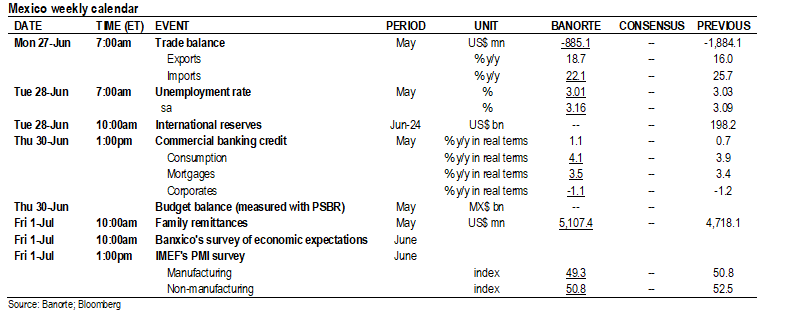 Proceeding in chronological order...
More modest trade deficit in May, with a moderation in volumes due to disruptions in China. We estimate a US$885.1 million deficit. Exports and imports would grow 18.7% and 22.1% y/y, respectively. At the margin, we still believe that strong inflationary pressures will continue to drive the figures  –remembering that they are measured in nominal terms–. However, in terms of volumes, we do expect a moderation, particularly in imports, anticipating that the impact of the lockdowns in China will be more evident this month, but still relatively modest to our previous estimates.
In the oil sector we expect a US$2,311.1 million deficit, stable at the margin. We expect an increase in absolute terms in both exports and imports, with positive signs in both prices and volumes. Shipments abroad would grow +76.1% y/y, with the price of the Mexican oil mix higher at 106.2 US$/bbl (+69.7% y/y) from 99.24 US$/bbl (+67.0%), along with signals of an increase in the volumes sent to the US. Inflows would rise 61.7%, with a greater boost in prices considering that the differential between crude oil and its derivatives –mainly gasoline– has increased. In addition, the consolidation of mobility should have supported consumer goods, although with intermediate goods also improving.
On the other hand, we expect mixed results in the non-oil sector, with a US$1,426.1 million surplus. Exports would advance 15.3%, and imports would moderate to 17.7%. In the former, agriculture would rise 16.4%, with signs of higher prices and worsening drought conditions in both Mexico and the US. Non-oil mining (-3.1%) would moderate due to lower prices, as well as a more challenging base. In manufacturing, autos (6.7%) would accelerate at the margin, supported by favorable signs in the US and some stability domestically. The signals in 'others' (20.3%) are more favorable at the margin, with an additional boost from abroad. However, we do not rule out volatility in these two sectors due to supply chain problems. Regarding imports, the early signs of flows from China showed a slight moderation. However, it is not entirely clear to us how much this could have been given the nominal figures distortion. Hence, we believe that goods inflows to our country could have decreased in some sectors. In this context, we expect the biggest impact on intermediates goods, reaching +16.4%. Consumers could be more stable at +23.9%, in our opinion having more support from high prices. Lastly, capital goods could moderate, impacted from an increase in uncertainty despite an appreciation of the exchange rate in the period.
Unemployment rate to fall partly due to a return of non-tourism employment after Easter. We estimate the unemployment rate at 3.01% (original figures), marginally below the 3.03% of the previous month. Part of the fall would be from the return of workers in non-tourism sectors, albeit offset in part by jobs eliminated in that sector before the end of the holiday period. In general, we believe the recovery continued, supported by higher economic growth. At the margin, mobility remained high, even despite signs of an acceleration of new cases by the end of the period. Additionally, the return to in-person workers likely continued, which should keep benefiting complementary activities.
However, seasonally adjusted figures could rise at the margin given a more modest improvement. Hence, with these data we anticipate the unemployment rate at 3.16% from 3.09% previously. We consider this would not represent a deterioration in the labor market. Indeed, we expect total jobs to remain on the upside despite April's strong gains. Additionally, metrics such as part-time workers and/or the 'expanded' unemployment rate could continue strengthening.
Available data so far has been positive. Even though IMSS affiliated workers fell by 2.9 thousand with original figures, seasonal adjusted data show +102.4 thousand, accelerating at the margin. Additionally, the four major items in INEGI's aggregate trend indicators (manufacturing, construction, commerce, and non-financial services) registered gains in the employment component. However, these same items within IMEF's indicators were lower, even falling below the 50pts threshold in manufacturing. This contrasts with the S&P Global PMI report, where employment in the sector advanced for a second consecutive month and at its fastest pace since the beginning of 2019.
Going forward, we will continue to monitor the possible effect of the increase in COVID-19 cases –although we believe the impact could be quite marginal– as well as progress on trade and inflation, which we believe are the main challenges for the recovery in the short-term.
Weekly international reserves report. Last week, net international reserves decreased by US$548 million, closing at US$198.2 billion. This was mainly explained by a negative valuation effect in institutional assets. Year-to-date, the central bank's international reserves have fallen by US$4.2 billion.
Banking credit to extend its upward trend. We anticipate a 1.1% y/y expansion of banking credit in May, stringing two months in positive territory. We believe the recovery continued, helped by still favorable mobility and some sales in the month, benefiting consumer loans. However, challenges from prevailing price pressures as well as risks from abroad continue to dampen further dynamism. Related to the first point, the effect of inflation in the month would be rather negligible, favoring it by just 3bps, as the annual print moderated to 7.65%. In the detail, consumer loans would stand at +4.1% (previous: +3.9%), with corporates still negative at -1.1% (previous: -1.2%) and mortgages stable, at 3.5% (previous: 3.4%).
MoF's public finance report (May). Attention will center on the Public Balance and Public Sector Borrowing Requirements (PSBR), which up to April accumulated a $54.5 billion deficit. We will be looking to performance relative to the updates in the 2023 Preliminary Policy Criteria. In revenues, oil-related will probably be higher –due to elevated prices–, but also on the evolution of income taxes and VAT collection, which could provide information on economic activity. The latter could be lower because of the effect of additional stimulus to gasolines, which the MoF has mentioned will be accounted in this sector. On spending, financial costs and programmable spending –especially in autonomous and administrative branches– will also be important. Lastly, we will analyze public debt, which amounted to $13.1 trillion in April (as measured by the Historical Balance of the PSBR).
New historical high for May's remittances in store. We expect remittances at US$5,107.4 million, up 12.9% y/y. This would constitute a new historical high, recalling that this period typically shows the highest inflows in the year given a positive seasonality related to Mother's Day.
Apart from the latter, dynamism should remain underpinned by labor market gains in the US. Nonfarm payrolls in May stood at 390k new posts, only slightly less than the 436k of the previous month. The unemployment rate stayed virtually unchanged for a third month in a row at 3.6%. In this backdrop, the rate for Hispanics and Latinos inched up, to 4.3% from 4.1%, albeit still hovering at levels seen before the pandemic. Within, Mexicans had very outstanding results. The working-age population –including 'natives', 'non-native citizens', and 'non-citizens' (legal or illegal)– surged by 860.7k. Moreover, 409.8k new jobs were added, with gains in all subgroups (led by 'natives'­) and total employees surpassing 18 million.
With this, both metrics reached new historical highs. Given a more sizable increase in the labor force, the unemployment rate picked up by 27bps to 4.2%. Nevertheless, figures in absolute terms suggest a strong support for growth ahead. On the other hand, economic activity has started to slow down. In our view, several factors are likely behind this. Among them, we highlight new supply chain problems (mostly China), more fiscal drag, higher inflation, and the Fed's more restrictive stance. Specifically, hard data such as retail sales and industrial production were weaker, especially the former. Consumer confidence dropped, CPI reached a 40-year high and real average earnings growth was negative. Hence, our main concern remains on this front, although labor market data so far has not shown a meaningful setback.
We maintain our US$56.5 billion forecast for full-year 2022. If we are right, this would imply an average monthly inflow of around US$4,900 million for the rest of the year. The last twelve-month average has been US$4,513.5 million. Given growth in the number of employed Mexican migrants, we see this target as quite feasible. Despite of this, we will keep watching closely the risks that a more meaningful economic slowdown could pose to remittances dynamics.
Banxico's survey of expectations. As usual, focus will be on inflation, growth, the reference rate, and exchange rate. On prices, the year-end 2022 median is at 6.8%, lower than our latest update at 8.1%. However, considering prevailing pressures, we do not rule out a further increase. Meanwhile, we do not see substantial changes in medium and long-term expectations, remaining above target. On GDP, the 2022 estimate is at 1.8% (Banorte: 2.1%), expecting some stability after the slight upward revision in the previous survey and positive figures so far. The reference rate by the end of the year stands at 8.75%, quite below our 10.00%. Nevertheless, considering the latest 75bps hike, it will likely be adjusted higher. Lastly, the exchange rate stands at USD/MXN 21.00 (Banorte: 20.70) by December, not anticipating large changes despite higher volatility.
IMEF PMIs weaker again at the end of 2Q22. We expect both indicators to fall for a second consecutive month, signaling a flat economic performance as headwinds rose and financial conditions tightened on the back of policy decisions.
Specifically, the brunt of the hit would be in manufacturing, estimated at 49.3pts from 50.8pts in May. This would be the first print below the 50pts threshold since the start of the year, driven by weakness in the US. In this sense, the flash PMI manufacturing indicator fell strongly, reaching 52.4pts from 57.0pts, weakest in almost two years. According to the report, the decline was mostly in output and new orders, including from foreign customers. It is particularly telling that demand weakened as cost of living rises and falling confidence affected consumers more meaningfully. Confidence among vendors declined as the Fed withdraw its accommodative stance more rapidly, affecting financial conditions. Despite of this, supply chain issues and a tight labor market continued to affect input prices, resulting in higher operating expenses. Moreover, exporters in Mexico faced a steep depreciation of the MXN at the start of the month, going from around 19.50 per dollar to a high of 20.58 by June 14th. In our view, these dynamics also affected Mexican manufacturers, while some industries such as beer producers warning about production limits because of raw material scarcity. 
In turn, we expect non-manufacturing to slow down from the 52.5pts seen in the previous month, albeit staying in expansion territory at 50.8pts. So far in the year, domestic demand has been resilient. Nevertheless, we believe high inflation could increasingly be a problem, as signaled by the new high in annual terms during the first fortnight. It could be even more important given that food price increases remain unabated. We do not rule out that these adjustments are also impacting services, especially those with close substitutes (e.g. restaurants) and/or non-essential activities (e.g. leisure and entertainment). Moreover, new cases of COVID-19 have been increasing in recent weeks. Although its economic impact is likely to be much lower than in other waves, it may have affected consumer confidence. Lastly, we recall that transfers from federal social programs have not been disbursed since March due to the elections, which took place at the beginning of the month. Despite of this, our take is that relatively strong fundamentals helped the sector to keep growing, although at a slower pace.