Inflation close to 6% y/y in the 1st half of April on challenging base effects
Inflation (1H-April). We expect headline inflation at -0.02% 2w/2w, below the 0.28% of the previous fortnight. We see the core at 0.16%, contributing 12bps to the total, slightly under its five-year average. The non-core would decline 0.56% (-14pb). The latter would be largely driven by the period's seasonality given the start of the first phase of summer discounts in electricity tariffs, subtracting 25bps. However, and contrary to the usual trend, agricultural prices would rise significantly, partly offsetting the decline. In the core, goods would continue to the upside, with services lower after the Easter holiday. If our forecast materializes, annual inflation would pick up strongly, now at 5.97% from 4.67% on average in March. Although there were already some distortions late last month from the adverse base effect related to the pandemic, this is the fortnight in which the impact intensifies, given that it was the lowest in 2020

Timely Indicator of Economic Activity (March). This release includes initial data for March, along revised figures for February. We expect the forecast for the latter, currently at -4.0% y/y (sa), to be revised upwards, probably reversing towards a sequential expansion despite strong headwinds for activity in the period. Moreover, March could show an additional acceleration due to improving epidemiological conditions, which seem to have boosted performance strongly
Proceeding in chronological order...
Activity in March to expand on improving conditions. INEGI will release its Timely Indicator of Economic Activity for March, along revised figures for February. We recall that January's mid-point forecast stood at -4.0% y/y (using seasonally adjusted figures), which was quite close to the actual print of -4.2% in the GDP-proxy (IGAE). We expect February's forecast, currently at -4.0%, to be revised upwards, probably reversing towards a sequential expansion despite strong headwinds for activity in the period. This is mainly on data published since –especially industrial production–. Moreover, March could show an additional acceleration due to improving epidemiological conditions, which seem to have boosted activity significantly. In our view, this has already been evidenced by early figures, including IMEF's PMIs and ANTAD sales, among others.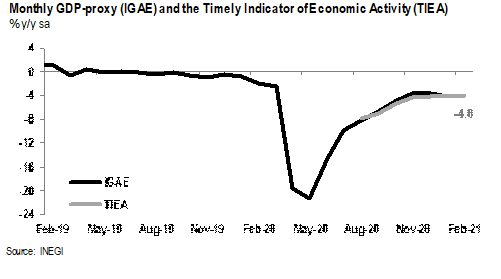 Weekly international reserves report. Last week, net international reserves increased by US$228 million, closing at US$195.0 billion. According to Banxico's report, this was mainly explained by a positive valuation effect in institutional assets. So far this year, the central bank's international reserves have fallen by US$665 million.
Inflation in 1H-April to decline modestly on seasonal trends, albeit with notable pressures in agricultural prices. We expect headline inflation at -0.02% 2w/2w, below the 0.28% of the previous fortnight. We see the core at 0.16%, contributing 12bps to the total, slightly under its five-year average. The non-core would decline 0.56% (-14pb). The latter would be largely driven by the period's seasonality given the start of the first phase of summer discounts in electricity tariffs, subtracting 25bps.
On a favorable note, we expect some stability in the rest of energy after steep accumulated increases so far in the year. Specifically, we expect a 0.3% reduction in LP gas (-1bp), driven by a better performance in international references. Meanwhile, gasoline would remain unchanged, with a slight decline in low-grade offset by pressures in high-grade. In the former, the main diver would be the 2.4% 2w/2w appreciation of the Mexican peso, considering that gasoline futures in the US only fell marginally. Consistent with the latter, the subsidy to the excise tax fell, standing at $1.68 per liter from $2.28. Meanwhile, it seems that high-grade fuel is still extending up considering it posted a larger decline in 2020. On the contrary, we expect a positive contribution from fruits and vegetables of +10bps (5-year average: -9bps). Our monitoring showed generalized pressures, highlighting tomatoes, avocadoes, and chilies, as well as onions to a lesser extent. To the downside we only stress potatoes. Meat and egg would show little changes (+2bps), moderating after relevant increases in the previous fortnights.
Within the core we identified a mixed performance. Goods would keep climbing, adding 11bps. This would be divided evenly between processed foods (+6bps) and other goods (+5bps). In the former we believe that some pressures in tortillas could extend, taking into account and additional and recent increase in corn prices. On the latter, some pass-through from energy could persist. Meanwhile, services would only add just 1bp. Specifically we expect a decline in tourism-related categories (e.g. air fares, hotels, and tourism services) after the Easter holiday. Nevertheless, these would be offset by increases in other services, in our opinion still impacted by higher input costs, especially in food-preparation businesses. Finally, housing (+1pb) would remain skewed to the downside, still limited by slack in the economy.
If our forecast materializes, annual inflation would pick up strongly, now at 5.97% from 4.67% on average in March. Although there were already some distortions late last month from the adverse base effect related to the pandemic, this is the fortnight in which the impact intensifies, given that it was the lowest in 2020. As a result, non-core would shot-up to 11.9% (previous: 6.3%), with the spike centered in energy (+28.0%). Lastly, the core would be more stable at 4.11% (previous: 4.12%). We think that from this fortnight, inflation will moderate towards 3Q21, albeit not breaching the 4% upper-bound, only to then resume an upward trend towards our 4.7% forecast at the end of the year.
We expect the unemployment rate to tick lower in March, with positive job creation. We estimate the unemployment rate at 3.98% (original figures), down 39bps relative to February. Most of this decline would be due to a seasonal effect, with a final correction after distortions at the end of the previous year and in the first months of the next (e.g. people keep returning to the labor force). In this sense, with seasonally adjusted figures we estimate a modest 1bps decline, to 4.48%. In our view, job creation is likely to have been rather strong, albeit we also see the number of unemployed rising, possibly renewing the search for a job as overall conditions improved. We expect net employment gains, reflecting more dynamism in the economy. In this respect, available indicators are mostly favorable.
Employees associated to IMSS rose by 88.7 thousand. Adjusting for seasonal effects, job creation stood at 69.8 thousand, adding two months to the upside. In annual terms, affiliated workers jumped to -2.2% from -3.2% in the previous month, with some of the distortions of the pandemic starting to kick in. 'Employment' components within IMEF indicators were also stronger, with gains both in non-manufacturing (+2.0pts) and manufacturing components (+1.7pts). In contrast, signals from aggregate trend indicators were more mixed, with strong gains in non-financial services being offset by losses in commerce and more modest advances in construction and manufacturing.
Regarding complementary indicators, the participation rate will probably increase as a result of both higher number of employed and unemployed people, as mentioned above. This metric has been improving gradually as the initial shock of the pandemic fades away and more businesses adjust. Underemployment could fall and the informality rate could increase slightly, both benefited by higher mobility and looser restrictions. We will remain vigilant on wages as the minimum wage increase continues to pass-through to observed salaries, along changes across the earnings distribution.
Looking ahead, we expect the labor market to keep recovering, boosted by a better outlook for activity along with the recent improvement in the pace of vaccinations. However, some risks remain on the horizon, related both to the virus and prevailing uncertainty in some areas of the economy.
Strong retail sales in February. We anticipate a 5.8% y/y decline, higher than the than the -7.6% seen in January. We expect this despite last year's leap year, which inserts a skew lower due on a more difficult base effect. Nevertheless, we should mention that working days were the same in the annual comparison –with a total of 19– while there were two less in the previous month. In addition, we expect the reopening to have helped performance. Regarding the latter, we recall that shopping malls in the State of Mexico reopened since the first day of the period, while in Mexico City this measure was taken around one week later, as new COVID-19 cases improved. In this sense, the traffic light indicator improved substantially in the second half. With seasonally adjusted figures, we expect 2.2% m/m growth. We do not see a significant effect from electricity shutdowns and undersupply of natural gas at the middle of the month, with these mostly affecting some industrial sectors.
Most advanced data suggest better results. Among them, ANTAD's total sales declined 3.2% y/y in real terms, strongest since November, before more stringent lockdowns. This was observed even with a more difficult base effect relative to January last year, in turn likely due to more weekend days that typically boost this sector. This points to renewed dynamism, led mainly by departmental stores (up 1.9% y/y from -22.1% previously). Consumption goods imports were also stronger at the margin, growing 0.2% y/y. Nevertheless, we do not put too much weight to this given potential distortions due to the timing of the Chinese New Year. Auto sales remained relatively dampened but were also higher, at -21.1%. On the other hand, remittances kept growing at a brisk pace, up 25.2% y/y in local currency terms, helped modestly by a weaker exchange rate.
Despite of this, other figures were more modest. Among them, we highlight that: (1) Employment within services was stable at -3.3% y/y despite the reopening; (2) inflation picked up to 3.76% y/y from 3.53% in the previous month, albeit to a great extent by energy prices (gasolines and LP gas); and (3) consumer credit is still contracting, an additional issue –apart from uncertainty– for more strength in purchases of big-ticket items.
Overall, the recovery is likely to have been reestablished after some issues (some of them temporary) at the end of last year and in January, likely because of increased cautiousness because of worse COVID-19 dynamics. Vaccinations have continued (and could accelerate in coming months) and some restrictions have been lifted, possibly benefiting consumer confidence. We expect these factors to underpin a gradual recovery, despite still being limited as domestic activity has not rebounded as strongly as the external sector.