Last week, the island paradise of Mauritius was rocked by a series of protests. Discontent seems to be concentrated around the poor state of flood defences (the country has been hit by several storms recently) and rising living costs (there have been three 10% hikes to petrol prices in the past four months and cooking gas has increased by 30%, while food prices are also rising). These are the first major protests to take place in the country since the hardships caused by pandemic lockdowns in early 2020.
What is particularly concerning is that Mauritius is one of the wealthier African countries: GDP per capita stands at US$9,640 versus the continental average of US$2,030. And social security programmes have played an active role in reducing income inequalities: the Gini coefficient stands at 37%, versus a 42% average for the continent (a value of 0% signals complete income equality, and 100% complete inequality). If households are feeling the pinch here, conditions in parts of mainland Africa are likely to be much more severe.
Fuel subsidies are increasingly unsustainable
Looking at fuel, we note that prices in much of Africa are subsidised. For example, petrol subsidies in Nigeria currently consume around one-quarter of the federal budget. For many countries, current price levels may be unsustainable; if they are raised, this would likely lead to a squeeze on household purchasing power.
The chart below highlights where some of the cheapest fuels can currently be purchased on the continent (notably, Algeria and Angola).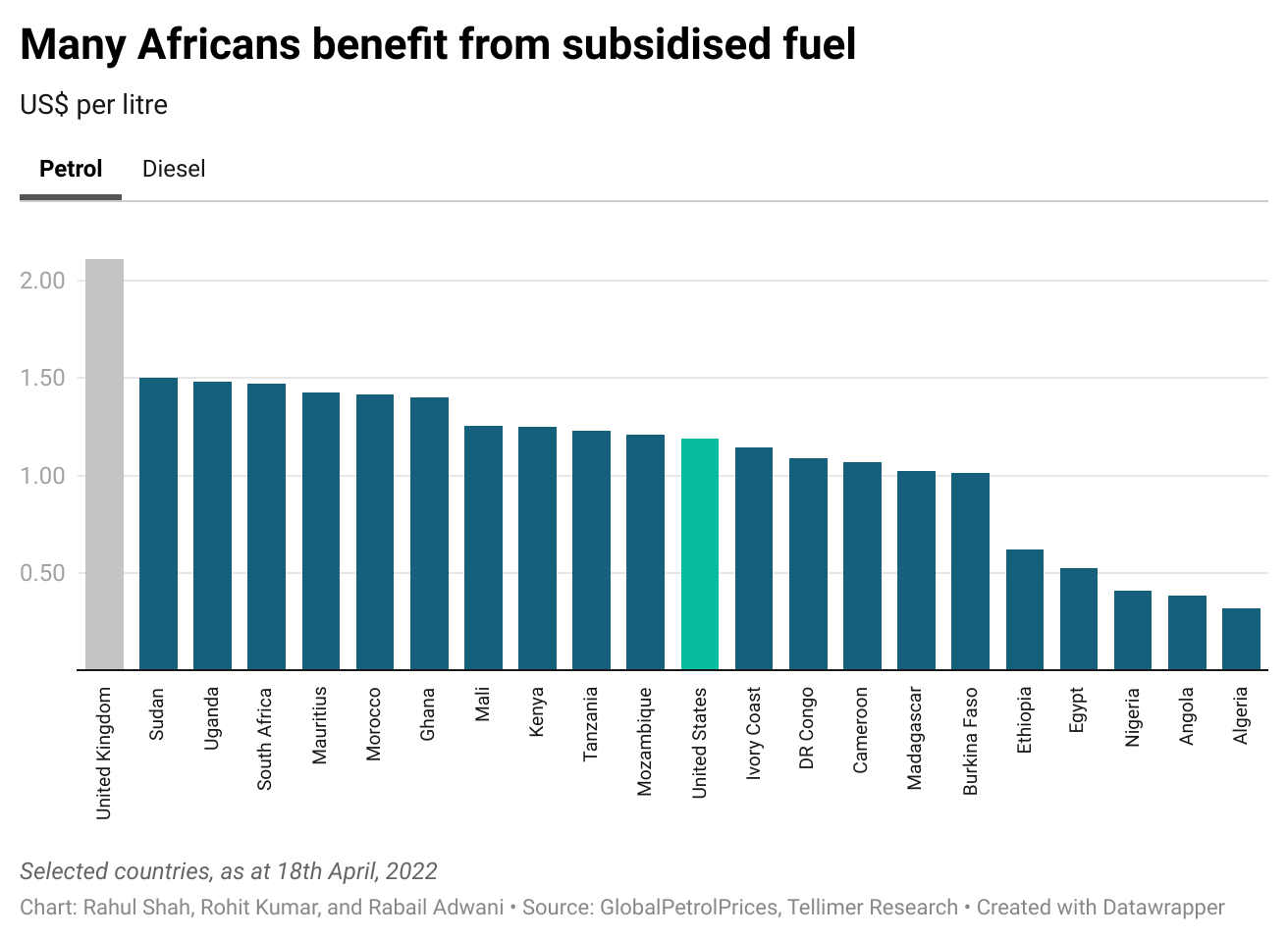 Food insecurity is a growing problem for the continent
Turning to food costs, these can be the largest element of spending for the poorest households. Rising fuel costs raise the cost of fertiliser, while Russia's invasion of Ukraine (and western sanctions against the aggressor) have lifted the prices of cereals and edible oils. The planting season in Ukraine is being disrupted, meaning that current shortages will likely not be addressed any time soon.
The Economist's global index of food security places several African nations at the bottom of its global ranking, notably Burundi, Mozambique and Sudan.
Meanwhile, the US-based Famine Early Warning Systems Network (FEWS NET) has highlighted emergency-level food insecurity in parts of Burkina Faso, Ethiopia, Madagascar, Nigeria and Somalia. The combined population of these countries is 405mn.
Higher living costs could lead to protests taking place elsewhere on the continent, carrying broader negative implications for the economy. Meanwhile, the threat of disquiet could also encourage governments to maintain unsustainable fiscal policies, such as food and fuel subsidies.
Among the most affected countries, we note that elections are scheduled to take place in Madagascar and Nigeria in the next year; elections in Somalia are also due but have been repeatedly postponed.
A further scenario to consider is that actual food shortages could drive mass migration, stretching the resources of neighbouring communities and raising social tensions.
On this basis, the recent protests in Mauritius may well be the canary in the coalmine.
Related reading:
Food prices boil to new peak as Russia-Ukraine War bites (Hasnain Malik, April)
Egypt: Currency devalued to combat rising external risks (Patrick Curran and Hasnain Malik, March)
Food prices hit all-time peak after Russia-Ukraine spike (Hasnain Malik, March)