Following the release of its FY 20 results, Stanbic IBTC recently held an investor call, where the group discussed the year and presented its guidance for FY 21. The group declared a milestone final dividend of NGN3.6/share (compared to NGN2.0/share in FY 19) and a stock dividend of one new share for every six shares held by shareholders. In this report we highlight key takeaways from the call as well as our views on management's guidance.
We maintain our 12M TP of NGN53.6 but downgrade the stock to Hold, as the recent price rally has left limited room for upside.
Gross loan growth
Stanbic IBTC's gross loan book grew 18% yoy in FY 20, with the bulk of the growth stemming from Q4 20 (12% qoq). In terms of loan mix, the group increased exposure to the Financial sector and General commerce, while cutting exposure to Manufacturing and Upstream oil and gas, as a result of pressures from the pandemic on the operation of incumbent companies. For FY 21, management guided to loan growth of 20% to 25% in order to cushion the impact of pressured NIMs on earnings and would be targeting sectors that they deem to be resilient.
In our view, the expectation appears robust given the recovering (albeit weak) macroeconomic environment. However, we expect the group's significantly improved effective CRR position (116% in 9M 20 to 61% in FY 20) to provide headroom for the creation of more risk assets, as the sterilised deposits by the CBN has been a major constraint to loan growth and has led the bank to accumulate relatively expensive funding via the interbank market.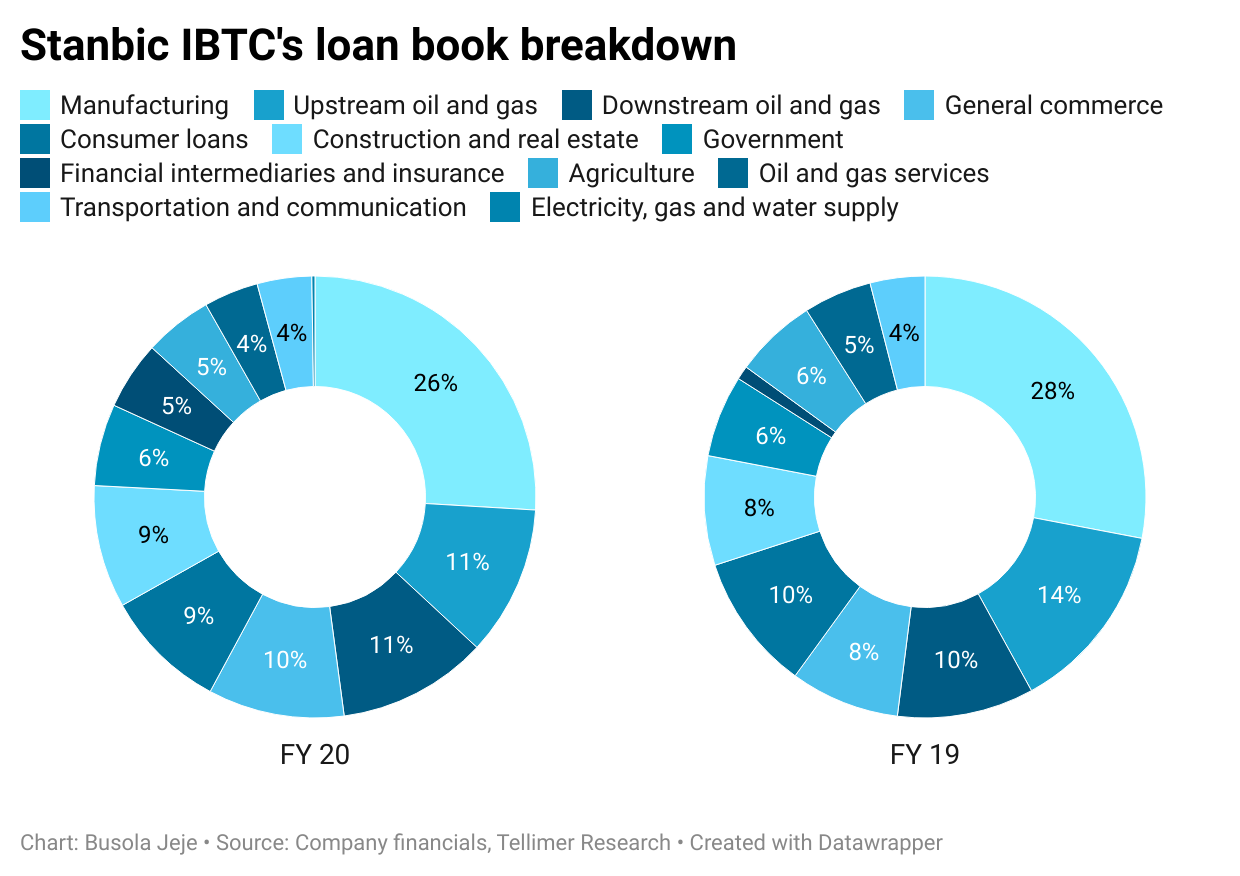 Asset quality
In FY 20, the group's net cost of risk increased by 1.3ppts to 1.5%; management alluded to increased provisioning on two companies in Construction and Downstream oil and gas respectively (they accounted for about 80% of loan impairment charges). The same trend was noted in the group's breakdown of NPL ratios by sector, with the above-mentioned sectors experiencing the largest increase. Management noted that a 100% effective provisioning against these assets are currently in place.
In line with the CBN's policy responses to the pandemic, the group restructured 9.6% of its total loan book, with 81% of the total restructured loans relating to the impact of Covid-19. The major sectors involved were Construction (40% of total), Individuals (14%) and Government (14%).
For 2021, the group expects an NPL ratio below 5%, and a cost of risk figure for 2021 below or equal to 3%, which in our view is a rather conservative estimate, as economic conditions are better than 2020's Covid-induced slowdown.
Deposit growth
Management expects deposit growth to be between 15% and 20%, compared to 29% yoy recorded in FY 20. Given the gradual uptick in fixed income yields so far in 2020, their expectation is in line with the possibility that clients will search for higher-yielding instruments. The CASA ratio is also expected to be above 75% (FY 20: 83%), with continued efforts to accumulate low-cost deposits and keep cost of funds low.
AUM growth
The group recorded 18% yoy growth in assets under management (AUM) to NGN4.6tn. As a result, non-interest revenue from its Wealth segment (mainly including fund management fees) increased by 10% yoy. The management's guidance for AUM growth in 2021 is lower at 10-15%, which we suspect is due to the expected effects of the opening of the pension transfer window in November 2020, which allows retirement savings account holders to transfer their holdings to a different pension operator at least once a year, which in turn increases the probability of Stanbic IBTC losing market share to other operators.
Management noted that they have seen minimal friction in their pension asset portfolio so far, and are rolling out efforts to boost awareness of the transfer window and ensure they are a net receiver of funds.
Net interest margin
Using a definition of net interest income/total assets (excluding derivatives), management expects net interest margin to be around 3-4%, in line with the 3.5% recorded in FY 20. In terms of asset yields, the gradual uptick in yields on investment securities so far in 2021 is positive, although lending rates remain sticky downwards. In addition, the management noted that there are slight pressures already seen in funding costs, as some customers are requesting for upward revision in deposit rates. Bearing the above in mind, they expect NIM to remain pressured in FY 21.
Digitisation drive
The group recorded positive trends in its digitalisation drive, as digital transactions grew 18% yoy. In terms of its e-banking platforms, USSD and Mobile banking recorded the most attractive growth, with transaction volumes up 83% and 34% yoy respectively. However, e-banking fees fell 19% yoy, as the regulatory-induced changes in fee structures that took effect in January 2020 limited income generated from transactions. We expect income from e-banking products to improve in FY 21, as both 2020 and 2021 will capture the effect of the reduced charges and better show the effect of increased volumes.
Dividend payout ratio
As we pointed out earlier, total dividend for FY 20 increased 33% yoy to NGN4/share, translating to a payout ratio of 55% compared to 43% in FY 19. A stock dividend of one share for every six shares was also declared. However, it is uncertain as to whether this historic payout will be maintained, and management did not commit to any guidance for FY 21. However, they did state that they are committed to maintaining a minimum payout ratio of 30%.
We maintain our 12M TP of NGN53.6
Stanbic IBTC remains one of our favourite names in the Nigerian banking sector, mainly because of its diversified revenue streams and its large exposure to non-banking businesses. However, we downgrade the stock's rating to Hold, as the recent price rally has left limited room for upside. At its current price, the stock delivers an expected total return of 11.4%. The shares are currently trading at 7.0x FY 20 PE and 1.5x tangible PB, a premium to the average 4.8x FY 20f PE and 0.8x tangible PB of our Nigeria banks coverage.
Related reading
Stanbic IBTC: FY 20 – Lower taxes and trading gains support profit growth (5th February, 2021)