No confidence vote on the way
Mahatir (aged 94) has once again patched up his relationship with Anwar (72) and they have had their request to start a motion of no confidence accepted by the parliament speaker (on 8 March). This is not a surprise to us, but it remains uncertain as to whether they are able to muster a majority. 
The critical issue is whether they can exploit tension within the Bersatu party led by PM Muhyiddin  (aged 72) between those who see an opportunity for power and those who wish to avoid compromise with any elements allied to former PM Najib (who lost the 2018 election after allegations of deep-rooted corruption). Note that governing coalition has, at the time of writing, 51% of lower house MPs and the party led directly by PM Muhyiddin's has merely 16%.
The Malaysian parliament is scheduled to convene on 18 May for the first time since the transition from the government led by Mahatir to the one now led by Muhyiddin. Parliament is due to sit for merely one-day, but this session could be extended and it is not clear whether the no-confidence motion will be debated in this session.
Should the no-confidence vote pass (which requires a simple majority of MPs in attendance) then the PM and cabinet resigns and there are two follow-on scenarios:
(1) The King invites an alternative whom he deems commands a majority in the parliament to become PM.
(2) No majority coalition emerges and a fresh election is held within 60 days (although how that will be possible in the midst of Covid-19 is very unclear – at the time of writing, Malaysia has 6,589 infections, 108 deaths, and, broadly, the infection curve has been flattening since mid-April).
Mahatir and Anwar patch up (yet again)
"We are old, and we do not have much time left. Yet our fighting spirit still burns bright in the souls of the youth who dream of reforms. It is time for us to rise again and return the people's mandate to the rightful owners." Extract from the joint statement of Mahatir and Anwar.
The unwillingness of Mahatir to establish a firm date for handing over the leadership of the coalition government he led after the 2018 election to Anwar was one of the reasons for that government's collapse earlier this year.
Malaysia investment case: politics keeps blocking needed reform
The most important drivers of the Malaysia investment case are outside its control: global demand for technology hardware, trade relations between the US and China, and oil and palm commodity prices. However, the one factor in its control, the establishment of a clear political mandate to implement reform, still appears beyond it.
It is not clear that there are great differences between the government and the opposition on the substance of policy; both accept the need for economic orthodoxy (inflation and fiscal deficit control), structural reform to raise productivity (ie better infrastructure, more efficient public procurement, empowering anti-corruption institutions and practices, raising education standards, increasing female labour force participation, improving the ease of doing business), to pander to domestic ethnic concerns (ie promising inclusive growth for all but prioritising the 50% ethnic Malay population), and to balance the geopolitical pull of the US-centric and China camps.
Malaysia equities, measured by the FTSE Bursa Malaysia Top 100 index, are down 17% year to date, in US$ total return terms. This is in line with MSCI EM (down 18%) and worse than MSCI Asia ex-Japan (down 12%). In general, the telecom and utility sectors have outperformed banks, consumer, energy, and materials. Trailing price/book of the index is 1.3x (with merely 7.4% trailing ROE), a c20% discount to the 5-year median.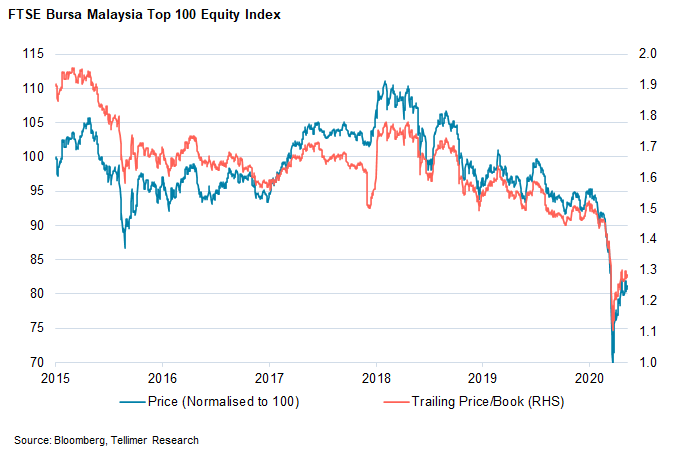 Related reading
Malaysia: new coalition, unresolved splits, negative, 29 February 2020
Malaysia: Mahathir "resignation" may be a step to more coherent coalition, 25 February 2020