Netflix lost 200k customers in Q1 22, its first quarterly decline in over a decade; the shares are likely to be down heavily today. The sanctions-hit data was skewed by the loss of 700k Russian subscriptions, but the firm indicated that a further 2mn subscriber losses (from a total base of over 220mn) are likely as it cracks down on account sharing, and due to the tough operating environment. The firm may consider allowing advertising on its platform in a bid to support the top line. In this report we look at some of the broader implications of these results.
Pandemic-driven behavioural changes are continuing to normalise
We have already seen that the boost to digital payments volumes from the pandemic has waned substantially. And high occupancy in Dubai hotels and long queues at UK airports suggest international tourism is rebounding. Increased leisure options appear to have impacted Netflix's appeal. Could delivery services and online shopping also see downturns? Will office vacancy rates fall as commuters head back to work? Our emerging market consumer survey from last year highlights some of the sectors most vulnerable to change as individuals and employers re-evaluate the post-pandemic world.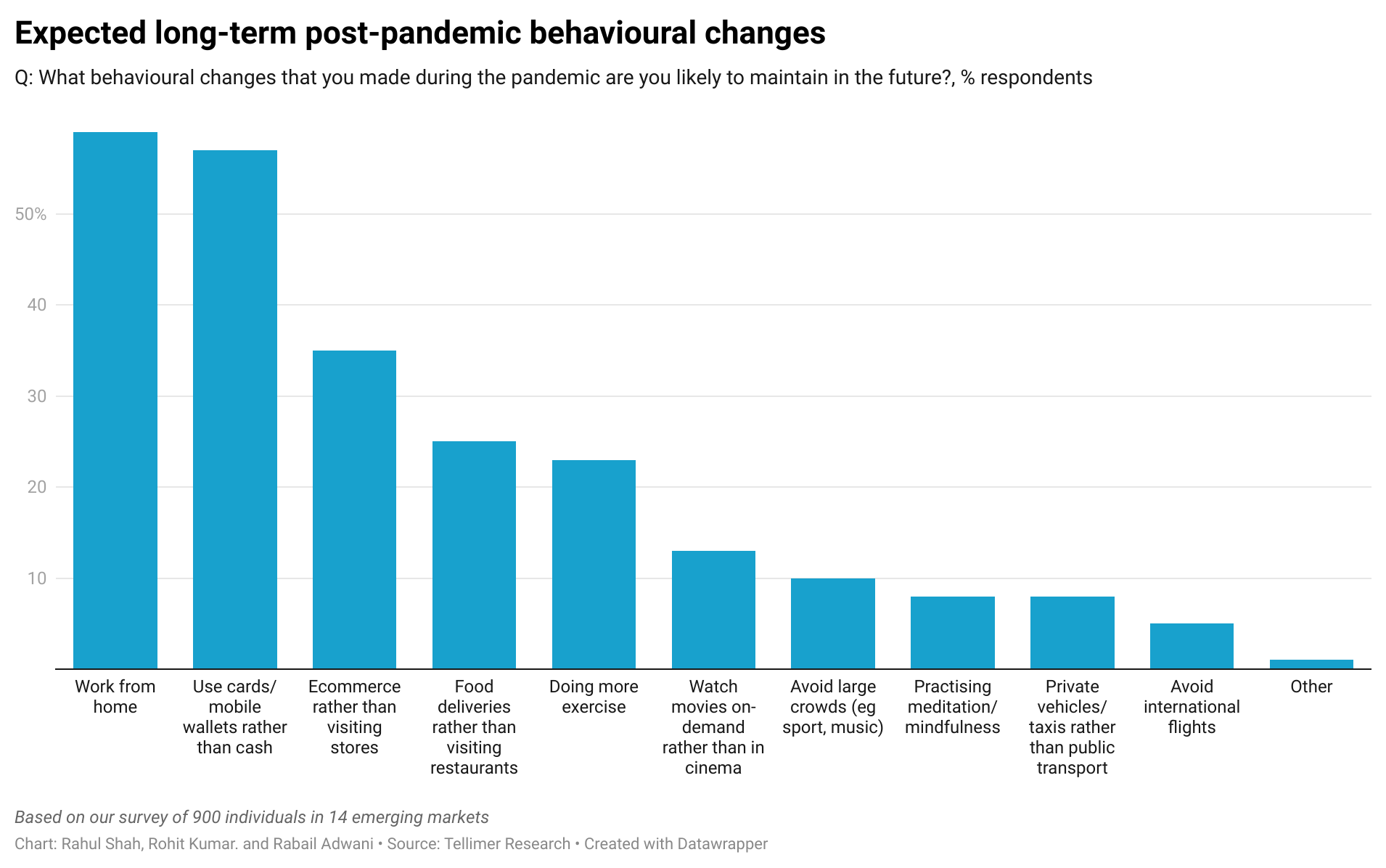 Consumers are very price sensitive
The Netflix experience shows that even for firms that have invested heavily in high-quality, proprietary content, customers can prove fickle. While price increases helped Netflix's top line grow by c10% yoy, the decision also lead to increased cancellations, with 600k customers in the US and Canada pulling the plug. Our consumer survey shows that even for early adopters, pricing is a key consideration. 
Discretionary spending is vulnerable to higher inflation
Rampaging inflation is squeezing consumer finances. Particularly in emerging markets, many households are being forced to prioritise food and energy over leisure pursuits. This is not a good time to be launching non-essential products and services.
Russia sanctions come at a cost
Netflix indicated that it lost 700k subscribers in Q1 when it pulled out of Russia. Other Russia-exposed western firms are likely to present similar negative effects in their results.
Our consumer app survey suggests tech firms should be relatively unaffected by sanctions, given that the country was already blocked off in many areas due to restrictive local regulations. Our survey suggests Facebook and Google were the most popular western apps used in the country, with TikTok and Telegram also popular.
Tough times call for new revenue models
Subscription-based services like Netflix have traditionally steered clear from advertising, to help differentiate themselves from traditional providers and also to protect the user experience. But with household finances getting squeezed, adding a layer of advertising could allow the firm to offer a lower-cost product to appeal to a wider audience.
Security spending can protect the top line
Netflix estimates that around 100mn households are sharing subscription passwords (including 30mn in US/Canada), amounting to a sizeable loss of revenue. Improved security could help convert some of these sharers into subscribers, but could also result in increased cancellations.
Cross-subsidisation is eroding margins
Pure-play firms can excel, but still see margins eroded by newcomers with alternative revenue streams. Amazon, Apple and Disney are all looking to eat Netflix's lunch.
International expansion is key to long-term growth
Despite hitting roadblocks in its traditional markets, Netflix was still able to register growth in its less mature markets such as Japan and India. The experience should provide some hope to Netflix shareholders on what is likely to be a tough day; a compelling product, well-delivered will always find an audience.